The Heartbreaking Meaning Behind Chris Stapleton's ACM Performance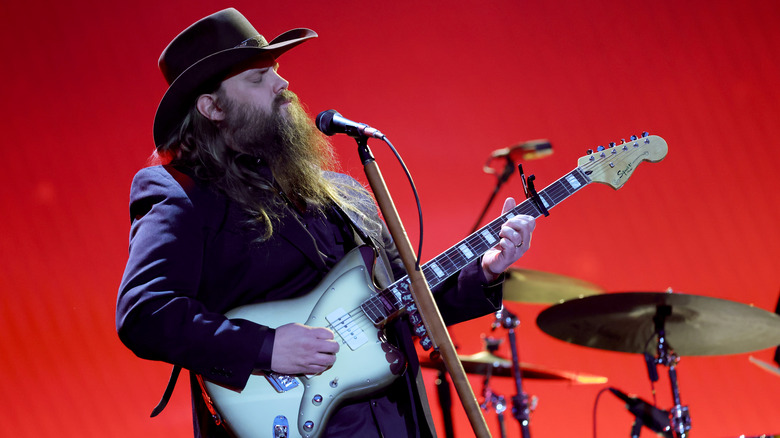 Kevin Winter/Getty Images
Bringing a quiet hush to a packed stadium is no easy task. Still, the "Starting Over" singer, Chris Stapleton, took the stage at Allegiant Stadium and delivered a performance that will not soon be forgotten. 
The 2022 Academy of Country Music Awards was an all out fun fest; there were guitars and glitter galore. But aside from the ACM Awards' best dressed stars, one of the highlights of the evening was Stapleton's solemn live television debut of the song "Watch You Burn" (via People).
Hailed by Rolling Stone as a "song you need to know," it's a piece of emotional storytelling from the soft-spoken performer who can bellow with the best. In a true-to-character low-key interview with People, Stapleton mentioned the performance in the days leading up to the awards show. "Tomorrow, we'll be performing 'Watch You Burn,' which is a song that I wrote with Mike Campbell about the shooting that happened here during the country music festival. So yeah, that's what we're doing."
The song was written after the Route 91 Harvest Festival shootings in 2017, and Stapleton's March 7 rendition of "Watch You Burn" was a poignant, gut-wrenching performance.
Chris Stapleton's performance of Watch You Burn filled a stadium with solemn emotion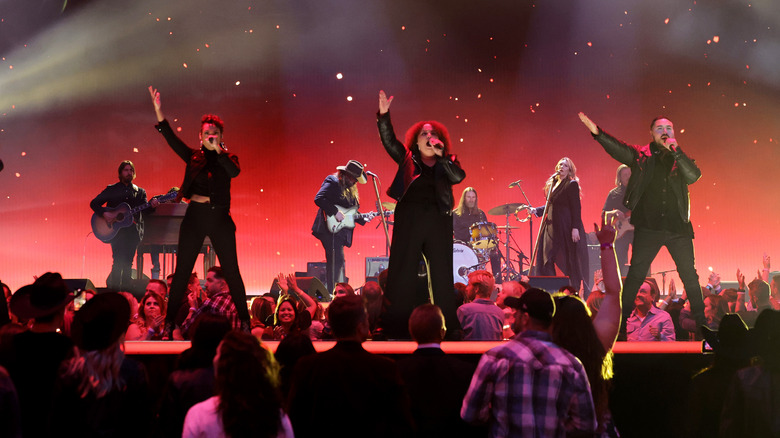 Kevin Winter/Getty Images
Fifty-nine country music fans fell victim to the mass shooting on October 1, 2017 when Las Vegas hosted the Route 91 Harvest Festival (via People). The country music event brought 22,000 people to the streets for star-studded performances. During the Jason Aldean set, the shooter, Stephen Paddock, stood in his room on the 32nd floor of Mandalay Bay and opened fire on the crowd. In addition to the 59 people killed, more than 700 others were injured.
A stoic Aldean introduced the evening's moving performance. And when Chris Stapleton took the stage, he unleashed a full range of mournful rage in a performance that Billboard describes as "incendiary." The song's lyrics leave nothing unsaid; Stapleton opens with, "Only a coward would pick up a gun, and shoot up a crowd tryna have fun."
The singer-songwriter rides the waves of rage and sorrow in a message meant for the shooter. "Oh, you're gonna get your turn, Devil gonna watch you burn." The emotion in the performance built as Stapleton's guitar seemingly fueled his fire, and ultimately, ended in a moving climax of vocals, as the backup singers raised their arms. The stadium really felt the immense weight of its emotional impact.