Amy Adams Shares How Her Daughter Aviana Feels About Her TikToks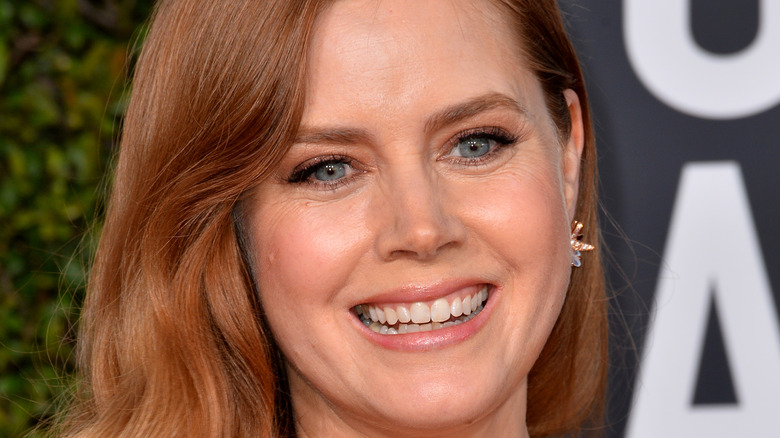 Featureflash Photo Agency/Shutterstock
According to Celebrity Net Worth, Amy Adams is one of the highest paid actresses in the world. With hit movies like "Enchanted," "Night at the Museum," and "Julie and Julia," Adams has graced our screens time and time again. Unfortunately for Adams, not everyone is her biggest fan. In fact, despite her accomplishments, her own daughter may be embarrassed by her.
Adams is married to Darren Le Gallo and together, they have a daughter named Aviana. The pair have been quite tight-lipped about their now pre-teen, but last year, Le Gallo shared a rare post boasting about his daughter for her birthday alongside a gorgeous headshot of her. Recently, Aviana is back in the spotlight, thanks to her mothers antics. While Adams doesn't have a Tiktok account of her own, she did share on "Late Night with Seth Meyers" that she has learned a popular TikTok dance.
After performing the "Fancy Like" dance for Meyers on-air, Adams revealed how her 11-year-old daughter really feels about her moves.
Aviana is embarrassed by her famous mom
After dancing to the popular TikTok trend made famous by the Walker Hayes Song "Fancy Like," Amy Adams immediately thought of her own daughter, who she revealed would be quite embarrassed by her dancing. She may find it even more embarrassing that Adams thought the trend came from an Applebee's commercial. "I'm always behind on everything. I thought that was just an Applebee's commercial. I thought 'That's really clever!' That Applebee jingle's really catchy," she told Seth Meyers on "Late Night with Seth Meyers." "That's not embarrassing at all for my daughter, what I just did."
Meyers joked with the actress, who was sitting in front of a row of vinyl records, saying "it's not safe to do a TikTok dance if you're old enough to have a row of vinyl behind you." When he asks how Aviana feels about her mom dancing, Adams says, "I think the word she uses is 'cringe,' but she's patient with me. I've been embarrassing her for 11 great years, and more to come."
Fans will get to see Adams dancing and singing on screen again when "Disenchanted," the sequel to "Enchanted" comes out in 2022.