The Truth About Snoop Dogg And Kelly Clarkson's Relationship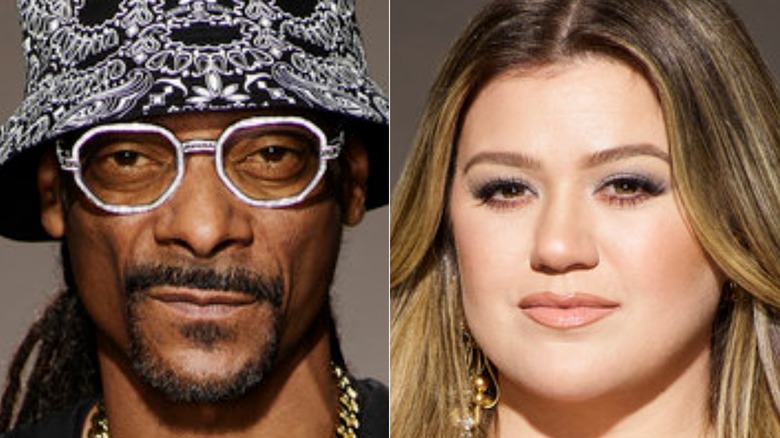 Chris Haston/NBC, Dave Bjerke/NBC
Get ready because a brand new singing show is coming to television. Yes, another one. This time, Snoop Dogg and Kelly Clarkson are teaming up to host "American Song Contest." On paper, these two don't exactly seem like a match made in heaven. But, in premise of the show and expertise, no one can deny that these two know a thing or two about the music industry. It turns out that they have a background together as well. 
When Clarkson posted the promo shot for "American Song Contest" on Instagram, the overall consensus was ... huh? Not only does the dup of hosts seem a bit odd to some, but it comes at a time when a sexual assault allegation against Snoop Dogg is still fresh and unsettled. Despite the allegation, which was filed before the Super Bowl, Snoop Dogg will take the stage with Clarkson to host the American form of Eurovision. The premise of the show is to have people represent all 50 states and, well, sing. 
It turns out that this isn't the first time the two have collaborated — albeit not in the studio. The pair of hosts actually makes more sense than you might think. Here's everything you need to know about the unlikely pair of hosts that explains exactly why this collaboration works.
The two are teaming up to host American Song Contest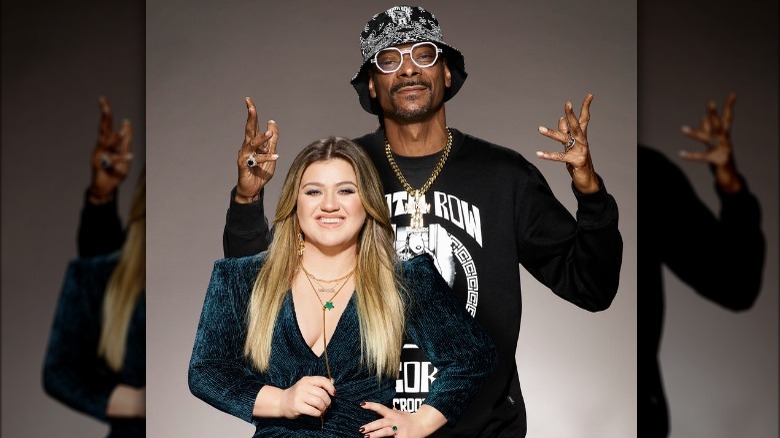 Chris Haston/Dave Bjerke/NBC
Snoop Dogg and Kelly Clarkson are set to host "American Song Contest" together. The premise follows the ultra-famous "Eurovision" and will premiere on March 21. According to Entertainment Weekly, the show brings together singers that represent all 50 states, the five U.S. territories as well as the nation's capital. That's a whopping 56 people in the competition. All of them will bring an original song that represents their part of the country best and battle it out to see who represents their state best. 
What do Snoop Dogg and Clarkson have to do with that? Well, they both are well-known singers and songwriters that represent a distinct part of the country. Clarkson is from Texas, while Snoop Dogg is from California. When you put it that way, these two are the perfect ones to host the show.
Okay, let's be honest here. After the Snoop Dogg and Martha Stewart friendship that popped up out of literally nowhere, no Snoop Dogg friendship will ever surprise us. So the fact that he's now teaming up with another entertainer actually makes sense.
They bonded on The Voice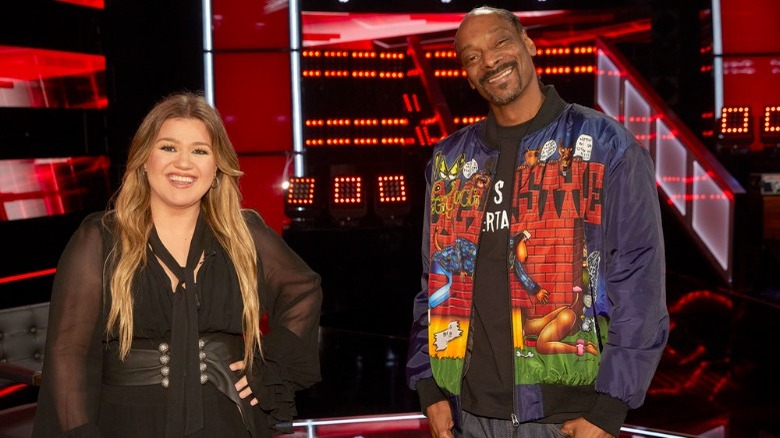 Trae Patton/NBC
"American Song Contest" isn't the first time that these two singers and songwriters have teamed up in the name of song. While they have yet to collaborate on a song together, they did team up for "The Voice." Snoop Dogg was a guest mentor on Team Clarkson during Season 20 of the show, per Yahoo. It was a pretty emotional moment, too.
In Season 20 of "The Voice," Corey Ward performed Clarkson's own song "Already Gone" and it hit an emotion with both of the judges. Snoop Dogg and Clarkson were actually both brought to tears during the performance. "He just put a chill on my arm. Look, Kelly! I don't get chills from men! Man, what was all that about?" Snoop Dogg said on the show, according to Yahoo. "When you can get the songwriter to lose emotional control, that's when you're doing your job, brother."
If the collaboration on "American Song Contest" is anything like theirs on "The Voice," it's safe to say you can pencil in another singing show into your weekly watch schedule.