Why Fans Once Again Think Kylie Jenner Is Married
Kathy Hutchins/Shutterstock
Is Kylie Jenner secretly wed to the father of her two children, Stormi and Wolf? Fans sure think so. When the makeup mogul shared a photo of her diamond-adorned left ring finger to her Instagram Story this week, eagle-eyed followers started speculating she married Travis Scott, whose real name is Jacques Webster (via Page Six).
Jenner is wearing a Cartier Love Band, with the exclusive jewelry brand also boasting a matching Love Wedding Band. Of course, this is not the first time fans have wondered if the reality star and the rapper are already married, with the Daily Mail reporting that in 2020, Jenner was also seen sporting sparkly jewelry on her left ring finger.
This latest fan theory about the marital status of the couple comes just weeks after Jenner gave birth to the couple's second child, a son named Wolf. Given the timing of the snap featuring the Cartier bling, another theory being floated by Page Six is that Scott gifted the 24-year-old some diamonds for a push present. But that possibility is not gaining as much traction on social media as the theory (some might say hope) that Jenner and Scott are husband and wife.
Is Kylie Jenner just looking for attention?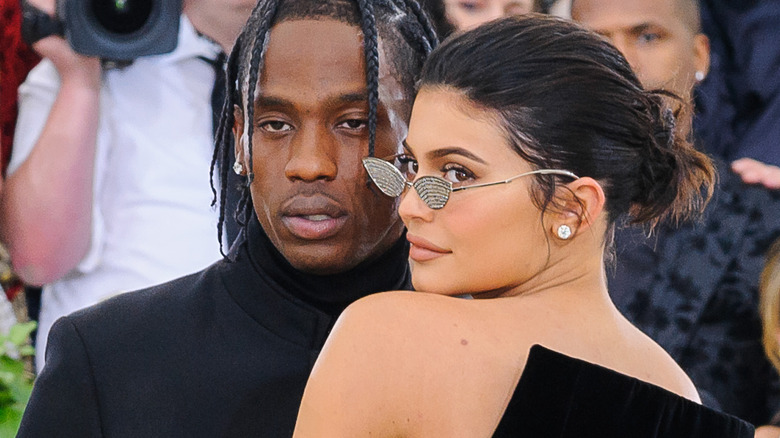 Sky Cinema/Shutterstock
Even though many fans are totally here for a possible wedding that already took place between Jenner and Scott, it's fair to say that some people are doubting the couple said "I do." Addressing the photo of what sure looked like a wedding band on the star's finger, one person tweeted, "Kylie will do anything to be relevant. She has to get back in the spotlight somehow. Tomorrow it will be her eating a cake and fans will think it's wedding cake."
Whether the ring is a wedding band or not, Elle notes that the image sure has the internet talking about Jenner's post. As for the famously lowkey couple, neither party has confirmed or denied that they exchanged vows or are even engaged.
We do know that Jenner and Scott were first linked in 2017 (via Us Weekly). In 2018, Scott even confessed to wanting to marry the star at some point without saying when. "We'll get married soon. I just gotta sturdy up—I gotta propose in a fire way," he told Rolling Stone shortly after Stormi's birth. The young parents have reportedly been together since breaking up in 2019, although there was a question as to whether the duo were once in an open relationship.