Donald Trump Jr.'s Texts Amid The 2020 Election Are Turning Heads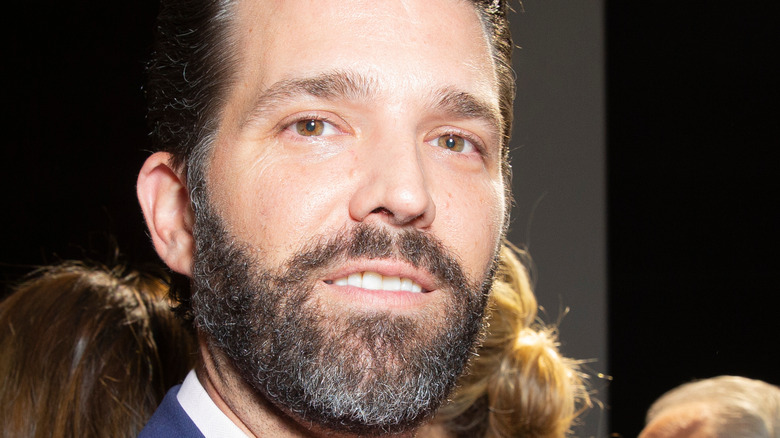 lev radin/Shutterstock
Despite failing to win a second term as president, Donald Trump is not ruling out the possibility of running again in 2024. Of course, if you ask Trump, the former president still believes that he won the 2020 election despite those claims being proven false many times. In fact, Trump recently told the Conservative Political Action Conference (CPAC) in Orlando, "We did it twice, and we'll do it again," hinting at the fact that he plans to run again in 2024 (via The Washington Post). 
However, Trump also recently admitted that his health may be the one factor that stops him. "You always have to talk about health. You look like you're in good health, but tomorrow, you get a letter from a doctor saying come see me again. That's not good when they use the word again," Trump told to The Washington Post. In the same interview, Trump also repeatedly blamed Nancy Pelosi for the January 6 insurrection on the Capitol despite also mentioning that he wanted to join the march that led to the riots. "Secret Service said I couldn't go. I would have gone there in a minute," Trump admitted. 
Donald Trump Jr. was making plans before election results were announced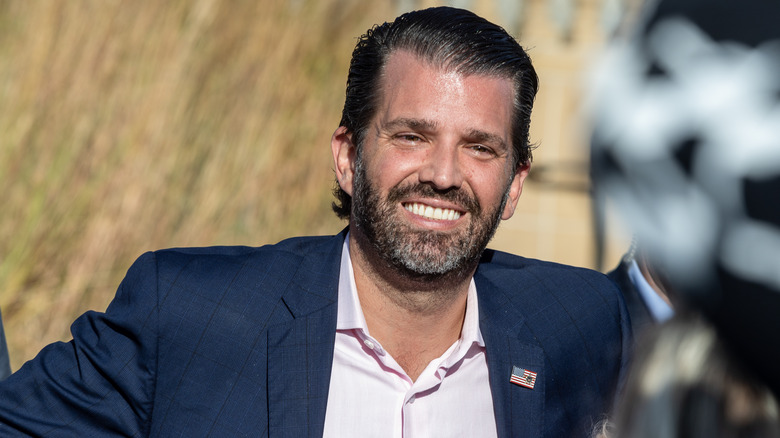 Chris Manning/Shutterstock
There currently is a House Select Committee investigating the January 6 riot on the Capitol and Donald Trump and his family are right at the center of it. While Trump has denied his involvement, many White House phone calls and records from January 6 were suspiciously destroyed. Trump told The Washington Post that he had no part in destroying those call logs. However, new texts from Trump's son, Donald Trump Jr., are causing heads to turn as they have connections to the January 6 riots. 
According to CNN, texts between Trump Jr. and former White House chief of staff, Mark Meadows, were exchanged on November 5, just two days after the 2020 elections and before the final results were announced. These texts show the Trump team's efforts in trying to keep Donald Trump as president for a second term. As mentioned, this was all before Joe Biden was officially announced the winner of the 2020 elections on November 7.
Trump Jr.'s texts claimed they had 'operational control'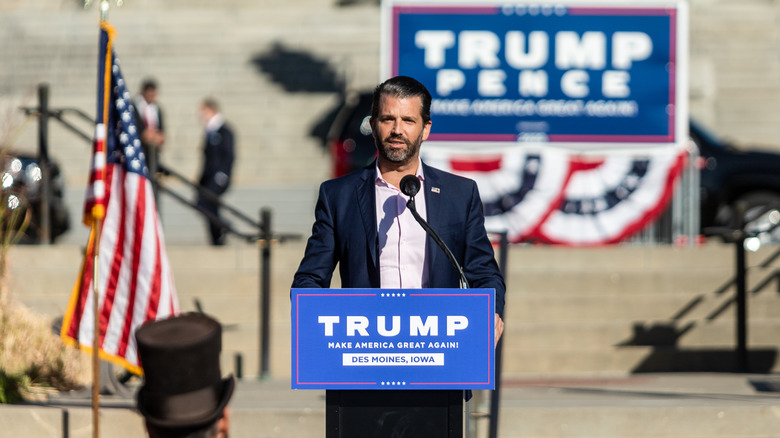 Chris Manning/Shutterstock
In the texts obtained by CNN, Donald Trump Jr. reportedly admitted, "we have operational control Total leverage," and that, "We have multiple paths We control them all." While Trump Jr.'s lawyer has said that these texts were forwarded from someone else, the conversation is very suspicious as it makes it seem like Trump's team was working on how to overthrow the election results and ensure Trump's win before anything was official.
The conversation even outlines how Donald Trump's team would work to reverse the election results if Trump lost by filing lawsuits and demanding recounts, which is exactly what they did (via Fox 4 News). There are even plans in the texts for what to do on January 6 by getting GOP leaders to vote to reinstate Trump as a last ditch effort. Overall, these texts do not look good for the Trump family as they're trying to deflect the blame of the Capitol riot on someone else.