The One Trick Adrienne Bailon Uses To Revitalize Her Skin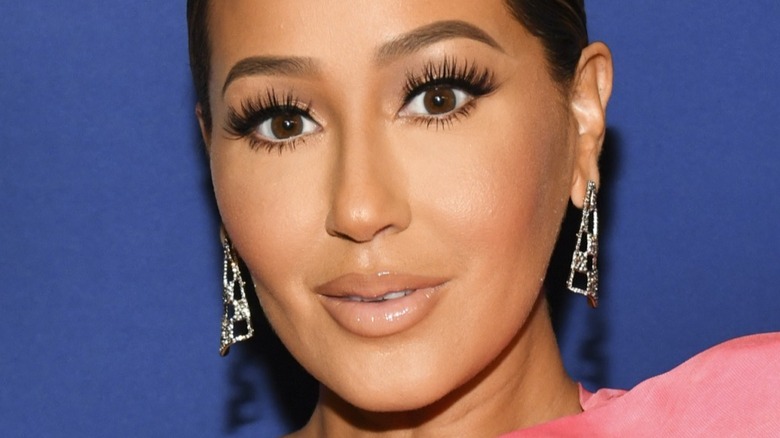 Rodin Eckenroth/Getty Images
From performing as part of girl group 3LW to strutting her stuff in the "Cheetah Girls" franchise to nabbing a host's seat on the talk show "The Real," Adrienne Bailon is one hard-working celebrity who's never too far from the spotlight. After more than two decades in the business, Bailon appears to be as fresh-faced as ever, even though all that hard work and makeup can surely start to take a toll on the skin. Over the years, the multi-hyphenate has seemingly mastered the art of skincare.
Bailon seems to be a fan of affordable skincare, having opted for drugstore brands over high-end products and DIY tricks over pricey procedures. In an October 2021 Byrdie interview, Bailon gave fans a breakdown of her skincare routine. She listed collagen as her favorite skincare ingredient and named Olay and Carmex as her favorite drugstore brands.
All that being said, it's her secret to revitalizing her face that stood out — a tried-and-true trick of the trade that she picked up after years of working with makeup artists on set.
Adrienne Bailon's secret to de-puffed eyes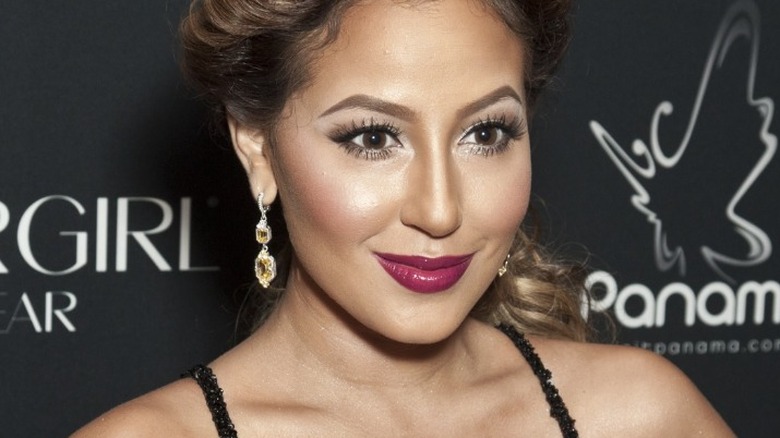 lev radin/Shutterstock
People sometimes look to celebrities for skin and makeup tips because they spend so much time with the experts — it's the makeup artists and aestheticians who know what works. Adrienne Bailon's secret to de-puffed eyes is a trick she learned from makeup artist Rudy Sotomayor, whom she worked with during her 3LW days. "I put a spoon in the fridge, pop it out in the morning, and just let it sit there on my eyes," she told Byrdie. She loved the smoothing and calming effect so much that Sotomayor "always had a spoon in the fridge for [her]." 
The cold spoon trick seems to be a celeb fave. In a 2020 interview with Allure, model and social media star Irene Kim named the technique as one of her favorites for de-puffing her eyes in the morning. Skincare expert Kate Somerville told Cosmopolitan that she likes to soak spoons in ice water and give them to her celebrity clients to use to apply moisturizer and eye cream. "I know it's really basic," Somerville told Cosmopolitan, "but I'm telling you it's like the best face lift ever." Celebrity dermatologist Dr. Shereene Idriss is also a fan of the cold spoon technique.
According to the John Hopkins Medicine blog, the technique is helpful in reducing blood flow to the area, which in turn reduces redness and puffiness.
Adrienne Bailon stresses the importance of full body skincare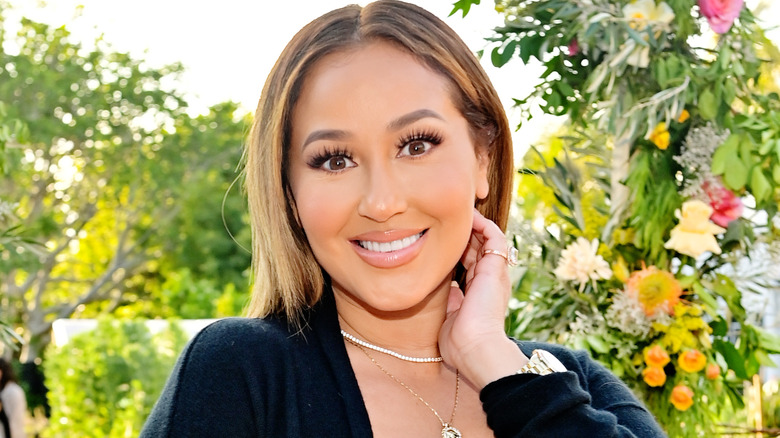 Stefanie Keenan/Getty Images
Over the years, Adrienne Bailon has learned that good skin comes from within, an in her interview with Byrdie, she said that it starts with drinking more water and ensuring you get good rest. Additionally, her collaboration with Olay to promote the expansion of the brand's body line taught her that skincare happens all over the body — not just our faces. "We put [collagen] on our faces, but we tend to neglect our bodies," she told the outlet. 
Touching on Olay Body's Firming Body Lotion With Collagen, Bailon added, "So, it's just great to be able to put that on our skin and let it moisturize it. I love that Olay uses clinically proven ingredients that make a visible difference and that these products are available everywhere."
But cold spoons and some trusty beauty products are only the tip of the iceberg that is beautiful skin. Skincare is a journey, and Bailon admitted that she hasn't always been good to her skin. She confessed to Byrdie that she used to be the type of person who slept in her makeup, skincare routine be damned. "Now," she shared, "I take so much pride in doing something I know will benefit my skin years from now."