Ethan Plath's Latest Instagram Post Will Break Your Heart
TLC's "Welcome to Plathville" is returning for Season 4 on May 17. The reality TV series follows the Plath family from Georgia, which consists of nine children who all grew up with super conservative parents (via TLC). While most of the Plath family is featured in the show, there is one member who is noticeably absent and that's the oldest daughter, Hosanna. According to Us Weekly, Moriah Plath revealed the reason her sister chose not to be a part of the TLC series. "She got married at a young age and moved off with her husband and started her life somewhere else. And she didn't want to be on the show, and we were kind of all just, like, yeah, I mean, it's her life."
While Hosanna has chosen to live life without a camera crew following her around, four of the nine Plath children are the main focus of the series as they are navigating life away from their parents for the first time. Ethan Plath's wife, Olivia, is also a central character on the show, and the Season 4 press release for "Welcome to Plathville" revealed that fans of the show can expect to see Ethan, Olivia, and Moriah trying to make it on their own in Tampa. However, just like every reality TV show, things aren't always easy. 
Ethan Plath admits he misses his family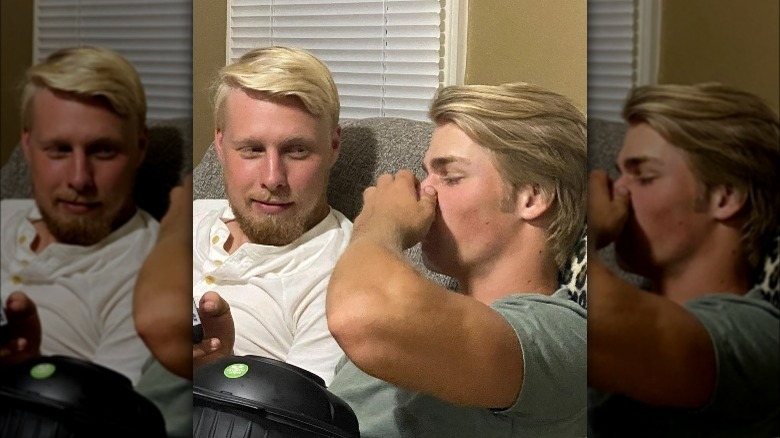 Instagram
Living on your own and away from family can be hard. That's something that Ethan Plath is definitely realizing. In fact, Ethan Plath's latest Instagram post may break your heart if you've ever felt homesick. On April 22, the "Welcome to Plathville" star posted two photos of his little brothers on the social media platform with the caption, "Miss the old days when I could just go up a block and hang out with my little bros. Miss you guys." 
Fans of Ethan commented on the heartbreaking post, relating to the sentiment. One user wrote, "Happiness is having family live close by," while another user blamed Ethan's wife for why the reality star is away from his family. The comment read, "You wife messed everything between you and your family what ashamed." In an exclusive tease of the upcoming season of "Welcome to Plathville," it seems there is trouble in paradise between Ethan and his wife, Olivia (via People). In a clip, Ethan admits, "There's going to be certain times where I'm going to go do stuff by myself, and that's that." This confession upsets Olivia. Later in the tease, Ethan also states, "I'm not never going to come back to [Cairo, Georgia]." 
While it may appear things are rocky between Ethan and Olivia as he misses his family, not everyone seemed to find his most recent Instagram post heartbreaking. Ethan's sister, Moriah Plath, commented on the photos with a series of laughing emojis.