The Odd Connection Prince Andrew Has To The Early Days Of Meghan And Harry's Relationship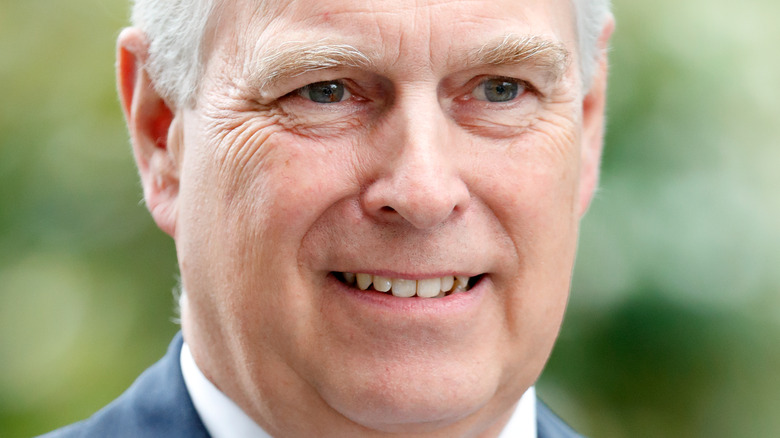 Max Mumby/indigo/Getty Images
We may receive a commission on purchases made from links.
Just about every royal family member has had their ups and downs. After all, when you're in the public eye, people see it all. While they might not see everything at first, it eventually does tend to come out. If there's one royal family member who knows that fact, it's Prince Andrew. The royal has had his fair share of scandals in the past. 
In fact, Prince Andrew hasn't exactly had a great few years. He was caught amid scandal in 2019 after his relationship with Jeffrey Epstein came to light. A photo of him standing with his arm around a 17-year-old girl, who he allegedly had sex with, at Little Saint James made matters worse. On April 28, Prince Andrew was stripped of his "freedom of the city" title after a unanimous vote by the council in the city of York, according to USA Today. This isn't the only title he's lost, either. According to BBC, he's lost over a dozen UK and overseas military titles since the scandal came to light. 
It turns out this isn't the only scandal he could have been involved in as well.
Prince Andrew's household leaked news of Meghan and Harry's relationship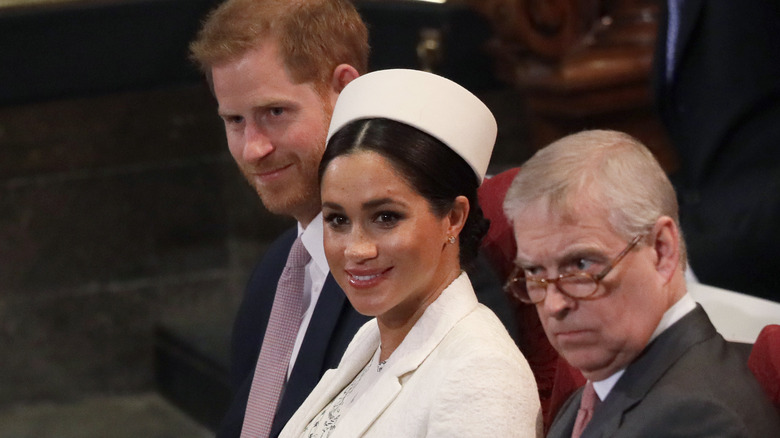 Wpa Pool/Getty Images
All eyes have been on Prince Harry and Meghan Markle's relationship since the very beginning. From their first Invictus Games in 2017 through their royal wedding all the way to their "Megxit" from the royal family, people can't get enough of this couple. And it turns out, we might be able to thank Prince Andrew for that. According to Tina Brown's book, "The Palace Papers," a servant in the house of York — where Prince Andrew and his daughters, Princess Beatrice and Princess Eugenie, live — was the first to leak news of Meghan and Prince Harry's relationship. 
"In the first round of coverage, [Meghan] was portrayed as Grace Kelly redux, an actress, humanitarian, and gender equality campaigner, making it hard not to believe that the initial leak came from Meghan's side (though a servant tip from the House of York has been fingered)," Brown writes in the book, according to Town & Country. "The second round, however, struck a different tone, forcing Meghan to experience the full-on bare-toothed barracuda swarm of hacks on the royal beat."
So, not only was there one leak, but there were two. While one seems pretty sweet, the other one is something to be upset about.
Meghan Markle and Prince Harry have a complicated relationship with the media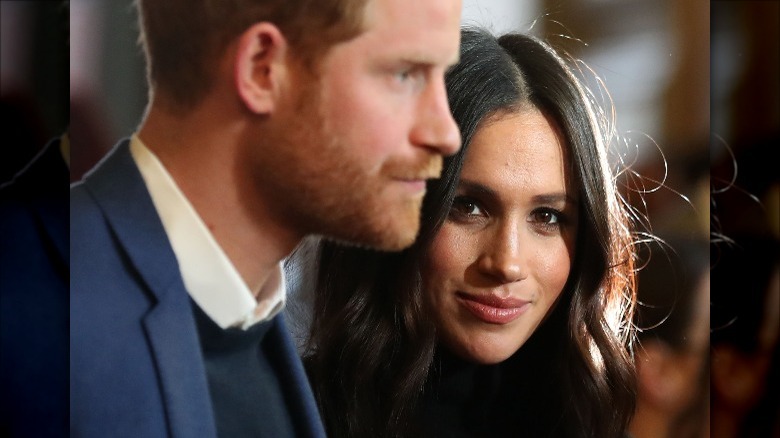 Wpa Pool/Getty Images
The leak might have been the first time the media got wind of Meghan Markle and Prince Harry's relationship, but they haven't laid low on the couple since. The Duke and Duchess of Sussex left Britain after a series of brutal headlines featuring Meghan. The couple actually filed suits — and won, might we add — against multiple news publications over the headlines during the time of the royal wedding. 
In their infamous interview with Oprah Winfrey, Prince Harry and Meghan Markle talked about a troubling "invisible contract" that the royal family has with the media, according to the BBC, and the House of York leak seems to be proof that it truly does exist. "There's a reason that these tabloids have holiday parties at the Palace. They're hosted by the Palace, the tabloids are," Meghan said in the interview. "You know, there is a construct that's at play there."
There's no word on whether the couple knew before they left the UK that news of their relationship leaked from a family house. However, something tells us that this news won't surprise them as much as the rest of us though.