Former Vanity Fair Editor Makes A Surprising Prediction About Meghan And Harry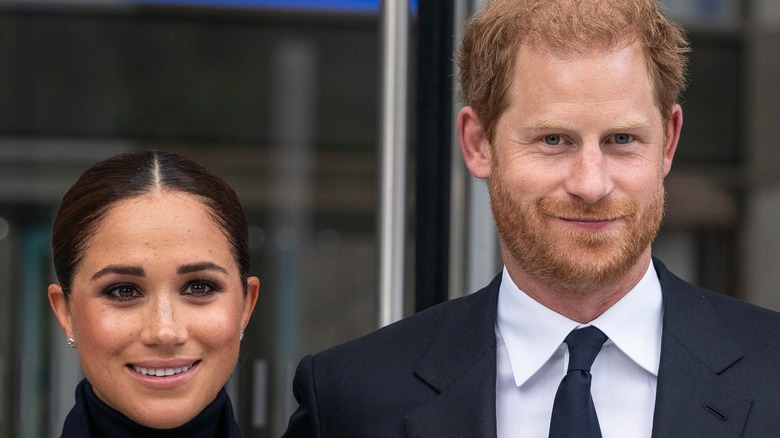 lev radin/Shutterstock
The world was rocked two years ago by Prince Harry and Meghan Markle's decision to step down as working British royals. The press assumed that this was a blindside to Harry's family, despite the fact that the couple told Oprah how "Megxit" really happened. (They said they discussed their plans with Queen Elizabeth in advance.) They proceeded to put down roots in California, launch their nonprofit Archewell Foundation, and join forces with Netflix to create "programming that informs, elevates, and inspires." 
It would appear that Harry and Meghan are content to live as nonworking royals — as are Harry's cousins Zara Tindall, Princess Eugenie, and Princess Beatrice (via Express). However, at least one expert thinks the Duke and Duchess of Sussex may yet make another go at palace responsibilities. In a recent interview with BBC Radio 4's Today program, former Vanity Fair editor Tina Brown said that the current "perilous" state of the monarchy may prompt a return for the estranged couple.
"Harry and Meghan leaving was definitely a blow for the monarchy, because they did represent a more modern — dare I use the word 'relatable' — modern, royal couple who could be deployed to connect ... with the younger generation," said Brown. "And I think there will be an effort to reel them back in at some point. Not for a bit, but ... my guess is that they will want to come back, actually."
However, the royals expert added, Harry's behavior will keep a reconciliation from happening right away.
Tina Brown thinks Prince Harry will act in the greater good of the monarchy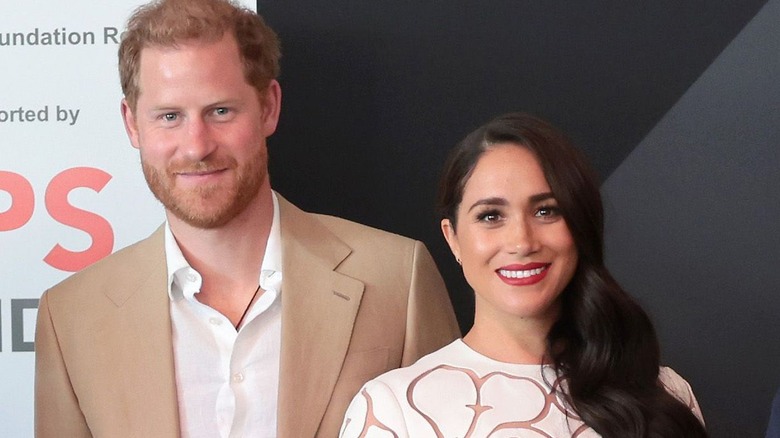 Chris Jackson/Getty Images
Tina Brown is no fan of Prince Harry and Meghan Markle, as her book "The Palace Papers" attests. She paints Harry as an angry and mentally fragile man, and Meghan as a brash American outsider who hurried into marriage before she fully understood what her palace role and responsibilities would be. Still, she allows that they have an appeal among many young fans, which could come in handy in the future. 
Sadly, the queen's extraordinary reign will soon come to an end, which Brown says will be "a seismic event" and "traumatic" for Great Britain (via Daily Mail). Prince Charles will have the unenviable task of carrying on his mother's legacy while trying to make the monarchy relevant to the next generation. In her BBC Radio 4 interview, Brown suggested that Harry may feel called to step up and help. "I think when the Queen does die, I do believe there'll be a kind of desire for Harry to serve his country," she said. "I think he's going to want to rethink it, probably." Brown also hinted that the prince may also be disappointed with the progress of his production deal with Netflix. The partnership suffered a major setback when Netflix canceled "Pearl," the proposed animated series that Meghan created (via Deadline).
Don't look for Harry and Meghan to move into Windsor Castle anytime soon, however. Brown said that the "fresh hand grenades" Harry has thrown at his family — such as his shocking statement about "protecting" the queen – have made it difficult for his family to trust him.
Why Prince Harry may think the Queen needs protecting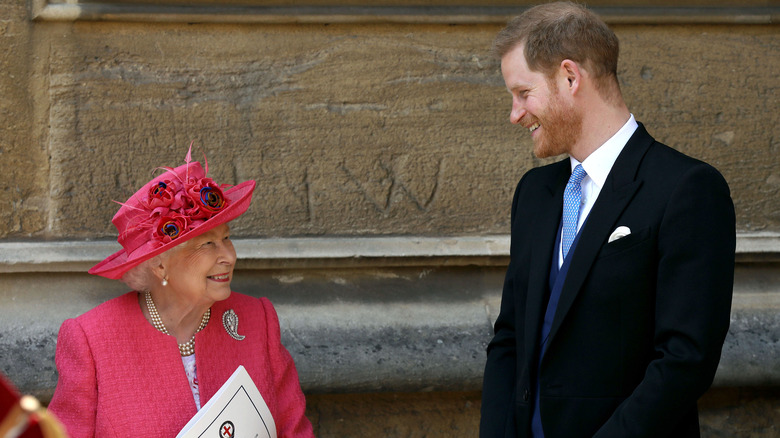 Wpa Pool/Getty Images
Prince Harry and his wife Meghan Markle recently met with Queen Elizabeth II as they traveled to the Invictus Games held in the Netherlands (USA Today). Their pitstop at Windsor Castle was the first time they've visited the queen since they moved to the U.S. in 2020.
In an NBC interview with Hoda Kotb, Prince Harry reflected on how it felt to visit his grandmother after such a long separation. The Duke said, "Being with her was great. It was just so nice to see her." Yet, what he said following that statement may have landed him in hot water in certain circles. Harry stated, "I'm just making sure she's protected and [has] got the right people around her." What protection Queen Elizabeth may need is now the subject of speculation. 
The Mirror reports that Harry may feel he needs to protect his grandmother from the royal staff, Prince Charles, Prince William, or even the public due to security threats. However, the need to protect his loved ones may stem from the heartbreaking car accident that took his mother, Princess Diana's, life. That was, understandably, one of the reasons why he reportedly felt the need to protect his wife. In the Apple+ series, "The Me You Can't See," the Duke shared, "You wanna talk about history repeating itself? They're not gonna stop until she [Markle] dies. It's incredibly triggering to potentially lose another woman in my life."