Denise Richards Gives An Update On Her Relationship With Estranged Daughter Sami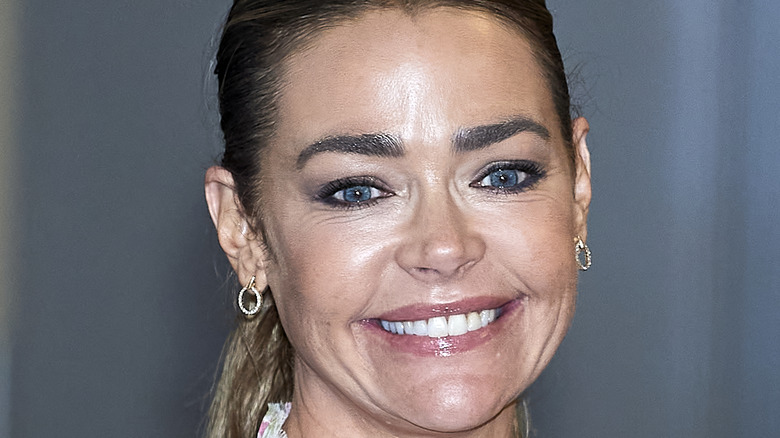 Carlos Alvarez/Getty Images
Denise Richards has spent most of her life in the public eye, and she's been scrutinized just about every step of the way. From the time she was a young starlet to her most recent venture into the messy world of "The Real Housewives of Beverly Hills," Richards has always made the tabloids. The "Wild Things" actress put it best in her "RHOBH" tagline when she said, "My problem with the tabloids? My real life is so much juicier," per Taste of Reality. 
Richards undeniably has a star-studded dating history from John Stamos to Nikki Sixx, but above all else Richards will forever be linked to her infamous ex-husband Charlie Sheen, per Us Weekly. The "Starship Troopers" star has always been candidly open about her marriage to Sheen, especially all of his indiscretions. Richards even shared a heartwrenching moment on "RHOBH" as she reflected on how their relationship could impact their children as she tearfully shared, "I don't want them to look back at their childhood and remember [arguments]" (via Too Fab).
Well, it turns out it's not quite Richards and Sheen's past differences that affected their children but rather their contrasting parenting techniques. So much so that it led their daughter Sami Sheen to leave Richards' side and move in with the more relaxed environment Sheen had created, per Page Six. After a year of estrangement, though, it looks like Richards and Sami are finally seeing eye to eye. 
Denise Richards and Sami Sheen's year of estrangement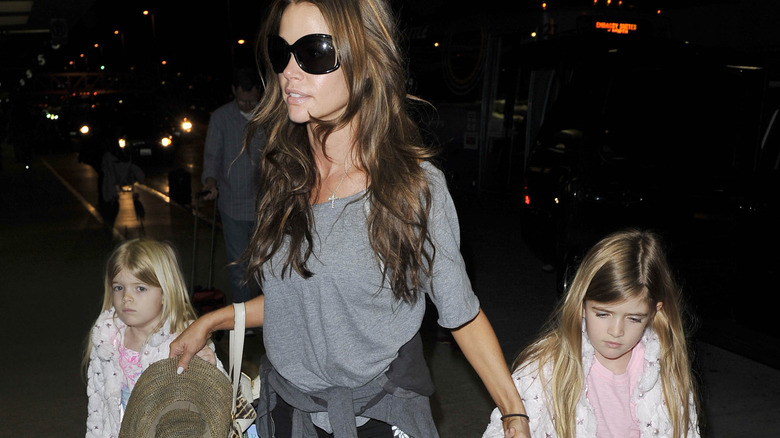 worldswildlifewonders/Shutterstock
Everyone that had witnessed the seemingly close relationship Denise Richards had with her daughter Sami Sheen on "RHOBH" were shocked to find out that may not have been the case. Sami dropped a bombshell when she chose to share a TikTok after moving in with her father, claiming that during her time at her mother's house she was, "Trapped in an abusive household, hated myself, would go days without eating or sleeping, insanely depressed, hated school, etc" (via Page Six).
A source revealed to Us Weekly that the move was a result of Sami not appreciating Richards' house rules, saying, "Denise set normal rules that any parent would be setting. She's a mom and a parent and there are rules. She didn't want to follow the rules." 
The mother and daughter had clearly lost touch, as Richards attempted to reach out by penning a touching birthday wish to Sami on Instagram on her 18th birthday where she admitted, "Privately many more words to share with you."
Richards opened up about the strained relationship while speaking to SiriusXM's Jeff Lewis where she expressed, "Obviously, I would love for her to live with me ... But I think it's very difficult raising teenagers now and especially in Los Angeles. When there's access to everything." Confirming their estrangement, Richards shared, "Honestly, I have a strained relationship with her and it's very difficult," before hoping that things get back on track.
Denise Richards and Sami Sheen celebrate Mothers Day
Well, it looks like Mother's Day was the perfect occasion for reconciliation. Sami and Richards shared a touching snap together celebrating the holiday. Sami captioned the Instagram post with a loving message: "Happy mother's day !! i love u so much mom. u have no idea how grateful i am to have u in my life." A source revealed to Us Weekly, "Denise and Sami reconnected within the last month. They are getting along very well."
Hopefully, this reconciliation can last and they can make up for lost time. Richards seems ecstatic about it as she responded to Sami's post with a touching note. "Thank you Sami for an amazing Mother's Day," she wrote in the comments. "It means a lot to me, I know nana was at dinner with us she would never miss one of her favorite restaurants. ... Thank you & I love you so much." The exchange was noticeably more positive than her past birthday wish to which Sami had simply responded, "Thank you so much mom I love you too" (via Us Weekly).