How To Replicate Zendaya's Affordable Skincare Routine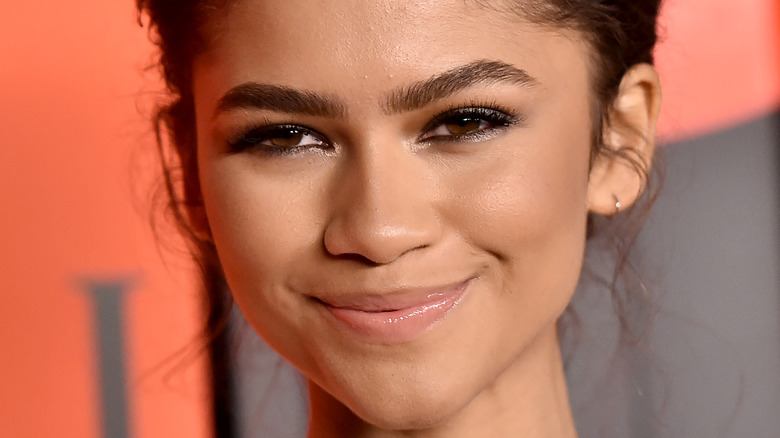 Steven Ferdman / Getty Images
Zendaya has done it all. From starring alongside Timothée Chalamet in box office hit "Dune" (via Forbes) to co-starring with her boyfriend, Tom Holland, in the "Spider-Man" franchise, her profile is rising high in Hollywood. Considering how she started out on Disney as plucky Rocky Blue in "Shake It Up" (via Insider), it's truly remarkable to see how far she has come. 
Not content to just be an actress, Zendaya is a jack of all trades. She has previously spoken about her other talents, stating, "As a kid, my main interest was dancing. When I was 8 years old, I was in a hip-hop troupe" (via W Magazine). As well as on "Shake It Up," Zendaya's dance skills were on display when she took part in "Dancing With The Stars." At only 16 years old, she was the youngest ever contestant and received the highest scores in the, just falling short of taking home the trophy (via Bustle). Along with acting and dancing, Zendaya is also a model, recently appearing in a Valentino ad campaign (via Grazia). 
Zendaya's skin is smooth and moisturized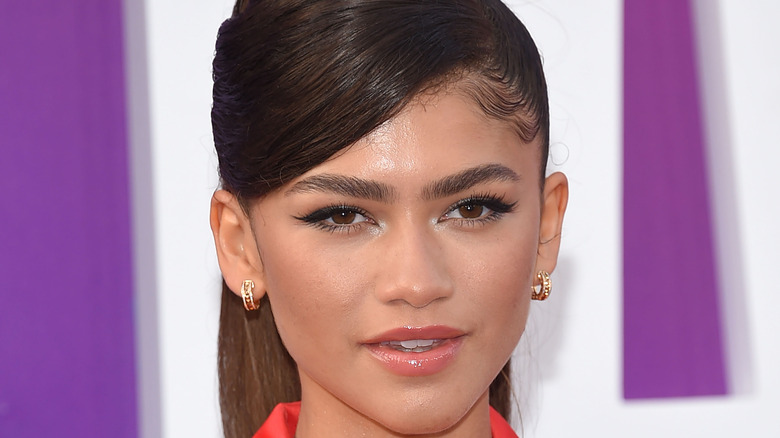 DFree / Shutterstock
So, how exactly does Zendaya achieve her beautiful skin? You may think that a skincare routine has to be expensive to work, but this isn't the case at all. Zendaya may be one of the hottest stars right now, but, like a handful of other celebs, she seems to have a relatively affordable skincare routine. She let InStyle know that her go-to moisturizer is CeraVe's AM Facial Moisturizing Lotion. Easily accessible even to non-celebs and at a good price point for most people, there's no denying this product has contributed to her glowing complexion. 
Apart from her skincare swear-by products, Zendaya has beauty must-haves as well. Among these staples are Lancôme's L'Absolu Rouge Ruby lipstick in 473 Rubiez (via InStyle). Another Lancôme product Zendaya swears by is their Lash Idôle mascara. A mascara addict, she revealed to Glamour that mascara is, "[O]ne of my favorite parts of my beauty routine."
Zendaya has also previously stated the importance of keeping her skin hydrated in an interview with Vogue, saying, "I never skip moisturizer — I feel like my face would crack in half." And, for all you beauty lovers who get tired once evening hits, Zendaya is firmly against sleeping with makeup on, calling it "a big rule" she follows. If it's good enough for Zendaya, it's more than good enough for us.
She always glows on the red carpet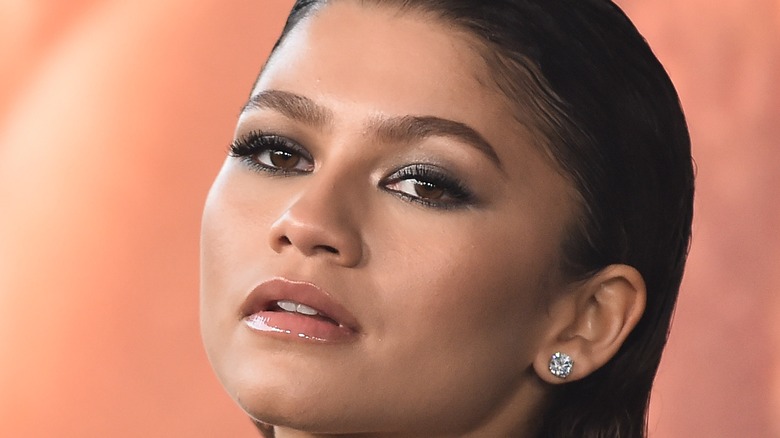 DFree / Shutterstock
If her luminous complexion wasn't enough, Zendaya's makeup is always stunning, too. Whether it's glossy lips and dramatic eyes for "Spider-Man" red carpets (per Page Six) or sultry and smoky vibes for the premiere of "Euphoria" (via Harper's Bazaar), she can pull everything off. 
You may think it's impossible to get a base as stunning as Zendaya's, but luckily her makeup artist, Sheika Daley, dished on her trick for radiant skin. Daley told Elle Australia that "before Zendaya — or any of [her] other clients — has a red carpet, the first thing [they] do is a face mask." Her main recommendation? Natura Bissé's Diamond Lift Ice Mask, which is described as having an "extraordinary hydrating, tightening, and firming effect." Face masks are a great quick fix for skin problems, with more choices than ever before available. You can make your own, or stick to the already-made versions. From oily to dry skin, there's a mask for every skin type. 
There you have it — now you have the secret to Zendaya's radiant skin, so you can glow all summer long.