Queen Elizabeth's Platinum Jubilee Just Got Its Own Emoji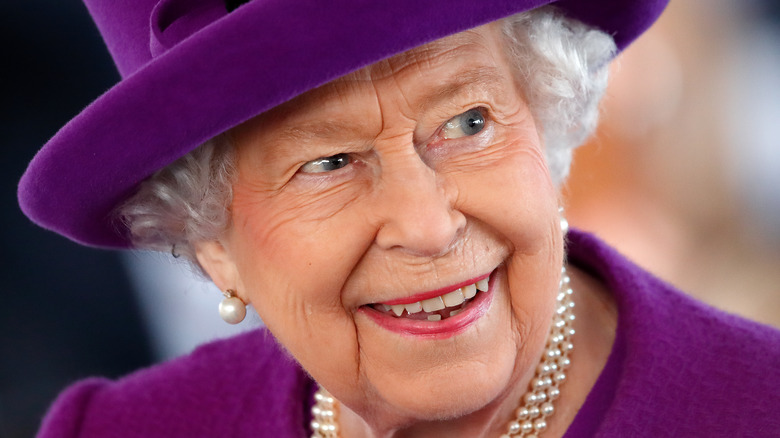 Max Mumby/indigo/Getty Images
The Platinum Jubilee celebrations are right around corner and Queen Elizabeth II is not holding back when it comes to surprises. Buckingham Palace has slowly been revealing more and more details about the celebratory Central Weekend. While some events you need to see to believe, the latest one will have you getting in on the fun right from your couch. 
In case you're not up to date on royal celebrations, the Platinum Jubilee is a fancy way of saying that Queen Elizabeth has been the Queen of England for 70 years now. Basically, it's a super extravagant work anniversary that will be celebrated in a Central Weekend filled with tons of unexpected musical performances with stars like Ed Sheeran and even the first-ever Corgi Derby. All of the Queen's favorite things will be present for a four-day weekend of fun, starting June 2 (via Anglotopia).
Even if you can't get to England for the celebration, there are tons of ways to get involved. There are souvenirs you can buy online, like the roughly $250 signature Platinum Jubilee perfume that was created just for the event. 
Queen Elizabeth has her own corgi emoji for the Platinum Jubilee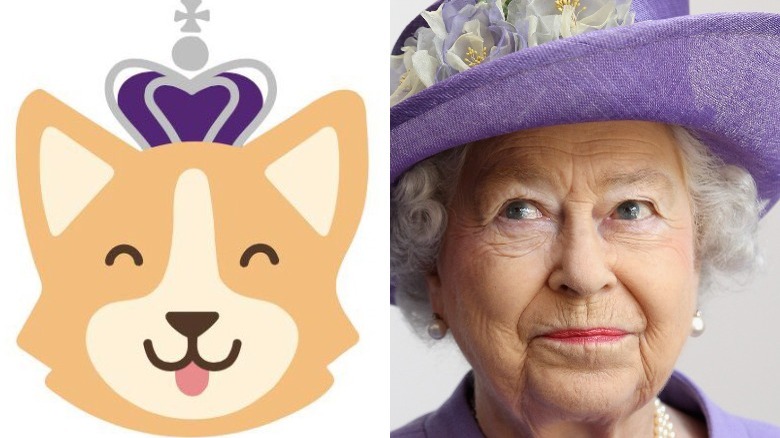 Twitter/Chris Jackson/Getty
Even if you don't live anywhere near England, you know one thing to be true about Queen Elizabeth II — she loves corgis. The Platinum Jubilee is having its first-ever Corgi Derby, for goodness sake. That's some dedication to a dog breed, if we've ever seen one. So, it only makes sense that the official royal emoji for the Platinum Jubilee is a corgi, according to the Daily Mail. Okay, technically it's even more cool than that. According to The Royal Family on Twitter, the emoji is a corgi wearing a tiny purple crown. 
The Royal Family announced on Twitter that the little emoji's name is PJ as well. The name, which likely stands for the abbreviation for "Platinum Jubilee," is without a doubt an adorable way to celebrate. "A warm and waggy-tailed welcome to PJ the corgi," The Prince of Wales and the Duchess of Cornwall said on Twitter.
To use the emoji, all you need to do is use a hashtag about the Platinum Jubilee. "PJ will appear whenever you use #PlatinumJubilee #HM70 PlatinumPartyatthePalace #PlatinumJubileePalace or #TheBigJubileeLunch and we're hoping that as many of you as possible will use PJ to help celebrate the Jubilee here on Twitter," The Royal Family tweeted. 
The Queen has owned over 30 corgis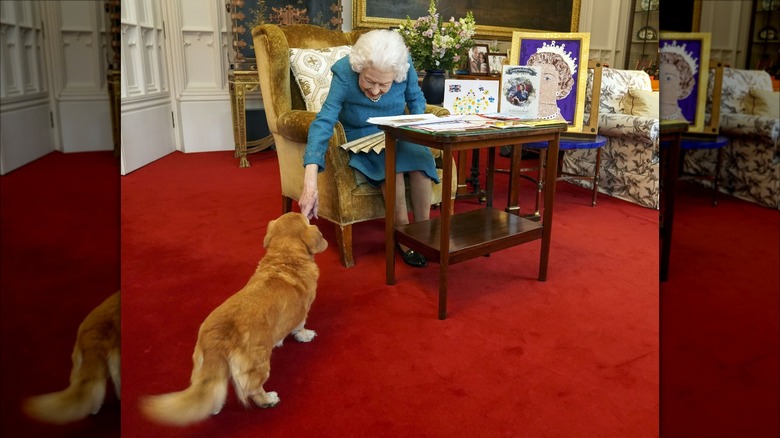 Wpa Pool/Getty Images
PJ will be the only royal emoji used for the Platinum Jubilee. Let's be honest though, does there really need to be another one? This one is not only adorable, but it hits on what Queen Elizabeth loves the most — corgis. According to Independent UK, the Queen has owned over 30 corgis since she's taken the throne. Most of the time she even has multiple corgis at once.
According to the publication, the Queen's love for corgis stemmed from back when she was seven and her dad, the King George IV, brought home the family's first corgi. He also gave one to Queen Elizabeth for her 18th birthday. So, naturally, this is more than just an affection for the dog breed. Queen Elizabeth's love for corgis is extremely sentimental as well.
Let's just say that if ever there was someone who nailed a party theme, it's the Queen.