What Is Travis Scott's Real Name?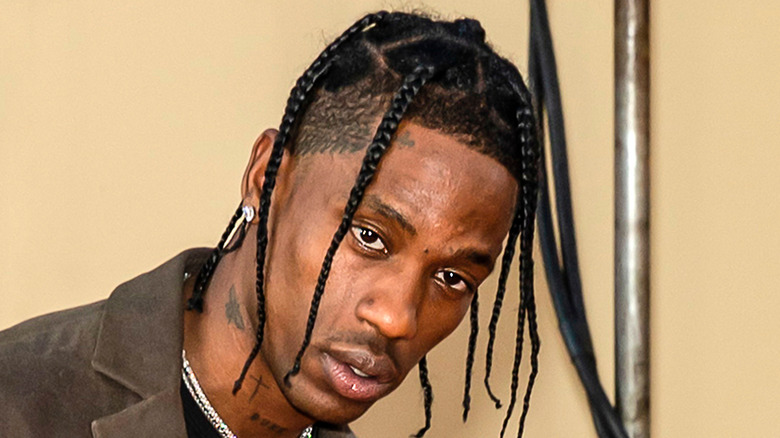 Ovidiu Hrubaru/Shutterstock
Travis Scott, recording artist, record producer, and spearhead of the annual Astroworld Festival is set to headline his first festival since the Astroworld tragedy in November 2022, which resulted in eight deaths and mass injury (via CNN). The multiple Grammy-nominated performer and "Sicko Mode" artist (via USA Today) will no longer headline Las Vegas' Day N Vegas Festival facing some controversy (via USA Today).
Travis Scott has seen rapid success since 2015 with the release of his first studio album, "Rodeo," which made the Billboard 200 Chart. Two years later, in 2017, Scott created his own label, Cactus Jack Records, and the following year launched Astroworld, an annual music festival in his home city of Houston, Texas (via The Sun). Along with his partner, Kylie Jenner, Scott is no stranger to media scrutiny. But, what the headlines often don't spotlight is the artist's real name, Jacques Berman Webster II (via USA today).
The Origins of his Stage Name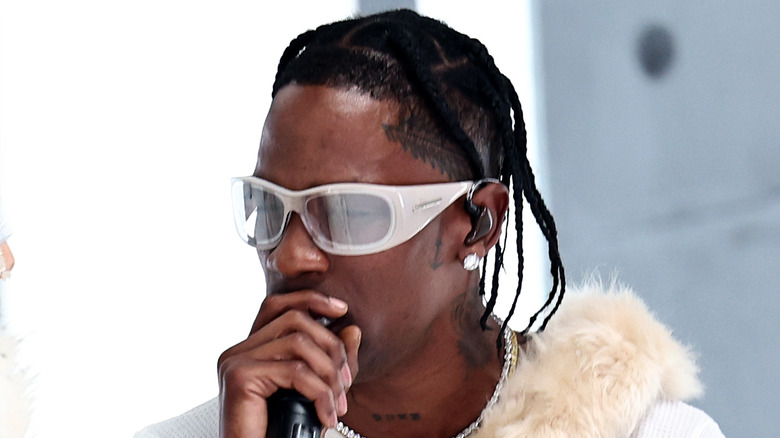 Matt Winkelmeyer/Getty Images
The Grammy-nominated artist was born in Houston, Texas, in 1991, and named after his father, also Jacques Webster (via The Tonight Show with Jimmy Fallon). But where does the "Travis Scott" moniker come from?
"My favorite uncle's name is Travis." During a 2015 interview, Scott told Complex, going on to describe him as "smart and cool," an older figure he looks up to. And the rapper's self-given last name, "Scott," comes from one of his musical inspirations, Kid Cudi, whose real name is Scott Mescudi. According to The Tonight Show With Jimmy Fallon, Travis Scott's stage name is simply a combination of his "two superheroes." A perfect example of imitation is the sincerest form of flattery.
Despite the fact that Travis Scott is almost exclusively known by a stage name, his legal name, Jacques Webster II, is apparently still being passed down to his children.
Travis Scott passed down his real last name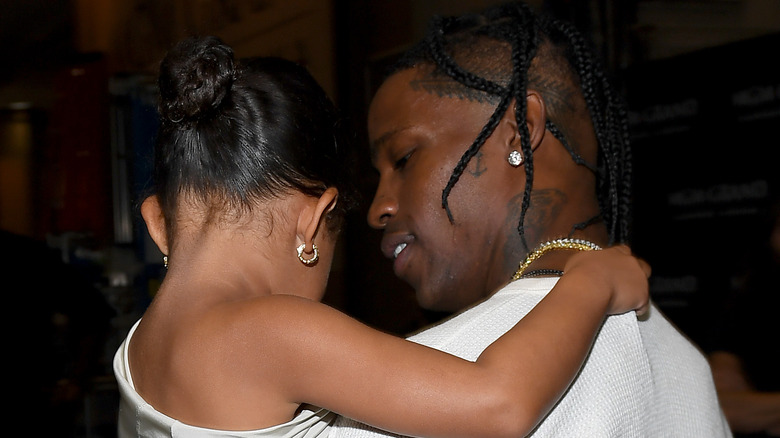 Bryan Steffy/Getty Images
When Kylie Jenner and Travis Scott's daughter, Stormi Webster, was born in 2017, fans may have questioned the origins of her last name, seemingly unrelated to either of her parents. In actuality, she took her father's real last name, "Webster" (via Harper's Bazaar). As reported by Bustle, "... though Jenner and Scott are not married, Jenner still wanted their daughter to have her father's surname."
In March of 2022, Kylie Jenner and Travis Scott celebrated the birth of their second child, who, for the time being, is named Wolf Webster (via Life & Style). However, the pair has plans for this to change. In an interview with Extra, Jenner clarified, "We just haven't fully legally changed it our anything, so I don't want to announce a new name and then change it again." It seems, however, that although their newborn's first name may undergo a transition in the coming months, his last name, "Webster," like his father's, is still fully intact.