Prince Charles' Cheeky Comment About Camilla Has Royal Fans In A Tizzy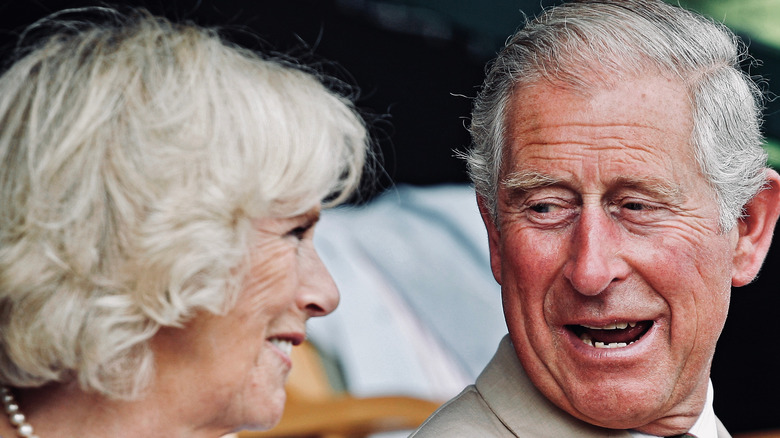 Peter Rhys Williams/Shutterstock
It was at a polo match in 1970 that Prince Charles met Camilla Shand, and the two dated for a bit but they each ended up marrying others — Camilla married Andrew Parker Bowles in 1973 and Charles married Diana Spencer in 1981, per US Weekly. But Charles and Camilla rekindled a romance while they were both still married to others, which was called out by Princess Diana in the infamous 1997 BBC interview; she said "there were three of us in this marriage, so it was a bit crowded." It wasn't until 35 years later from that first polo match meeting that Camilla and Charles were married. With the breakup of Charles and Diana and after Diana's death, Camilla was called by some "the most hated woman in Britain," per Express.co.uk. Even Queen Elizabeth in the past called Camilla that "wicked woman," according to Vanity Fair.
But over time, Camilla's image has been rehabbed, and Queen Elizabeth has even given her blessing for Camilla to be queen consort once Charles becomes king. Royal correspondent Roya Nikkah told NBC News that one of the reasons Camilla may be more accepted by the public is because "she is very down to earth, she doesn't have those stuffy airs." Recently she showed a very relatable side when she called out her husband, and royal fans loved it.
Prince Charles said Camilla is very bossy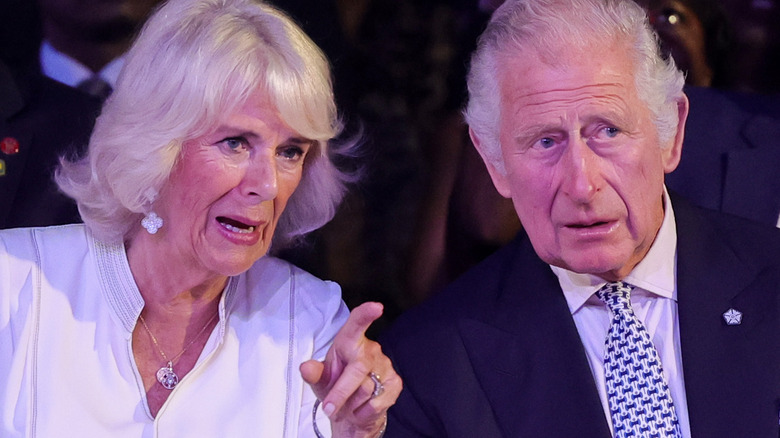 Chris Jackson/Getty Images
Prince Charles and Camilla Parker-Bowles are on a historic trip to Rwanda; they're the first members of the royal family to visit the country, per People. As part of their visit, they attended Kigali Fashion Week, and Camilla told Charles it was time to pose for pictures. To which Charles said, according to Roya Nikkah on Twitter, "She's very bossy!"
One fan said the interaction showed the influence Camilla has had on the Prince of Wales "I believe Camilla has been good for him, a combination of happiness and mellowing as he ages makes a good PoW". Another tweeted about the couple, noting "how close they are."
One tweeted about the fact that this didn't seem like the first time Camilla worked to keep Charles in line at a public event, "Even during the [Platinum Jubilee] she was always having to nudge him for something. He listens to her you can tell". That pattern has been noticed by others; one tweeted "I must admit Charles is rather hard to stand still during photo ops, Camilla is always there to instruct him." For a couple with such a rocky start to their romantic relationship, they seem to have found their rhythm.
Camilla and Charles are stepping up in the royal family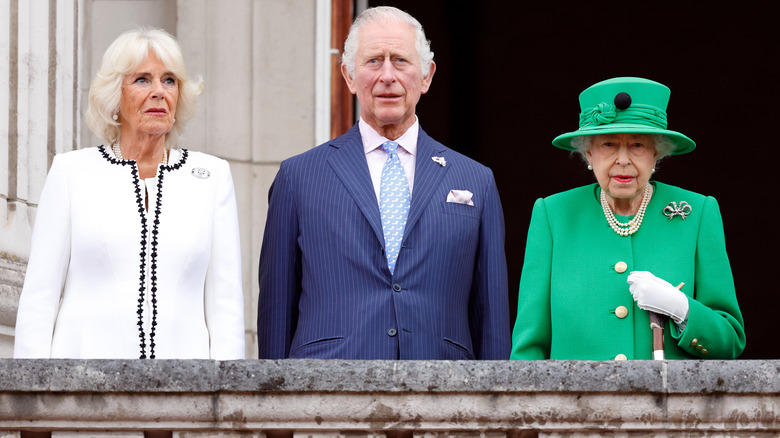 Max Mumby/indigo/Getty Images
In addition to being granted the honor of becoming the queen consort when Prince Charles becomes king, Camilla Parker-Bowles was recently given another special yet subtle privilege at the queen's Platinum Jubilee (via Yahoo). At the last ceremony of the Platinum Jubilee, Queen Elizabeth appeared on the middle of the Buckingham Palace balcony while Charles and Camilla stood on one side while Prince William, his wife Kate Middleton, and their children, Prince Louis, Princess Charlotte, and Prince George stood on the other side.
The photo was striking and spoke to the future of Great Britain's ruling family. Prince Charles and Camilla will become the king and queen consort immediately after Queen's Elizabeth's death and then Prince William and Duchess Kate will be next in the line of succession.
With the queen slowing down at the age of 96, it's become apparent that Prince Charles is stepping up to take over her royal duties. It's a natural progression since his rise to the throne is inevitable.
The future of the British monarchy lies with Camilla and Charles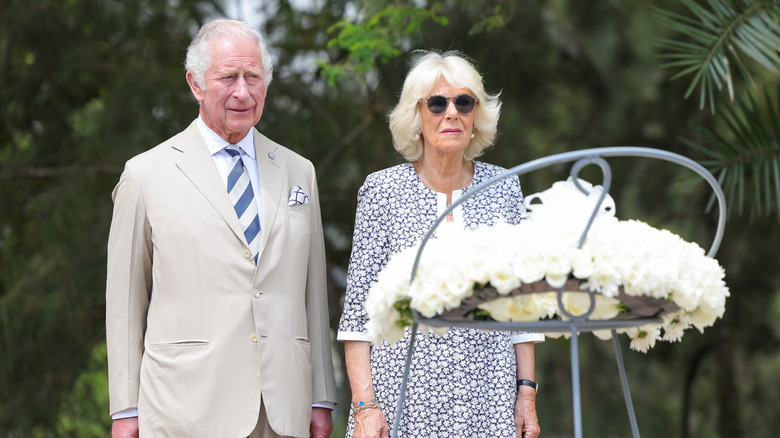 Chris Jackson/Getty Images
The couple's first ever trip to Rwanda representing the Royal family was another sign that they are slowly taking over the reigns as the face of the British monarchy (via Town & Country). One has to wonder whether the queen's absence at several of the Platinum Jubilee events was really due to her "discomforts" or was simply a strategic way to allow Charles and Camilla to prepare for their very busy future.
The queen is doing her best to prepare the people of Great Britain to accept and welcome Charles and Camilla. In a letter that her majesty wrote when she announced that she wished for Camilla to be known as Queen consort when the comes, she had very complimentary words for her son and daughter-in-law (via Page Six).
"I remain eternally grateful for, and humbled by, the loyalty and affection you continue to give me," the Queen wrote. "And when, in the fullness of time, my son Charles becomes King, I know you will give him and his wife Camilla the same support that you have given me."
Over fifty years since Camilla and Charles first met, they now await together for Charles to become the head of British monarchy.