Hilarious Outtakes Reveal What Went On Behind The Scenes On Days Of Our Lives: Beyond Salem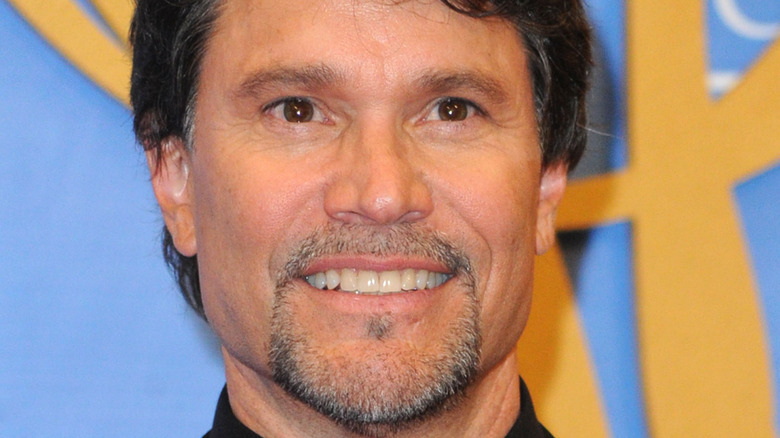 Frazer Harrison/Getty Images
"Days of Our Lives" viewers are still talking about the second season of "Days of Our Lives: Beyond Salem." The spin-off of the NBC soap opera debuted on the Peacock app and thrilled fans by reuniting former daytime TV super couple Bo Brady (Peter Reckell) and Hope Brady (Kristian Alfonso), per Soaps. The five-episode limited series was a wild ride of action and adventure as many of Salem's favorite characters traveled the world to places like Hong Kong, Seattle, Montreal, San Francisco, and more on a hunt for answers (via Deadline).
Meanwhile, Bo watched as his family found themselves in trouble and tried his best to help them from heaven. By the end of the season, fans were treated to a huge cliffhanger when it was revealed that Bo's body had been frozen by his high school sweetheart Megan Hathaway, who planned to use the three prisms to cure the illness that had previously taken his life. In the final moments, Bo opened his eyes and stunned fans, who were left wanting more.
Thankfully, it seems that they will get answers, as Reckell has already hinted that the story could continue during "Beyond Salem" Chapter 3. However, for fans who want to see some unaired footage now, they can check out the hilarious blooper reel of Reckell and his co-star, Loretta Devine.
Peter Reckell and Loretta Devine got silly in a blooper reel
"Days of Our Lives" fans couldn't get enough of Chapter 2 of "Days of Our Lives: Beyond Salem." The spin-off series reunited families, entertained viewers with tons of dramatic moments, and brought back many former characters — like Steve Burton's Harris Michaels, per Soaps. Although the show was mostly filled with tense moments, what fans didn't see was all the behind-the-scenes bloopers that occurred during filming. However, the official "Days of Our Lives" YouTube channel shared some hilarious moments from Peter Reckell and Loretta Devine's many scenes together.
During the blooper reel, fans can see the character of Bo Brady in heaven with his guardian angel Angela. The two have a lot of dialogue together, and at times they forgot some of their lines, got a bit tongue-tied, and even said the wrong words. Some really comical moments came when Devine mixed up the name Hope Brady with "Hope Brandy." She also confused Bo's famous nickname for his wife — Fancy Face — with "Funny Face."
Reckell and Devine laughed through their mistakes, and the blooper reel is definitely worth checking out if you're a fans of "Days of Our Lives" and enjoyed "Beyond Salem."