Body Language Expert Has Dire Thoughts About How Prince Harry Is Really Doing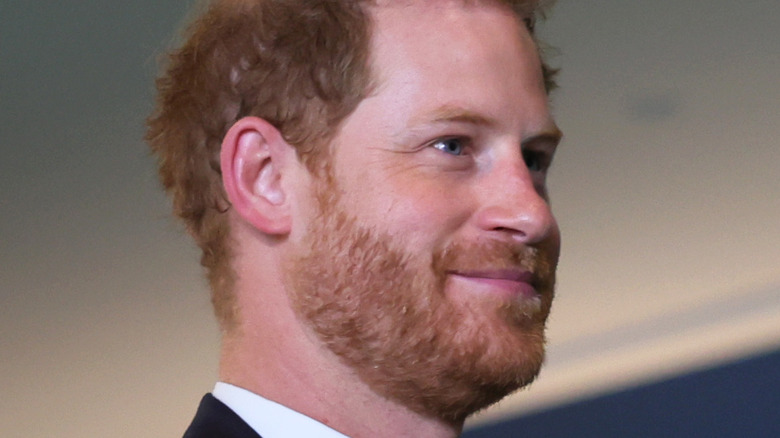 Michael M. Santiago/Getty Images
Much has been made of an awkward display of PDA between Prince Harry and Meghan Markle during their United Nations visit earlier this month. In a widely-circulated Twitter video, we see an interaction that appears to show the Duchess of Sussex attempting to take her husband's hand, and him pulling it away (via Newsweek). While we don't know for sure what went down with the couple in this moment — it could have meant absolutely nothing — the exchange set into motion a laser focus on the Duke of Sussex's body language during his trip to New York and what it could have meant about how he really feels given all the negative attention around him.
First, consider that according to a recent poll, Prince Harry's popularity is at an all-time low. Meanwhile, the former senior royals are engaged in no less than nine lawsuits currently, with one very public battle seeing the prince waging war against his family over a lack of protection of his wife and kids while they are in the United Kingdom. The Duke and Duchess of Sussex are also being portrayed extremely unfavorably in a new book, "Revenge: Meghan, Harry and the war between the Windsors," with author Tom Bower admitting he has a sinister plan to accelerate their downfall with its contents.
Prince Harry may be struggling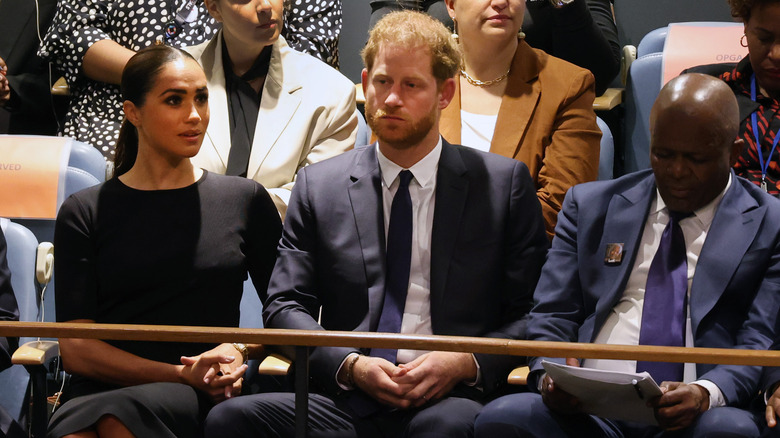 Spencer Platt/Getty Images
All of these things combined, from poor approval ratings to tension with his family — remember, the Sussexes just returned to California following a drama-filled visit to the U.K. for the Queen's Platinum Jubilee — and it would hardly come as a shock if Prince Harry was feeling pretty stressed out. 
According to a body language expert, this very emotion was on full display during the royal's recent United Nations visit. Australian body language expert Katia Loisel talked to Sky News about Prince Harry's appearance during the visit, which marked Nelson Mandela International Day. Her conclusion? Sadly, Loisel said, "all is not well" with the Duke of Sussex.
In fact, she feels that the Duke of Sussex's confidence has "taken a hit and his anxiety, overwhelm and sadness was on display for all to see." 
Prince Harry tunes out the haters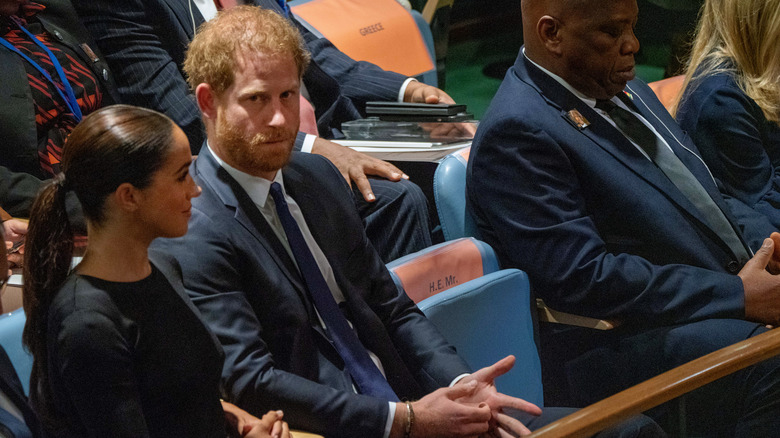 David Dee Delgado/Getty Images
According to body language expert Katia Loisel, Prince Harry was showing telltale signs of stress and being withdrawn during and after his speech to the United Nations, especially in his face, neck and shoulders. As she further noted to Sky News, given the Duke of Sussex's clear unease, the dad of two was attempting to self-soothe by "fidgeting with his wedding ring," among other gestures.
Lastly, the body language expert opined that Harry was signaling his need for distance from his wife, the Duchess of Sussex, via his posture, leaning away from her — not to mention that in that Twitter video it seemed he pulled his hand away from her grip.
No matter how he is truly doing, the good news is that the royal will likely stay away from stories on the web about his mental health. Harry has said in the past, "Cutting out the toxic parts of the online world and the way stories are put in front of us, baiting us, is one way I prioritize my well-being" (via People).