Here's How A New Meghan Markle Biography Is Flipping The Script On The Duchess' Story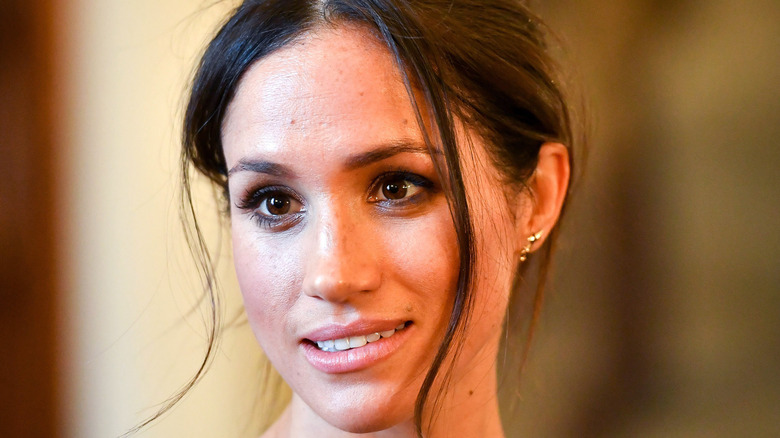 Wpa Pool/Getty Images
Royal author Tom Bower is apparently out for blood with his latest release, "Revenge: Meghan, Harry and the War between the Windsors." By Bower's own estimation, he hopes the book takes the Duke and Duchess of Sussex down a peg or two, as the author openly told Piers Morgan. Per Newsweek, Bower said, "This book may hasten the downward trend, over which I wouldn't be sad at all because they pose a real threat to the royal family." 
His focus is predominantly on the former "Suits" star — rather than her husband — whom Bower wildly claimed wasn't even that famous prior to her relationship with Prince Harry, Duke of Sussex. According to Express, during an appearance on "Good Morning Britain," the royal commentator got into a heated back and forth with co-host Ben Shephard about whether Meghan was actually well-known beforehand, with Bower arguing the hit legal drama wasn't very widely watched.
A number of shocking revelations have already come out of "Revenge," among them eyebrow-raising details about Meghan's royal training and some surprising comments about the duchess's first marriage. Now, royal reporter and author Omid Scobie is looking to set the record straight the best way he knows how.
Omid Scobie wants to set the record straight about the Duchess of Sussex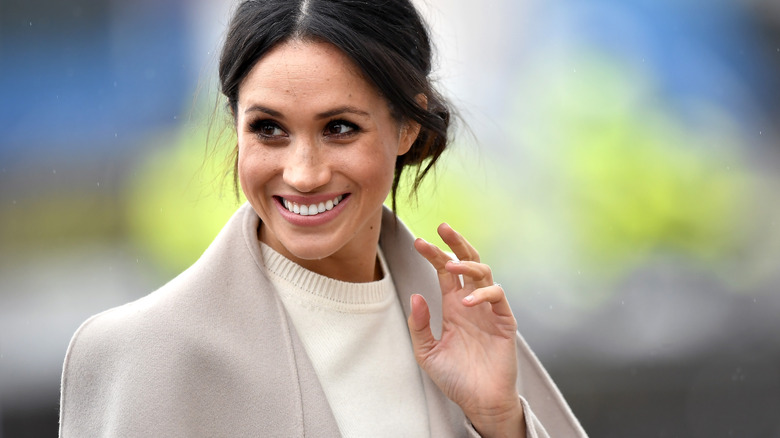 Charles Mcquillan/Getty Images
"Finding Freedom" author — and noted friend of the Sussexes — Omid Scobie is eager to defend Meghan Markle with the release of a new book. The Mirror reports that the as-yet-untitled tome, which is slated to drop sometime next year, is chiefly aimed at resetting the balance following the release of Tom Bower's "Revenge." Particularly considering the fact that, among other things, Bower spoke to Meghan's estranged father, Thomas Markle, for his incendiary title.
Page Six reports that, according to Bower, Queen Elizabeth II and Prince Charles reportedly tried to force a reconciliation between father and daughter, but Meghan would not be swayed. Bower spoke to around 80 people, many of whom had an axe to grind or simply an active dislike of Meghan. Additionally, he mostly repeated stories that were already publicly known — and immediately disputed, in the case of one claim that was shot down by a Vanity Fair editor, per The Mirror.
Scobie, on the other hand, got full access to the duchess's friends and family for his previous book, "Finding Freedom," providing a warm take on Meghan's life and personality, and will likely be given similar clearance this time around. His new book will reportedly focus "on a new chapter of the royal story and feature unique insight, deep access, and exclusive revelations." Meanwhile, we can expect to see Prince Harry's bombshell memoir hitting shelves before the year is out, after a number of delays.
Meghan and Harry won't be refuting Tom Bower's claims themselves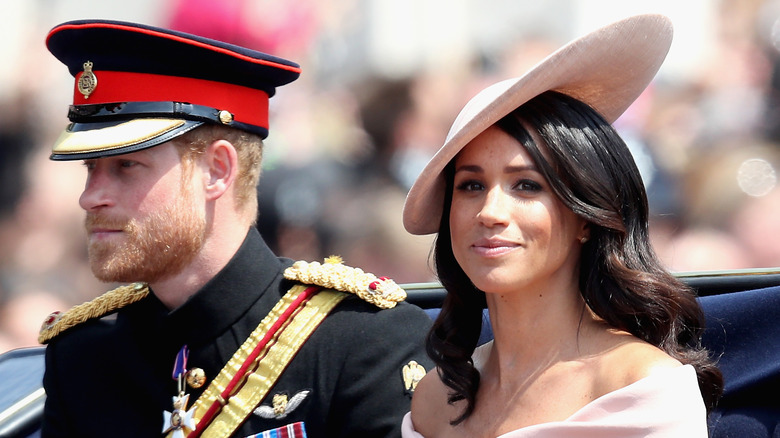 Chris Jackson/Getty Images
Although they're probably frustrated by yet another influx of negative attention, Meghan and Harry will likely keep silent amid disturbing allegations from Tom Bower's "Revenge." As the chair of Reputation Management Consultants, Eric Schiffer, explained to Newsweek, there isn't a whole lot of new material contained within "Revenge." According to Schiffer, what is in there comes from anonymous sources, meaning it won't carry much weight with American audiences.
"It's going to get suffocated out by far more relevant news to Americans daily lives," he argued. Schiffer added, "This is not going to be a decapitating moment for their brand." Acknowledging that the Sussexes might be hurt by being forced to revisit old scandals, Schiffer reasoned they should take solace in the fact that it's just that: old news. Likewise, taking Bower to court could bring more attention to his most dubious claims, having the opposite effect than intended.
Moreover, royal expert Gareth Russell told Us Weekly that it's better not to acknowledge any of it because, "You can't respond to it all." Bower actually claims in "Revenge" that Meghan, Duchess of Sussex, and Prince Harry, Duke of Sussex, were obsessed with reading everything posted about them online. As far as Russell is concerned, the celebrity couple would be better off focusing on their family and their mental health than worrying about everything that comes out about them. Especially since being as famous as they are means it typically comes with the territory.