Foot Traffic Data Reveals Which Customers Prefer: ULTA Or Sephora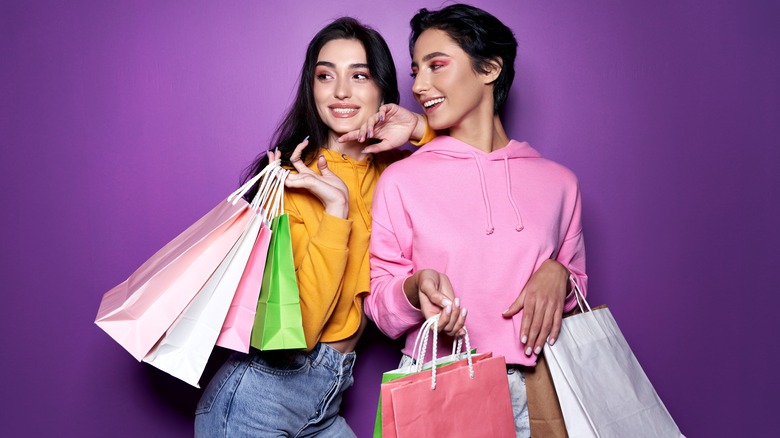 Ground Picture/Shutterstock
Beauty trends can change on a dime — as soon as you invest in brand new products to block your brows, you log onto TikTok only to find out that thin brows are back in. Whether you evolve your look with every passing trend or you stick true to your classic style, beauty products are a staple on our shopping lists. But when it's time to restock on your favorite beauty products, the perfect shopping destination may be hard to find.
Two of the most popular stores for all your beauty needs are Ulta and Sephora. According to Sephora's website, the store has over 2,700 locations worldwide. Ulta has less than half of Sephora's locations, with 1,308 stores operating only in the United States.The beauty retail rivals both carry a large variety of beauty products, salon services by professional stylists, and a robust rewards program for loyal customers. While the two stores have many similarities, foot traffic data shows that one store is favored by in-person shoppers.
The List created a graph with exclusive data that tracked monthly foot traffic trends over the past two years at both Sephora and Ulta. The results may answer the age-old question: Which beauty retailer do shoppers prefer?
Two beauty retail rivals go head to head... and the winner is clear
According to The List's graph, Ulta and Sephora follow similar trends, almost identical in the peaks and valleys of their foot traffic results. However, Ulta's visitor counts are almost always a little bit higher than Sephora's. During 2020's holiday season, Sephora peaked at just over 50,000 visitors, while Ulta saw more than 80,000. Ulta was more popular again that following summer, with almost 20,000 more visitors than Sephora. Even when visitor counts drop, the graph illustrates that Ulta performs slightly higher than their competitor. The data clearly suggests, then, that shoppers prefer to visit Ulta over Sephora for their beauty needs.
With online shopping more popular than ever, brick and mortar stores have had to rethink their shopping experience to entice shoppers to visit in-person. Rethink Retail reports that shoppers want convenience and ease when shopping, so customer service is the main focus for most retailers. While Ulta and Sephora both offer similar rewards and services, Ulta wins out when it comes to approachability by carrying a wide variety of brands at different price points. Sephora's high-end brands can be intimidating to those who can't spend as much on luxury products, whereas Ulta's range of products and prices cater to shoppers with all types of budgets, allowing for a more diverse shopping experience than Sephora. While many enjoy Sephora's high-end luxury feel, Ulta's variety of affordable options attracts more shoppers each month.