The Real Reason Winsor Harmon Left The Bold And The Beautiful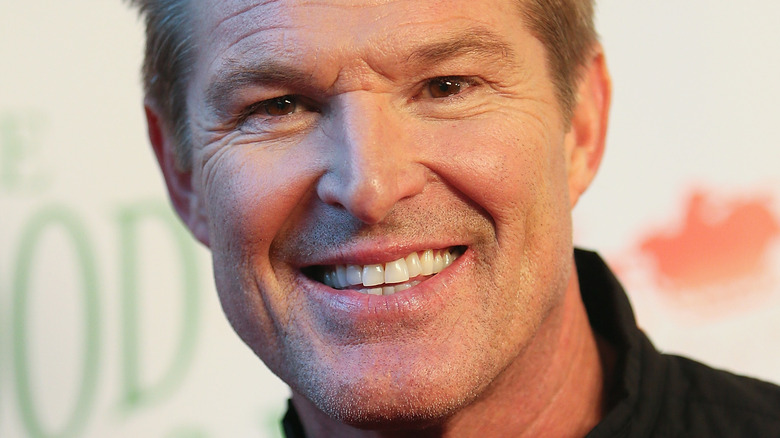 David Livingston/Getty Images
Winsor Harmon got his first big acting break playing Del Henry on popular daytime soap "All My Children" from 1994 to 1995. From there he was cast on "The Bold and the Beautiful" where he would go on to spend the majority of his career. Harmon was the third actor to take on the role of Thorne Forrester, replacing Jeff Trachta in 1996 and remaining on the show for 20 years.
Thorne was one of several children born to legacy characters Eric and Stephanie Forrester and was a significant part of the drama within the wealthy and prominent family. This was primarily due to his ongoing rivalry with his brother Ridge and the two fought over several women over the years, including Caroline Spencer, Taylor Hayes, and Brooke Logan, among others (via Soaps in Depth). In 1995, Thorne fathered a child with Darla Einstein and when she died shortly after, he primarily raised his daughter Alexandria "Aly" Forrester on his own. Aly suffered from issues related to mental health and her lack of proper treatment was a contributing factor in her tragic death in 2015 at age 20.
Grieving his daughter's death was one of the last main storylines Harmon was able to portray before he ended his run as Thorne Forrester. In 2016, Harmon unexpectedly exited his longtime role and the character was soon recast with another actor.
Winsor Harmon was replaced as Thorne Forrester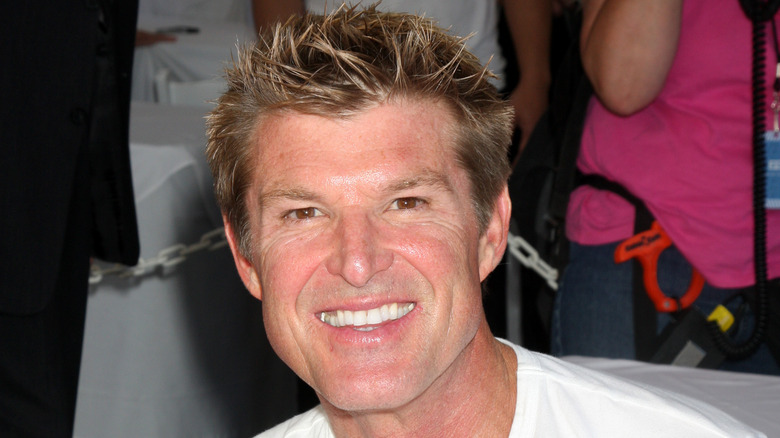 Kathy Hutchins/Shutterstock
In 2016, fans were shocked to learn that "The Bold and the Beautiful" had fired Winsor Harmon from his role as Thorne Forrester — and so was the actor himself! In an interview with Soap Opera Digest at the time, Harmon expressed his surprise, stating, "I was told there was a storyline coming and then [a month later], I got the call from [executive producer Bradley Bell] that he was going to recast the role." Though Harmon was disappointed by his unexpected exit, he didn't harbor any hard feelings toward the show. He went on to say, "I spent 21 years on the number one show in the world. I'm a part of history, and I have to be grateful for that."
Shortly after Harmon's exit was announced, "B&B" revealed that soap vet Ingo Rademacher would be taking his place (via TV Insider). Rademacher was best known for his longtime role as Jasper "Jax" Jacks on "General Hospital" which he had played off and on since 1996. Harmon made sure to encourage his longtime fans to go easy on his replacement, calling Rademacher a "phenomenal actor" and saying, "He's going to bring something new to the role that is going to be different and it will work. I have no doubts that it will work," according to Soaps.
Rademacher starred as Thorne from 2017 to 2019 before deciding not to renew his contract. Instead, he returned to "GH" and reprised his role as Jax. However, that stint didn't last very long as the actor was soon fired from the sudser for failing to comply with their COVID-19 vaccine mandates.
Winsor Harmon briefly reprised his role as Thorne Forrester in 2022
In 2022, Windsor Harmon was invited back to "The Bold and the Beautiful" to play Thorne Forrester in a single episode dedicated to Brooke Logan, played by one of the soap's longest running cast members, Katherine Kelly Lang. In the episode, Brooke reminisces about the five major loves in her life, including Thorne, Nick Marone (Jack Wagner), Eric Forrester (John McCook), Bill Spencer (Don Diamont), and Ridge Forrester (Thorsten Kaye), per Soap Opera Network.
In an interview with Soap Central, Harmon said that he was "absolutely ecstatic and couldn't be happier" about returning to the show that he had dedicated so many years of his life to. Though the actor admitted to being nervous about his return, he had nothing but kind words to say about the show, and especially getting to reunite with Lang. "She's great, and I've had an immense pleasure working with Kelly over the years. She could be my favorite co-star of all time, without a doubt," he said. 
Though Harmon has continued his acting career elsewhere — he recently played the lead in Japanese-centered film "Sarogeto" — the soap vet made it clear that he would always be open to returning to "B&B." He said, the show "has always been a home to me, and it always will be ... It was one of the greatest jobs in the world, so, I absolutely would [return]." Who knows, it could be a good time for Thorne to stir things up for his brother Ridge, who's found himself choosing between Brooke Logan and Taylor Hayes, once again.