Joshua Morrow Reveals Nick Newman's Greatest Weakness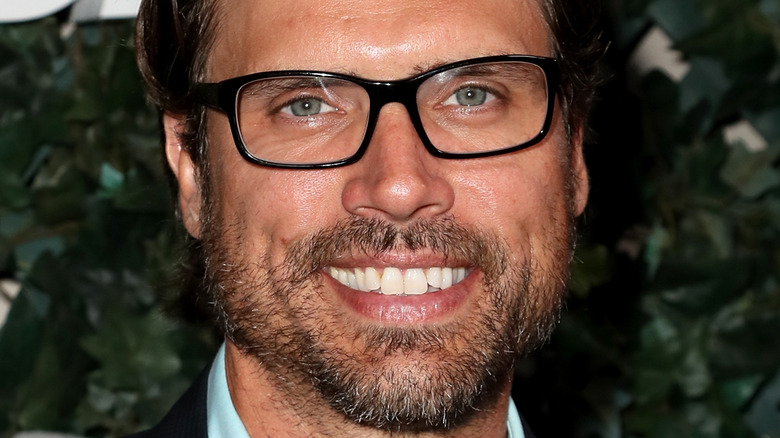 David Livingston/Getty Images
Nick Newman is the second child born to legendary supercouple Victor and Nikki Newman on "The Young and the Restless" (via Soaps in Depth). Actor Joshua Morrow was cast as Nick in 1994 and has remained in the role for nearly 30 years. He received five consecutive Daytime Emmy nominations for his work from 1996 to 2000 and has become a fan-favorite on the show.
When Morrow first joined the show, Nick was characterized as a passionate rich kid with an eye for the ladies and a heart of gold. He settled down a bit in 1995 when he married his first real love Sharon Collins (Sharon Case), and in a very un-soap-like storyline, the two remained together for over a decade. However, when Nick and Sharon's teenage daughter Cassie Newman died in 2005, their relationship fell apart and Nick hasn't managed to make one stick since. Though he is a minority in the "Y&R" world for only having had a measly three wives, Nick is certainly no stranger to romantic drama. That's exactly what Morrow pointed out to Soap Opera Digest when he was asked about his character's greatest weakness.
Joshua Morrow thinks Nick Newman struggles with commitment
In an interview with Soap Opera Digest earlier this year, Joshua Morrow was asked to give his opinion on what his character Nick Newman's greatest weakness was. Though Nick's longtime relationship with Sharon Newman and their subsequent reconciliations have been beloved by fans who consider them a supercouple, Nick has had a difficult time staying faithful to one woman. Morrow said, "[Nick's] biggest weakness is commitment. He's had several issues with maintaining a healthy relationship and that comes from his questionable character when it comes to women."
A major contributing factor to Nick's inability to make a relationship work is his wandering eye, which has led to several instances of infidelity over the years. He is particularly known for ping-ponging between Sharon and Phyllis Summers, the mothers of his children. In fact, he cheated on Sharon with Phyllis during their marriage and later fathered a child with Sharon while married to Phyllis (via Soap Central). However, Nick has proven his inability to keep it in his pants with several other women, as well.
Nick Newman has a long history of infidelity
Nick Newman's first instance of infidelity on "The Young and the Restless" happened in the late 1990s when he cheated on Sharon Collins with her best friend Grace Turner (then Josie Davis), per Soaps. Though they were able to reconcile, Nick betrayed Sharon once again after the death of their daughter Cassie, by sleeping with Phyllis, putting the final nail in the coffin of their marriage (via Soaps in Depth). He then did the same thing to Phyllis during their marriage, resulting in the birth of his and Sharon's daughter Faith Newman. This pattern continued on for quite some time before Nick decided to move on to other women. In addition to his philandering ways, Nick's relationships with certain women can be considered questionable at best. He once had a fling with Phyllis' sister Avery Clark (Jessica Collins) and even fell in love with his brother's wife, Chelsea Lawson (Melissa Claire Egan).
However convoluted Nick's love life may be, there is only one woman he belongs with — according to fans and his portrayer as well. As Joshua Morrow once told Michael Fairman TV, "At the end of the day, Nick and Sharon love each other, they always have ... Nick and Sharon will always find their way back to each other."