Reporter Believes The Coverage Of Meghan Markle Is Taking A Turn In The Wrong Direction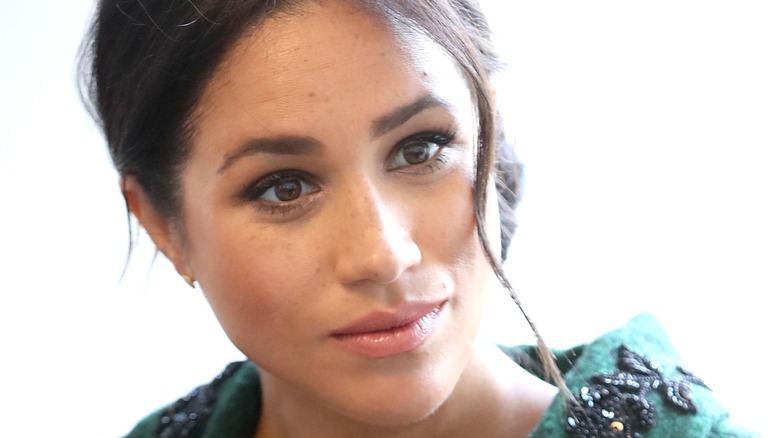 Chris Jackson/Getty Images
It's been an eventful couple of weeks for the Duchess of Sussex. The royal family is reportedly reeling after Meghan Markle's eye-opening interview with The Cut, during which she opened up even further about how tough it was for herself and Prince Harry to exist under their thumb. Among other things, Meghan hinted she'll shortly be returning to social media, and expressed her hope that Prince Charles will someday make peace with his son.
The former actor's long-awaited podcast, "Archetypes," finally dropped too, and promptly shot to the top of the Spotify charts, with Meghan even giving Joe Rogan a run for his money. The show was a hot topic, not least because, as royal expert Duncan Larcombe told the Daily Beast, it was seen as yet another attack on the royals. Moreover, the duchess was heavily criticized for not letting first guest Serena Williams get a word in (via The Spectator).
However, Meghan's growing ubiquity may be turning American audiences against her, if this journalist is to be believed.
The tide is reportedly turning against the Duchess of Sussex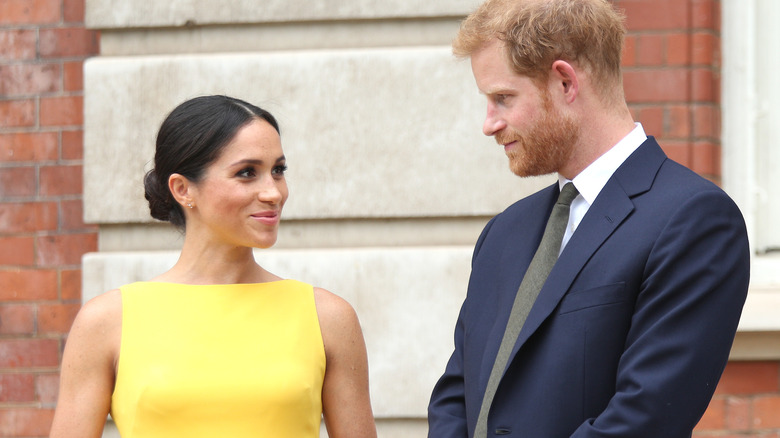 Wpa Pool/Getty Images
Los Angeles based "Lorraine" correspondent Ross King MBE contends that recent coverage of the Duchess of Sussex showcases how the tide is turning against her in a big way. The Daily Mail reports King claimed he's definitely "noticed a shift out here," going on to argue "the timing of the things we've been hearing" could have something to do with it. King was referring to recent coverage surrounding the 25th anniversary of Princess Diana's death, which has understandably skewed towards what a positive impact she had on the world. 
In contrast, "Archetypes" and Meghan's tell-all interview with The Cut were viewed negatively. In fact, Nelson Mandela's grandson had harsh words for Meghan after comments she'd made to the outlet were deemed to be in bad taste, which didn't help matters. According to King, the duchess was previously seen as America's royal, meaning there was little negative press about her, but now it's obvious "they're not happy with her," especially since Meghan came across as out of touch given the current economic crisis in the country. 
Daily Mirror editor Alison Phillips agreed, noting the writing has actually been on the wall for a while. Their comments echo those made by Piers Morgan a short while ago, per Newsweek, while in conversation with royal author Tom Bower. At the time, Morgan revealed his American friends were quickly turning on Meghan and Prince Harry, after having previously been on their side.
There are still plenty of people in Meghan Markle's corner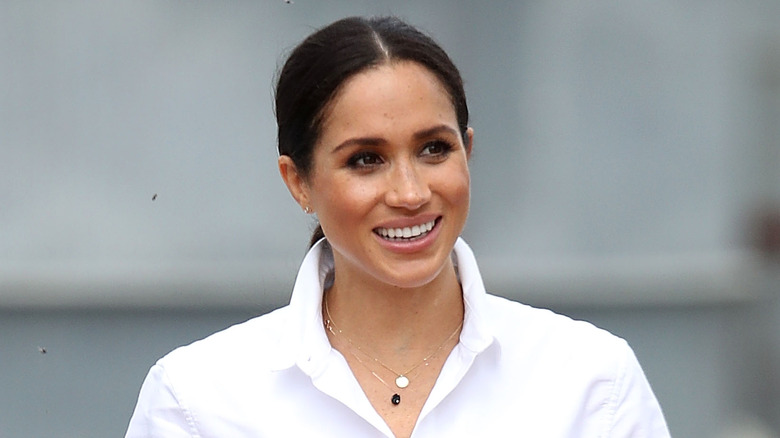 Chris Jackson/Getty Images
Although the American public is allegedly turning against Meghan Markle, the Duchess of Sussex is still hugely popular regardless. Fans are going wild for Meghan's new nickname, "Meghan of Montecito," as The Cut dubbed her, while Serena Williams posted a sweet Instagram tribute to her long-time friend after appearing on the former "Suits" star's podcast.
Elsewhere, in his column for Yahoo! News, Omid Scobie, royal author and acquaintance of the Sussexes, gushed about how wonderful it was to see that Meghan "finally has her voice back" after being "silenced by the establishment" for so long. Scobie asserted that, much like her husband, who's spoken out about being "trapped" in the royal family, Meghan has now created a space to be truly happy.
He shared how Meghan has, "A voice that will be very familiar to those who followed her before meeting Harry. This time, however, she's brought an entire movement alongside it." Further, Argentinian socialite Delfina Blaquier — the wife of Nacho Figueras, with whom Harry has played polo for many years — enthused to Hello! magazine that the duchess is "so wonderful and strong. Stronger than she knows." Blaquier also confirmed, "I will always support her."