Prince Charles' Friend Reveals His True Feelings Toward Meghan And Harry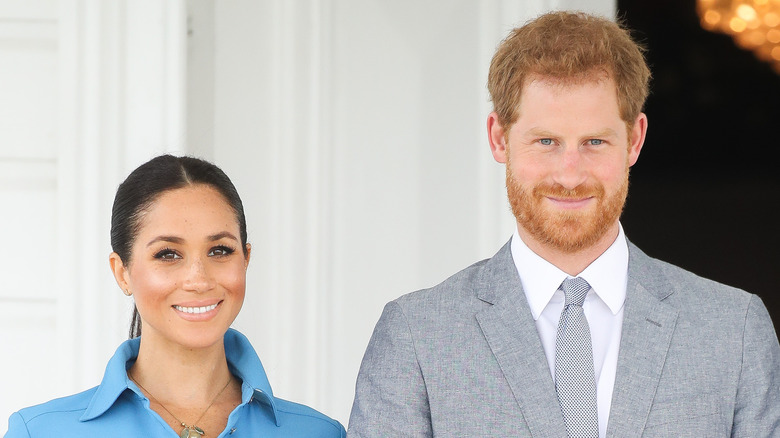 Chris Jackson/Getty Images
The royal family is reportedly reeling after Meghan Markle's eye-opening interview with The Cut, which exposed further details of her overwhelmingly negative experience with them, including how Meghan was expected to continue working after learning of a fire in Archie's nursery during a royal tour of South Africa. Elsewhere, the Duchess of Sussex discussed how difficult it was dealing with the constant onslaught of racist and sexist coverage from the British tabloids.
Talking about it has helped Meghan to move on from that time in her life, even though the former actor acknowledged she's "still healing" from everything that happened. Meghan concluded the interview by asserting that she was doing The Firm a favor by not revealing even more about them. Moreover, she believes there's scope for forgiveness in the future, "But it takes a lot of effort to forgive. I've really made an active effort, especially knowing that I can say anything."
An insider told ET that the royal family is "disappointed" by Meghan's interview, viewing it as airing dirty laundry above all else and admitting there's "a loss of trust" with the duchess now. Meghan and Harry's upcoming UK visit is imminent but, according to one friend of Prince Charles, the celebrity couple definitely shouldn't expect to see him during it.
The Sussexes are in a perilous position with Harry's father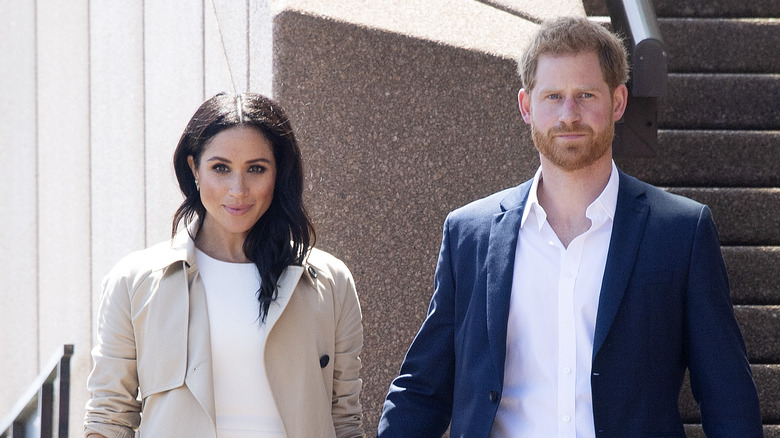 Pool/Getty Images
The strained relationship between Prince Charles and Prince Harry could be on the precipice of complete destruction. Charles's friend explained to the Daily Beast that, although the Prince of Wales obviously loves his son very much and wants to work things out with him, it's unlikely they're going to get together any time soon — especially following Meghan Markle's recent bombshell interview with The Cut.
The unnamed source noted, "Everything was already on hold until they saw what was in Harry's book, but if Meghan is actively threatening to reveal further secrets, and telling interviewers, 'I haven't signed anything, I can say anything I want,' then it's not surprising they are being frozen out." Buckingham Palace is reportedly annoyed at the Sussexes' conducting a semi-royal tour of Britain, since it overlaps with work they would've done with them, such as attending the WellChild awards.
Notably, Meghan and Harry don't have any plans to visit William and Catherine while they're in the UK. As royal expert Ingrid Seward informed The Sun, although it would be nice if the couple popped by, it's highly unlikely anything is going to happen between the foursome that isn't explicitly pre-planned. Publicity strategist Mark Borkowski agreed, telling the Beast it would be too precarious a situation to navigate, since anything the Cambridges said could later come out in an interview with the Sussexes.
Meghan Markle's latest comments haven't gone down well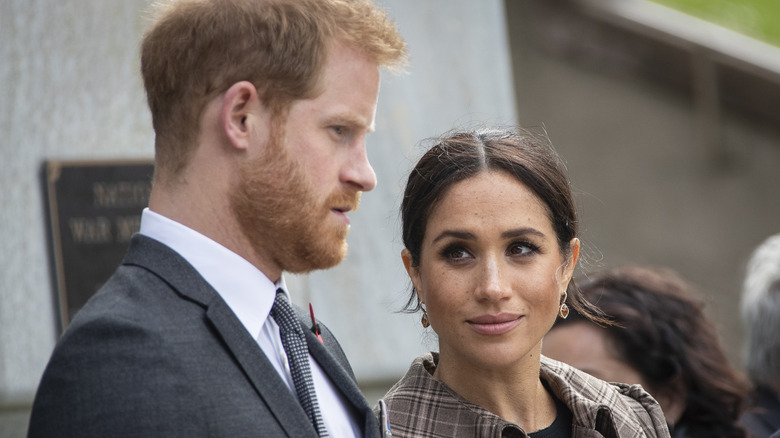 Pool/Getty Images
Although fans of the Duchess of Sussex are delighted to see her reclaiming her voice (via Yahoo!), there are many who reckon she's gone too far this time. In fact, one reporter believes the coverage of Meghan Markle is taking a turn in the wrong direction, especially in her home country, where the former actor has long garnered sympathy. Express reports that, during an appearance on GB News, journalist and politician Martin Daubney railed, "She says it's about truth bombs but I think it has completely exploded in her face." 
Daubney went on to note, "There's an astonishing litany of allegations," mainly about Meghan's harsh experiences of racism in Britain. The duchess also shared an anecdote about how her wedding was as celebrated in South Africa as Nelson Mandela's release from jail, which was immediately questioned by the activist's own grandson. Likewise, Express's royal correspondent, Richard Palmer, described the Sussexes as "tone-deaf" on Twitter, claiming they clearly "have learnt no lessons." 
However, "Loose Women" star Denise Welch contended that the focus should be on Meghan's difficulties, rather than on any perceived jabs at the royal family, or how they might be interpreted. Following a heated discussion on "Good Morning Britain," she tweeted, "How dare the concentration be on how Meghan should choose her words better rather than on the people who used the racist comments!!!"