The Queen's Reason For Pulling Out Of Another Major Event Has Been Revealed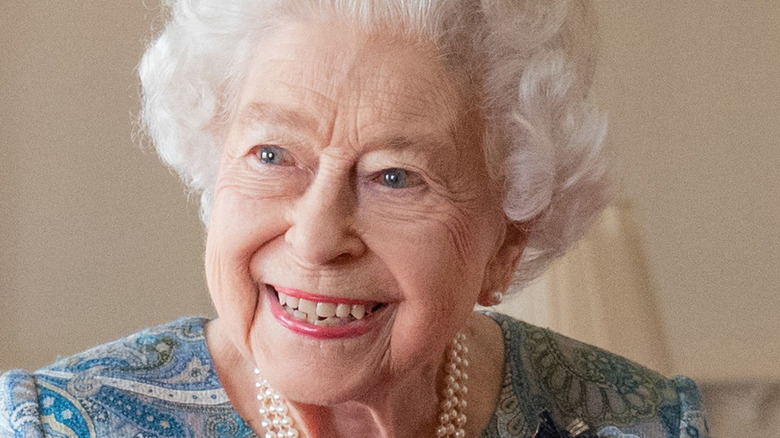 Wpa Pool/Getty Images
Over the past months, Queen Elizabeth has been forced to cancel her attendance at some significant events. Due to what Buckingham Palace refers to as "episodic mobility problems," decisions about the queen's participation are often last minute, per Newsweek. In May, Elizabeth's mobility problems caused her to miss the opening of Parliament. During her Platinum Jubilee in June, mobility concerns caused the queen to step back from the Service of Thanksgiving and the Epsom Derby.
As an alternative to missing events, some of the queen's appearances and duties are being adapted to fit her needs. For this year's Trooping of the Color, rather than traveling to the parade ground, the queen to took the salute on the royal balcony, per ABC News. On September 6, in an unprecedented move, the queen will appoint the new prime minister in Scotland as an alternative to traveling to London.
Modifications have also been made behind the scenes. For Elizabeth's annual summer stay at Balmoral in Scotland, Craigowan Lodge has been outfitted with a stair lift, per Daily Mail. The queen also uses motorized vehicles for outdoor excursions. Previously, Elizabeth made headlines with her unusual appearance at the Chelsea Flower Show in a customized Garia electric golf cart (via Autoevolution). However, modifications can't always be made, causing the monarch to continue to miss events — even ones that are usually the highlight of the queen's Scottish holiday.
Queen Elizabeth will miss the Braemar Gathering for her comfort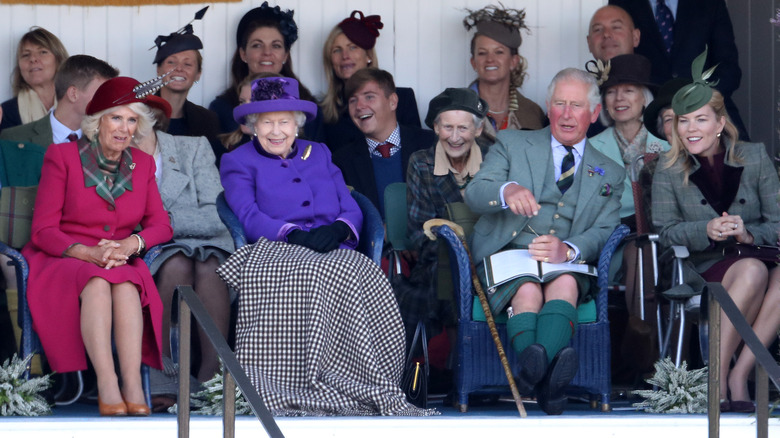 Chris Jackson/Getty Images
Buckingham Palace has announced that Queen Elizabeth won't be attending this year's Braemar Gathering, citing the queen's "comfort" as the reason she would miss the event, per NBC News. Part of a tradition stretching back 900 years, the Braemar Gathering's Highland Games are one of the monarch's favorite events during her summer break at Balmoral in Scotland.
Elizabeth has enjoyed watching the games since she was a child, per The Guardian. Along with Prince Charles and other members of the royal family, the queen has been an ardent supporter of the games over the years. A Braemar Gathering spokesman told The Telegraph he believed the queen had only missed five games when she was out of the country on overseas tours.
As reported in the Daily Mail, royal sources explained the decision was based on the difficulties of getting the monarch to the event, along with the fact that she would be sitting for an extended time. While the event is considered a "private event" rather than a public royal engagement, the games do provide royal fans with an opportunity to see the queen at a public location. Previously, Elizabeth took audience perception into account when deciding whether to attend events during her Platinum Jubilee. "She would not want to stumble — not for her own sake but for the distress it would cause other people," royal historian Robert Lacey told People in June 2022.
Queen Elizabeth's health continues to be an ongoing topic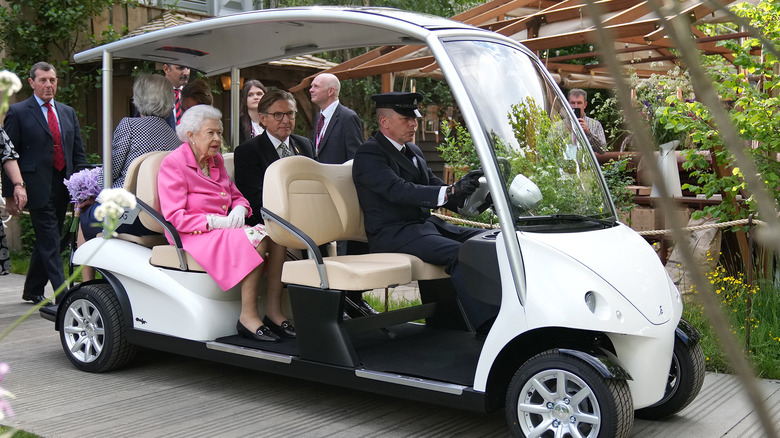 Wpa Pool/Getty Images
Concerns for Queen Elizabeth's health have increased as the monarch cancels or modifies events. When the queen was still deciding if she would attend the Braemar Gathering, Sunrise royal editor Rob Jobson said, "I think it will be significant if she doesn't attend." Jobson added, per 7 News, "I think that she's pretty frail. But that's to be expected of a lady of 96." 
Michal​ Boyd, an associate professor at Auckland University and nurse practitioner, told New Zealand's Stuff that the monarch will "probably continue to have increased frailty as time goes forward. That's usually the course." Boyd views Elizabeth's event cancellations as part of dealing with aging and mobility problems. "Most people wouldn't be working at 96, she'll have to take it easier as she gets tired more quickly," said Boyd. "She'll need to listen to herself and be happy to say: Look, I can't do that today."
Speaking of the decision to appoint the prime minister in Scotland, "the Queen remains determined to carry out her core duties," Peter Hunt, a former BBC royal correspondent, told The Sun. "Appointing a new prime minister is not something that can easily be passed to Prince Charles, a king-in-waiting."
In June Dickie Arbiter, Elizabeth's former press secretary, added his views on Elizabeth's mental fitness. "Her mind is razor sharp," Arbiter told LA Times. "Yes, she has had some mobility problems, primarily with her knees. ... But she is stoic and robust."