The Best Ways To Style Those Comfy Yoga Pants You Can't Live Without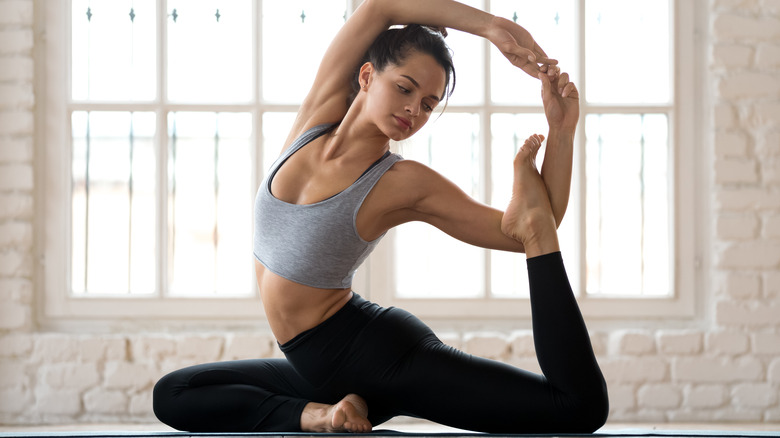 fizkes/Shutterstock
Did you know that you're allowed to wear comfy clothes all the time? We know — it's a revolutionary thought; especially for those of us who also want to look cute and put together. Yet, over the past few years, fashion has changed. Gone are the days of believing that beauty is pain. In a post-lockdown world, we know that we can actually be comfy and cute at the same time, no matter what we're doing. Now as autumn approaches and the temperatures cool down, it's time to revamp our wardrobes and get excited about new fall fashion trends. This fall, we're all about making our yoga pants work for more than just loungewear, via An Indigo Day.
If you're wondering how yoga pants actually differ from leggings, it's technically not the Gen-Z vs. millennial terminology disagreement that some folks think it is. Yoga pants tend to be thicker, are designed for exercise, and can be baggy, flared, or made of different fabrics, via Freedom Genesis. Leggings are more often see-through, always skin-tight, and are designed to be worn with longer tops. Still, whether you're a yoga pants fan or a leggings enthusiast, there are ways to sport your favorite loungewear outside of your own home; it's all about how you style it.
How to be comfy for everyday wear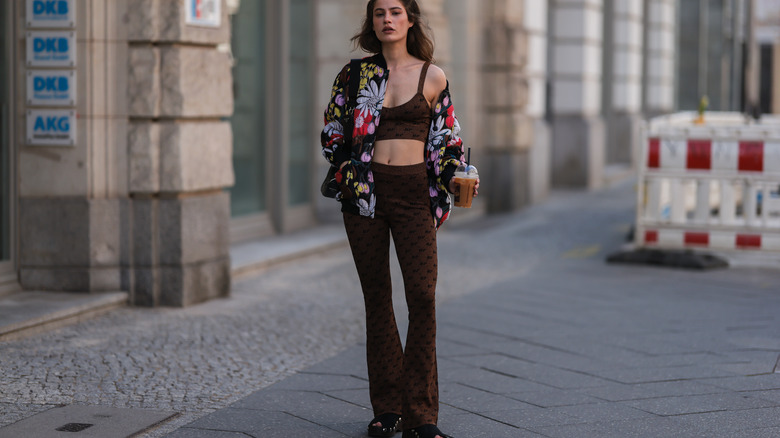 Jeremy Moeller/Getty Images
If you want to wear your yoga pants as part of a put-together outfit to wear out and about, don't feel beholden to how you'd normally style them. In other words, a t-shirt and sneakers aren't the way to go. Instead, think layers, layers, layers, via An Indigo Day. Layering different tops and cardigans can camouflage your yoga pants and make your loungewear look like regular pants. One of the easiest ways to make your yoga pants work for occasions that don't include working out or lounging on the couch is to cover the waistband with your top. By not revealing the waistband, you'd be surprised by how difficult it can be to tell that your pants are loungewear. 
Keep in mind that yoga pants or leggings with a wide or flared leg are easier to dress up, via Lady Refines. Style them with a turtleneck, a pullover sweater, or a collared shirt plus some booties, and anyone you run into in your outfit will be none the wiser that you're actually super cozy. Your accessories can be the most important part of styling your yoga pants, so if you do opt for a normal, tight legging, pair them with knee-high boots or over the knee boots.
Yoga pants for special occasions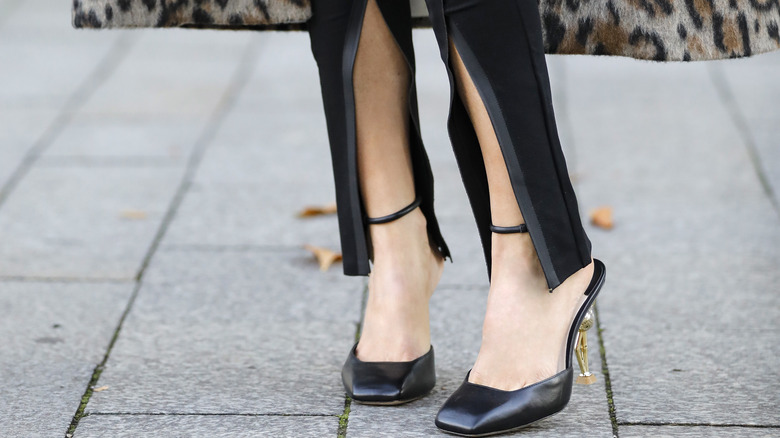 Streetstyleshooters/Getty Images
Just like yoga pants aren't just for yoga and leggings aren't just for lounging, there are ways to style your yoga pants for fancy events, as well. Yoga pants or leggings with an extra detail that makes them unique can add a little bit of spice to your dressed-up ensemble. If you don't have something with an extra detail, according to Lady Refines, you should be sure to pull your wider leg yoga pants out for special occasions. Wider leg yoga pants or leggings look more like dressier pants, and therefore, they're best for dressier outfits.
Once again, pulling off your yoga pants with a dressy outfit is all about your accessories. Pair them with heels or heeled booties, some delicate jewelry, and your favorite elegant evening bag. If this alone doesn't make you feel confident in your comfy and classy 'fit, make sure to choose yoga pants made of fabric that's on the thicker side, and try styling with a top that covers your hips, via Lotus Kitty. This will ensure that your loungewear is fully incognito and make you feel the perfect combination of confident and comfy.