The Real Reason The Gap Hasn't Been Able To Climb Back To Pre-COVID Foot Traffic Numbers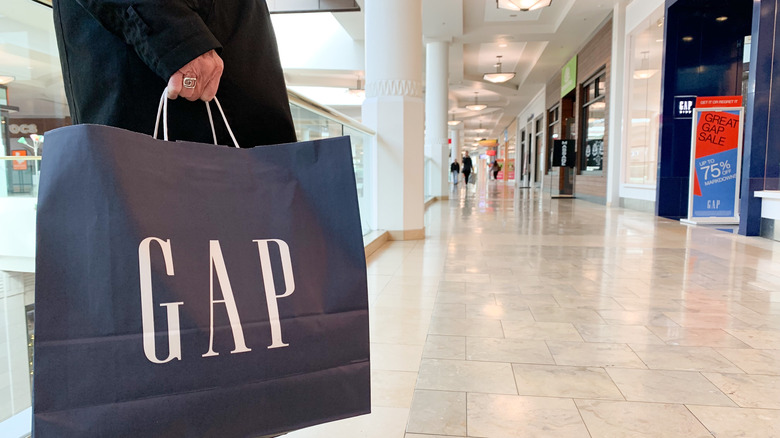 JJava Designs/Shutterstock
No one is complete without a reliable, comfy pair of jeans — when it's time to shop for your next pair, head to Gap. The retailer is known for their good quality clothing at a reasonable price, especially their world famous Gap jeans that fly off the shelves every season.
The Gap was founded in 1969 in San Francisco, California by Don and Doris Fisher, whose mission was to "make it easier to find a pair of jeans that fit." Over 50 years later, Gap has expanded their inventory and their stores nationwide, creating a retail empire by branching out with brands like Old Navy, Athleta, and Banana Republic. Per Business Insider, Gap may be America's "largest specialty retailer," but the company has seen its fair share of struggles, especially since the COVID-19 pandemic.
The List created a graph via Data Herald that tracked the foot traffic trends inside Gap stores over the past two years. The results show that the popular clothing retailer is missing shoppers more than ever, as they try to navigate post-COVID safety regulations, inflation, and changing shopper trends.
Can the Gap survive the next wave of changing shopper habits?
According to The List's graph, Gap stores saw between 40,000 and 50,000 visitors each month in 2019, with a spike to nearly 80,000 during the holiday season. When COVID-19 began, however, foot traffic dropped to nearly zero as stores closed their doors for public safety. Shoppers re-emerged slowly in the summer of 2020, but almost two years later, foot traffic has not managed to reach pre-pandemic levels. Even the subsequent holiday seasons did not reach averages from years passed. Foot traffic dropped again in the spring of 2022, seeing almost half of monthly visitors since before COVID-19. While it definitely shook up our norm, the pandemic may not be totally to blame for shopper hesitation.
We hate to share sad news for Gap fans, but shopping trends and sales have not been looking good. Inflation has caused many stores including Gap to adjust their prices due to rising costs. According to Reuters, Gap shares have fallen over 19% and sales were down more than 10% this spring, as shoppers struggled to navigate higher prices. Shopping trends are also changing — per Business Insider, people are spending less and shopping less. Foot traffic data revealed that Americans are opting for wholesale clubs like Sam's Club and Costco over department stores like the Gap. With so many changes in price and shopper preference, it may take more than a reliable pair of jeans to get shoppers to come back to the fashion retailer.