Bombshell Report Reveals That Archie And Lilibet Might Not Get Titles Anytime Soon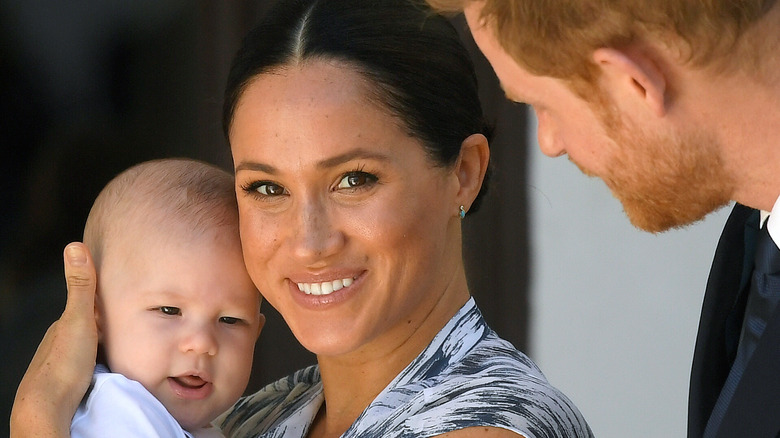 Pool/Getty Images
There is yet more royal confusion about what official titles will be conferred on Prince Harry and Meghan Markle's two kids, Archie and Lilibet. Whether or not Meghan and Harry's children would get titles has been a source of tension ever since Meghan was first pregnant with Archie, according to her interview with Oprah Winfrey in 2021. 
Since Harry and Meghan — who are still technically the Duke and Duchess of Sussex — officially stepped down from their royal duties and are no longer "working royals" (whatever that means), it was decided that their kids would not be princes or princesses (officially). The big issue with that, according to the Sussexes, is that without the official titles, they are not entitled to the same security when in the United Kingdom as their cousins. Considering that Princess Diana was killed in a car accident after being hounded by paparazzi, you can see why this would concern them.
But then, after Queen Elizabeth II died, Archie and Lilibet became the grandchildren (instead of great-grandchildren) of the reigning monarch. As such, they are entitled to an automatic title upgrade to Prince and Princess, thanks to a rule instated by King George V in 1917, per Yahoo! Life. However, the latest news is that Archie and Lilibet's titles might not be what we all thought they were.
Harry and Meghan's children will not get HRH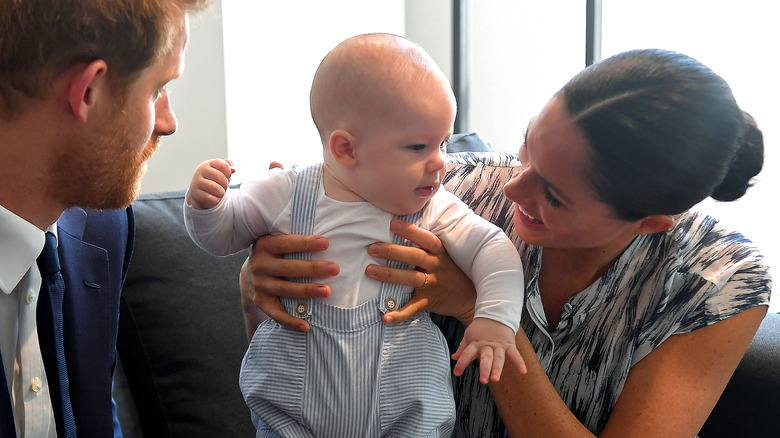 Pool/Getty Images
While King George V decreed that all children and grandchildren of the monarch would be styled "prince" and "princess" and use a His Royal Highness (HRH) title "should they wish," (per Yahoo!), it seems King Charles may have other ideas. According to The Sun, Prince Harry and Meghan Markle's children will be prince and princess, but not HRH. "Harry and Meghan were worried about the security issue, and being prince and princess brings them the right to have certain levels of royal security," an unnamed source told the Sun. "But they have been left furious that Archie and Lilibet cannot take the title HRH." Per this source, "That is the agreement — they can be prince and princess, but not HRH because they are not working royals."
For what it's worth, the Duke and Duchess of Sussex have noted that Princesses Beatrice and Eugenie use "HRH" — but they're not working royals, either (via The Sun). 
We suppose that as the current king, Charles has the right to change the rules if he wants to. However, according to Page Six, he's not going to be making any statement about Archie and Lilibet's titles until the official mourning period is over on September 26.
Prince Harry didn't get his way with Camilla's title either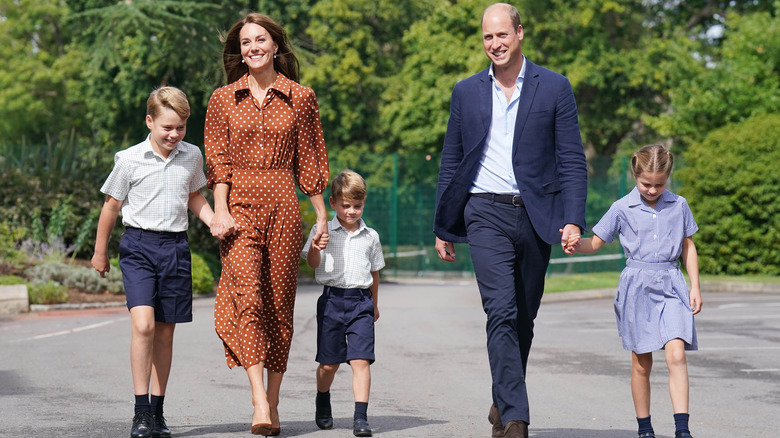 Pool/Getty Images
Meanwhile, there's apparently no confusion about the change in titles for the children of Kate Middleton and Prince William, now the Princess and Prince of Wales, whose titles have been updated on the royal website to include the "of Wales." However, Archie and Lilibet are still listed as "Master" and "Miss." Truly it's all just very confusing, but apparently title disputes are a whole thing with this family.
For instance, it was widely reported back in February of 2022 that Prince William and Prince Harry categorically did not want Camilla to get the "Queen Consort" title (that she now has) whenever their father, Charles, was to become the king, via Us Weekly.
Unfortunately for them, it looks like King Charles has full control and autonomy when it comes to titles. As to why he (allegedly) doesn't want to give Archie and Lilibet the HRH titles, we'll have to wait until he makes an official announcement. That will likely occur after Britain is out of it's official state of mourning.