New Claims Emerge About Kate Middleton And Meghan Markle's Rumored Rift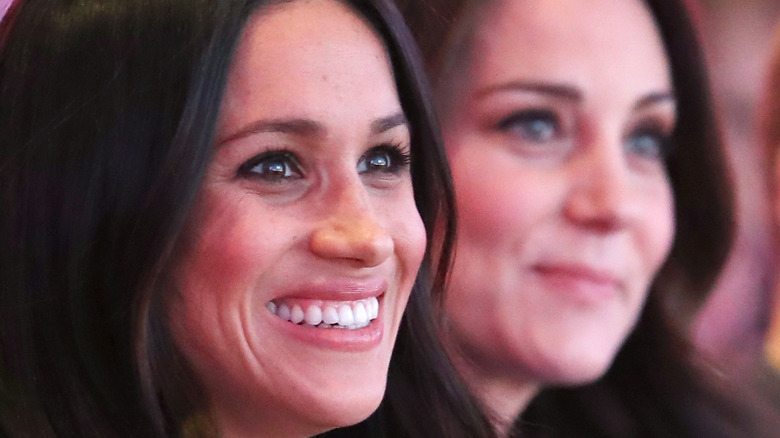 Chris Jackson/Getty Images
While William, Prince of Wales, and Prince Harry, Duke of Sussex, continue to have a strained relationship, there is also still lingering tension between their wives, Kate Middleton, Princess of Wales, and Meghan Markle, Duchess of Sussex. And much of it seems to stem from a story that circulated before Harry and Meghan's 2018 wedding. 
During the wedding planning, Kate was seen crying during a dress fitting for her daughter, Princess Charlotte of Wales, who was serving as a flower girl during Harry and Meghan's ceremony. According to Tom Bower's book "Revenge," Kate was allegedly brought to tears after Meghan unkindly compared Charlotte to her friend's daughter, who was also in the wedding party, per Page Six. Other media outlets backed up Bower's claim that it was Meghan who made Kate cry. 
While Kensington Palace eventually released a statement denying any rift between the women, Meghan went on to allege during her and Harry's bombshell interview with Oprah Winfrey that it was Kate who made Meghan cry during the dress fitting.  "It made me cry, and it really hurt my feelings," Meghan said, per Harper's Bazaar. "There wasn't a confrontation. I don't think it's fair to her to get into the details because she apologized, and I've forgiven her."
But while Meghan seems to have moved on, a new book claims that at the time, she was "obsessed" with setting the record straight on this ongoing mystery.
Meghan wanted the palace to set the record straight about her rift with Kate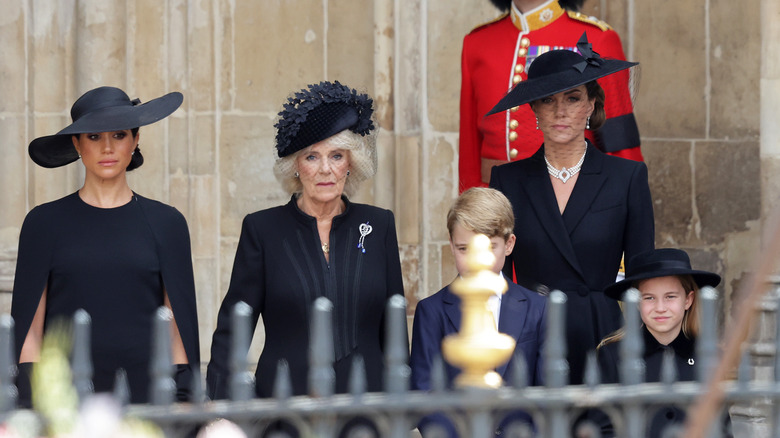 Chris Jackson/Getty Images
While Meghan Markle, Duchess of Sussex, revealed that she has forgiven Kate Middleton, Princess of Wales, for reportedly making her cry when planning her wedding to Prince Harry, Duke of Sussex, a new book is claiming that at the time, Meghan was "obsessed" with how the media portrayed the incident. 
"The truth is that, after the dress fitting, Meghan had become obsessed with trying to persuade the palace press office to put something out denying the story," Valentine Low writes in "Courtiers: The Hidden Power Behind the Crown," per New York Post. "However, [the palace] were equally adamant that it would be a serious mistake to start briefing about personal stories relating to differences between members of the Royal Family," which then became "a major point of contention between Meghan and her media advisers."
Katie Nicholl also told OK! magazine that Kate was "mortified" that Meghan spoke about the incident during her and Harry's interview with Oprah Winfrey. It's not surprising that both women kept their distance from one another during Queen Elizabeth II's funeral, with a body language expert telling US Weekly that Meghan's failure to stand near Kate and Queen Camilla "signals a possible emotional distance."
The distance between Kate and Meghan may become the new normal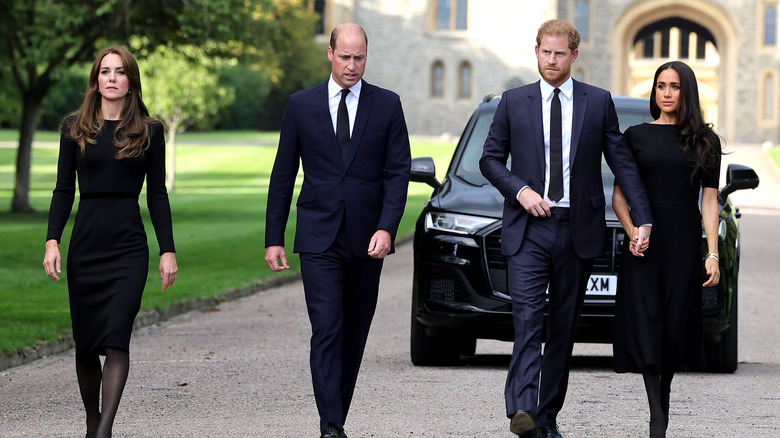 Chris Jackson/Getty Images
Though Meghan Markle, Duchess of Sussex, and Kate Middleton, Princess of Wales, maintained a healthy distance during much of the funeral proceedings for Queen Elizabeth II, the women did manage to put their ill feelings aside to create a special moment, if only for the public.
Kate and Meghan, along with their husbands, William, Prince of Wales, and Harry, Duke of Sussex, appeared together, back again as the "Fab Four" as they greeted mourners at Windsor Castle two days after the queen died (via Us Weekly).
However, although the public display was meant to show unity among the batting siblings and their wives, Harry and William walked along the inside of the group keeping the wives on the outer perimeter and far away from each other.
As the foursome reached the sea of mourners, they broke away from each other and paired off as they looked at the mass of flowers and cards left for the late queen, and shook hands with the public (via Harper's Bazaar). Though dubbed as a reuniting of sorts, while both Meghan and Kate did their best to appear civil and kind, they also made it a point to not engage with each other.
Unfortunately, the truth about Kate and Meghan's relationship may likely be that this polite distance is the new normal.