The Royal That Fans Think Had The Sweetest Relationship With The Queen - Exclusive Survey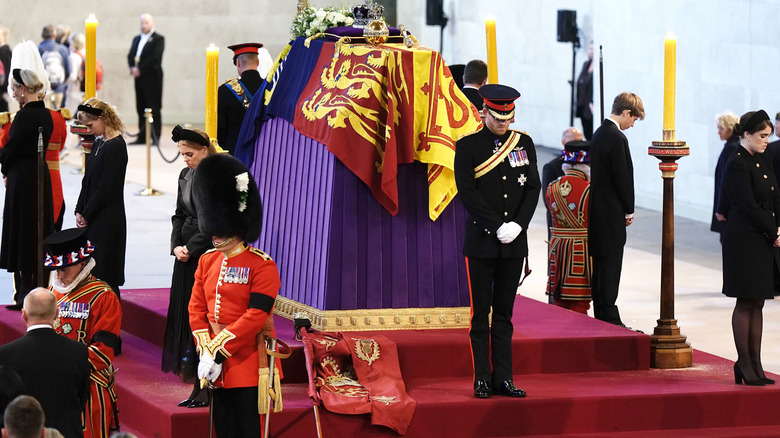 Wpa Pool/Getty Images
The heartbreaking death of Queen Elizabeth II on September 8 marked a time of sadness for all. After her passing, the United Kingdom began a ten-day mourning period that concluded after her historic funeral service (via People). According to BBC, the funeral procession and service were televised live, but only two thousand people were invited to attend in-person at Westminster Abbey, including many members of her beloved family.
As the royal family navigates this time of transition, we reflect on the queen's relationship with each of those that knew her well and loved her often. With four children, eight grandchildren, twelve great-grandchildren, and a bunch of adorable corgis, Queen Elizabeth had many to love and share her life with during her 96 years of life. The List conducted a survey on YouTube that asked, "Which royal do you think had the sweetest relationship with Queen Elizabeth?" Over 120,000 responses concluded that a select few royals clearly had a special bond with the queen.
These royals were especially beloved by the queen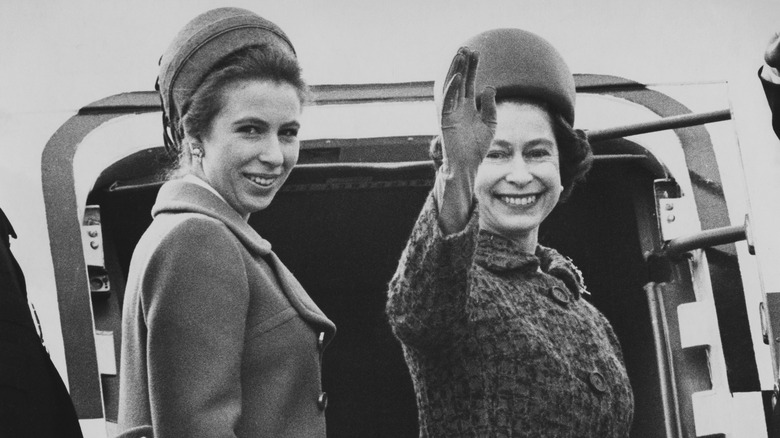 Central Press/Getty Images
According to The List's survey, Queen Elizabeth's relationship with Princess Anne was the sweetest. 46% of voters agreed that the mother-daughter duo shared a special bond. As her only daughter, Anne was extremely devoted to the queen. She defended her mother publicly against claims that she was an uncaring mother, telling BBC in 2002, "I simply don't believe there is any evidence whatsoever to suggest that she wasn't caring." Voters took to the comments to share their admiration for Princess Anne as a daughter and a royal — one shared, "At the end it was probably Princess Anne. Her devotion to her mother from before the Queen's death to the funeral was awesome." Another agreed, stating, "Of all these folks it had to be Anne. She was the only daughter and she worked very hard for her mom. I believe they were super close."
Another royal that clearly had a sweet relationship with the queen is Prince Harry. 34% of voters think that he and the queen were absolutely adorable, commenting, "Harry all the way, she adored his shenanigans." The second son of Princess Diana and King Charles III often talked about his closeness with his grandmother and was visibly heartbroken when she died (via CBS News). According to The Economic Times, the queen supported Prince Harry and Meghan Markle's decision to leave the royal family, further proving that her love ran deeper than any politics.
There's nothing sweeter than the love of a grandmother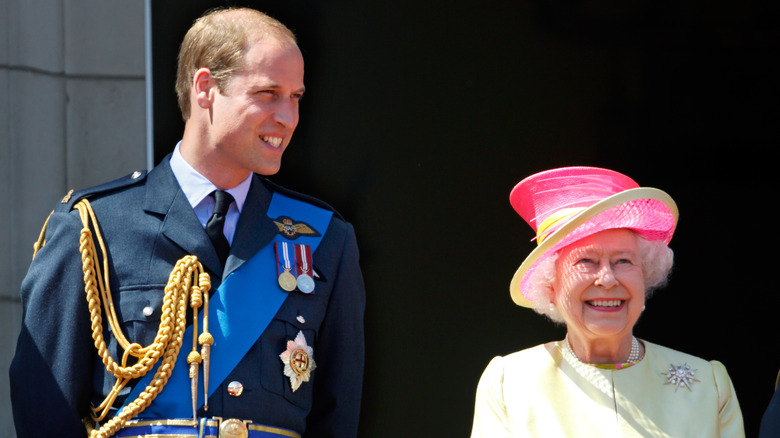 Max Mumby/indigo/Getty Images
14% of voters think that Prince William, the elder son of King Charles III, had the sweetest relationship with his grandmother, Queen Elizabeth II. Per Hello!, the two were often seen enjoying each other's company and making each other laugh at royal events. As William, Prince of Wales, grew up and began a family of his own, the queen continued to offer advice and critique to her grandson when he took on more active royal responsibilities (via Express).
It's no secret that drama with the in-laws can lead to serious tension, and when your grandmother is the queen, there's sure to be extra pressure on your new beau. Thankfully, Prince William had nothing to worry about: Queen Elizabeth had a great relationship with Kate Middleton. A source told Us Weekly that the queen advised Kate on many aspects of royal life and found she could "rely on [Kate]." Now that the Prince and Princess of Wales are next in line for the crown, we're sure that the vote of confidence from their late grandmother means a whole lot.
William and Harry are not the only grandchildren that the queen adored. The queen's relationship with Princess Beatrice and Princess Eugenie, daughters of Prince Andrew, was one of great love and adoration. Voters agreed that the bond between Beatrice (3%), Eugenie (2%), and their grandmother was extra special, especially after seeing their emotional behavior at the queen's funeral.