The List's Exclusive Survey Shows How Women Describe Their Style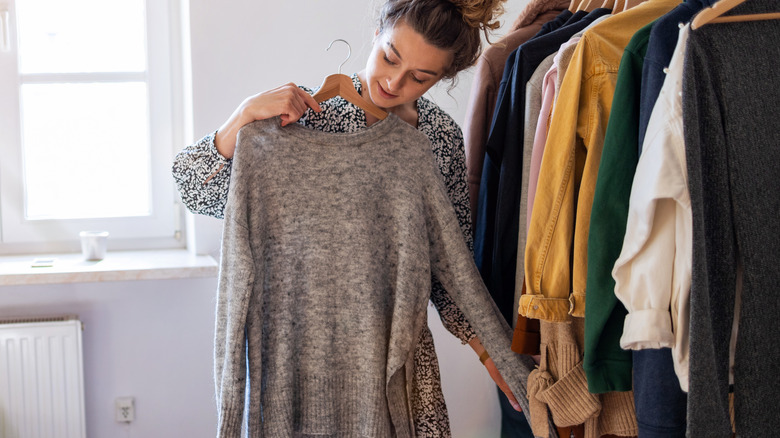 pikselstock/Shutterstock
When it comes to fashion, a good goal is to have a wardrobe that clearly defines your style; if someone peeked into your closet, they should learn something about you. But with fashion trends that are ever-changing, how does one define their style through clothes? The big difference between fashion and style is that style is personal and unique to you. Style is all about the energy you give off: the same few pieces of clothing can be styled in a ton of different ways and give off a totally different vibe on each person. Sometimes, your style can be difficult to define. It may take time for you to find your perfect style, and even longer to build a wardrobe that accurately reflects your chosen style.
To find out which styles women most identify with, The List conducted a survey that asked 600 people, "Which word best describes your style?"
Sit back and relax in this top-rated style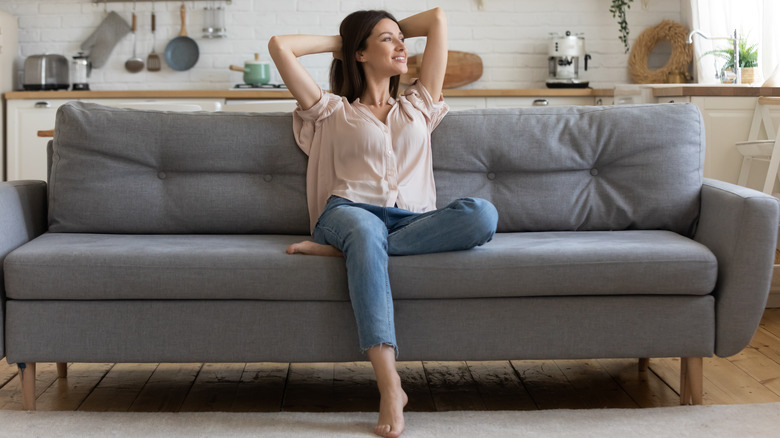 fizkes/Shutterstock
According to The List's survey, 47.67% of voters define their style as "relaxed." The easy-going and comfortable style is very in at the moment, with oversized tees and wide-leg pants taking over this season's fashion. To achieve a relaxed style, WhoWhatWear tells us to focus on staple pieces and flowy fits. Layering is a big part of relaxed fashion as well; sweaters and button-downs are perfect over a neutral-colored shirt and straight-leg jeans, paired with comfy and casual shoes. Trends like the normcore aesthetic and minimalist capsule wardrobes work well for someone with a relaxed style, but you don't have to be trapped in neutral basics. Relaxed style can be as colorful and eclectic as you are, as long as it's a comfortable fit.
In second place is another more casual aesthetic, with a larger focus on physical activity. 14.17% of voters define their style as sporty. This comes as no surprise since athleisure has been all the rage for the past few years. People with a sporty style often shop at their favorite athletic clothing brand, looking for something they can move in all day while looking cute and feeling comfortable. To achieve a sporty look, Stunning Style advises focusing on clothing items like joggers, henleys, and sweatshirts with sneakers or boat shoes.
Unique style is all in the details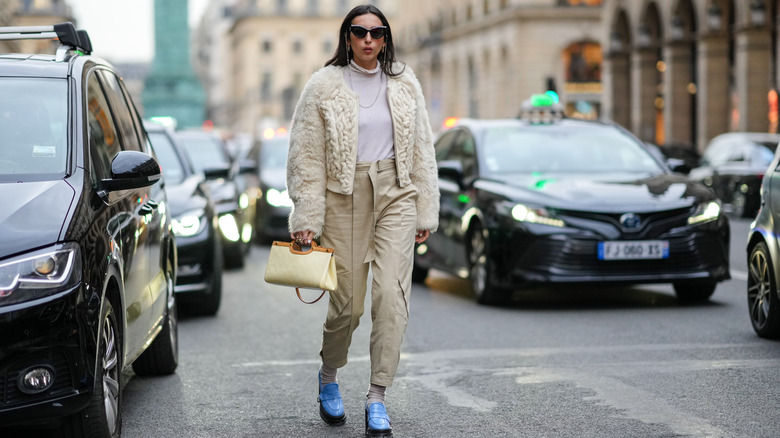 Edward Berthelot/Getty Images
Vintage received 12.50% of the vote, a style that tributes to the fashion of decades passed. Per The Vou, editor of Vogue and fashion icon Anna Wintour defined vintage as a "piece that is at least 20 years old" and "exhibits characteristics" of the time period it was made in. Achieving the vintage style could be anything from the pin-up dresses from the '50s to the acid-washed jeans and neon accessories that were popular in the '90s, as long as you feel good wearing them!
On the opposite side of the spectrum, another 12.33% of people define their style as trendy. This style is ever-changing just like the trends that come and go each year: we predict that people with a self-described trendy style love to shop and obsessively watch the runways each season (it's okay, we do too).
Polished (9%) and bold (4.33%) styles are less about the specific clothing items and more about the overall vibe. Fashion blogger Gabrielle Arruda says that a polished look combines good grooming, well-tailored pieces, and intentional finishing touches like accessories and manicured nails. Bold style takes that a step further by incorporating vibrant colors and loud patterns, even some that might traditionally clash (via Refinery29). Being bold is all about breaking the rules of fashion, and making up new ones that work for you.
Once you figure out which style is most uniquely you, here are 8 pieces of clothing that will help define your style.