Fans Told The List Their Favorite Brand Of Jeans - Exclusive Survey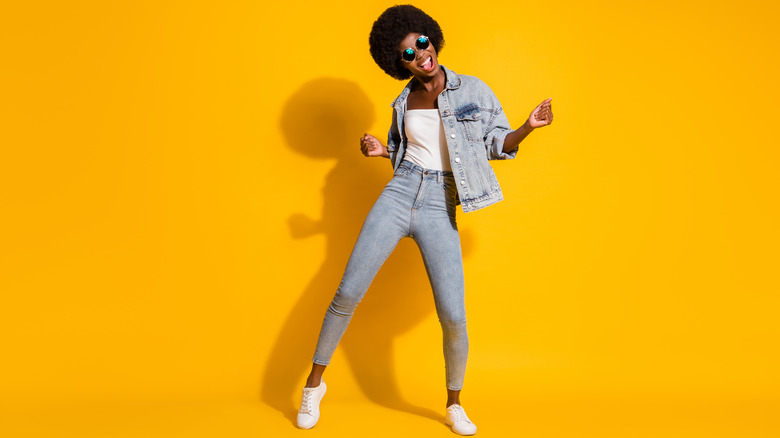 Roman Samborskyi/Shutterstock
If we took a peek into your wardrobe, we're almost certain we'd find a pair of well-loved jeans or two. According to Glamour, the average American actually owns seven pairs of jeans. And who can blame us? Jeans go great with almost anything. Dress up a pair of chic black flares with a cute blouse and a pair of booties for a laidback going-out look, or choose a pair of ripped blue skinnies, a casual tee, and a cute baseball cap for the ultimate relaxed fit. 
Sure, you shouldn't wear your trusty jeans to your bestie's wedding, but you can definitely rock a cute pair at the morning-after brunch. Once you find the perfect pair of jeans, the possibilities are endless (via Harper's Bazaar). But it takes a certain amount of skill, some luck, and a whole lot of shopping. To find out which brand of jeans shoppers are loving lately, The List conducted a survey that asked 600 people simply: "What is your favorite brand of jeans?"
More than half of voters prefer this classic pair of jeans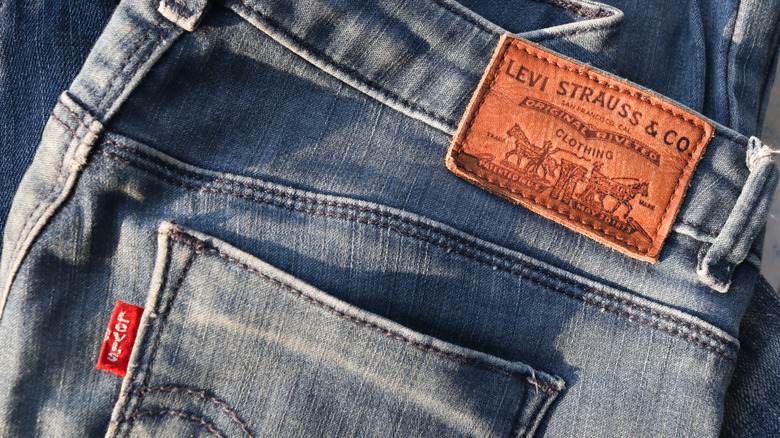 Suwit Chanaaiyarat/Shutterstock
According to The List's exclusive survey, the most popular brand of jeans by far is classic Levi's. Unsurprisingly, the original jeans makers earned 57.5% of the vote. According to their official website, Levi's blue jeans have been a global sensation ever since their invention in 1873 — even TikTok has gone crazy for Levi's jeans. With a variety of colors and fits to choose from, Levi's remains the top choice for a reliable pair of jeans.
In second place with 17.83% of the vote was American Eagle. The clothing retailer has perfected jeans, ushering in the return of the mom-jean trend that was ranked among the most popular jeans of 2021. AE has also taken major steps towards size inclusivity, which has enticed more shoppers to invest in the brand, per their site. 10.17% of voters rely on Gap's famous jeans, while another 7.17% shop at Abercrombie for all their denim needs. 
Bringing up the rear, Madewell (6.33%) and AGOLDE (1%) were also popular among voters who have a bit more to spend on a good pair of luxury jeans.
Your jeans will fit like a glove with these helpful hacks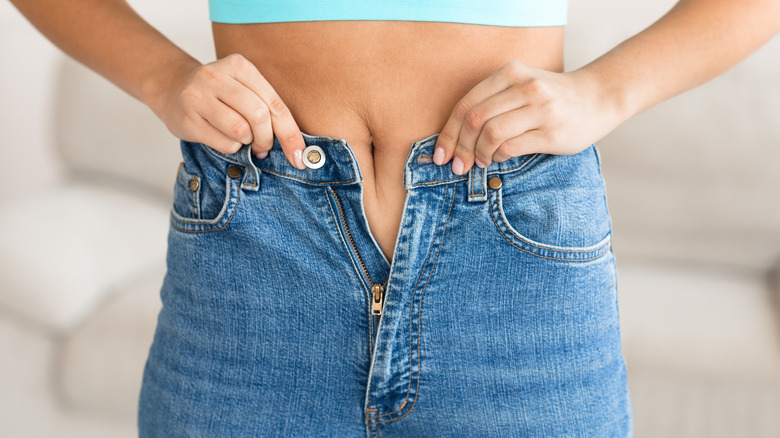 Prostock-studio/Shutterstock
Finding the right brand of jeans for you is just the beginning of your search for the perfect pair. All too often, jeans don't quite fit right. One pair might be too snug in the thighs and too wide in the waist, or they hug you perfectly around your backside but they feel too tight on your calves. Remember, you don't need to alter your body to fit your clothes, clothes can be altered to fit your body. 
But if you don't have the budget or time for a trip to the tailor after every visit to the mall, there are a few jean hacks to flatter your figure that can be done at home. When it comes to altering your jeans, hot water is your friend. If your jeans are feeling too baggy, Who What Wear recommends washing your jeans in hot water and drying them on a hot setting. This will shrink the jean material and hug you in all the right places.
To stretch out a pair that just isn't fitting right, try taking a shower in them. TikTok user @Bug318_ posted a video after thrifting a pair of jeans that were a size too small. Her grandma suggested showering in the new jeans, wearing them around the house to break them in, and then leaving them to air dry. Grandma clearly knows best because the result was a perfect pair of thrifted jeans that looked like they were made just for her.