The Excuse Queen Elizabeth Supposedly Gave Prince Harry To Skip Official Photo-Op With Lilibet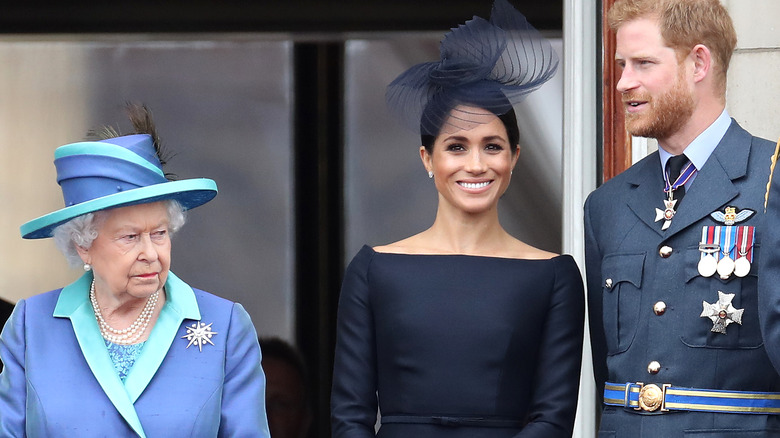 Chris Jackson/Getty Images
Though Prince Harry and  Meghan Markle have repeatedly ruffled feathers at Buckingham Palace, the couple hoped to capture a moment between their baby daughter and her great-grandmother. Sadly, it never happened.
The duke and duchess named their daughter, Lilibet Diana, after Queen Elizabeth II and Harry's mother, the Princess of Wales. Harry had high hopes of having a photo taken of his daughter and the queen together when they traveled to the U.K. for the queen's Platinum Jubilee.
It was the first time that baby Lilibet met many members of the royal family, considering that Harry and Meghan kept their distance after giving up their duties as senior working royals (via the BBC). Since Harry's children were finally in the presence of the queen, it naturally seemed like a good time for a family photo.
However, it's been reported that although Harry was persistent in trying to have a photo taken, Her Majesty said it would be impossible for this one simple reason, per Express.
The main reason Queen Elizabeth denied Prince Harry's 'persistent' request
According to Telegraph, when Prince Harry arrived in the U.K. for the Platinum Jubilee, he and his family — including Meghan, Archie, and Lilibet — traveled straight from Farnborough airport to Windsor Castle to see the queen, who was apparently harboring some hurt feelings.
Royal journalist Camilla Tominey wrote that after the interview with Oprah, the queen was less than happy with the Sussexes. "While she insisted on publicly reiterating that 'Harry, Meghan, and Archie will always be much loved family members,' in private, the great-grandmother was, according to those who knew her best, 'devastated,' 'bewildered' and 'disappointed,'" the Telegraph reported.
Consequently, when Harry requested a photo, Her Majesty refused. "Claiming she had a bloodshot eye, she adroitly denied the Sussexes the photo opportunity they craved," writes Tominey. "Harry was 'persistent,' according to those party to the meeting, expressing a desire to get an official snap of the two Lilibets together at some point in the future. But of course, it was never to be. She died three months later."
Queen Elizabeth is believed to have been battling myeloma, a type of bone cancer, at the time of her death, according to Newsweek. 
Prince Harry and his family may be further denied
Peter Rhys Williams/Shutterstock
With King Charles III now taking over the throne, it doesn't look like it will be any smoother sailing for Prince Harry and Meghan Markle in the royal family. Since Queen Elizabeth's death, Harry and Meghan's children were expected to be granted titles since they are the grandchildren of the new king (via CNN). Technically they can become Prince Archie and Princess Lilibet, but Charles has held firm on not allowing any new titles to be given just yet.
It appears there may not be any new royal titles given to the Susexes with Harry's Netflix docu-series and new memoir, "Spare" coming out. Royal experts predicted that Archie and Lilibet would receive titles only if Harry turned his back on his memoir and docu-series and stopped speaking out publicly against the royal family. "Unless he does give up his book and these tell-all documentaries and stops doing the interviews, then there can be no trust," says royal expert Tina Brown (via Newsweek).
That hasn't happened, and tensions continue to flare. There are claims that not only is Charles likely waiting until after the docu-series airs to decide whether to grant Archie and Lilibet title changes, but he may also strip away Harry's title of prince (via Marie Claire). There's also speculation that Harry and Meghan may not be invited to the King's coronation, depending on what's in the docu-series.
So far, Charles hasn't commented publicly and ignored reporters asking if he has watched it yet (via New York Post).