How To Dress Up Your Most Comfy Clothes For Any Occasion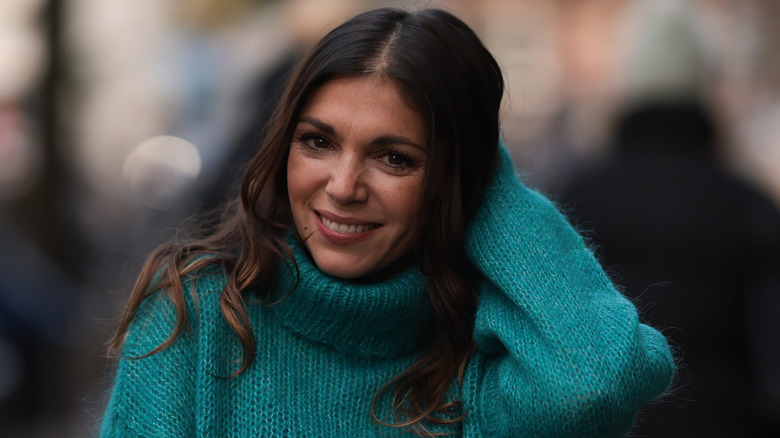 Jeremy Moeller/Getty Images
Ever thought how much easier and more comfortable daily life would be if you could just wear your favorite comfy t-shirt or cozy sweater everywhere? The fashion industry is notorious for pushing us to sacrifice our comfort to look "good." As the times are changing, though, so is this trend. Fashion psychologist Shakaila Forbes-Bell told Marie Claire, "The pandemic has caused a shift in the way people engage with their clothing." She explained that as people started spending more time at home, the lack of social feedback encouraged more of a "focus on how clothes made us feel rather than their aesthetic value." 
Thankfully for many, this trend isn't expected to go anywhere soon. "The need to not only be physically comfortable but psychologically comfortable in what we wear will likely remain as people have come to realize that clothing can be used as a tool to aid cognitive processing and general well-being," Forbes-Bell explained. Even if you've gone back to the office, you may still be looking for ways to keep comfort a priority — and that's entirely possible. 
We sat down with two style pros – Danielle Cafeiro, wardrobe consultant, fashion stylist, and owner of Styled by Danielle, and Abigail Valentine, personal stylist and owner of Joy & the Valentine – to bring you all the tips and tricks to dress up your most comfy pieces for work, dates, or any other occasion.
Follow the rule of thirds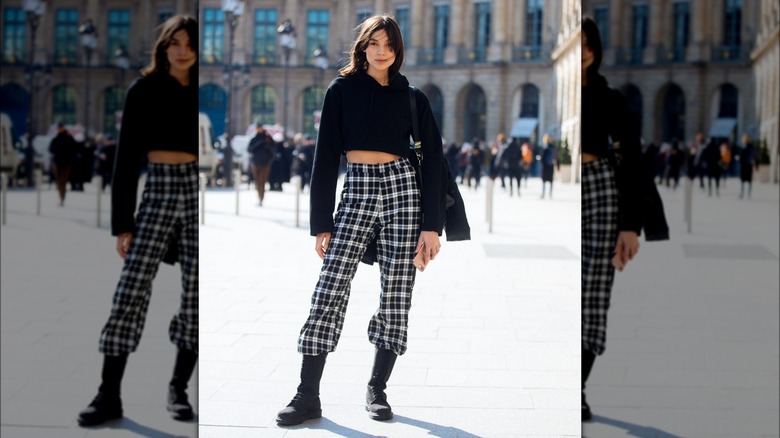 Melodie Jeng/Getty Images
Dressing comfortably doesn't mean you have to sacrifice style but to do so, it's important to understand proportions. They can make or break your look.
"Utilize the rule of thirds when styling any look to make sure your outfit is balanced, slimming, and overall fashionable," Abigail Valentine told The List. In styling, this rule entails dividing your silhouette into three sections and creating a visual break at the first or second end rather than smack dab in the middle of your silhouette. "Always make sure to tuck in at your natural waist or wear a long coat to add balance," Valentine advises. If you want to pair a sweater with wide-leg elastic waist pants or trousers, opt for a cropped sweater that's just long enough to hide the elastic but still short enough to avoid cutting you in half.
When it comes to comfortable fashion, Valentine told us, it is important to think "relaxed and intentional" and not "sloppy and thrown together." Throwing a large hoodie over a pair of jeans may be your comfy go-to ensemble these days, but you can easily transform this look from messy to chic. Tuck in the hoodie, throw on a classy bootie, and fasten on some chunky earrings — now you're outfit looks intentionally stylish and it's still comfortable.
Layer, layer, layer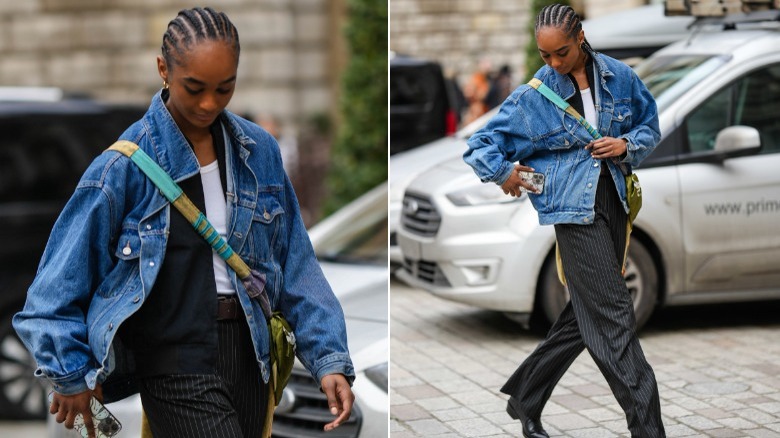 Edward Berthelot/Getty
"A great way to dress up comfortable pieces is to optimize layering," Abigail Valentine told us. Instead of opting for a sweater and calling it a day, why not incorporate a range of textures, fabrics, and colors into your outfit? "You can create several styles or looks at once, allowing for versatility and creativity," according to Valentine.
Pair a wide-leg elastic-waist pant with a sweatshirt and a cropped tailored blazer, or get more use out of your seasonal clothing by throwing a turtleneck under a breezy sundress, tying the whole look together with an oversized blazer, tights, and chunky boots.
According to Danielle Cafiero, the beauty of layering lies in the experimentation. "Don't be afraid to take some risks like wearing a sweater backward or adding a t-shirt on top of a dress," she advises. Even if you are not one to take fashion chances, you can still dress up a simple t-shirt by pairing it with a denim jacket or channel your inner James Dean and layer a white t-shirt with a blazer and jeans.
Mix and match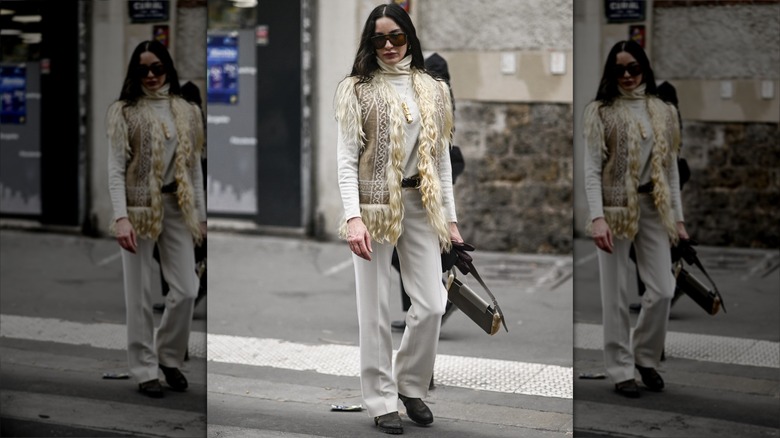 Daniel Zuchnik/Getty
It's not as difficult as you may think to add a luxe, chic feel to your comfy staples. "You can mix and match textures, fabrics, and patterns to create a modern yet comfortable look," Abigail Valentine told The List. Mixing and matching is a great way to highlight your personal style. If you are going for a feminine look, try silk, satin, or lace fabrics. For a more masculine vibe, add corduroy or denim. Or experiment with a combination — a silk slip dress under a lightweight knit cardigan is an unexpected but perfect combo. "The opposing textures will make your outfit dynamic and intentional," according to Valentine.
However, there is an important guideline to keep in mind. Danielle Cafiero told The List, "The key to mastering mixing patterns is to stick to similar or complementary colors." Too much contradiction can make the outfit look unintentional.
Take your footwear into account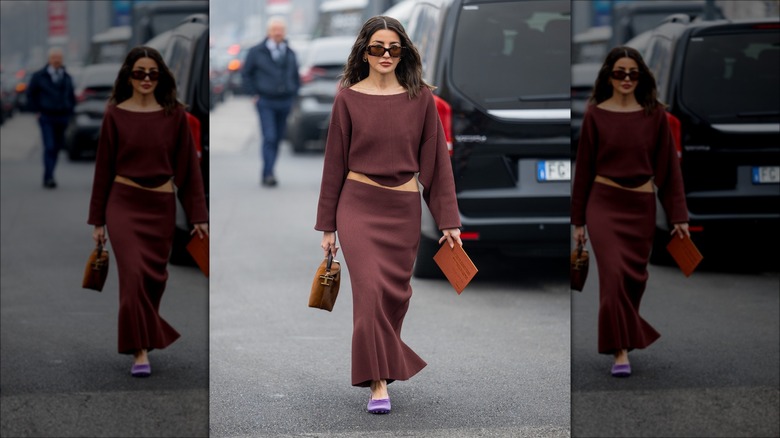 Christian Vierig/Getty Images
Footwear is a very important ingredient in the recipe for stylish and comfortable dressing. While stiletto heels might be your first thought when it comes to dressing up an outfit, there's no need to sacrifice your feet to look good. You can look stylish with a range of comfortable, flat footwear.
According to Danielle Cafiero, it's worth investing in multiple pairs of black and nude shoes to go with your favorite outfits. However, a bright or patterned shoe is also a good thing to keep on hand, as it adds a pop of color to an otherwise lackluster outfit. A good rule of thumb: Pair dark shoes with dark outfits, light shoes with light outfits, and patterned shoes with plain outfits.
If you are looking for an ultimate brunch look while maintaining full-body comfort, pair a muted two-piece sweater dress with a pair of brighter-hued ballet flats.
Accessorize your sweats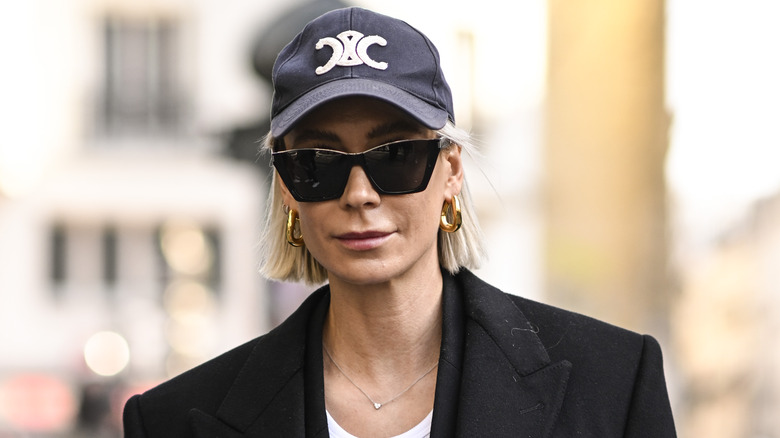 Daniel Zuchnik/Getty Images
As Abigail Valentine told us, accessorizing is vital when transitioning your comfortable clothing into a put-together look. You can utilize belts, simple jewelry, hats, scarves, and bags to create an intentional, stylish look.
"For a day-to-evening look, swap sneakers for a pair of slingback pumps, chunky gold hoop earrings, and a slouchy shoulder bag," Danielle Cafiero suggested. Another simple way to amp up your favorite t-shirt is to pair it with wide-legged neutral trousers, retro sneakers, and a faux leather belted trench.
While accessories can elevate your look, the sheer number of available options can be overwhelming. The easiest way to begin is to pick a signature accessory that makes you feel great and then work in small, subtle pieces around it to create a dynamic look. Your statement accessory could be a pair of gold hoops, a tennis bracelet, or a cocktail ring — whatever you like.
You can also have fun mixing and matching colors of accessories and outfits. To start, try pairing one colorful accessory, like a fun pair of sneakers or a colorful scarf, with a neutral outfit. "With the right pieces, you can achieve a polished, put-together look without sacrificing comfort," Valentine confirmed.
Pair comfy staples with dressy pieces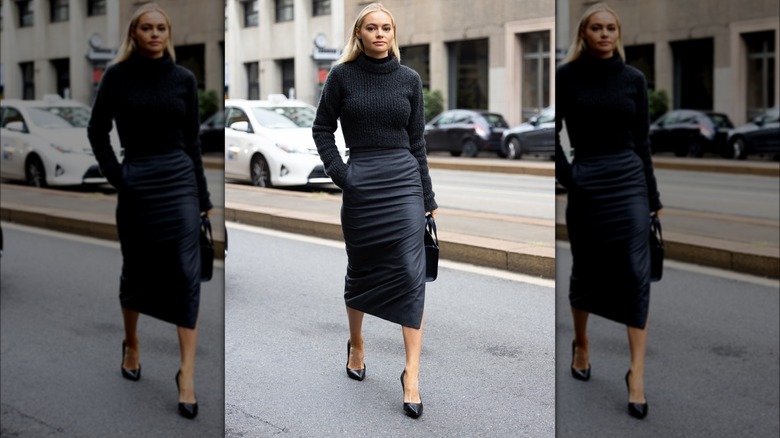 Valentina Frugiuele/Getty Images
A great way to create a unique and dynamic outfit is to pair comfy pieces with traditionally dressier pieces. This style can come in clutch when attending a daytime wedding or going on a dinner date — all occasions when you want to look good but also feel comfortable. Think: a cozy sweater paired with a pencil skirt, or a turtleneck worn under or over a slip dress. "If you want to get away with wearing joggers out at night, try wearing a blazer as a top by belting it on the outside and adding a strappy heel," Abigail Valentine advised.
Another way to create an effortlessly chic look is to pair a comfortable hoodie with a dressy blazer. "One of my go-to outfits to look fashionable while traveling is to layer a hoodie under an oversized blazer with leggings and sneakers," Valentine dished. A casual pair of distressed jeans with comfortable heels; a cropped graphic t-shirt tucked into a breezy, long skirt; or a pair of sneakers with a sundress are all great ways to rock this style.
Elevate your athleisure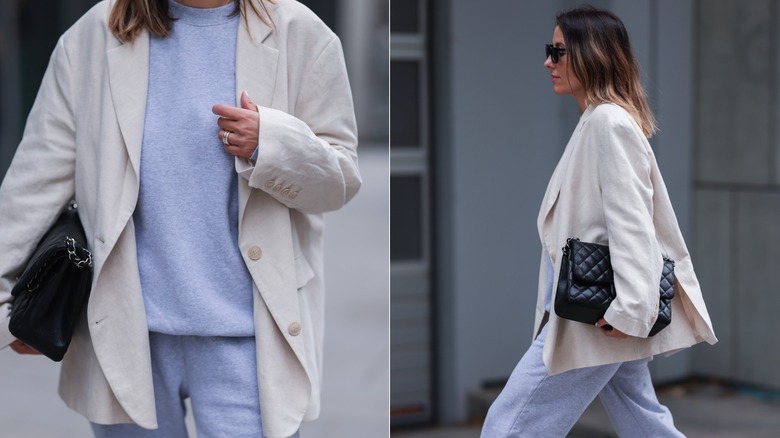 Jeremy Moeller/Getty Images
Athleisure is essentially exercise clothing dressed up as everyday wear. Promoted by the likes of Hailey Beiber, the evolution of athleisure has done wonders for the arena of comfortable fashion by making exercise garments more versatile and stylish. With this trend, we no longer have to sacrifice comfort to look put together. "A blazer is a great way to dress up a legging, a sports bra set, or a loungewear set," Abigail Valentine told The List.
"The number one thing I tell my clients when styling athleisure is to keep the base layers monochromatic," Valentine advised. "If you are wearing a gray sweatshirt, pair it with a gray jogger and add a jacket or coat on top. If the top and bottom of a sweat set are different colors, the look will naturally look thrown together and sloppy."
There are various ways to dress up your sportswear. "You can opt to mix fabrics like denim and leather with sports fabrics or simply add statement jewelry to your loungewear," says Valentine. Although, due to the limited number of base looks available, it is important to not lose your personal style while experimenting with this trend.
Modify your maxi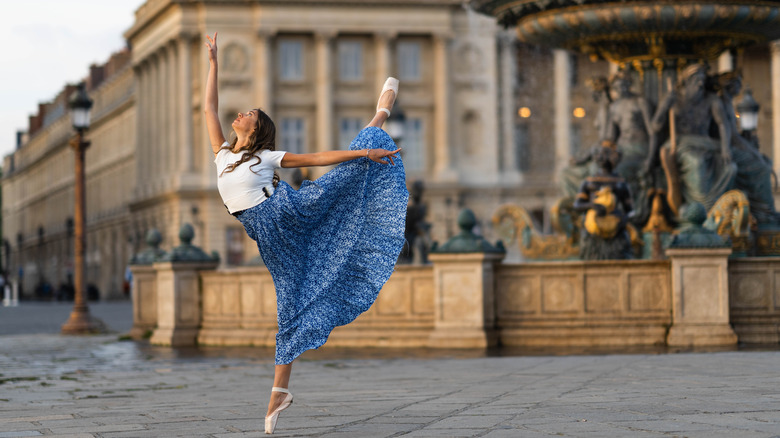 Edward Berthelot/Getty Images
A maxi dress is a staple in a wardrobe that prioritizes comfort. Since Oscar de la Renta created the style in the '60s, the maxi has been worn in all sorts of ways. Danielle Cafeiro told us that skirts and dresses with longer hemlines — like denim maxis and silk slip midi skirts — are her favorites for spring. Abigail Valentine also espouses the maxi. "A maxi dress is a staple in any wardrobe. It is a comfortable piece that can be dressed up or down," she told The List.
A maxi dress by itself can be stylish and comfortable, but you can up the chic factor by throwing on a denim jacket overtop. Alternatively, add a belt at your natural waist to add more definition to the dress. A maxi skirt pairs well with cropped sweaters and can look perfectly appropriate for the office.
For a casual daytime look, layer a t-shirt or a button-down tied at the waist over a maxi dress. "For button-front maxi dresses, a cool styling trick is to unbutton them all the way and wear them as a duster over a tank and jeans," Valentine advised.
Just add leather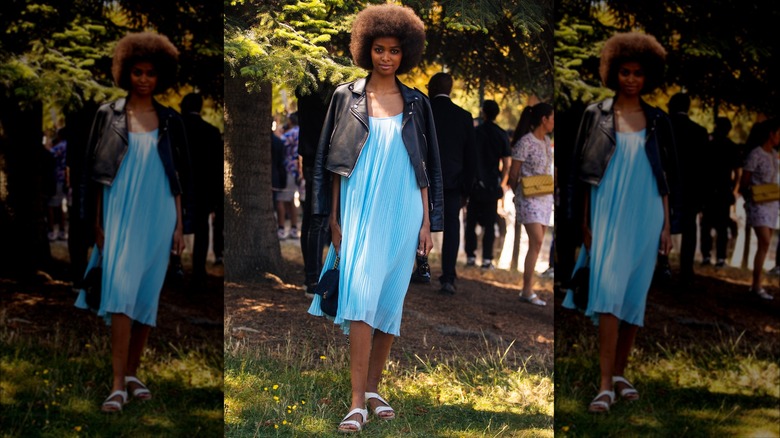 Melodie Jeng/Getty Images
Leather jackets are extremely versatile — they can be dressed up or down, worn day or night. "The best thing about a leather jacket is the styles are endless," Abigail Valentine told us. "I tell every client that they are an absolute staple for every woman's closet." Danielle Cafiero similarly suggests that you should consider investing in a leather jacket if you haven't already done so. "This season brings bigger and bolder silhouettes, and a power leather black blazer will be one to wear on repeat," she said.
Not sure where to start? "You can wear a classic moto-style leather jacket to add an edginess to your style," explains Valentine. "You can jump on the leather shacket trend for an elevated, casual layer." You can throw in a cropped leather jacket over your favorite sun dress and multiply the edginess of the outfit by a million. While leather jackets are typically black, tan, and brown, you can find bright shades like pink, red, blue, white, and more.
Go monochrome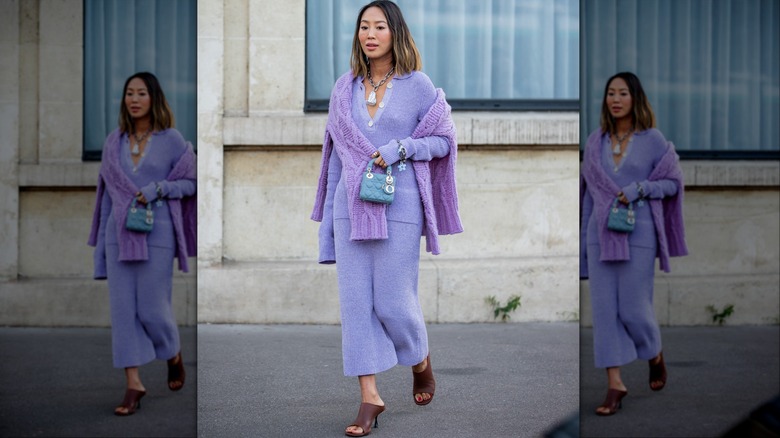 Christian Vierig/Getty Images
With all the layering, mixing, and matching you're doing to create a stylish, comfortable outfit, there is a chance of looking like a DIY blanket made of scrap fabric. To avoid this, Abigail Valentine recommends limiting colors. "Monochromatic outfits instantly make you look more stylish and fashion-forward," she told The List. "When in doubt, keep your outfit all one tone and it will look instantly more chic and luxe." Danielle Cafiero said that she personally loves a monochrome look, especially when it is done in complementary textures and fabrics.
To add visual interest without overdoing it, select pieces made of different fabrics. Alternatively, you can choose printed fabrics for either top or bottom, or opt for slightly varying shades of the same color. You can use a darker shade over the part of your silhouette you'd like to de-emphasize and a lighter shade over the part you'd like to emphasize.
Pair a dressed-down look with makeup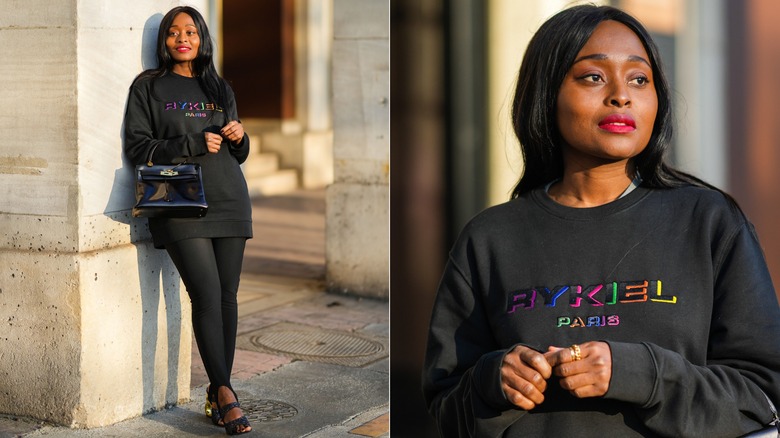 Edward Berthelot/Getty Images
Perhaps the easiest way to dress up a cozy outfit like a sweatshirt and leggings is to throw on some makeup. "Wearing comfortable pieces for various occasions naturally gives an effortlessly chic feel, which translates to a simple, clean makeup moment," Abigail Valentine told The List. "I am eternally grateful to TikTok for introducing me to the clean girl aesthetics." Healthy skin is the ideal base for a perfect makeup look, so make sure to invest in a skincare routine that suits you. 
Tame those unruly brows for a neater appearance and consider wearing some lipstick. "A classic red lip can instantly make a statement and dress up a simple outfit," Danielle Cafiero explained. If you are not a fan of red, you can always opt for a bright pink lip. Winged eyeliner is another fun and effective way to elevate your comfy look. You can also play with eyeshadow colors to compliment your outfit.