Meghan McCain Wrote A Tell-All After Slamming Mary Trump For Doing The Same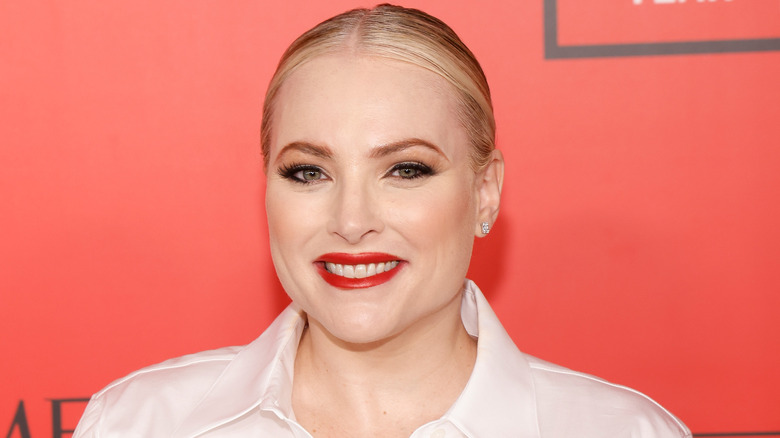 Taylor Hill/Getty Images
Meghan McCain doesn't seem to care if her opinions of others ruffle a few feathers. Never one to mince words, the daughter of late Senator John McCain, writer, and ex-host of "The View" has put pen to paper  to share a memoir titled "Bad Republican." 
Per Goodreads, the memoir is a testament to McCain's feelings of separation from the political party she's associated herself with for her entire life. In it, McCain recounts dating antics, her time on ABC's daytime talk show, and personal experiences that have caused her to butt heads with her political party's historical stance on women's rights. 
But this scintillating tell-all poses a question worthy of consideration: hasn't McCain said — multiple times — that she hates tell-alls? In an interview on Andy Cohen's "Watch What Happens Live," McCain addressed her decision to write the sort of book she's previously condemned others — notably Donald Trump's niece, Mary Trump — for writing. 
Meghan McCain's long career as an outspoken commentator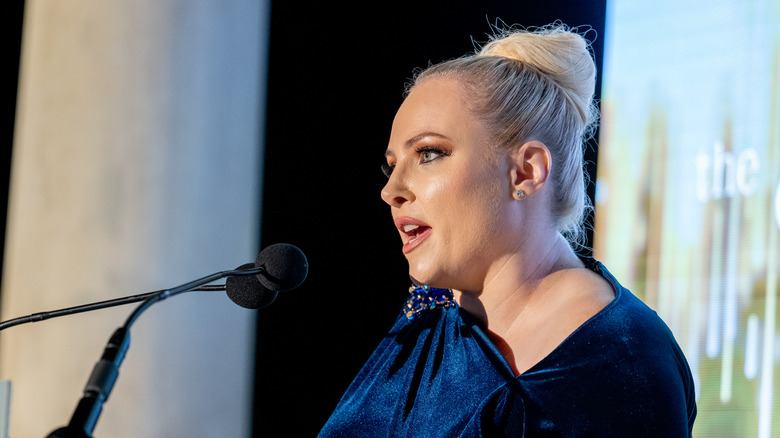 Roy Rochlin/Getty Images
Many people have gotten caught up in Meghan McCain's web of criticism. She's blasted Donald Trump's 2024 campaign prospects, lashed out at Meghan and Harry, and penned a scathing review of John Biden's presidency – just to name a few. The columnist has no problem sharing her opinions, as seen in multiple op-eds in the Daily Mail and in a feud with former President Donald Trump's niece, Mary Trump, who released a telling memoir of her own in 2020. 
Mary's book, "Too Much and Never Enough," details not only her uncle's political dreams but also seedy details of the inner workings of her entire family. When Mary visited "The View" to promote the book, McCain was less than impressed, telling the author, "At the end of the day, you get a really great paycheck out of it, but I don't think it's that legitimate. What do you say to people like me who think this is just a great way for you to get a paycheck right now?" 
McCain said that she felt most familial tell-alls were one-sided and that this illegitimate hyperbolizing, as she saw it, was at the crux of her argument against Mary's book. The "View" host accused Mary of being too distant of a relative to have accurate information about her uncle's family dynamics. Mary calmly replied that McCain was entitled to her opinion, but the tense conversation was yet another tendril of flames burning off a long-standing feud between the Trump and McCain families.
From hating tell-alls to creating one herself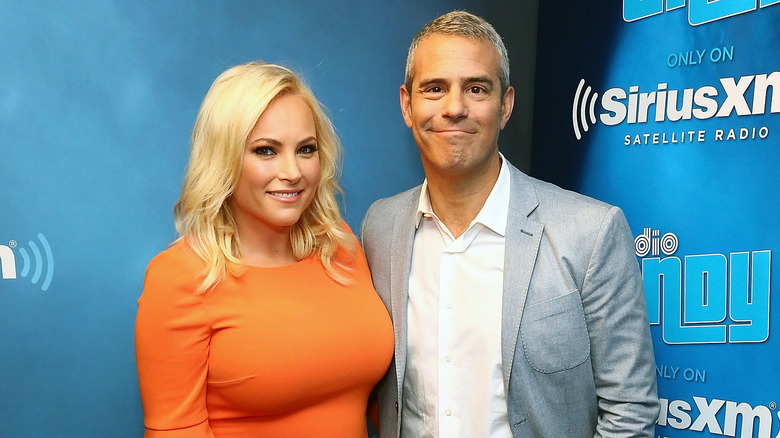 Astrid Stawiarz/Getty Images
After Meghan McCain released "Bad Republican," the notion that her memoir was not dissimilar to the types of books she previously condemned was not lost on TV hosts like Andy Cohen. In an episode of "Watch What Happens Live" (via the Daily Beast), Cohen asked McCain, "On a 1-to-10 scale, how hypocritical is it that you wrote a tell-all after prefacing every tell-all interview on 'The View' with 'I hate tell-alls' regarding Harry, Trump, Kushner, and Cohen?" 
McCain tried to clarify that the memoirs she's spoken out about in the past were political tell-alls. And while she didn't offer an alternative descriptor for her own publication, she suggested that her family memoir was different because her family read (and, assumedly, approved) everything she wrote before the book's release. When asked again by Cohen if she believed her move to be hypocritical, McCain replied with a fairly glib answer not unlike Mary's on "The View." With a shoulder shrug, the author said, "Um, I don't, but it's OK if other people do. I don't really care." 
The "Watch What Happens Live" host quickly lightened the conversation by moving it over to the bar to take shots with McCain and the episode's other guest, S.E. Cupp. The moment was brief and didn't appear to faze McCain, but it certainly makes one consider the importance of not judging others, lest they be in similar positions years later.