Outfit Inspo To Help You Rock Your Light Wash Jeans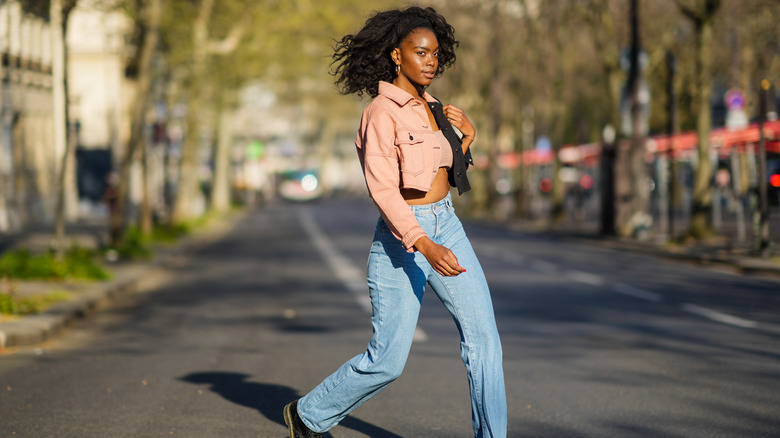 Edward Berthelot/Getty Images
Whether you're a dark wash or a bleached jeans fan, one jean style is more versatile than most, and that's light wash jeans. One of the top jean trends, light wash jeans have been seen on those in the fashion know for quite a while now. Per Woman&Home, founder of denim retailer Trilogy Stores Lesley Torson agreed that light wash jeans are definitely making a comeback. "Typically, lighter shades are popular for spring/summer, with denim staying authentic and light washed in a Y2K feel," Torson shared.
We're not just talking light wash skinny jeans, either. The light wash trend includes all types of jeans, so even if you're not really a skinnies kind of person, you can hop on the trend. Think straight leg jeans, mom jeans, loose styles, or even flared jeans. The trend is not necessarily about the cut of your jeans, but rather the color. Any shade of light blue is acceptable, as are those verging onto mid-blue.
Still not sure how to style your light wash denim? Luckily there's inspiration for days, from outfits practically screaming summer to ensembles that harness layers for those cool weather days.
With a leather jacket
A good leather jacket will never go out of style, and a leather jacket with light wash jeans is a tried and true outfit combination. Basically guaranteed to look good, we recommend pairing your jacket/jeans combo with a white or light gray T-shirt underneath. Finish the look with sneakers for a casual vibe or with chunky boots like Doc Martens for an edgier one. Any type of jean cut works with this aesthetic, but we particularly like the look of flared or straight leg jeans with a leather jacket. 
With your favorite knitwear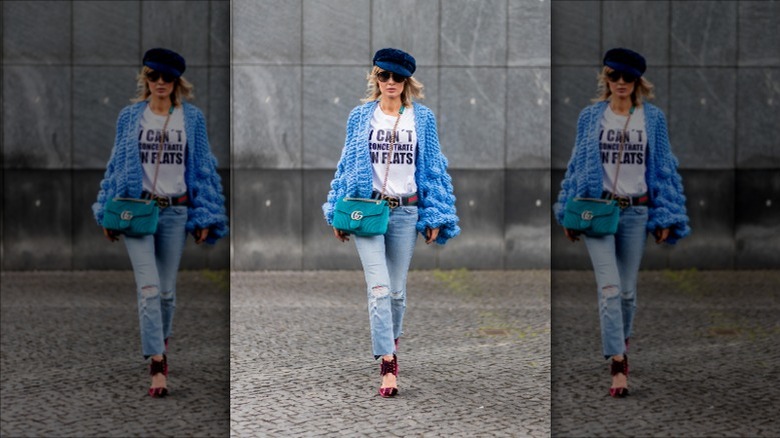 Christian Vierig/Getty Images
Grab your favorite sweater — it's time for knitwear to shine. Throw your sweater or cardigan over a tee and pair it with light wash jeans for a style that's super easy to put together but will look extremely cool. Ripped jeans will add an extra aspect to your ensemble, but non-ripped jeans are just as chic. Once again, we think the casual nature of straight leg jeans would be the best option for this type of look. Wear this 'fit on those days when the weather isn't quite as warm as you'd like it to be.
With a graphic tee
You can never go wrong with a graphic tee in general, and a graphic tee + light wash denim = a match made in heaven. Add some sneakers into the mix and you've got yourself an outfit that's perfect for running errands or grabbing coffee with a friend. While a white graphic tee is the most typical, experimenting with color is an easy way to inject some depth into an outfit. Make sure to choose a T-shirt with an oversized silhouette for a laid-back vibe.
With a small pop of color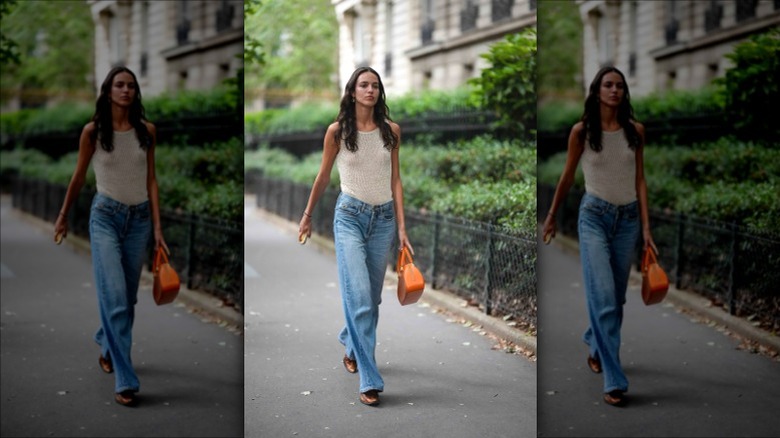 Edward Berthelot/Getty Images
Even the most basic of outfits can be elevated with a pop of color, as demonstrated with the above 'fit. The orange bag adds a much-needed extra dimension to what is otherwise a relatively simple style. The best thing about this look? The fact you can use this trick for every outfit combination possible. A handbag is the easiest way to incorporate color, but you could also opt for some bright earrings or colorful shoes.
With a tweed jacket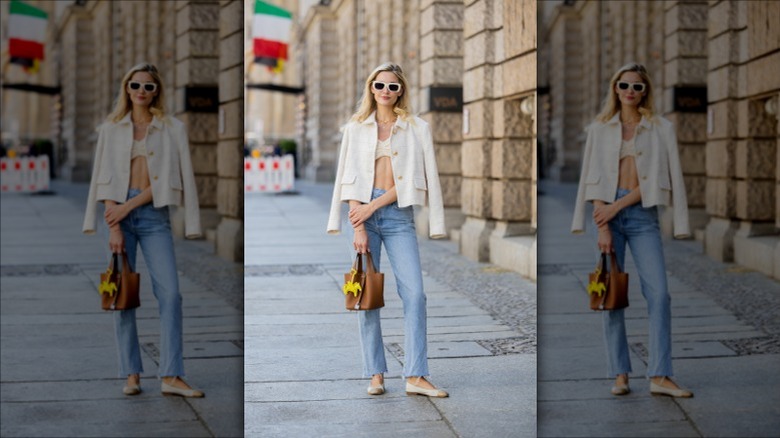 Christian Vierig/Getty Images
A French girl closet staple for a reason, the humble tweed jacket looks fantastic with light wash jeans. The cream/beige shades of most tweed jackets are truly gorgeous with the lighter wash of denim, which will prevent your look from appearing too one-dimensional, as it could with an all-cream or all-beige outfit. Depending on the shoes you go for, we recommend wearing slightly cropped jeans so your shoes can be seen properly — ballet flats are ideal to achieve a classic jeans and flats look.
With a corset top
Edward Berthelot/Getty Images
Light wash jeans aren't just for casual outfits, either. They look very cool paired with a corset top or any other top that's on the dressier side, especially jeans that have a mid or low rise instead of high. Bring street style edge to your look by opting for sneakers instead of heels. Though your instinct may be to go for lighter tops to match the lighter wash of your jeans, darker colors will create an unexpectedly good contrast.
With contrasting colors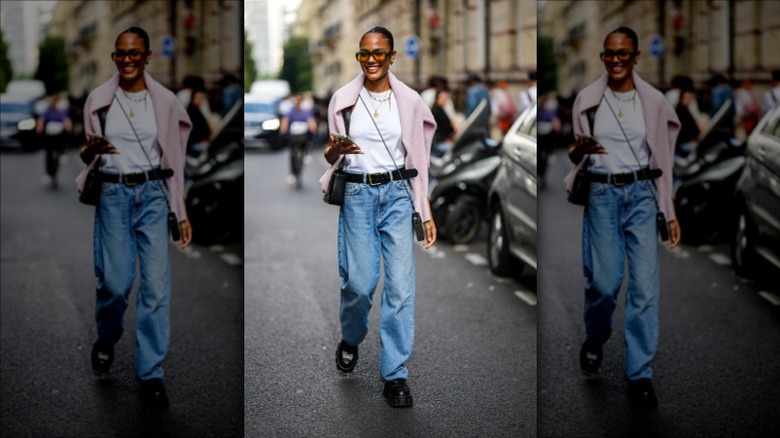 Edward Berthelot/Getty
Neutrals and pastels look great with light wash denim, but you can level up your outfit by adding black accessories. Bold shoe choices like chunky loafers or stompy boots look good with a white T-shirt and jeans, but even better when you throw in a color that's on the opposite side of the color spectrum like pink or lilac. Make sure to add at least one other black accessory like a belt or bag to tie the look together.
With a blazer and boots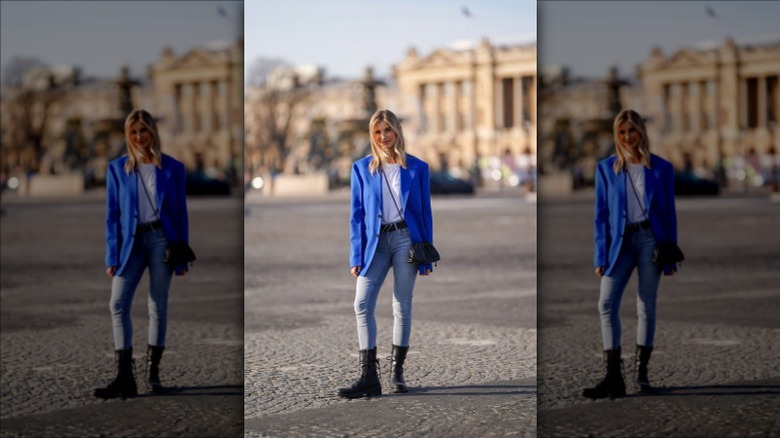 Edward Berthelot/Getty
You may not think that electric blue would look good with pale blue, but it absolutely does. Once again, the black accessories here (belt, bag, boots) add a much-needed grounding force to the overall outfit. Electric blue is a bold and strong color by itself, which is why it needs neutrals to balance it out. A black T-shirt would look too harsh, whereas the white tee here matches nicely with the lighter jeans wash. If you're planning to tuck your jeans into your boots, stick to skinny jeans.
With a turtleneck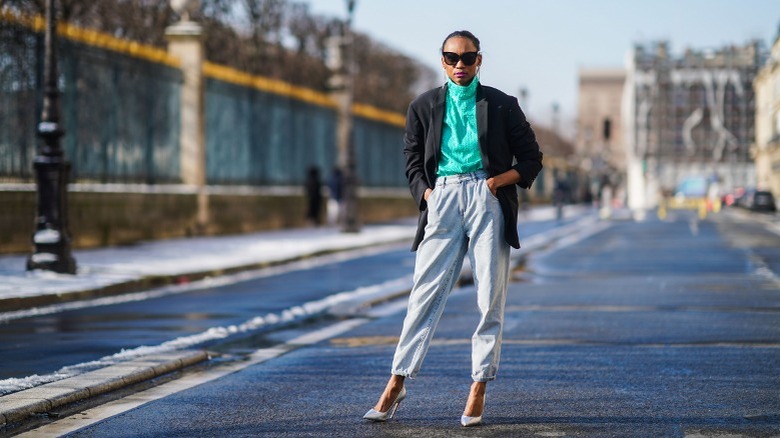 Edward Berthelot/Getty
Loose jeans are a style statement by themselves, but because of their casual vibe, you may not think of styling them with more formal pieces like a blazer and heels. However, by pairing these unexpected clothing items together, you'll instantly create an effortlessly cool look. The turtleneck should be colorful to add an extra element. This outfit is also ideal for fall, as the turtleneck layered with the blazer will save you from being cold. Swap heels for boots if you want to keep your toes toasty, too.
With classic silhouettes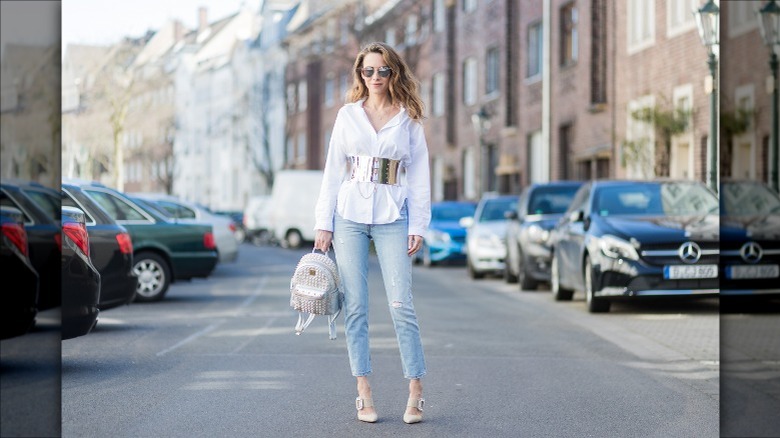 Christian Vierig/Getty Images
The classic white shirt and jeans look can be reinvented time and time again, and we love the idea of adding a wide belt to the center of your shirt. Not only will this addition cinch your waist and create a nice silhouette, but it also prevents your look from appearing too dull. Metallic accessories add some sparkle and glam to what is an otherwise understated aesthetic. If you're planning to wear heels, choose light wash jeans with a cropped fit so your shoes have their time in the spotlight too.
With a statement jacket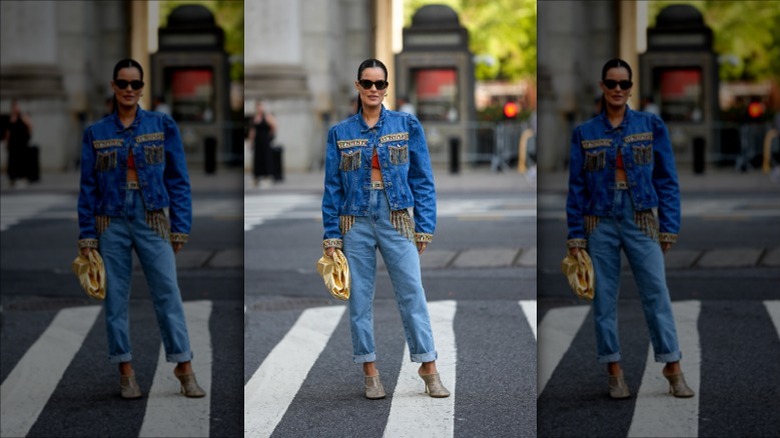 Edward Berthelot/Getty
Blue on blue can definitely work if you go for different shades. Texture and fabric also play a huge part in an outfit, and we love how the silky smooth texture of this suede-look jacket contrasts with the roughness of denim. If you feel your jeans 'fit is a little on the dull side, a statement jacket is always a good idea. The one thing to keep in mind is that if you're pairing blues together, make sure one is noticeably lighter or darker than the other so they don't clash.
With a dressy top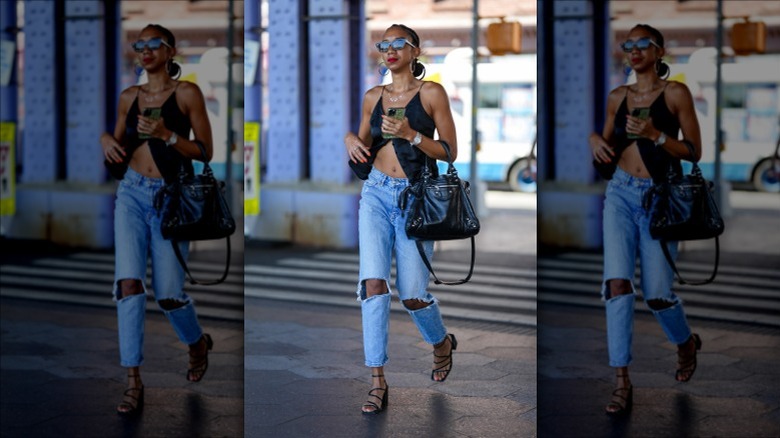 Edward Berthelot/Getty
Ripped jeans and a graphic T-shirt may sound like the perfect combination, but ripped jeans additionally look unexpectedly great with a dressy top. Of course, the top shown above is less dressy and more club, but you could also opt for a blouse. Black is a go-to for light wash jeans — the contrast between light and dark will look good every time. Finish the ensemble with some platform heels for an outfit that shouldn't quite work but definitely does.
With a winter coat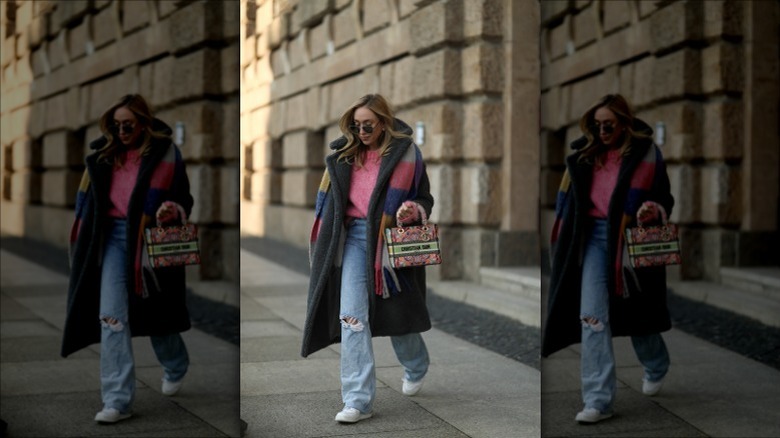 Jeremy Moeller/Getty Images
Yes, you can wear your light wash jeans in the winter. Throw a thick, slightly oversized coat on top of a sweater and jeans for a classic base look. Next, add accessories. Items like a colorful scarf, a bright handbag, or a fluffy hat are all solid ways to add depth to your outfit. The key here is layering so you're not cold when you leave your coat open to reveal your light wash jeans. Opt for sneakers if it isn't too chilly, or chunky boots for a bit of edge (and added warmth).
With a colorblock shirt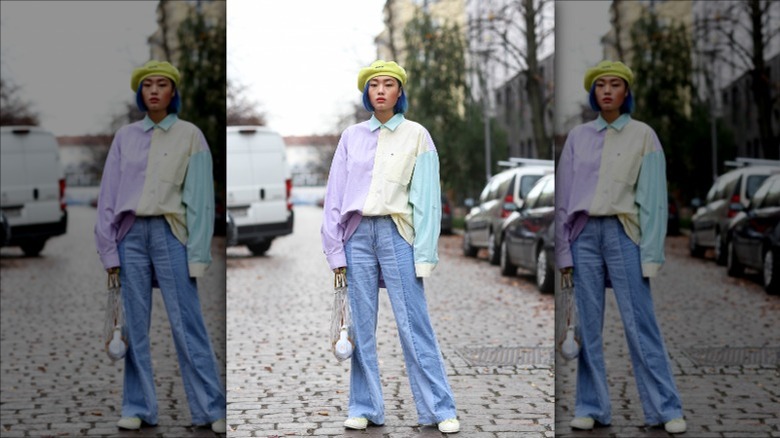 Jeremy Moeller/Getty
The color-blocking trend isn't a new thing, but it is a surefire way to spice up an outfit. Pastel color-block would work best with lighter jeans and create a cohesive look. As for accessories, we recommend picking out one of the colors in your color-block item and sticking with it to prevent your outfit from looking too busy. Any jeans would work with this 'fit, but if you're going for an oversized shirt then balance out the silhouette with straight leg or even skinny jeans.
With brown accents
Edward Berthelot/Getty
Black and light wash jeans are a sophisticated combination, but brown and light blue also go together very well. A loose brown jacket thrown over a white tee (or a sweater in colder weather) and paired with light wash jeans and boots is a timeless outfit. If you're worried about looking less chic and more cowboy, choose sneakers instead of boots. And remember to offset the shape of your jacket with the cut of your jeans — a completely oversized look may look lazy instead of intentional, so it's all about balancing silhouettes.
With a white shirt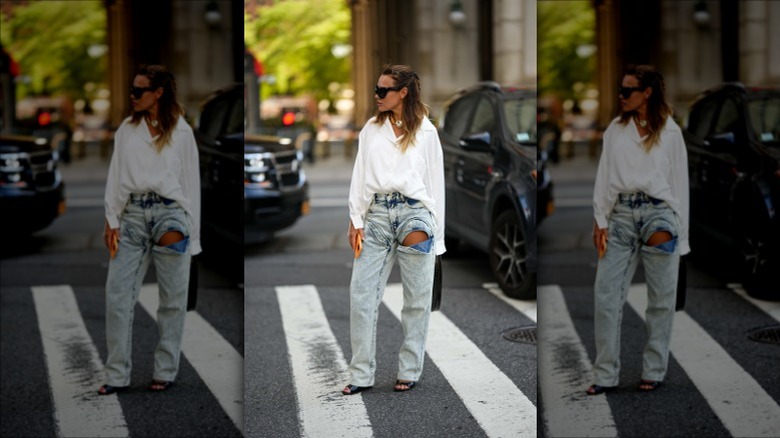 Edward Berthelot/Getty Images
Another white shirt look but this time more classic, this type of outfit is suited to every occasion. Ripped jeans like in the ensemble above make this style more visually dynamic, but it would look just as good with regular non-ripped jeans too. Make sure to get a white shirt with an oversized fit so when it's tucked in, it billows out. Wear sandals for spring, swap out for sneakers in fall, and opt for boots in winter for a perfect all-year-round aesthetic.
With a striped shirt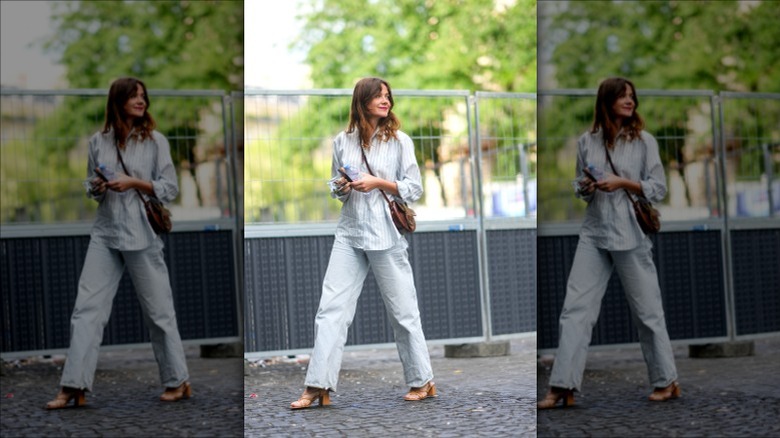 Edward Berthelot/Getty Images
Similarly to a white shirt/jeans mix, a blue and white striped shirt and light jeans will become your new go-to. Striped shirts have more of a preppy vibe, and you can lean into this more by opting for brown accessories like a satchel bag or a brown belt if you plan to tuck in your shirt. The cut of your striped shirt should be relaxed to go along with the preppy vibe, but not so oversized that it drowns you when not tucked in. 
With a vest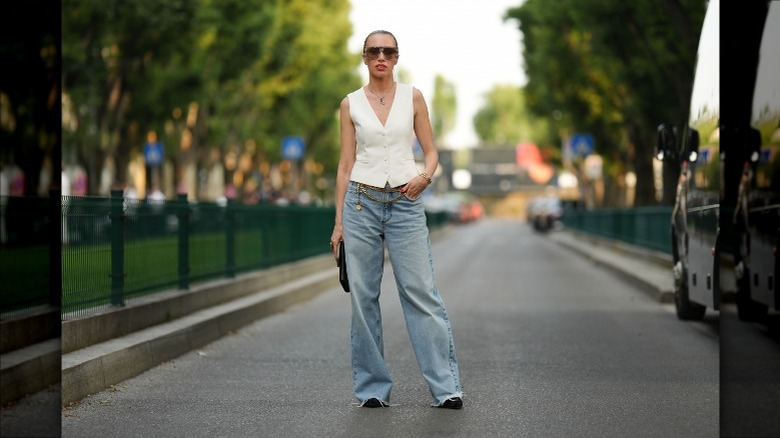 Edward Berthelot/Getty Images
Wearing vests as shirts may be a trend, but we think this timeless style has made its mark on the fashion world. Partly menswear-inspired due to the tailored silhouette, a cream, white, or ecru vest is the perfect accompaniment to your light blue jeans. If you're worried about your outfit looking a bit too much like office wear, choose jeans with a slouchier shape for a look that's automatically more relaxed. You can wear them with a top underneath or forego an extra layer for a warm-weather ensemble.
With a structured jacket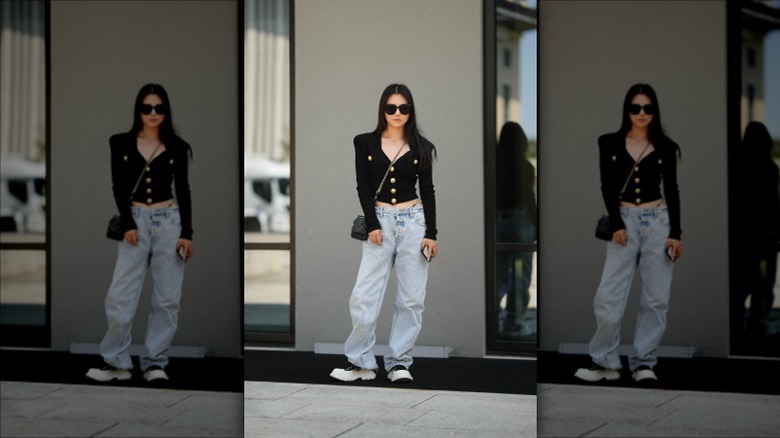 Edward Berthelot/Getty
For this look, the structured silhouette of the jacket contrasts with the loose, baggy style of the jeans. With a sharp jacket like this one, you may think that pairing it with tailored trousers or black skinny jeans is the correct way to style it. However, the deliberate contrast between the aesthetics and shapes of these items creates a much more interesting appearance. Add chunky shoes to match the casual vibe of the jeans or heels to match the energy of the jacket.
With a tank top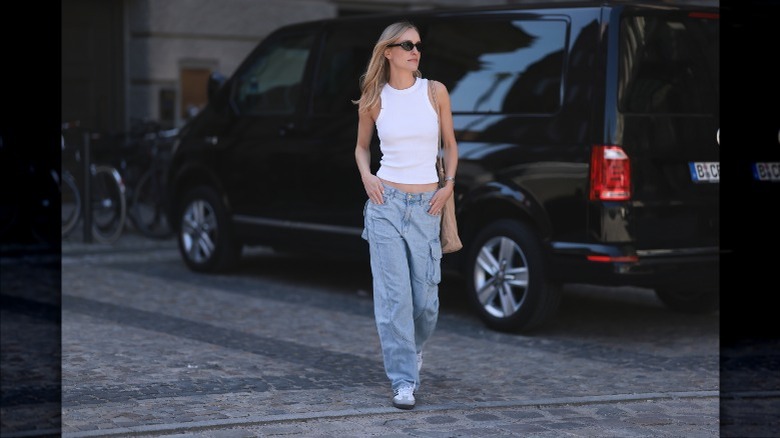 Jeremy Moeller/Getty
A tank top is an underrated staple in many people's wardrobes, especially a plain white tank. Though this look is on the basic side, the colors complement each other extremely well. Plus, sometimes rocking basics can look cooler than trying to put a whole new outfit together. If you wanted to, you could make this 'fit less casual by adding a bold belt, statement handbag, or long necklace. Stick with sneakers as your shoe choice to emphasize the easygoing mood.
With a summery top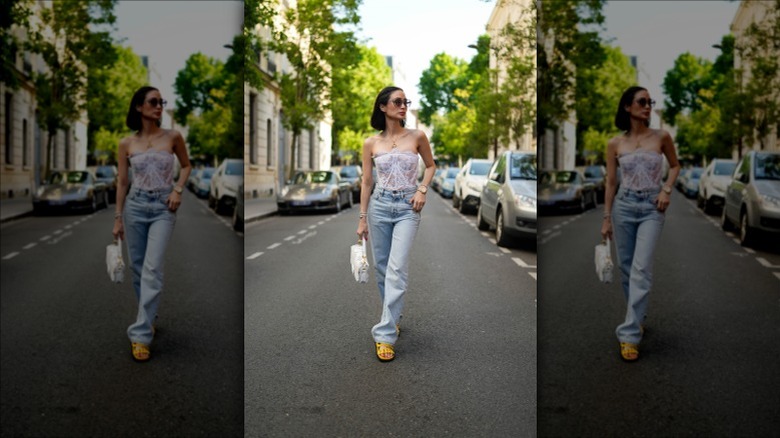 Edward Berthelot/Getty
The beauty of light wash jeans is that their washed-out appearance means they match well with lighter summer tops. If you're looking for a "jeans and a nice top look," a strapless top and some light wash jeans are the perfect combo. When it comes to shoes, heels should be your go-to if you're going somewhere fancy, but you could also go for sandals to make this look more suitable for daytime. Tip: keep your jewelry minimalist so the attention is on your top.
With a cropped shirt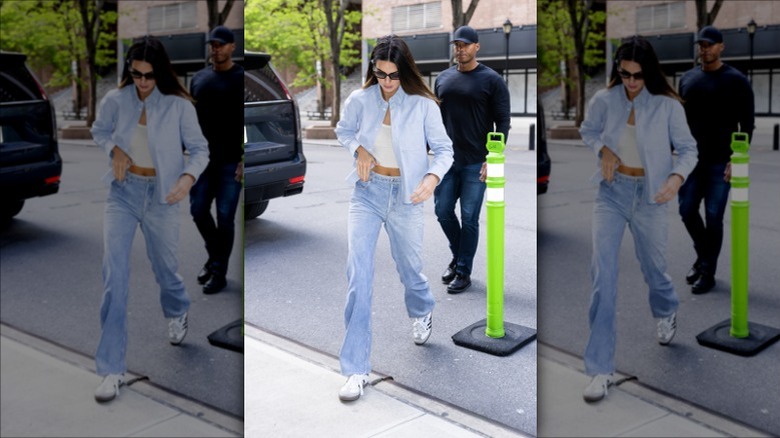 Gotham/Getty
A variation on a shirt and jeans look, a cropped shirt can help to bring a more modern, laid-back vibe to this classic combination. Moreover, if you're petite, a cropped shirt could actually be more flattering on you due to the fact it won't cut your legs off and make you look shorter. Layer a cropped tank top underneath a button up for a casual tailored aesthetic. Loose jeans will work best with this kind of outfit.
With a white tee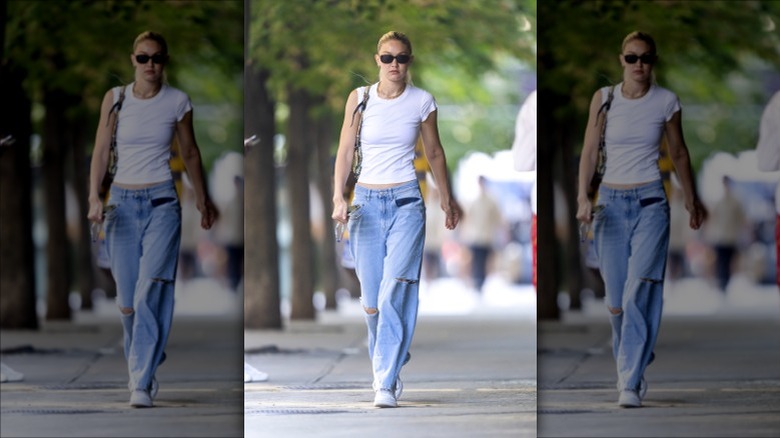 Gotham/Getty
As demonstrated by Gigi Hadid, a white T-shirt is practically made for pairing with ripped light wash jeans. Undeniably cool, all you need are some white sneakers and your ensemble is done. This style is similar to a tank top/jeans look but offers slightly more coverage. You don't have to go for a fitted T-shirt either — a relaxed fit or even an oversized T-shirt will still give your look a "I just threw this on" kind of vibe.
With a blazer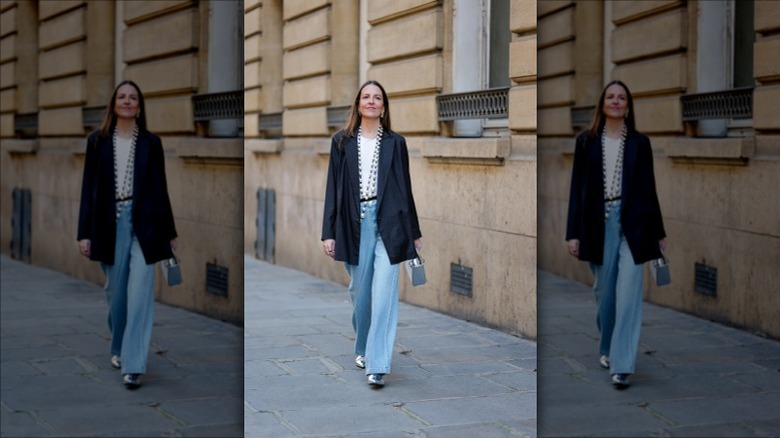 Edward Berthelot/Getty
If you want to make your light wash jeans suitable for the office, a blazer in a darker color like gray, navy, or black is the easiest way to do so. This look is a great option if your workplace has a smart casual dress code. The type of jean silhouette to go for will depend on the office you're in — loose jeans may be a step too far, so err on the safe side and choose straight leg or barrel leg jeans instead.
With a puffer jacket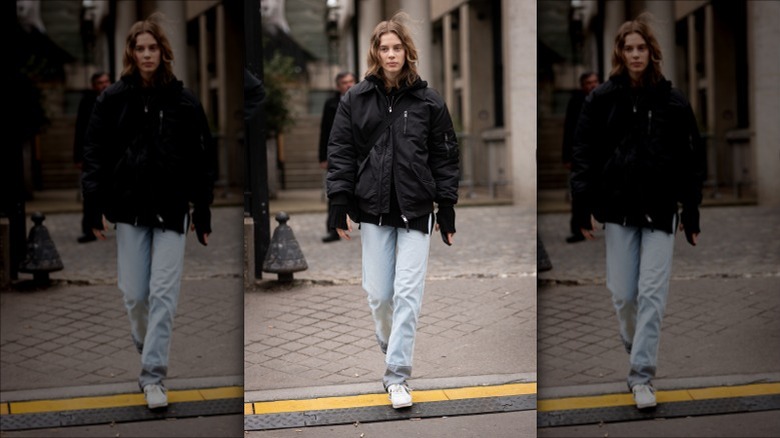 Claudio Lavenia/Getty
Last but far from being least, here's how to wear your jeans during the cold seasons. You may not think that layering your favorite puffer coat on top on your jeans is a particularly stylish look, but a voluminous jacket can actually help to balance out the shape of your jeans if they are on the tighter side. If you're worried about your coat making you look wider than you are, find one that can be pulled in via a toggle at the back or sides or one with a cropped cut.