Rihanna And A$AP Rocky Didn't Plan To Have Kids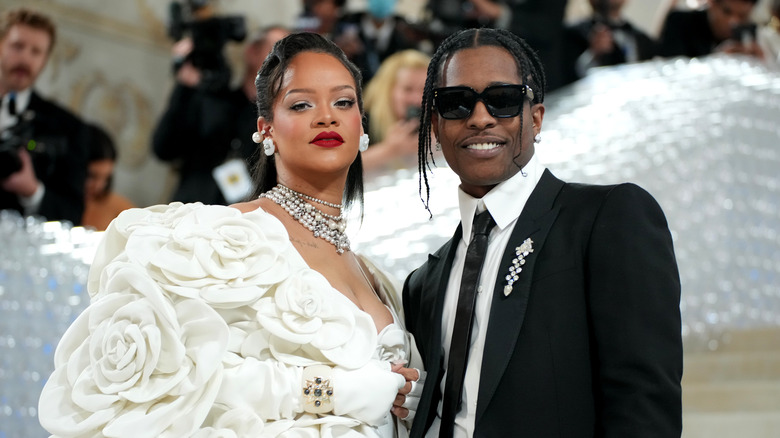 Jeff Kravitz/Getty Images
Rihanna and A$AP Rocky are about to become parents, again. The multi-platinum superstar revealed her second baby bump during her comeback Super Bowl performance in February. The electric performance left fans excited about welcoming Fenty Baby #2, and since then, we've seen Rihanna's stunning pregnancy glow return twofold. Standing alongside boyfriend A$AP Rocky, she has been embracing motherhood with a smile.   
The self-made billionaire admitted to Vogue that while having kids wasn't exactly in the cards, she has remained optimistic about juggling her career and motherly duties. "Balance is one of my biggest challenges and always has been," Rihanna told the magazine. "And now there's another human being coming into play, it changes what that means again. Still, I have businesses that aren't going to run themselves."
Rihanna and A$AP Rocky welcomed their first child on May 13, 2022. However, it wasn't until a copy of the birth certificate was acquired by People a year later that the public learned of the baby's name. RZA, whose name is inspired by the leader of Rihanna and Rocky's favorite rap group Wu-Tang Clan, has already become the internet's beloved nephew. Fans of the "Work" songstress can't help but notice how RZA is always smiling in photos, dubbing him the "happy baby" on Twitter. Rihanna confirmed that the moniker is indeed valid, telling Elle, "His smile [is my favorite part of being a new mom]. He is the happiest baby."
Rihanna's journey to motherhood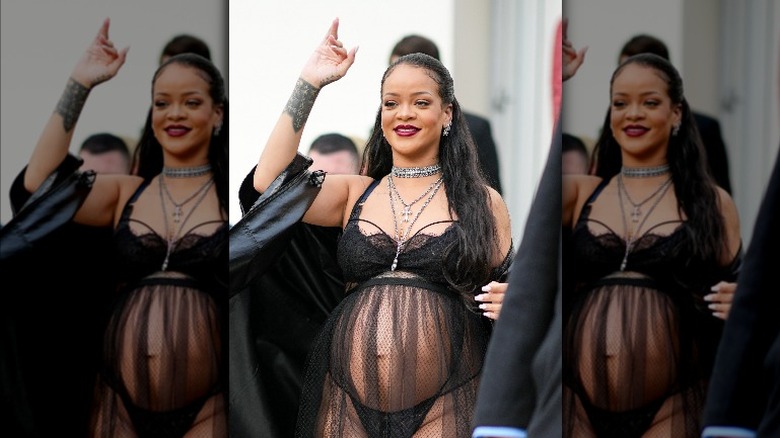 Edward Berthelot/Getty Images
Rihanna and A$AP Rocky announced they were expecting their first child in January 2022, via a street-style photoshoot taken in Rocky's native Harlem. While fans wondered if Rihanna's pregnancy was planned, she later revealed that the positive test was a pleasant surprise for the two. "I wouldn't say planning. But certainly not planning against it. I don't know when I ovulate or any of that type of s***. We just had fun," she explained to Vogue. "And then it was just there on the test. I didn't waste any time. I called him inside and showed him. Then I was in the doctor's office the next morning and our journey began."
During her first pregnancy, the fashion icon didn't trade in her signature street style for traditional maternity wear. Long known for her immaculate taste, she called attention to her baby bump in outings after the announcement. Stepping out in lace lingerie, striking bodysuits, and latex crop tops, Rihanna may have changed the face of maternity style forever, according to Vogue.
Since RZA's birth, Rihanna has spent much of her second pregnancy out of the limelight. A video of the singer in Barbados went viral this week, with A$AP Rocky making a cameo as the two bought snow cones from a local vendor. Rihanna had previously admitted to Vogue that she dreamt of raising her son in her home country. 
Rihanna and A$AP's whirlwind romance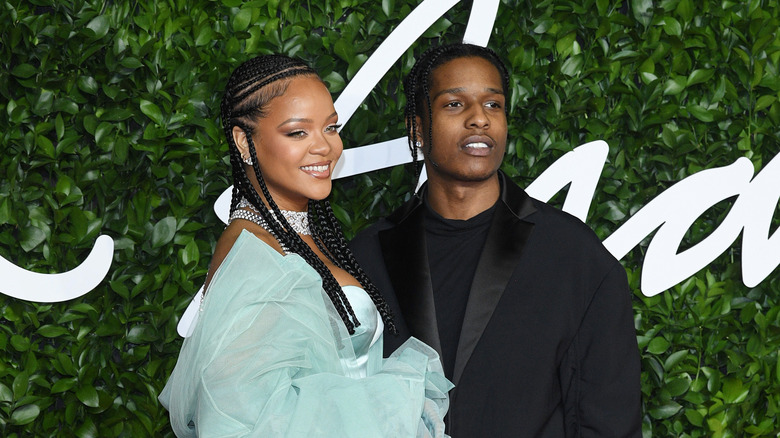 Daniele Venturelli/Getty Images
The new parents sparked dating rumors over a decade ago, after their rather steamy performance of "Cockiness (Remix)" at the 2012 MTV Video Music Awards. The following year, A$AP hit the road with Rihanna as an opener for the Diamonds World Tour. Since then, the two were only loosely associated with each other through music collaborations.
The singer-turned-beauty empress is no doubt a catch, and her complex dating history includes the likes of R&B singer Chris Brown, rapper Drake, and long-term boyfriend Hassan Jameel. Rihanna dated Jameel, a Saudi businessman, and fellow billionaire, for some three years before their breakup was announced in 2020. Shortly after, she was linked once again to A$AP Rocky. The two linked up to do press for Fenty Skin mid-2020, and their chemistry in video interviews such as Vogue's "15 Questions" was indisputable.
Later that year, People confirmed dating rumors as Rihanna and Rocky began making public appearances. Since their first pregnancy announcement in 2022, the two have given fans a glimpse into their new life as a beautiful family. Rihanna even detailed how her romance with A$AP has changed for the better since RZA's birth. And A$AP, ever proud of his lady, refers to Rihanna as the love of his life (via GQ).