Why Charlotte & Louis Might Risk Losing Their Titles When William Is King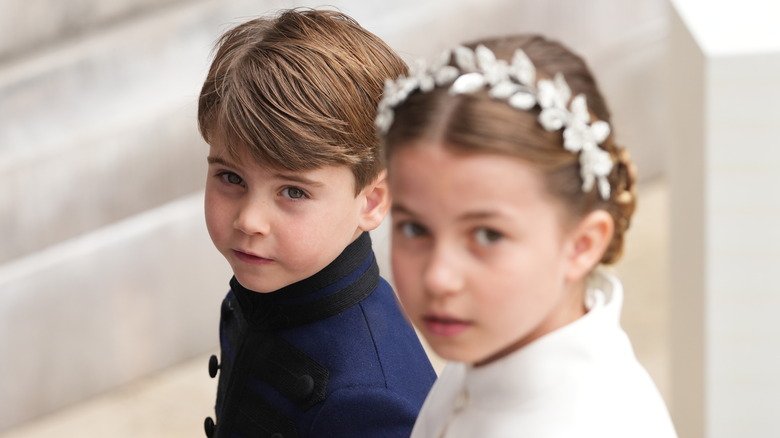 Wpa Pool/Getty Images
Now 8 and 5 years old, Princess Charlotte and Prince Louis have already experienced some title changes during their young lives. From birth to September 2022, Charlotte and Louis, along with their older brother, Prince George, were all known by the last name Cambridge. After the death of Queen Elizabeth II and the ascension of King Charles III, George, Charlotte, and Louis got the new last name Wales, when their parents, William and Catherine, became the new Prince and Princess of Wales.
Since George is second in the royal line of succession, he has some additional title changes in his future. When William becomes king, "George will become Duke of Cornwall and then, of course, Prince of Wales," royal expert Marlene Koenig informed Express. Dating back to 1337, the Duchy of Cornwall is a hereditary title that is bestowed on the "eldest surviving son of the Monarch and the heir to the throne." The Prince of Wales title is bestowed at the monarch's discretion; however, it is likely William will follow his grandmother's and father's footsteps and give the title to George. 
In contrast, future titles for George's younger siblings are less assured. "Charlotte and Louis will be of nothing," after William becomes monarch, Koenig explained to Express. While the younger siblings may lose their Wales association, and they don't have any specific titles to inherit, there are some other bestowed titles that could be up for grabs in Charlotte and Louis' futures.
Princess Charlotte could be a duchess or Princess Royal one day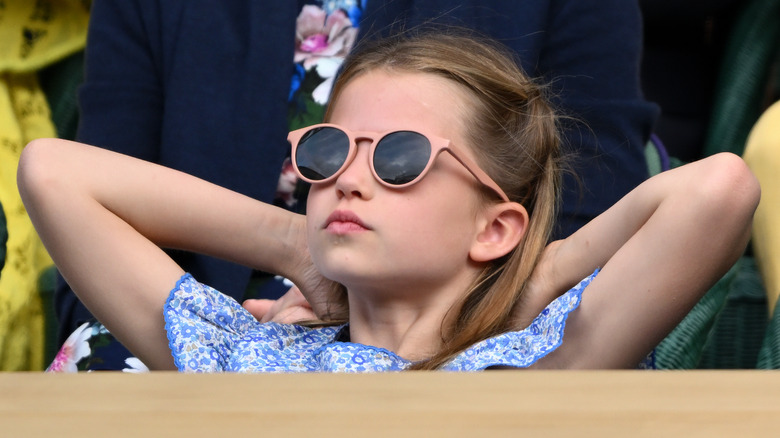 Karwai Tang/Getty Images
Historically, female royals didn't have the ability to become a duchess unless they married a duke. Fortunately, times have changed. Princess Charlotte is already ahead of Prince Louis in the line of succession because Queen Elizabeth advocated for U.K. Parliament to revise the Succession to the Crown Act in 2013. "Now with gender equal succession, I think it would be more possible to grant a peerage to Charlotte," royal expert Marlene Koenig remarked to Hello! "Prince Louis will get one when he marries, so it would only be fair if Charlotte was named a Duchess on her wedding day."
Besides getting a duchess title as a wedding gift, it's also possible that Charlotte will become Princess Royal one day, a title frequently given to the king's oldest daughter. Similar to the Prince of Wales, Princess Royal is not an inherited title, so Charlotte won't be eligible for it until her great-aunt, Princess Anne, dies and the title reverts back to the crown. 
In addition, Charlotte could also receive a special title from King Charles: Duchess of Edinburgh. The male version of this title was held for many years by Prince Philip. After Philip died in 2021, the title was inherited by Charles. In March 2023, Charles passed the title to Prince Edward, his youngest brother, with a new update that it would now be a bestowed title and not inheritable by Edward's descendants.
Prince Louis might have several dukedoms to choose from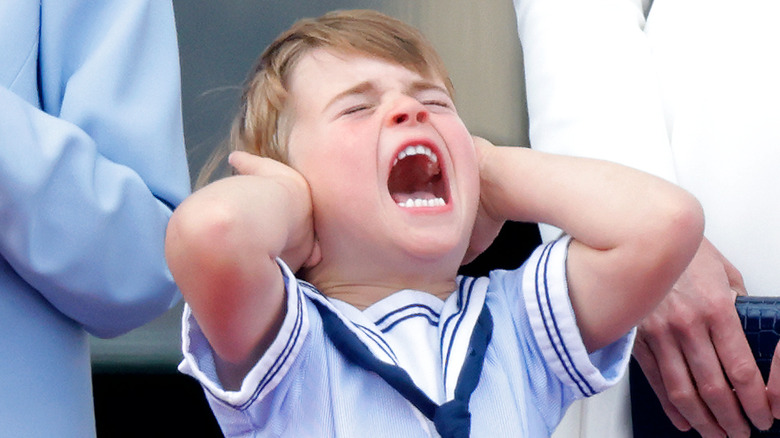 Max Mumby/indigo/Getty Images
When Prince Louis grows up, he'll likely become a duke. This practice has been a royal tradition, often in conjunction with a royal wedding. When Prince William got married, Queen Elizabeth II gave her grandson and Kate Middleton the titles Duke and Duchess of Cambridge. When Prince Harry and Meghan Markle married, she gifted them the titles Duke and Duchess of Sussex.
The dukedom Louis ultimately receives will depend on which ones are available. Duke of York, a title currently held by Louis' great-uncle Prince Andrew, is historically given to the monarch's second son. However, like Princess Royal, this title is for life, so Louis won't be eligible for it until Andrew dies and the title goes back to the crown. Like his dad, Louis could potentially be a future Duke of Cambridge, although the title could also go to his brother George, depending on when William becomes king. If Princess Charlotte doesn't receive the title, Duchess of Edinburgh, it's possible Louis could become Duke of Edinburgh. 
Of course, there's also the possibility that Charlotte and Louis will forge their own path. Charlotte could reject her royal titles as a working adult, or both she and her brother could emulate Prince Edward and request ones of their own creation. When Prince Edward got married, he turned down the title Duke of Cambridge and requested the title Earl of Wessex, as a nod to the movie "Shakespeare in Love."