Why Ivana Trump Really Divorced Her Fourth Husband Rossano Rubicondi
Michael Loccisano/Getty Images
Ivana Trump was one of those remarkable women with a thriving career, a beautiful family, and a larger-than-life persona. Most people remember her as Donald Trump's first wife, but she stepped out of her husband's shadow and made a name for herself. She launched a magazine and several businesses, published four books, wrote an advice column, and starred on the small screen — all while raising three children. Her family described her as "a force in business, a world-class athlete, a radiant beauty, and a caring mother and friend" following her death in 2022 (via Vogue).
The socialite had a tumultuous personal life that included four marriages and several romantic relationships. Rossano Rubicondi, the last of Ivana Trump's ex-husbands, was 35 years old at the time of their marriage. However, the 24-year age gap didn't stop them from tying the knot. "She's an amazing woman. Beautiful, smart, sexy, powerful, successful, and young in spirit," Rubicondi told People. "It just feels right. I have no fears," said Ivana.
Unfortunately, their new life together didn't last long. Donald Trump's ex-wife dated the Italian model for six years before tying the knot but divorced him after just one year of marriage. Their relationship continued on and off until Rubicondi's death, raising questions about the reason behind the divorce.
Ivana Trump divorced her fourth husband because she felt it was the right thing to do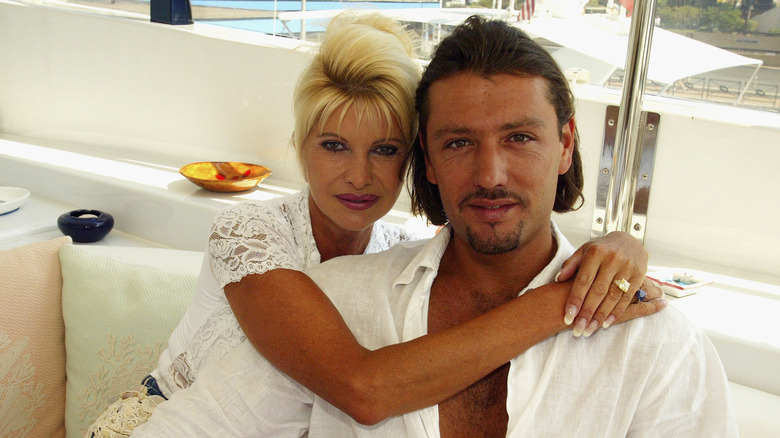 Michel Dufour/Getty Images
Actor and model Rossano Rubicondi met Ivana Trump in 2002. The two started out as friends, but their relationship evolved over the years. Ivana decided to take the next step, despite their age gap. "The whole family was against it," said Massimo Gargia, one of her friends, in an interview with New York Magazine. "It was fine for six years while he was a boyfriend. But the minute they got married, he changed," explained Gargia.
Ivana and her husband had a common background, as they were both immigrants. They also felt similar about politics, and she seemed happy when he was around. Before their marriage, the businesswoman told People that she saw him as "a great guy with a lot of talent," but her friends didn't feel the same. "Nobody could stand him except Ivana. There was no sex, either. Nothing was happening except that she paid for him, and he brought her breakfast in the morning," said socialite Vivian Serota (per New York Magazine).
As mentioned earlier, their marriage ended after one year. Ivana didn't go into detail about it, but she told Page Six that it was the right thing to do. "The relationship just ran its course," she confessed. Donald Trump's first wife spent most of her time in the U.S. and France, whereas her husband was working in Italy. After a while, the distance took a toll on their marriage. 
Donald Trump's ex-wife and Rossano Rubicondi stayed friends until the end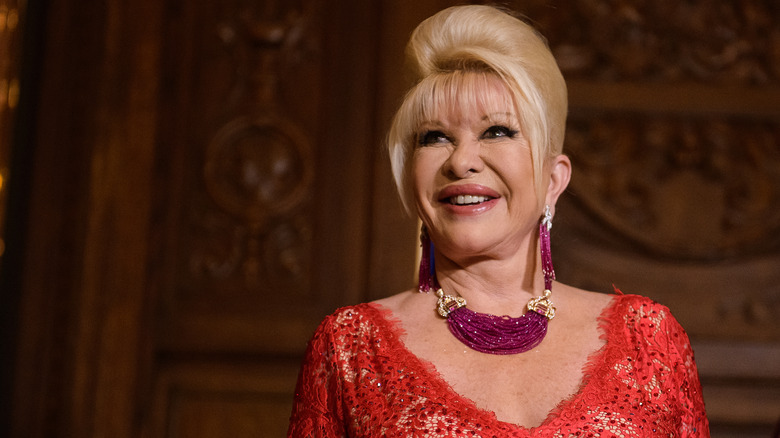 Noam Galai/Getty Images
Ivana Trump embraced her newly found freedom but remained friends with her ex. "I'm done. You get married because you want a family. I have three kids and grandkids. I just want to be free and go where I want to go with whoever I want. I want to be a free woman," she said in her interview with Page Six. Her former husband, Rossano Rubicondi, confessed they were still "super close" despite going separate ways.
The Czech-born model was the one who took care of him until the very end. Rubicondi's heartbreaking death occurred in 2021 after a years-long battle with skin cancer. In 2020, Ivana helped her former husband return to the U.S. to get treatment and supported him every step of the way. When he died, she talked with his parents and kept half of his ashes.
Donald Trump's ex-wife died in 2022, one year after her ex-husband's death. Ivana spent her final days with her family and was planning to visit Europe after a long break from travel. Sadly, she lost her life after falling down the stairs of her home in Manhattan.