A Look At Jimmy And Rosalynn Carter's Love Story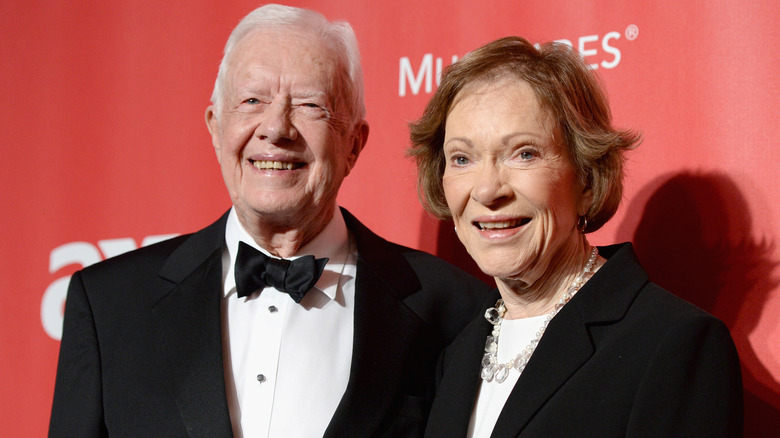 Michael Kovac/Getty Images
Jimmy Carter and Rosalynn Carter's marriage is a love story for the ages. The former presidential couple has been married since 1946, but they've known one another their whole lives — and that isn't an exaggeration. Jimmy met Rosalynn when she was still a baby, and the two childhood friends turned lovers have been in each other's orbit ever since.
Sweet as their story is, the Carters have experienced ups and downs like any long-term couple does. In the first two decades of their marriage, Jimmy and Rosalynn had to overcome a few fundamental differences, but with time and a willingness to understand one another, they've managed to keep their love alive for nearly eight decades. "It's hard to live until you're 95 years old," Jimmy told People in 2019. "I think the best explanation for that is to marry the best spouse: someone who will take care of you and engage and do things to challenge you and keep you alive and interested in life." What began as a young romance flourished into a shining example of what true love looks like.
Jimmy Carter met Rosalynn right after she was born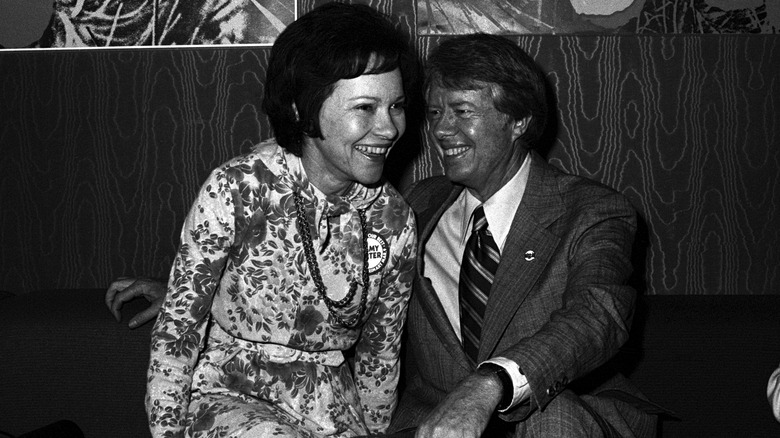 Rick Diamond/Getty Images
Jimmy Carter and Rosalynn Carter have not only been married for nearly eight decades — they've known each other since the very beginning of Rosalynn's life. In the 1920s, the couple's parents were next-door neighbors and friends living in Plains, Georgia. Jimmy was born on October 1, 1924, and Rosalynn arrived a little less than three years later on August 18, 1927. Jimmy's mother was a nurse, and she assisted in delivering newborn Eleanor Rosalynn. One day after the birth, Lillian brought her son to meet the baby — and Jimmy and Rosalynn have been connected ever since. "He looked through the cradle bars and saw me," Rosalynn told The Washington Post. 
Though they've known each other for the entirety of Rosalynn's life, she and Jimmy remained friends — just friends — throughout their childhood. Rosalynn was close with Jimmy's younger sister, Ruth, so the future couple spent nearly two decades in each other's orbit before their relationship took a turn in the romantic direction. 
Their first date occurred decades later — by happenstance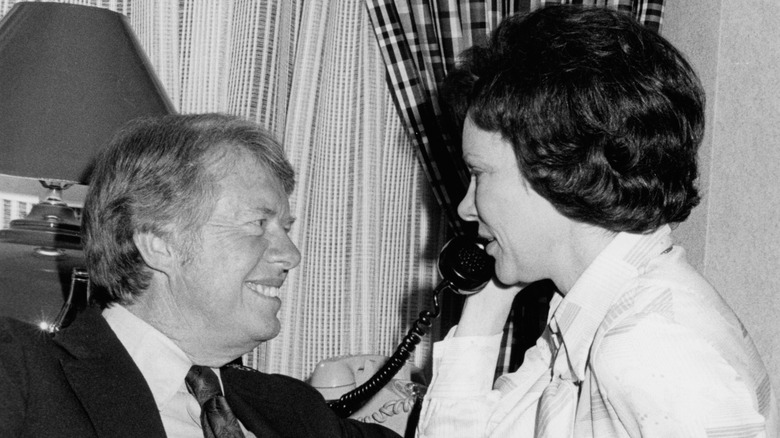 Mikki Ansin/Getty Images
As a teenager, Rosalynn Carter balanced school and work, her father having died when she was just 13 years old. Despite juggling her responsibilities, Rosalynn graduated among the top students in her class, and enrolled in Georgia Southwestern College. Meanwhile, Jimmy Carter was pursuing a military career at the United States Naval Academy in Annapolis, Maryland. While he was away, Rosalynn had seen photos of Jimmy in his military uniform. Her crush on her future husband began when she was 13, and it grew as he rose through the Naval Academy as a midshipman. 
Before his final year in the academy began, Jimmy enjoyed the summer at home in Georgia. The future politician ran into Rosalynn in town one evening and decided to ask her out right then and there. She said yes — and they've been together ever since. 
Rosalynn wrote about their first date in her memoir, "First Lady from Plains." She remembered, "[T]he moon was full in the sky, conversation came easy, and I was in love with a real person now, not just a photograph. And on the way home, he kissed me!" Recollecting his side of the story to Oprah Winfrey, Jimmy said he told his mother Rosalynn would be the woman he married right after he got home from their evening out.
Rosalynn Carter initially turned down Jimmy's proposal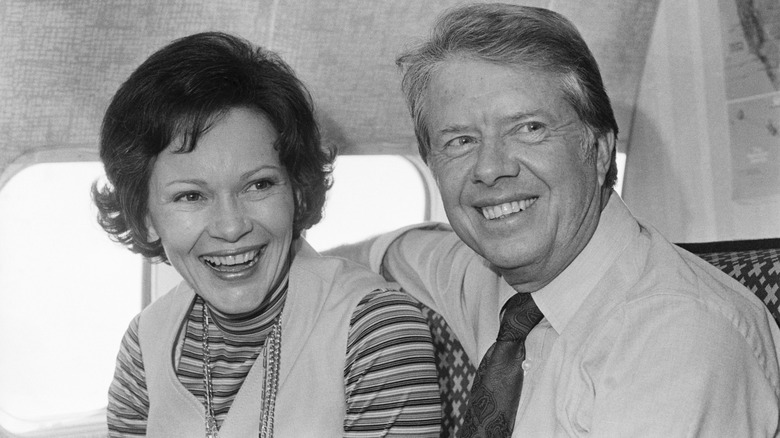 Bettmann/Getty Images
Though Jimmy Carter was certain about their future after their very first date, Rosalynn Carter needed some convincing. The two decided to carry on long-distance while he finished his final year in the Naval Academy, writing letters to one another while he wrapped up his military-based education and she navigated her second year at Georgia Southwestern College. When Jimmy returned home for the holidays, mere months after that fateful first date, he surprised Rosalynn with a life-changing question. 
Fully prepared to take the next step in their relatively new relationship, Jimmy asked Rosalynn if she'd do the honor of marrying him — and she turned down his proposal. In her memoir, Rosalynn wrote, "It was all too quick. ... I felt very young and naive next to his worldly manner." However, during the spring that followed, Jimmy asked her to marry him a second time — and she accepted. Evidently, Rosalynn needed just a few months before she felt ready to get engaged. The couple married at a church in their hometown on July 7, 1946. Jimmy was 21 years old, and Rosalynn was 18.
They went through a rough patch in the early years of their marriage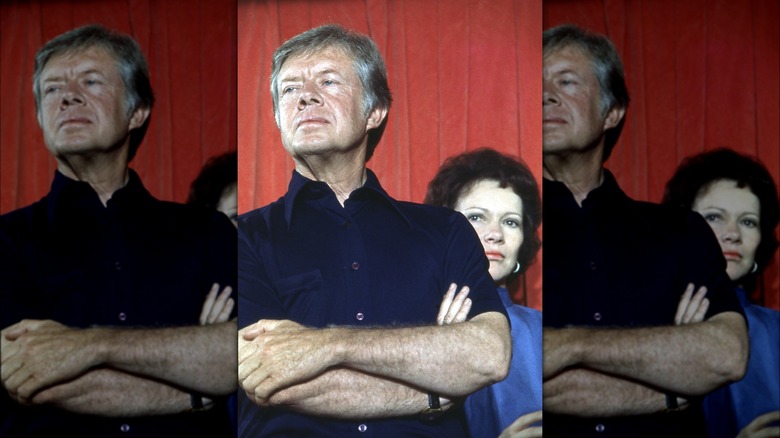 Nik Wheeler/Getty Images
After they married, Rosalynn Carter followed Jimmy Carter as he was deployed to various locations around the United States. Though she was alone with their children much of the time, Rosalynn found great happiness during Jimmy's tenure in the navy. So, when Jimmy decided in 1953 that the family would be moving back to Plains, Georgia, after his father died — without consulting Rosalynn — she was not thrilled with her husband.
In his memoir "Sharing Good Times," Jimmy admitted, "I kept Rosalynn informed about my plans for the next steps in my career and on my daily activities but never considered it necessary to seek her advice or approval."
The uneven disposition of their partnership caused a major disconnect when they returned to their hometown. As Jimmy wrote in "A Full Life," "She avoided talking to me as much as possible." Rosalynn also remembered this period of their marriage being particularly difficult; she was forced to say goodbye to the naval environment she so loved while figuring out what life in Plains looked like for her as a wife and mother. 
Jimmy and Rosalynn Cater's partnership evolved when they returned to Georgia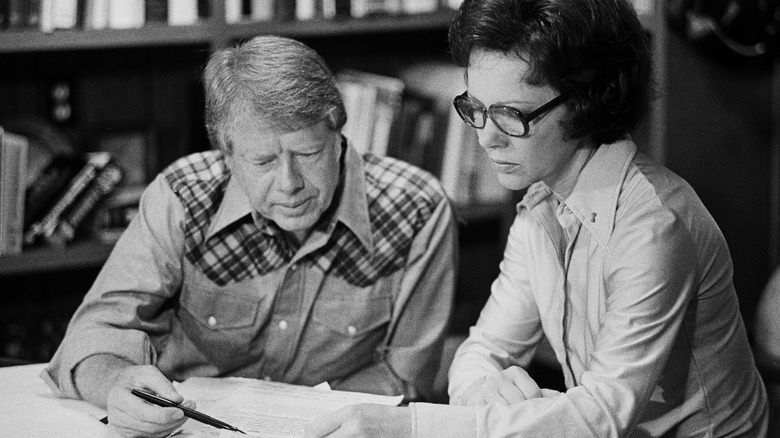 Graphic House/Getty Images
After Jimmy Carter's father died and he left his naval career to move back to Georgia, the future politician took over his late father's business: a peanut warehouse. Finding it impossible to shoulder every aspect of the business' affairs, Jimmy turned to Rosalynn Carter for help — a decision that would begin to mend the rift between the couple. Rosalynn told the AP, "We developed a partnership when we were working in the farm supply business ... I knew more on paper about the business than he did. He would take my advice about things."
Though their newfound business partnership was a boon for their marriage, Jimmy still hadn't fully realized how unfair it was for him to dictate the major decisions in their relationship. In the '60s, he decided he'd get into politics — without consulting Rosalynn. First, he ran for Senate, and then, threw his hat in the race for Georgia governor. Evidently, Rosalynn reached her limit with the lack of communication, and by 1966, she was done going along with his every whim — and she let him know. From that moment on, the dynamic changed. As Jimmy recalled to The Washington Post, "[There was no part of] our business, personal or political lives that we haven't shared on a relatively equal basis."
They welcomed four kids before Jimmy Carter became governor of Georgia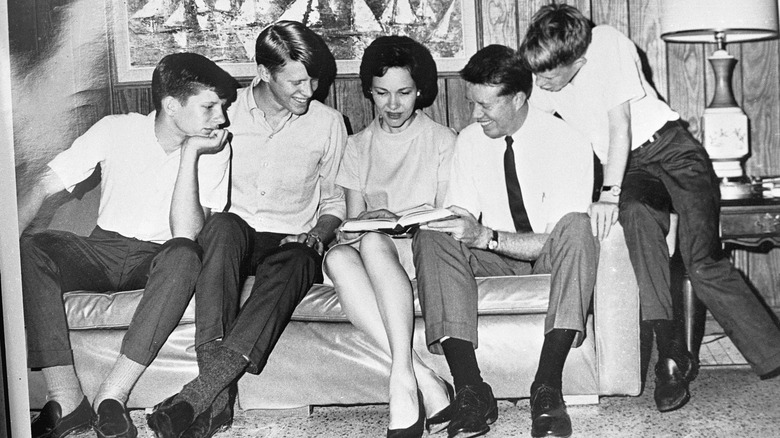 Bettmann/Getty Images
Before Jimmy Carter left the military and began his political career, he and Rosalynn Carter welcomed three sons. On July 3, 1947, just under a year after their wedding, Rosalynn gave birth to their first child in Portsmouth, Virginia — a son named John William "Jack" Carter. Just shy of three years later, the couple welcomed their second son, James Earl "Chip" Carter, on April 12, 1950. He was born in Honolulu, Hawaii. Then, on August 18, 1952, the Carters' third son arrived while they were living in New London, Connecticut. Rosalynn and Jimmy named their youngest boy Donnel Jeffrey Carter.
Twenty years after their first child was born, the Carters welcomed one more baby — this time a little girl. Amy Lynn made her way into the world on October 19, 1967 in her parents' hometown of Plains, Georgia. Amy was the only one of the four Carter kids to live in the White House during their father's presidency, as her brothers were all adults by the time Jimmy occupied the highest office in the country. She was nine years old when he won the 1976 election.
Rosalynn Carter blossomed while campaigning for Jimmy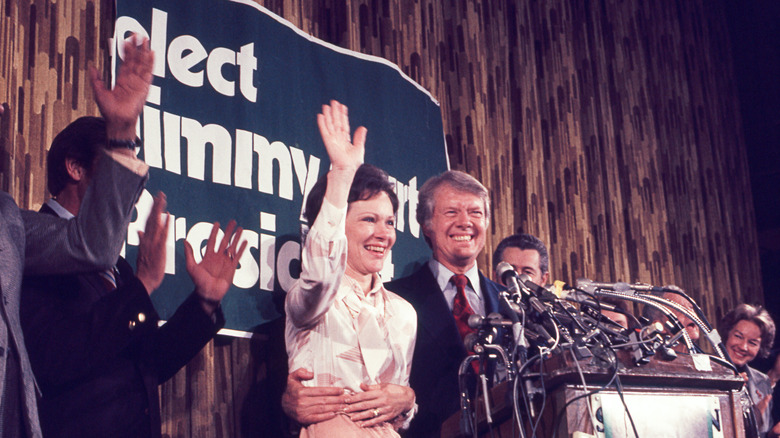 Mikki Ansin/Getty Images
Though she was irritated with her husband for entering the race for Georgia governor without telling her, Rosalynn Carter loved life in politics, and she fully supported Jimmy Carter's bid for United States president in 1976. Of the time they spent on the campaign trail, Rosalynn gushed to the AP, "I love it. I love campaigning. I had the best time. I was in all the states in the United States. I campaigned solid every day the last time we ran." Her complete adoration of campaigning was impressive, considering she was known to err on the more shy and introverted side before politics brought her out of her shell.
Leading up to Jimmy's presidential victory, Rosalynn visited 40 of the country's 50 states to campaign for her husband. While they often campaigned together, Rosalynn told People in 1976 that she believed it was strategically superior to hit the trail by herself while Jimmy visited other locations. "We can reach twice as many people this way," she explained, displaying her savviness for political decision-making.
Rosalynn Carter achieved historic accomplishments as first lady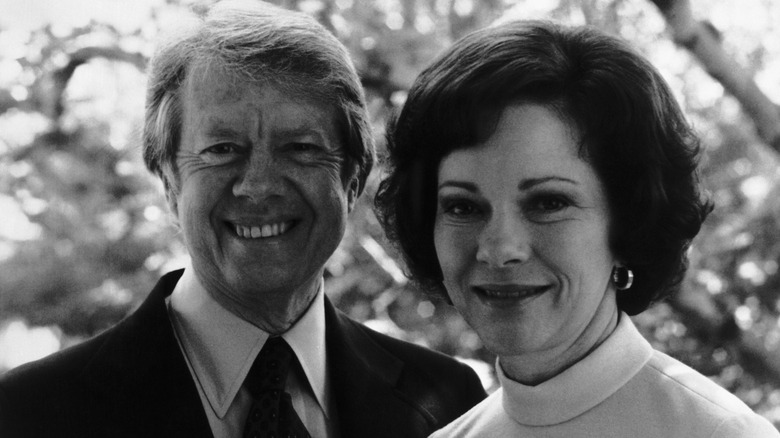 Bettmann/Getty Images
After becoming a fixture on the campaign trail during Jimmy Carter's multiple bids for office, Rosalynn Carter proved herself a valuable asset in the political world. When her husband became the 39th President of the United States, Rosalynn remained heavily involved in his administration — which was unprecedented at the time of his tenure in office from 1977 to 1981. Traditionally, first ladies did not serve as close advisors to their accompanying presidents, or have any real leadership role in their administrations. Rosalynn wasn't interested in following the path of the first ladies who came before her, though.
In fact, Rosalynn made history in quite a few ways during her run as first lady. She founded the Office of the First Lady, became only the second to testify in Congress, championed mental health issues, sat in on Cabinet meetings, and became a highly-valued advisor — not just of Jimmy's, but of several individuals helping to execute his presidential affairs. "She was really the eyes and the ears for Jimmy Carter," Gerald Rafshoon, the Carter administration's communications director, said of Rosalynn's involvement in her husband's presidency during an interview with The Washington Post. "She was the person we'd go to if we needed to turn Jimmy around on something."
They stayed philanthropic after Jimmy Carter's presidential term ended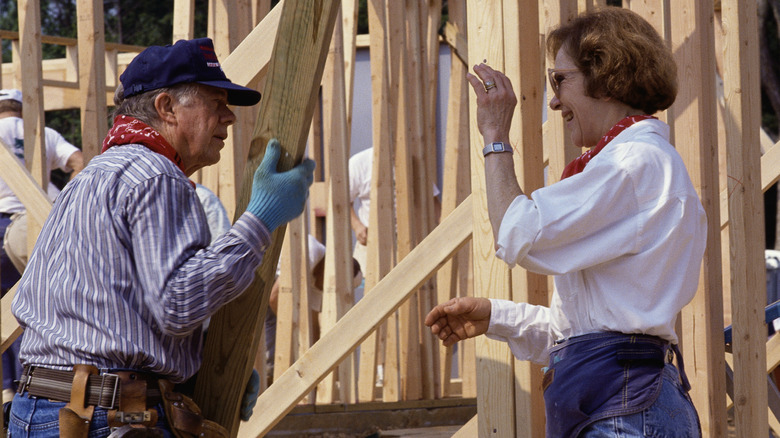 Mark Peterson/Getty Images
Though Jimmy Carter ran for a second term, he was ultimately defeated by Ronald Reagan in 1980. It was a difficult loss to accept for both the one-term president and Rosalynn Carter, with her taking the race results even harder than her husband. "I searched for good things about not being reelected, to ease her pain," Jimmy told Phil Donahue and Marlo Thomas, authors of "What Makes a Marriage Last." The former president added, "I was just 56 years old, I told her, and she was just 53, so we had at least 25 years of life ahead of us. That's when the Carter Center was born. It has been a wonderful challenge."
Philanthropy has been a massive part of the Carters' lives since their days in the White House. The couple moved back to Plains, Georgia, when Jimmy's term ended, and they founded their own philanthropic agency, the Carter Center, which advocates for women's equality, better access to healthcare for low-income individuals, and free elections representative of all people. Additionally, Jimmy and Rosalynn have been heavily involved in Habitat for Humanity for several decades, joining the organization on the ground in locations around the world to build houses for people without shelter. The former president is so revered for his efforts regarding human rights that he was selected as the recipient of a Nobel Peace Prize in 2002.
Doing things together has been a key to the success of the Carters' marriage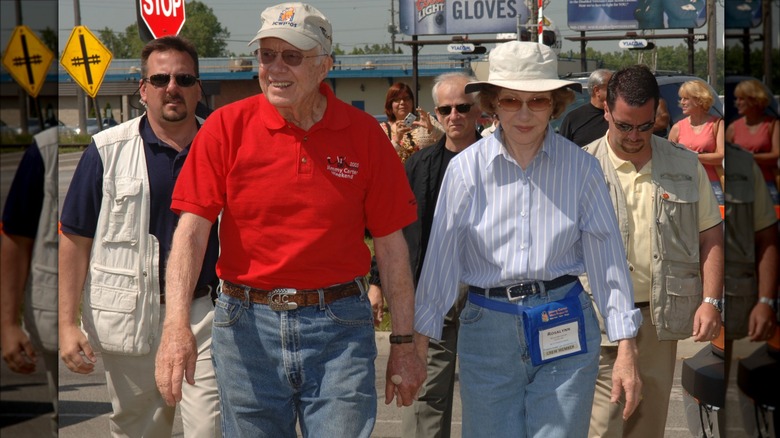 R. Diamond/Getty Images
In Phil Donahue and Marlo Thomas' book "What Makes a Marriage Last," Jimmy Carter and Rosalynn Carter shared that they believe one of the secrets to their long-lasting marriage has been to find things to do together. Aside from navigating politics side by side and collaborating on their philanthropic work, the couple also explored a myriad of hobbies together in their free time. Big fans of outdoor recreation, a few of Jimmy and Rosalynn's joint activities have included fly-fishing, bird-watching, tennis, and skiing. They also take turns reading the Bible to each other every day.
The Carters value their alone time as well, getting their fill of one another if they spend too much time together — like any couple. "We decided early on to give each other plenty of space," the former president told Donahue and Thomas. "If Rosalynn is interested in something, she does it her own way, accepting my help when she needs it. And she gives me plenty of space to work on my own projects but helps me when I need it."
They use a sweet acronym to express their love for one another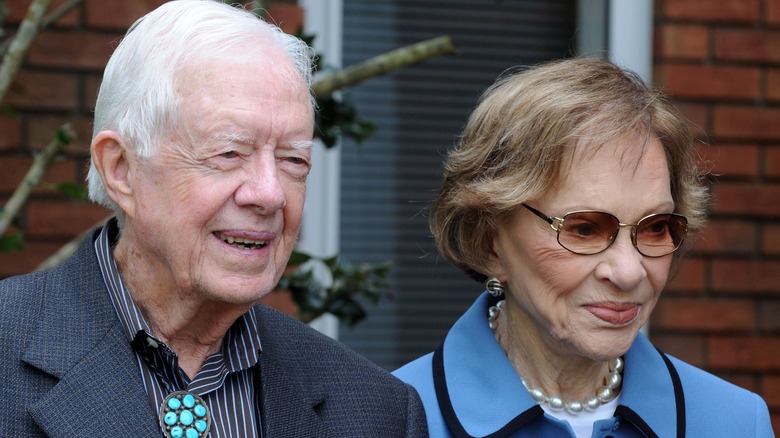 Chris Mckay/Getty Images
Before "ILY" became a widely-known cultural acronym, Jimmy Carter was saying it to Rosalynn Carter as early as the 1940s — a variation of it, at least. At the beginning of the couple's relationship, Jimmy started using "ILYTG" with Rosalynn, meaning "I love you the goodest." He shared the origin of the phrase during an interview with People: "That's what my mother and daddy used to say back and forth, and I picked it up with Rosa." When he was courting her, Jimmy would sign his letters to Rosalynn with the saying, and when he proposed, he gifted her a compact inscribed with their secret message— the token of their love is now part of the exhibit at Atlanta's Jimmy Carter Presidential Library and Museum.
The sweet phrase is still used throughout the family today, spanning several generations of Carters. "Now all our children do the same thing — 'ILYTG' on the phone or in emails. They generally just put the initials," the former president explained. Divulging their family's wholesome dynamic even further, Jimmy funnily added, "Sometimes they change the initials and make you guess what they're talking about."
Jimmy Carter's cancer diagnosis brought the couple closer together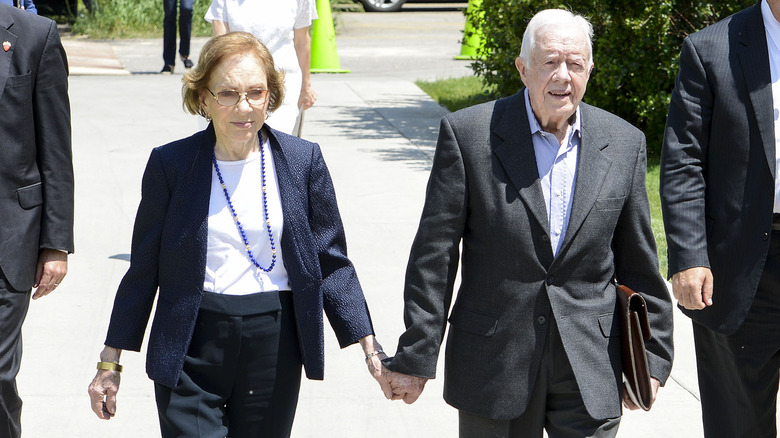 Leigh Vogel/Getty Images
In 2015, President Jimmy Carter held a press conference to reveal he had been diagnosed with melanoma. The cancer was initially found in his liver but had spread to his brain by the time of the public announcement. Though cancer is always a scary illness to navigate, Jimmy and Rosalynn Carter said they were brought closer together by the diagnosis, for which Jimmy ultimately entered remission. "In spite of what's going on, it's been kind of wonderful just to know we have that kind of support, and also Jimmy's attitude is helping," Rosalynn said during an update she and Jimmy gave at the Carter Center (via WSB-TV).
Like any aging people, the former president and first lady have experienced a decline in their health in their senior years. After Jimmy's cancer diagnosis, he fell and broke a hip. The very day he was released from the hospital, Rosalynn was admitted to the emergency room for a mini-stroke. Then, after another fall, Jimmy underwent surgery for a brain bleed. Though they've recovered from each ailment, the couple's health remains unstable today.
They enjoyed a star-studded bash for their 75th anniversary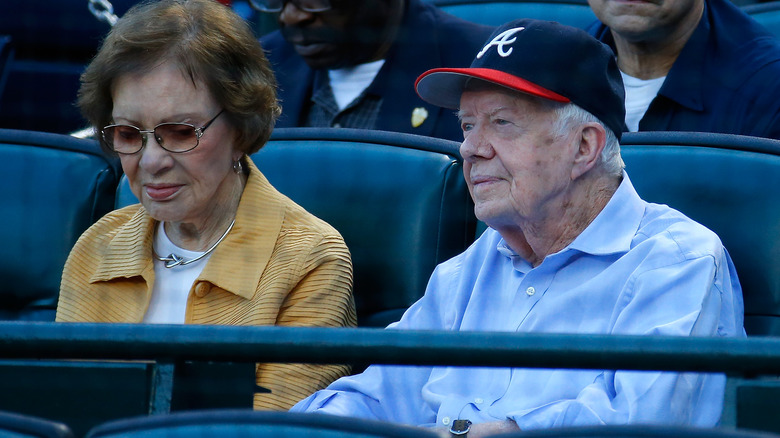 Kevin C. Cox/Getty Images
On July 7, 2021, Jimmy Carter and Rosalynn Carter celebrated 75 years of marriage. To mark the monumental occasion, a party was thrown in their honor in their hometown of Plains, Georgia — and the guest list of 300+ was stacked with stars. Presidential couples including Bill Clinton and Hilary Clinton were in attendance, as were celebrities including Trisha Yearwood and Garth Brooks. 
The couple's middle son, Chip Carter, toasted his parents' union during the party. "They taught us their values — Christian values. Plains, Georgia, values. They told us that every single person deserves our respect, regardless of their wealth, their race, their age, their politics, their sex, their sexual orientation, or the amount of power that they have. They protected their partnership perfectly," he said, as reported by Alive. At the time of their 75th anniversary, Jimmy and Rosalynn's legacy included four children, 12 grandchildren, and 14 great-grandchildren — all of whom are carrying on the family's trademark phrase, "I love you the goodest."
In 2019, Jimmy and Rosalynn Carter became the longest-married presidential couple in history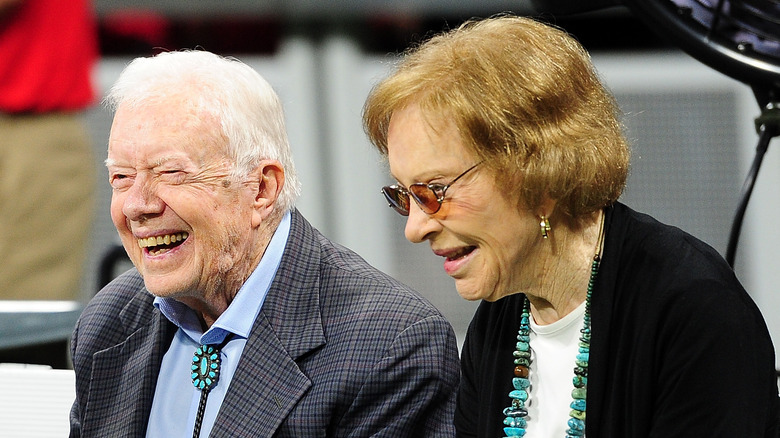 Scott Cunningham/Getty Images
As of this writing, Jimmy Carter and Rosalynn Carter are the longest-married presidential couple in American history. They first broke the record in 2019 when they made it past the 73-year mark, and went on to celebrate an awe-inspiring 77 years of marriage in July 2023. Jimmy also holds the record for the oldest living president in the country's history, and Rosalynn is currently the second longest-living first lady. In August 2023, Rosalynn turned 96; Bess Truman was 97 when she died in 1982.
In February 2023, the Carter Center announced Jimmy would be entering hospice care and spending his remaining days at home in Plains, Georgia with Rosalynn and their family. Three months later, the Carter kids divulged Rosalynn's dementia diagnosis, and in August of the same year, the couple's grandson, Josh Carter, gently explained to People that both Jimmy and Rosalynn are not likely to live much longer. Though their health is rapidly declining, Josh said, "They are still holding hands ... it's just amazing." As noted by The Washington Post, Carters will be laid to rest together beneath a willow tree on their property in their hometown.