Hope And Thomas' Strange And Twisted Relationship On The Bold And The Beautiful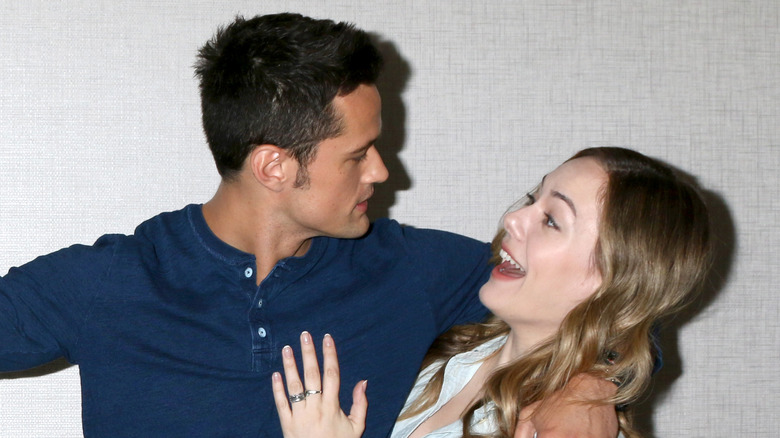 Kathy Hutchins/Shutterstock
Thomas Forrester (Matthew Atkinson) has a long history of pursuing Hope Logan (Annika Noelle) on "The Bold and the Beautiful." His own mental state has even been called into question over some of the things he's done. Thomas has tried everything possible to convince Hope that he is the only man who can sweep her off her feet. According to the character's portrayer, Matthew Atkinson, Thomas is someone who tries to stay on the right path until he falls off it. He told Soap Opera Digest back in 2020 that Thomas "doesn't want to do anything to screw that up, and he is going to make efforts moving forward to continue on that path and show her that she made the right decision. That is very important to him."
Only on a soap like "The Bold and the Beautiful" can a handsome fashion designer get away with causing a deadly accident, faking a marriage proposal and wedding and falling in love with a Hope lookalike doll. But that's exactly what Thomas has done to win Hope's heart. Thomas began pursuing Hope the moment he came back home after his wife Caroline Spencer's (Lindsey Godfrey) death. That's when his obsession with Hope began, as he was supposedly looking for someone to replace Caroline in his life. Interestingly enough, it was not until Hope did something equally as bad that she realized Thomas wasn't the deranged man everyone made him out to be.
Thomas Forrester's over-the-top efforts to win Hope Logan's love
Thomas Forrester has remained obsessed with Hope Logan despite the fact that she's long been involved in a messy triangle with Liam Spencer (Scott Clifton) and Steffy Forrester (Jacqueline MacInnes Wood). But Hope's marriage to Liam hasn't stopped Thomas from pursuing the woman of his dreams.
Thomas has done many things to win Hope's heart, but he has also broken her heart in the process. It took a long time for Thomas to confess that he knew Hope and Liam's baby Beth was alive after Dr. Reese Buckingham (Wayne Brady) told them she had died during childbirth. Thomas even orchestrated Emma Barber's (Nia Sioux) car accident, killing and preventing Emma from telling Hope the truth about her baby, according to Soaps.com.
The fashion designer also pretended to fall in love with Zoe Buckingham (Kiara Barnes), and even proposed to her and almost married her in front of Hope, per Soaps in Depth. Thomas just wanted Hope to realize what she was missing. In 2020, Thomas fell in love with a mannequin that looked just like Hope. At one point, he even hallucinated and supposedly heard the doll tell him, "Save Hope. Kill Liam," per Soaps.com. He had many conversations with the doll about how much he loved Hope and needed to get rid of Liam Spencer.
Hope Logan is finally feeling the love
Despite everything that Thomas had said and done in the past, it wasn't until Hope began working closely with him on her dying fashion line, Hope For The Future, that she got to see the real him. During a trip to Italy together, Hope and Thomas even shared a passionate kiss, without realizing that Liam Spencer witnessed it from afar. Something must have changed between now and then because Hope sees Thomas in a different light. The two of them spent the majority of the summer of 2023 in Thomas Forrester's bedroom, according to Soaps.com. The chemistry between them is something Hope has never experienced before — not even with her ex Liam. Viewers have even been warming up to the idea of them being together. Everyone has hope for "Thope." 
But because this wouldn't be a soap opera without another twist, Hope's portrayer, Annika Noelle, hints that Thomas and Hope's love story will see a few bumps in their journey ahead. She told Soap Opera Digest (via Michael Fairman TV): "There will be a fallout that will impact the entire canvas, and I'm curious to see how she will emerge from the ashes of something she set fire to herself." Something tells us that Liam Spencer will probably have something to do with this.