One Tree Hill Stars Who Went On To Be In Hallmark Movies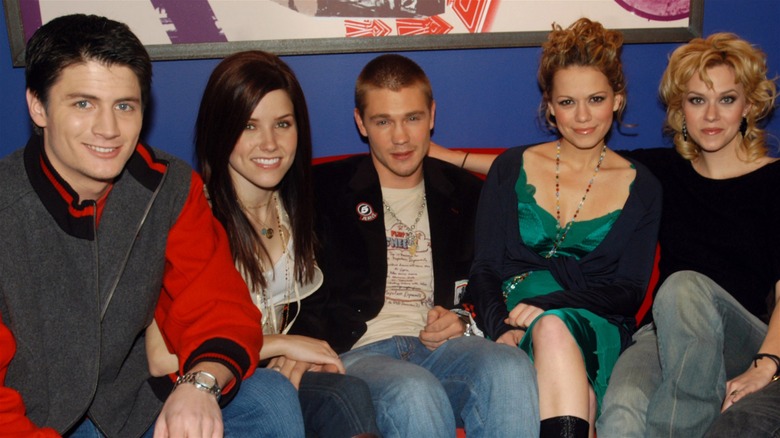 Carley Margolis/Getty Images
"One Tree Hill" is undoubtedly one of the most iconic Y2K shows we love to rewatch, no matter how much time has passed. The CW teen drama originally premiered in 2003 and ran for nine seasons. It followed half-brothers and high school students Nathan (James Lafferty) and Lucas Scott (Chad Michael Murray) as they navigated school, sports, and love in Tree Hill, a fictional North Carolina town. Peyton Sawyer (Hilarie Burton), Brooke Davis (Sophia Bush), and Haley James (Bethany Joy Lenz) were the show's main female characters, whose feelings towards each other and the Scott brothers varied throughout the storyline, depending on their relationships. "One Tree Hill" perfectly captured both the challenges and joys of growing up as well as finding one's place in the world.
The show ended in 2012, but some of the main cast departed well before the final season. Burton and Murray left the series during the Season 6 finale, and fans were unsatisfied with how their characters' storyline was wrapped up. However, both actors continued to work on other projects, including Hallmark Channel movies, and they're not the only ones. Lenz became a network staple in the years after "One Tree Hill," as did some of the show's supporting characters. It seems like the network known for its sappy romances and Christmas in July movies was a natural fit for many "One Tree Hill" alums! 
Bethany Joy Lenz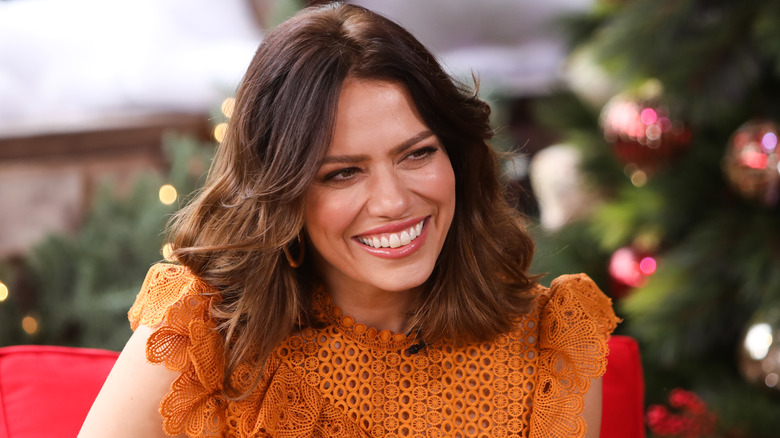 Paul Archuleta/Getty Images
Bethany Joy Lenz is best known for her role as Haley James in "One Tree Hill," but she's also made quite a few appearances on the Hallmark Channel. Her first movie for the network was "The Christmas Secret" in 2014, in which she plays Christine, a single mom whose luck turns when a family heirloom works its magic and brings her good fortune, including true love. Four years later, Lenz starred in the aptly named "Royal Matchmaker" as Kate, a matchmaker hired to find a wife for a prince, falling in love with him along the way. In 2019, she was cast as Abbey, a big-city executive who's in pursuit of her soulmate, in the endearing "Bottled With Love."
The following year saw Lenz star in three different Hallmark projects. She was Natalie in "A Valentine's Match," a journalist tricked into organizing her hometown's annual Valentine's Day festival with her ex-fiancé. "Just My Type" follows two writers, one of whom is portrayed by Lenz, and sparks fly between the pair. In "Five Star Christmas," Lenz's character falls in love with a guest at her family's bed and breakfast.
Her third holiday-themed Hallmark flick, "An Unexpected Christmas," is the heartwarming story of two exes who rekindle their romance in an attempt to save Christmas. According to Variety, the "One Tree Hill" alum's latest movie for the channel, the time-traveling love story "A Biltmore Christmas," is set to air around Christmas time in 2023.
Hilarie Burton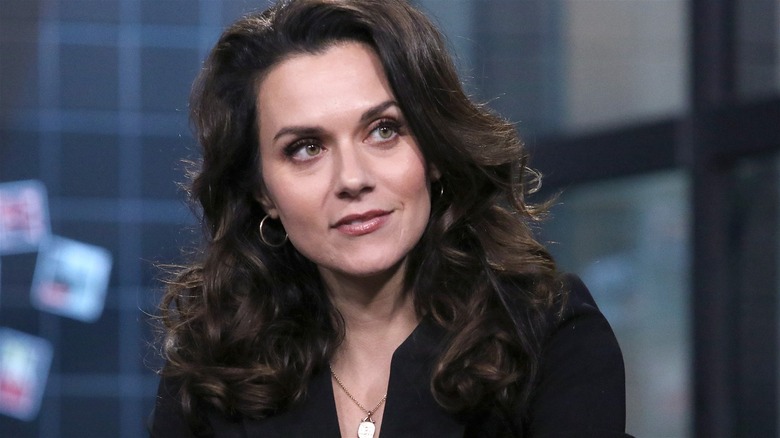 Jim Spellman/Getty
Hilarie Burton was the notorious Peyton Sawyer until the sixth season of "One Tree Hill," when her character infamously left Tree Hill after giving birth to a daughter. Burton soon revealed the real reason she left the CW drama: The experience was making her miserable. Thankfully, her decision ultimately led her to other projects, including several on the Hallmark Channel.
Burton starred in "Naughty or Nice," a 2012 holiday-themed flick, as Krissy Kringle, a woman set on exposing everyone's bad deeds in the midst of the Christmas season. The actor's "One Tree Hill" colleague, Danneel Ackles, who played Rachel Gatina on the show, also made an appearance in the movie as Krissy's cunning friend Jill. Three years later, Burton was Hallmark's lead again in "Surprised by Love." The movie follows Josie, a businesswoman who tries to get her parents to approve of her boyfriend. In 2016, the actor played Terry in "Summer Villa," a romance writer whose summer getaway gets double-booked, forcing her to spend the summer with a handsome chef.
Despite her success on the network, Burton ultimately left the Hallmark Channel. She shared the news on her Twitter account, explaining, "I had insisted on a LGBTQ character, an interracial couple, and diverse casting. I was polite, direct, and professional." Upon reviewing her requests, none were accepted by Hallmark's executives. After Burton was given the ultimatum, she decided it would be best to quit the channel for good.
Chad Michael Murray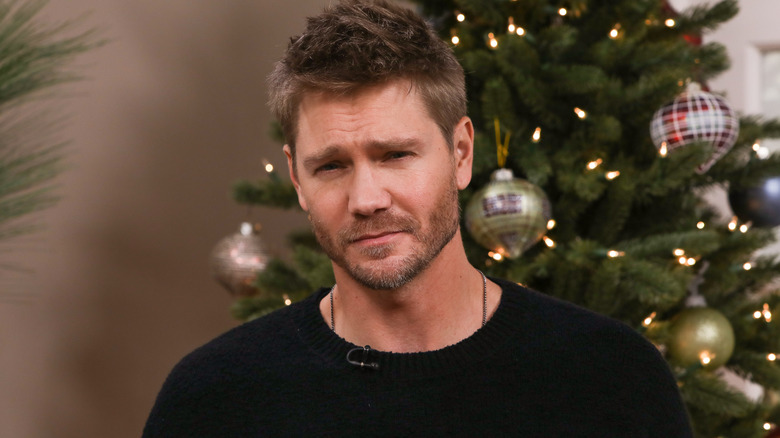 Paul Archuleta/Getty Images
Chad Michael Murray, the ultimate Y2K heartthrob, played Lucas Scott in "One Tree Hill" for the first six years of the show. However, before Season 7, Murray left the show alongside his on-screen partner, Hilarie Burton. Unlike Burton, he briefly reprised his role for the series' final season. While we can't get over Lucas' departure after all this time, Murray's five Hallmark movies make us feel just a tad bit better.
His first project with the network was the 2018 film "The Beach House," in which he plays Brett, a charming ex-boyfriend of Cara's (Minka Kelly). That same year, Murray headlined his very first Hallmark Christmas movie, "Road to Christmas." His character, producer Danny, is set on keeping his mother's show as it used to be, butting heads with Maggie (Jessy Schram) while also falling for her. Another holiday romance ensued the following year, "Write Before Christmas," in which Murray starred alongside his "One Tree Hill" colleague, Torrey DeVitto.
In 2020, he portrayed a Brett once again, this time around in "Love in Winterland." He is Ally's (Italia Ricci) high school boyfriend, whom she never really forgot about. The two end up having to go on a date as a part of a reality show, and the rest is expectantly heartwarming. Murray's last Hallmark appearance was in "Sand Dollar Cove," a visually enchanting 2021 comedy drama. He plays Brody, a local trying to save his hometown pier from getting ruined by a resort that is to be built in the area.
Torrey DeVitto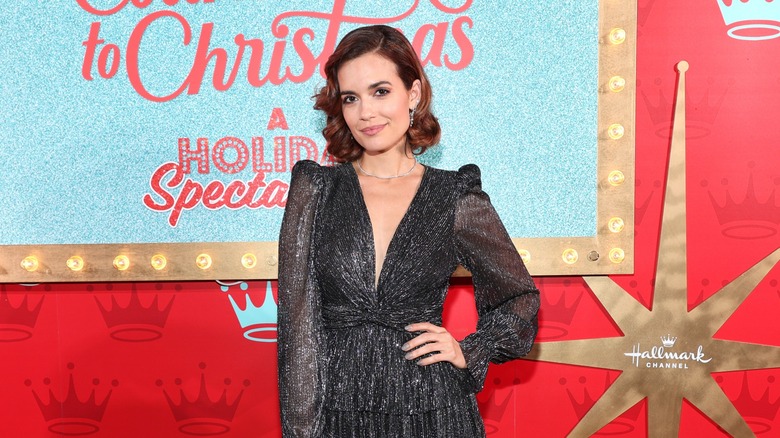 Mike Coppola/Getty Images
Despite not being part of the main cast in "One Tree Hill," Torrey DeVitto made a lasting impact as Carrie, the nanny who wrecked the Scott family during the fifth and sixth seasons. While she was the antagonist in the CW series, she went on to play much sweeter characters on the Hallmark Channel.
DeVitto's first appearance on the network was in the 2014 movie "Best Christmas Party Ever." She portrayed Jennie, a NYC party planner who gets swept off her feet by Nick (Steve Lund), her boss' nephew. Four years later, DeVitto starred in "Write Before Christmas" with Chad Michael Murray. Jessica and Luke meet under unusual circumstances, and, naturally, everything works out in their favor just in time for Christmas. In 2021, DeVitto went to work on another Hallmark holiday movie, "The Christmas Promise." After the tragic passing of her fiancé, Nicole (DeVitto) deals with the loss in her own way. She texts her fiancé's number in an attempt to unload her sadness and gets an unexpected text back. Nicole and the man on the other end, Joe (Dylan Bruce), connect over their grief.
The actor's latest Hallmark project, "Love's Greek to Me," is scheduled to air in September 2023. "It has all the elements that you would want out of a sweet romance movie," DeVitto shared when discussing the plot with ET. She plays Ilana, who gets proposed to in Greece. However, she has to navigate her new fiancé's mother's overwhelming enthusiasm.
Robert Buckley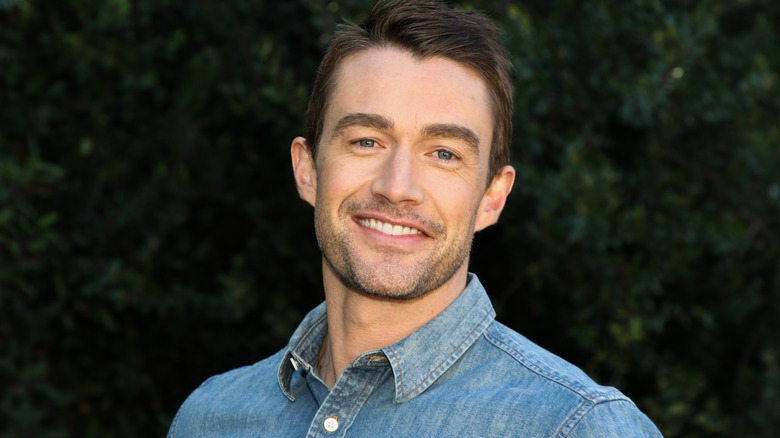 Paul Archuleta/Getty Images
Robert Buckley's "One Tree Hill" character was Clay Evans, a sports manager close to the Scott family. He joined the CW series in 2009 and stayed until the end. Lucky for us, after it ended, he went on to headline three of Hallmark's movies and a series.
He first appeared in "Love in Store," a 2020 romantic comedy that follows Terrie (played by Alexandra Breckenridge) and David (Buckley), two television hosts who are both up for the same job position, the head of the channel. After having to join teams and host some of their pieces together, they discover a spark that isn't only an on-screen occurrence. During that same year, Buckley starred in "The Christmas House," a holiday-themed movie centered around the Mitchell family, who are set to make a memorable Christmas for everyone involved. In 2021, a sequel came out, "The Christmas House 2: Deck Those Halls." In both of the movies, Buckley plays Mike, while his brother Brandon is portrayed by another Y2K fixture, "Mean Girls'" Jonathan Bennett.
While Buckley's latest Hallmark project wasn't a movie, it's still more than worthy of being included. "Chesapeake Shores" is a Hallmark Channel series that ran from 2016 to 2022. Buckley joined the cast as the eccentric Evan in 2021, stirring things up for the already complicated O'Brien family dynamic.
Hallmark one-timers from 'One Tree Hill'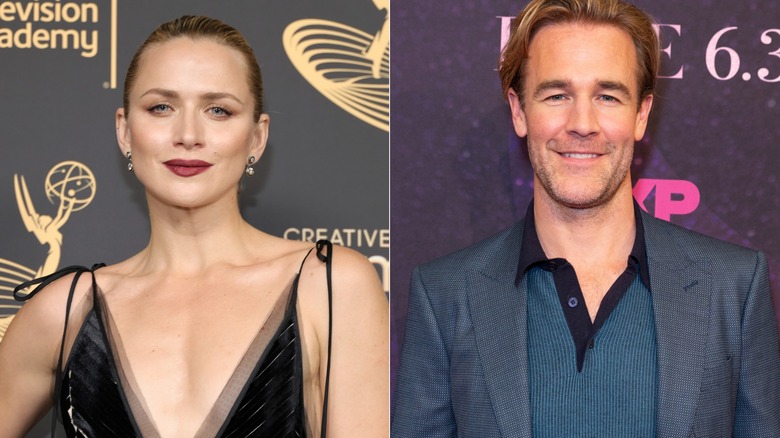 lev radin/Shutterstock & undefined & Amy Sussman/Getty Images
Not everyone from "One Tree Hill" went on to have a lucrative career on the Hallmark Channel, but they nonetheless appeared on the network. Shantel VanSanten, the actor who played Quinn James (Haley James' sister) from the seventh to the show's last season, later starred in Hallmark's 2017 "Love Blossoms." The movie follows Violet, a perfumer, and Declan, a botanist (played by Victor Webster), on their chemistry-filled journey to making a new scent. Ironically, Webster and VanSanten were brought together by the movie, wedding in 2021. However, two years down the road, the dreamy Hallmark couple is divorcing, citing "irreconcilable differences," as reported by People.
Jana Kramer is another Tree Hill resident (Kramer played Alex Dupré) to have appeared on the Hallmark Channel. She was the lead in "Love at First Bark," a romantic flick from 2017 centered around Julia, who falls in love with her dog trainer (Kevin McGarry). One more supporting character from the OTH series turned into a Hallmark movie lead — James Van Der Beek, who played Adam Reese in a few Season 6 episodes. Van Der Beek went on to star in Hallmark's "Mrs. Miracle" as a widower who needs desperate help with his rowdy twin boys. Lucky for him, Mrs. Merkle (Doris Roberts) appears out of nowhere, playing matchmaker, too. Paul Johansson saw a similar Hallmark fate, headlining "Love, Again" in 2015. In "One Tree Hill", Johansson portrayed Dan Scott, Nathan and Lucas Scott's strict father, throughout the series.