The Best Soap Opera Return-From-The-Dead Plotlines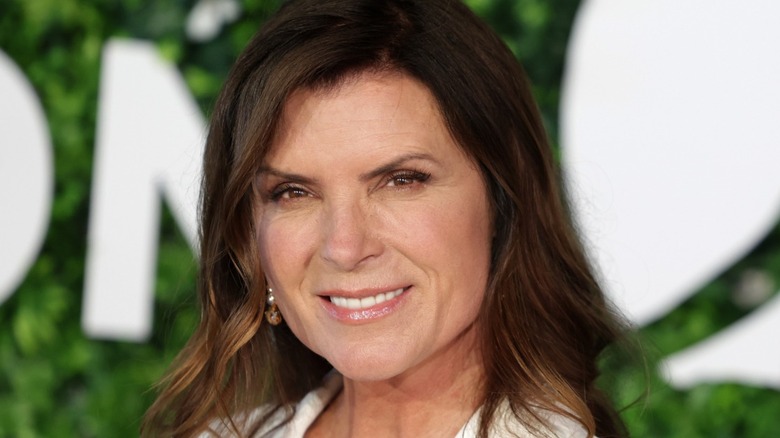 Pascal Le Segretain/Getty Images
With daytime dramas, fantasy is reality, baby switches are as commonplace as baby showers, and death isn't always a permanent end. Saying farewell to a fictional favorite is never easy, but when it comes to soaps, "goodbye" often means "see you later." Whether a character dies onscreen, disappears under mysterious circumstances, or is presumed dead with no way to recover their remains, when it comes to soaps, the door is always open for a return. Reunions can occur weeks, months, or even years later, with or without the original performer in the role. A return can be a chance to take the character in a new direction or restore that old familiar feeling but each time a character comes back, fans have plenty to say about it.
Both saints and sinners have made many remarkable returns throughout the genre's history, so let's look at some of the characters who have defied the odds and given us some of the most memorable back-from-the-dead moments.
The phoenix rises, Stefano DiMera (Days of Our Lives)
When people think of soap characters returning from the great beyond, Stefano DiMera (Joseph Mascolo) is often the first name that comes to mind. Blessed — or perhaps cursed — by a family prophecy that proclaimed the seventh son of the seventh son would never die, Stefano DiMera became known as "The Phoenix" due to all the times he cheated death. Stefano DiMera sauntered into Salem in 1982 with plans to expand his criminal organization and set about doing just that. His activities put him at odds with law enforcement and the good citizens of Salem alike, often resulting in his presumed demise.
1996 was a busy year for Stefano, as he resurrected himself not once but twice. First, by kidnapping his "Queen of the Night" Dr. Marlena Evans (Deidre Hall), faking their deaths in a plane crash and holding her hostage in a city he'd constructed underneath the streets of Paris. Upon Marlena's rescue, Stefano was presumed dead in an explosion, only to return and help his adopted children, Peter Blake (Jason Brooks) and Kristen DiMera (then Eileen Davidson), wreak havoc on the citizens of Salem as they tried to secure futures with the objects of their obsessions, Jennifer Deveraux (then Stephanie Cameron) and John Black (Drake Hogestyn).
A twist of fate, Lesley Webber (General Hospital)
In 1984, Bobbie Spencer (Jacklyn Zeman) crushed "General Hospital" viewers when she cried out a horrified "No" after realizing the body she was looking at belonged to Dr. Lesley Webber (Denise Alexander). Lesley's life had been drama-filled, from reuniting with the daughter she'd given up for adoption to battling Dr. Monica Quartermaine (Leslie Charleson) for Rick Webber's (Chris Robinson) love. Rick and Lesley weathered the storms, adopted a son, and settled into married life until the dastardly D.L. Brock (David Groh) came to town, bearing a grudge against Rick and blazing a trail of wrath and ruin. Using Ginny Blake (Judith Chapman), D.L. attempted to frame Rick for taking bribes seeking to destroy his reputation. Amid all this drama, Lesley had a nasty confrontation with D.L. at the hospital. Upset, she got behind the wheel, and her frazzled state combined with an ill-timed ice storm, led to her losing control of her car and dying in a car crash.
In 1996, the return of the Cassadine family unearthed long-buried secrets, including the fact that Lesley's death had been a hoax. After her accident, Lesley had been drugged into a catatonic state and held hostage. Upon her rescue, she reconnected with her daughter, Laura Spencer (Genie Francis), met her grandchildren, and rebuilt her life, but a reunion with Rick was not to be, as he'd married again and moved on after her "death."
Double trouble, Anna Devane (All My Children/General Hospital)
When Cesar Faison (Anders Hove) escaped from WSB custody in 1991, Anna Devane (Finola Hughes) and Robert Scorpio (Tristan Rogers) knew the devious DVX agent's dark obsession with Anna would bring him back to Port Charles. In 1992, Faison sprung his trap, kidnapping Anna (then Camilla Moore) and leaving town with her. Robert doggedly pursued the pair, but his efforts ended in tragedy when news reached their loved ones that Robert and Anna died in an explosion engineered by Faison.
In 2001, a mystery woman who bore an uncanny resemblance to Anna surfaced in Pine Valley, Pennsylvania. When Dr. Alexandra Merrick (Finola Hughes) started getting memory flashes that could only be Anna's, fans wondered if Alex was a brainwashed or amnesiac Anna (via Soaps In Depth). The answer came when Alex went missing for a few months and reappeared in a Canadian cabin, caring for a dangerously ill Anna. Anna was Alex's twin. Anna was marked for death, on the run, and suffering from debilitating seizures and memory loss. Alex helped Anna learn about her past, but it wasn't until her daughter, Robin Scorpio (Kimberly McCullough), made her way from Paris to Pine Valley and reunited with her mother that Anna truly realized all she'd lost. The twins eventually won the battle against their enemies, and Anna stepped out of the shadows and reclaimed her life. Robert's return to the land of the living would take place in 2006.
The artful dodger, Roger Thorpe (Guiding Light)
Roger Thorpe (Michael Zaslow) arrived in Springfield in 1971 and established himself as a gratuitously evil, ruthlessly ambitious villain determined to succeed by any means necessary. Roger terrorized many Springfield residents while committing a laundry list of crimes. His wife Holly (Maureen Garrett) refused to be intimate with him because of her desire for her ex-husband, Ed Bauer (then Mart Hulswit). Roger brutally raped Holly, ultimately leading to the dissolution of their marriage and his exile from his daughter Christina's life. 
Roger became consumed with reclaiming custody of Christina. Faking his death, he devised plans to kidnap the girl but failed at every turn. Holly and her daughter fled to Santo Domingo, but Roger discovered their location and followed. Recognizing Roger, Christina ran away, and Roger kidnapped Holly instead, with Ed and his brother Mike (Don Stewart) hot on his heels. Roger's luck ran out when he went over the edge of a cliff after fighting with Ed and plunged to his death.
Roger returned in 1989, revealing he'd been working for the CIA and had kept a watchful eye on Holly and Christina, who now went by her middle name, Blake (Elizabeth Dennehy). Under the alias "Adam," he finally began forging the relationship with his daughter he'd long been denied. When the truth about "Adam's" identity came out, Roger picked up where he'd left off nearly a decade prior, with new plots and schemes.
Earth angel, Jesse Hubbard (All My Children)
In 1981, "All My Children" viewers met Dr. Frank Grant's (John Danelle) charismatic nephew, Jesse Hubbard (Darnell Williams). Jesse had moved to Pine Valley after the death of his mother and became fast friends with Jenny Gardner (Kim Delaney) and started dating the beautiful Angela "Angie" Baxter (Debbi Morgan). Despite the Baxters' disapproval, Angie and Jesse fell in love. Their relationship survived several challenges and they are often referred to as daytime's first Black "super couple" (via Entertainment Weekly). As Angie pursued her medical career, Jesse joined the Pine Valley Police Department. Their love story tragically ended in 1988 when Jesse was shot and killed in the line of duty.
Over the next few years, Jesse periodically appeared as an angel, guiding loved ones through difficult circumstances. Viewers were stunned in 2008 when he returned alive, well, and confessing to being on the run from a crime figure named Papel, who believed Jesse was the key to recovering a valuable diamond. Concerned for his loved ones, Jesse allowed them to think he was dead. Twenty years of secrets, lies, and danger came to a head at Angie and Jesse's wedding when Tad Martin's (Michael E. Knight) uncle, Robert Gardner (David Rasche), was revealed as the mastermind behind it all and was taken into custody, leaving Jesse and Angie free to finally live happily ever after.
Aristocratic evil, James Stenbeck (As the World Turns)
The complex and captivating James Stenbeck (Anthony Herrera) left an indelible mark on Oakdale with his relentless pursuit of wealth and power. A member of the Swedish aristocracy, James came to Oakdale in 1980 with a singular goal: to win back his ex-love, Barbara Ryan (Colleen Zenk). Barbara was reluctant, but James eventually broke through her defenses. When she confessed she'd given birth to his child, James was shocked but insisted on going ahead with the marriage and being a family with their son, Paul (then Danny Pintauro). With the family fortune secured, he began cheating on Barbara, smuggling drugs, and peddling stolen jewels. James' house of cards came crashing down with the arrival of his cousin, Gunnar Stenbeck (Huga Napier). Gunnar was the true Stenbeck heir, and he and Barbara fell in love. James concocted several sinister schemes to rid himself of the lovebirds, but Gunnar and Barbara remained a thorn in his side. Their final battle took place aboard a cargo plane in 1983, and during the melee, James tumbled out of the open door and fell to his death.
With James dead, most of Oakdale breathed easier, none more so than Barbara. But on a dark and stormy night in 1986, Barbara found herself face to face with evil as James made his shocking return, uttering the iconic words, "Hello, Barbara," and coming back from the dead for the first, but not last, time.
Family traits, Laura Spencer (General Hospital)
Just as her mother, Lesley Webber's (Denise Alexander) "death" ended up being a ruse orchestrated by the Cassadines later on, so was Laura Spencer's (Genie Francis) January 1982 disappearance into the fog and subsequent presumed death.
After finishing a modeling job in New York City, Laura travels home to surprise her husband, Luke Spencer (Anthony Geary). Getting the last flight out due to heavy fog, Laura lands in Port Charles ahead of schedule and sets out to find Luke. Not finding him aboard their boat, she heads to the docks to use a phone and see if she can track him down. Luke, meanwhile, was looking for Laura. As the fog grew heavier, Laura felt an ominous presence. Turning, she saw a man following her. He raises his hand as Laura cries out "No" and flees, disappearing into the fog. Luke exhausted all efforts searching for her, including exploring a Cassadine connection. After an investigation, everyone believed Laura died in a boating accident.
In November 1983, as he's drinking away his loneliness in the Mayor's Mansion, Luke catches sight of Laura. He sprints outside, and she runs into his embrace. Laura later explains she'd been kidnapped, led to believe Luke was dead, and forced to marry Stavros Cassadine (then John Martinuzzi). Reunited, the pair vow to stand together against the continued Cassadine threat, not realizing their battle would become a multi-generational blood feud.
Let it burn, Sheila Carter (The Young and the Restless/The Bold and the Beautiful)
Nefarious nurse Sheila Carter (Kimberlin Brown) arrived in Genoa City in 1990 and soon set her sights on Dr. Scott Grainger (Peter Barton). Scott's marriage to Lauren Fenmore (Tracey E. Bregman) didn't deter her, and Sheila descended into a dangerous spiral of instability and illegality that continues to this day. After an appalling slew of crimes, including illegal adoption, stalking, blackmail, and assault, Sheila tried to kill her mother, Molly Carter (Marilyn Alex), and Lauren by tying them up and leaving them to die in a house fire. Molly and Lauren survived, but investigators recovered a body burned beyond recognition that everyone assumed was Sheila.
In reality, the body was that of an innocent utility worker. Sheila seized the opportunity to leave wintery Wisconsin and Lauren behind for the sunny skies of Los Angeles and a brand new start in 1992. It didn't take long for Sheila to get up to her old tricks, manipulating her way into Eric Forrester's (John McCook) heart and starting a rivalry with his ex-wife, Stephanie Forrester (Susan Flannery). Lauren is horrified to find out Sheila is alive and threatens to expose her. Sheila turns the tables, using Lauren's infidelity to blackmail her into silence. Despite Sheila's best efforts, Lauren ultimately tells the truth about Sheila's misdeeds. Eric divorced her, but Sheila remains the Forrester family's greatest foe, still targeting their family to the current day.
Over the edge, Roman Brady (Days of Our Lives)
Roman Brady's (then Wayne Northrop) 1984 death at the hands of international criminal Stefano DiMera (Joseph Mascolo) sent shockwaves throughout Salem. While Stefano was in pursuit of three powerful prisms and Roman was searching for a missing plane carrying some of Salem's most beloved citizens, they both came into contact with each other on an uncharted island. On a seaside cliff, Roman and Stefano exchanged threats as Stefano held Roman at gunpoint. They grappled over the gun and Roman was shot as a horrified Bo Brady (Peter Reckell) looked on. Roman fell off the cliff onto the beach below, and Stefano escaped as Roman died in his brother's arms. Roman's body disappeared but we later learn Stefano took it.
Roman's widow, Dr. Marlena Evans (Deidre Hall), tried her best to put her life back together despite her grief and the continued threat from Stefano. In 1986, Marlena Evans realized John Black (Drake Hogestyn) was Roman. Roman's friends and family were thrilled to have him back, and the couple remarried. 
In 1987, Marlena is presumed dead but the biggest twist was yet to come. Shortly after Marlena returned from the dead in 1991, everyone discovered the true Roman was being held prisoner by the man who started it all: Stefano Dimera. As Roman reclaimed his life, John set out on a quest to find his identity, and Marlena tried to put her life with John behind her and start over with Roman.
Back where she belongs, Marlena Brady (Days of Our Lives)
In 1987, the evil Orpheus (George DelHoyo) kidnapped Marlena Brady (Deidre Hall) to avenge her husband, Roman Brady (then Drake Hogestyn). Years earlier, Roman and Orpheus were partners on an ISA mission when Roman accidentally shot and killed Orpheus' wife. Distraught over her death, Orpheus vowed he'd make Roman pay. After months of psychological warfare, Orpheus blew up Roman's house, kidnapping Marlena and making it appear she'd perished in the blast. Once he saw through the ruse, Roman tracked the pair to a remote island. A confrontation between the two men left Orpheus "dead" and Roman rushing off to an airstrip to get Marlena off a plane before she flew away to parts unknown. Roman arrived too late and watched helplessly as the plane crashed. Marlena was declared dead, and a broken-hearted Roman went home alone.
In reality, Marlena survived the crash but was comatose. She awakened on an island in 1991 and made her way to Salem, reuniting with Roman on the pier. Her loved ones were ecstatic to have her back, but the mystery of her disappearance cast a shadow over their joy. While investigating who kept her hidden, Marlena and Roman traveled to the island, where they were stunned to find the original Roman Brady (Wayne Northrop) alive and being held captive. Marlena's return started a domino effect that led to the "Tale of Two Romans" storyline and changed lives and loves forever.
A hero homecoming, John Finnegan (The Bold and the Beautiful)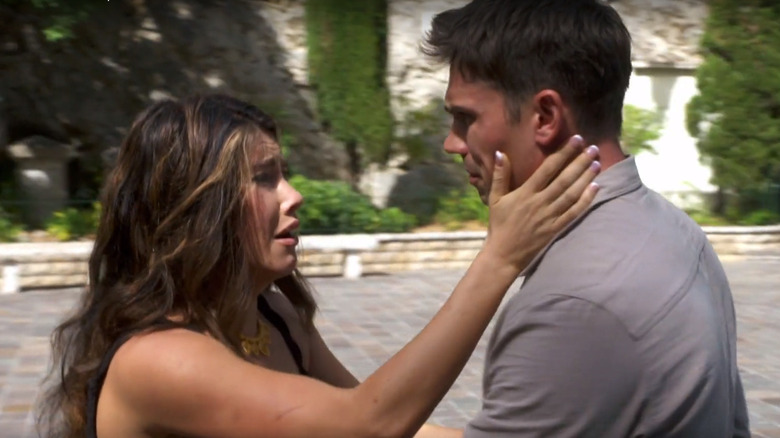 CBS/Paramount+
Fans reeled in April 2022 when "The Bold and The Beautiful" killed off Dr. John Finnegan (Tanner Novlan) by having him take a bullet meant for his wife, Steffy Forrester Finnegan (Jacqueline MacInnes Wood).
Steffy and Finn should have been basking in newlywedded bliss, but on their wedding day, Sheila Carter (Kimberlin Brown) crashed the ceremony, announcing she was the groom's biological mother. Sheila swore she had changed, but when Steffy realized Sheila was up to her old tricks and threatened to expose her, Sheila decided to get rid of her daughter-in-law permanently. Sheila removed a gun from her bag, took aim at Steffy, and fired. At that moment, Finn appeared and jumped in front of Steffy, sacrificing himself to save her. When Steffy tried to call for help, Sheila fired a second shot, striking Steffy before leaving the couple to die in the alley. After a brief period of memory loss, Steffy recovered, but Finn had died.
Viewer's grief and anger turned into happiness and celebration months later when a comatose Finn woke up. Finn's adopted mother, Dr. Li Finnegan (Naomi Matsuda), had been caring for him, keeping him hidden for his safety. After escaping Sheila, Finn traveled to Monaco, where Steffy had gone to recuperate, for a joyful reunion with the love of his life.
Righting a wrong, Stuart Chandler (All My Children)
Stuart Chandler's (David Canary) 2009 murder was a devastating loss for his twin brother, Adam (David Canary), and "All My Children" viewers alike. Stuart was Adam's moral compass and was often the only person who could convince Adam to do the right thing. The mystery surrounding Stuart's death took many twists and turns. At first, it was believed Kendall Slater (Alicia Minshew) was the guilty party, but eventually, we learned a drugged Adam fired the fatal shot. Stuart's loved ones, including his son Scott Chandler (then Adam Mayfield) and widow Marian Chandler (Jennifer Bassey), struggled without his gentle guidance, and they appeared to offer encouragement and advice to several Pine Valley residents when they needed him most.
When David Hayward (Vincent Irizarry) began resurrecting people as part of his controversial Project Orpheus treatment in 2011, Stuart was one of the lucky ones. Rushing to the hospital with Brooke English (Julia Barr) by his side, Adam was overcome with joy when he found Stuart alive. Stuart was almost too weak for the final course of David's treatment, and his heart nearly stopped, but Adam's voice brought his brother back from the brink. After reconnecting with his father, Scott Chandler (Daniel Cosgrove) rushed to tell Marian, who suffered an emotional breakdown after Stuart's death, of Stuart's resurrection. Adam tearfully reunited with his better half, begging forgiveness as Stuart insisted he still loved his brother and there was nothing to forgive.