Why Steve Harvey Regretted Meeting With Donald Trump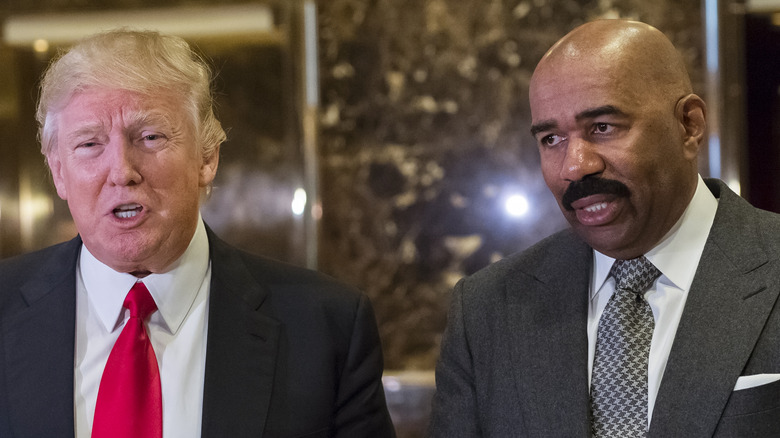 Bloomberg/Getty Images
For most people, a meeting with the President of the United States is a bucket list badge of honor. But for Steve Harvey, his short meeting with former President Donald Trump turned out to be the catalyst for widespread backlash and likely a bit of "I told you so" from his wife, Marjorie Harvey. Harvey told The Hollywood Reporter about the experience, saying, "The backlash ... was so vicious that it really threw me."
Harvey and Trump met at Trump Tower in New York City in January 2017, after which the celebrity duo talked to reporters in the lobby. The former president spoke briefly next to Harvey, who appeared uncomfortable on camera (via C-SPAN). The pair shared a brief handshake before Trump returned upstairs, leaving Harvey alone with the camera crews. When asked if he and Trump were planning a show together, Harvey smiled and said no.
In reality, Harvey met Trump to discuss turning inner-city schools into vision centers for STEM education. It was a noble effort that produced results, but not without a headache on Harvey's account.
Steve Harvey was invited to the meeting by the Obama and Trump Administrations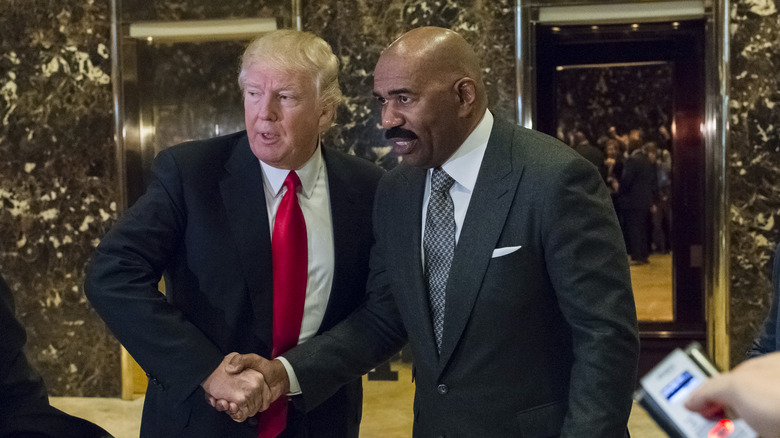 Bloomberg/Getty Images
Radio and TV personality Steve Harvey explained to C-SPAN that the Barak Obama and Donald Trump presidential transition teams invited him to the New York City meeting with the 45th President of the United States. "It was a really cool meeting," he said. "We talked about golf and things like that and people we knew, people in common, and then we got down to the crux of it. He's introduced me to Ben Carson, who's now the new Head of Housing and Urban Development."
Harvey said he believed his only agenda for the meeting was to promote "positive change in the inner cities," and he aimed to do so by partnering with Ben Carson to establish STEM learning centers in inner-city schools that had already or were at risk of closing. When Harvey spoke to The Hollywood Reporter, he said Trump had Carson on the phone within minutes of Harvey sharing his plans with the president.
Still, the comedian also said the backlash afterward was more swift than expected. "I did not see that coming. Jesus," he told The Hollywood Reporter. "I was being called names that I've never been called. ... I'm supposed to be on a boat for my 60th birthday, so my wife says, 'Steve, just take off [and skip the meeting]. You'll meet with him some other time.' God, I should've listened."
Steve Harvey isn't the first to suffer from brief proximity to Donald Trump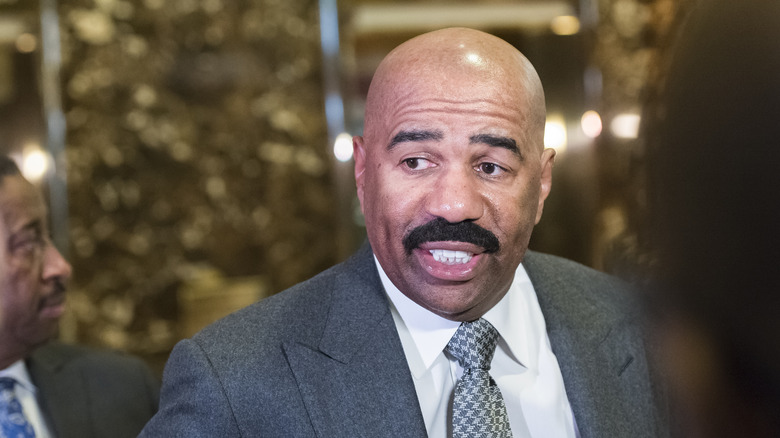 Bloomberg/Getty Images
Steve Harvey might not have seen the criticism from his meeting with Donald Trump coming, but his wife did with good reason — Harvey is hardly the first Black person to suffer a professional backlash from even a brief adjacency to Trump. R&B singer Chrisette Michele's performance at Donald Trump's inaugural ball flatlined her career. While the "Family Feud" host's career has taken less of a destructive hit, the backlash disaffected him.
Disapproval of Harvey's meeting with Trump ran rampant on social media, and the comedian was even turned into the butt of the joke on "Saturday Night Live." While calling into his radio program "The Steve Harvey Show," per Inside Edition," the comedian said, "A lot of y'all hurt me. If I'm going to keep [getting] stabbed at, then at least while you're stabbing me, you should understand my intent for even taking the meeting in the first place. I'm from the hood. I've been trying to do my part for years for boys and girls." 
Backlash aside, Ben Carson launched the first EnVision Center in Detroit five months after Harvey's meeting with Trump. "It was the only initiative that Ben Carson ever had his entire four years," Harvey told The Washington Post in 2022. However, Harvey opted to stay out of the program after his infamous Trump one-on-one, choosing instead to learn from his experience and avoid any politician-adjacent photo ops.