Inside Heather Locklear's Past Relationship With Tommy Lee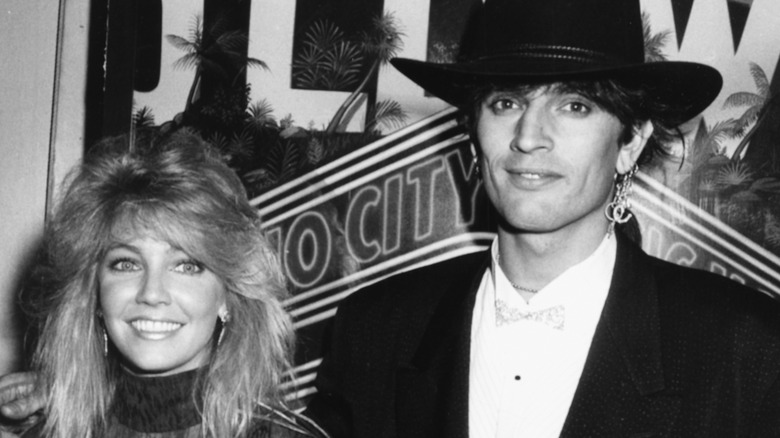 Kevin Winter/Getty Images
Back in 1986, America looked on in disbelief as bad boy hair metal rocker Tommy Lee tied the knot with America's sweetheart, "Dynasty" star Heather Locklear. The black-haired drummer and the bright-eyed blonde beauty made a surprising couple, with fans and tabloids wondering how on Earth they connected. Despite the chatter, they seemed blissfully happy together. Their marriage wasn't just a flash in the pan, either — it lasted almost 8 years before they called it quits in the '90s, to the chagrin of onlookers who thought they might just make it.
Lee went on to have a very high-profile relationship with Pamela Anderson that has its own complex history, while Locklear married Bon Jovi's Richie Sambora. Though they moved on with their lives, they continue to have a strong bond – though it took them a little while to get to that point. 
So, what was their relationship really like? Were they as loved-up as they seemed to their fans, or were there serious problems behind closed doors that no one was privy to? The pair weren't shy to talk about each other — both then and now — leaving us with a wealth of information to untangle. Let's go back in time and pop the hood on one of the biggest rock 'n' roll relationships of all time.
They met at a concert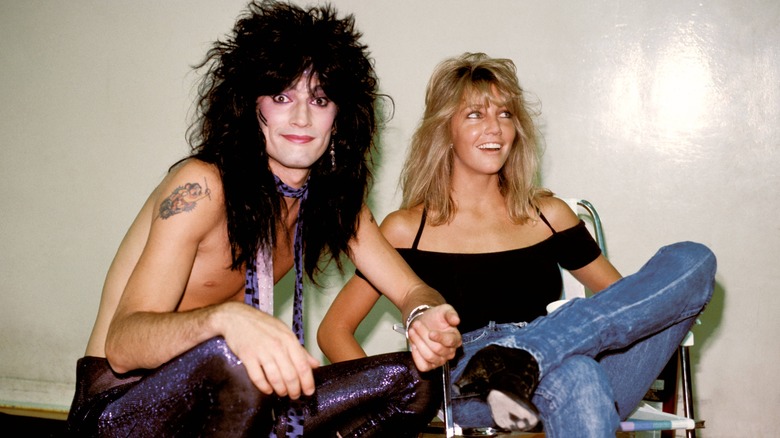 Richard E. Aaron/Getty Images
Although Tommy Lee and Heather Locklear were both in the entertainment industry, they were on very different paths in the mid-80s. Lee was busy drumming in the popular hair metal band Motley Crue while Locklear was the doe-eyed beauty playing Sammy-Jo in one of America's biggest prime-time soap operas, "Dynasty." Like many bands of the era, Motley Crue was notorious for womanizing, so when these two got together, it seemed like an unusual coupling. 
In 1987, Lee spilled the beans on his and Locklear's meet-cute during an interview with Rolling Stone. According to the magazine, Lee spotted Locklear at an REO Speedwagon concert. As the interviewer detailed, "He took her hand and said, 'Hi, I'm Tommy, nice to touch you.' He got her phone number from his accountant's brother, a dentist who knew Locklear's dentist. But the first time he called her up, he almost blew it. He told her, "Hey, check it out, you're on channel 2."
Locklear quickly pointed out that it wasn't actually her on channel 2 but an actor named Heather Thomas. This could have been the nail in the coffin, halting the romance before it even got off the ground and becoming just a funny story for the TV star to tell her friends; however, Locklear took it in stride and the rest is history — sadly for Heather Thomas! 
They had a whirlwind engagement and lavish wedding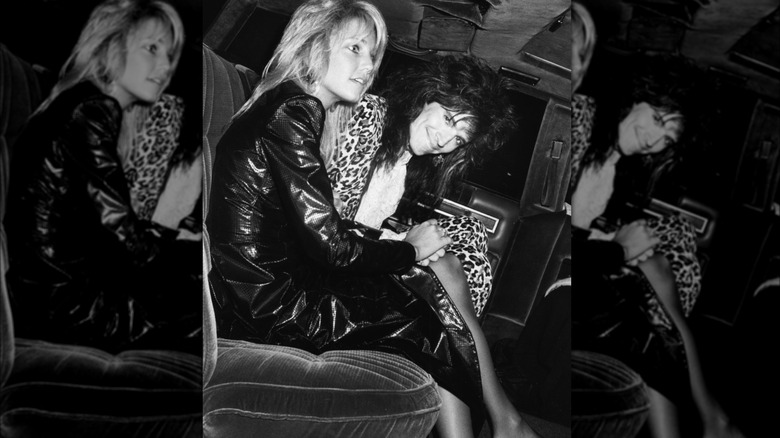 Kevin Winter/Getty Images
By the time Tommy Lee met Locklear, he was earning a pretty penny with his band thanks, in part, to the 1983-1984 "Shout at the Devil" tour. While Locklear's "Dynasty" salary wasn't made public, the actor probably wasn't short on cash either — especially if the pay was anything like her $40,000 per-episode fee for "Melrose Place." This combined wealth meant one thing: Lee and Locklear could afford one heck of a wedding.
Before they would say "I do," though, the two were briefly engaged. Surprisingly, it was Locklear who popped the question. As Locklear and Lee revealed to People back in 1986, Locklear asked her rocker boyfriend to marry her while they were staying in a Dallas hotel room just a few months after they met. "I said, 'Now, don't say that kind of stuff unless you mean it.' I didn't want to be heartbroken," Lee recalled. Lee would also end up proposing. On Christmas Eve that same year, he presented Locklear with a 2.3-carat diamond ring as they drank champagne in a limousine.
The couple spared no expense when it came to their big day on May 10, 1986, inviting 500 guests to celebrate with them at The Biltmore in Santa Barbara. The ceremony took place outside, with Lee dressed in a white leather tux and Locklear in a form-fitting mermaid wedding gown. While it was Locklear's first marriage, Lee had previously had a 7-day-long union with model Elaine Starchuk in 1984. 
Tommy Lee worshiped Heather Locklear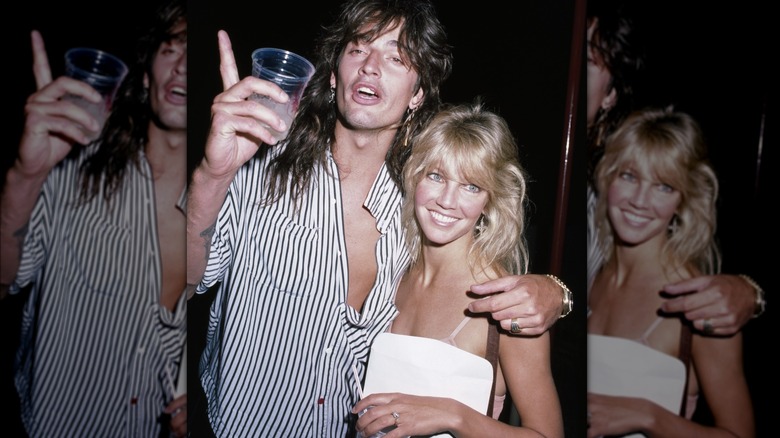 Barry King/Getty Images
Heather Locklear and Tommy Lee were well aware that they were tabloid fodder due to being an unlikely pair. While some considered Motley Crue's music to be satanic, Locklear looked to be angelic in comparison. However, as Locklear once told People, "Tommy doesn't worship the devil, he worships me." Images of the couple from the time show both Locklear and Lee beaming with delight, leaving little doubt that they were hopelessly in love with one another. 
Lee was also relentless in his pursuit of Locklear in the early days, telling People, "I had called like a million times. I wanted to send her flowers or invite her to something ... anything just to talk to her." It seems like the musician was smitten from day one, with the infatuation only growing when they became husband and wife.
Still, marriage was an adjustment — especially for Lee. He told Rolling Stone that marriage grounded him, and possibly even saved his life. "[I used to] f**k anything with a pulse. ... If I wasn't married, I'd probably be dead, the partying and stuff." Considering just how popular Motley Crue was with the female population at the time, it was a true testament to Lee's love for Locklear that he changed his philandering ways. Well, at least at first ... but more on that later.
They lived a luxurious life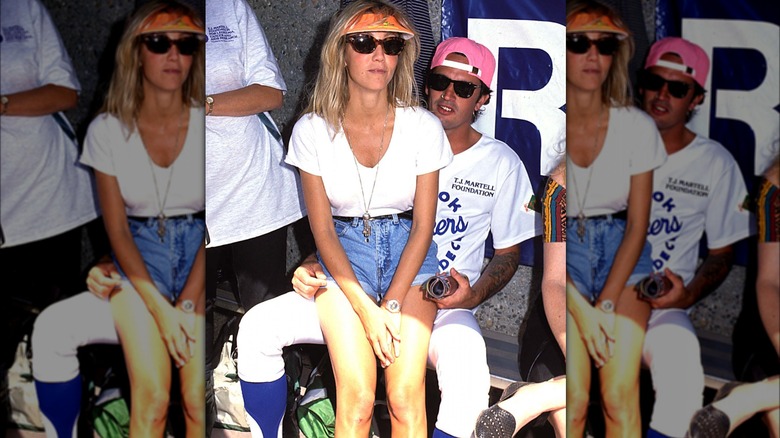 Jeff Kravitz/Getty Images
When two celebrities get together, you can almost bet on them pooling their assets to buy a big old house in Hollywood. For one of their love nests, Heather Locklear and Tommy Lee chose a $2-million ($4.7 million when adjusted for inflation) estate in Los Angeles' Westlake Village neighborhood. By the time the couple splashed the cash on this property, Locklear was starring in a new show, ABC's "Going Places," while Lee was still busy drumming up a storm with Motley Crue. 
The lavish property had more space than the couple would ever need, with its giant wine cellar, courtyard, and five bedrooms, according to the Los Angeles Times. In 1990, listing agent Mark Tyoran discussed the property, which was still being built at the time, with the publication. "They're developing an incredible view property, with a pool, in the gated community of North Ranch," he revealed. "It will have . . . a sauna and his-and-her baths in the master suite . . . a 40-foot long 'Great Room,' and a gym, all in about 7,300 square feet."
The couple was young, in love, and filthy rich — is there anything better? 
They weren't afraid of making PDAs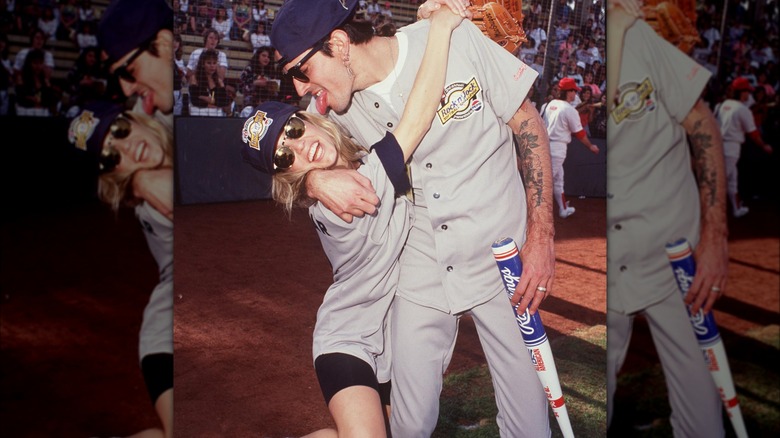 Steve Granitz/Getty Images
In almost every photo of Heather Locklear and Tommy Lee from their time together, they're entangled with each other in some way. Some famous couples keep their public displays of affection to a minimum, perhaps preferring to leave that side of their relationship behind closed doors. Lee and Locklear were on the other end of the spectrum as they were always very tactile with each other — whether that meant publicly hugging, kissing, or simply holding hands. It didn't seem to matter what the occasion was, either. 
The couple was spotted kissing at TV producer Aaron Spelling's party in 1986 early on in their relationship, but this apparently wasn't just part of the honeymoon phase. Fast forward five years, and Lee and Locklear still couldn't get enough of each other, as evidenced by a picture of them at MTV's Rock 'n Jock Softball event. From an onlooker's point of view, the famous pair seemed like they were totally magnetic and completely allergic to personal space. It may not be everyone's cup of tea, but for Locklear and Lee, PDAs were a part of life.
This very public way of living also set the precedent for Lee's future entanglements. He was just as amorous with his third wife, "Baywatch" star Pamela Anderson, as he was with Locklear. Actually, some would probably argue that they exchanged even more public displays of affection.
Tommy Lee and Heather Locklear had a 'normal home life' and exciting times on the road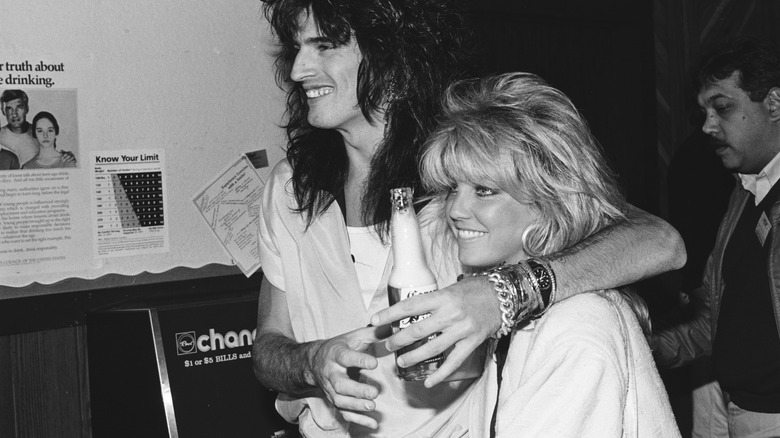 Lester Cohen/Getty Images
Busy Hollywood couples with separate careers in the entertainment business rarely get time in their schedule for downtime. As a thriving actor, Heather Locklear's schedule was hectic. The same could be said for Tommy Lee's schedule, given his thriving music career at the time. Locklear gave some insight into how things worked in an older interview, telling the host that despite being unusual, their partnership was anything but dull. 
"When [Lee is] home, it's really like being married and having the atmosphere of family and a normal home life, but when he's on the road, it's so much fun," she gushed. "It's like two kids. And I get to go out and see him, I get all excited to see him, then I have to leave and I don't want to leave. So, it's real fun, it's very romantic." 
Not everyone could cope with that sort of chaos, but the couple made it work. When they were apart, they wanted to be together, and when they were together, they made the most of every moment. It seems that old adage, "absence makes the heart grow fonder," was true in their situation, at least for a time. 
Tommy Lee's infidelity 'ruined' his marriage to Heather Locklear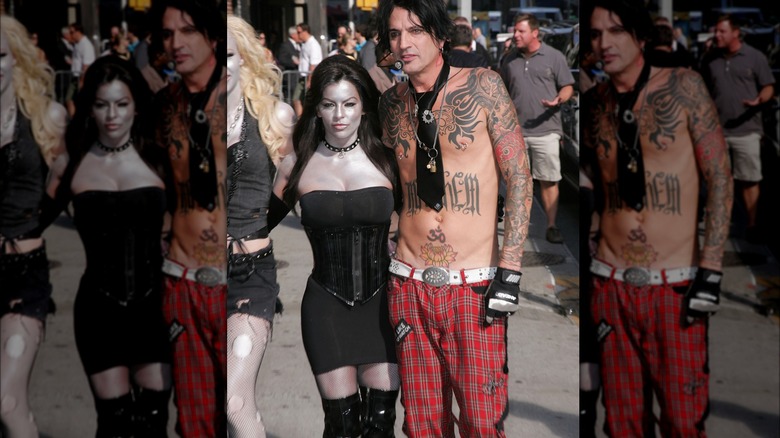 James Devaney/Getty Images
Ever since they first met in 1986, Tommy Lee and Heather Locklear were hooked. Despite initially seeming like an unlikely couple, the pair soon proved they were in it for the long haul, presenting a united and happy front at events and speaking highly of one another in interviews. Many were left eating their words as it looked like they were going to make it ... but, as it turns out, Lee wasn't such a changed man after all. In 1993, Locklear and Lee called it quits, divorcing in a shocking turn of events. 
Speculation about what caused the lovebirds to go their separate ways was rife, but neither one spilled the beans until some time later. In an interview with Blender, Lee admitted the split was down to his inability to stay faithful. "F**king with porno stars ruined my marriage," he revealed (via Mirror). It appears that the temptation of his rock 'n' roll lifestyle was ultimately too much for Lee to bear, marking his second divorce in a decade.
As for Locklear, it was understandably an awful time. In the 2019s documentary series, "The Price of Fame: Heather Locklear," radio host Kellie Raspberry claimed, "[Locklear] has said that was a terribly painful time for her" (via Radar Online). Years before the couple's divorce, the actor expressed her outlook on marriage. "I've only thought of getting married once," Locklear told People. "I plan for this one to last." Sadly, it wasn't to be for the young starlet. 
A popular shock jock partially blamed Tommy Lee for Heather Locklear's later troubles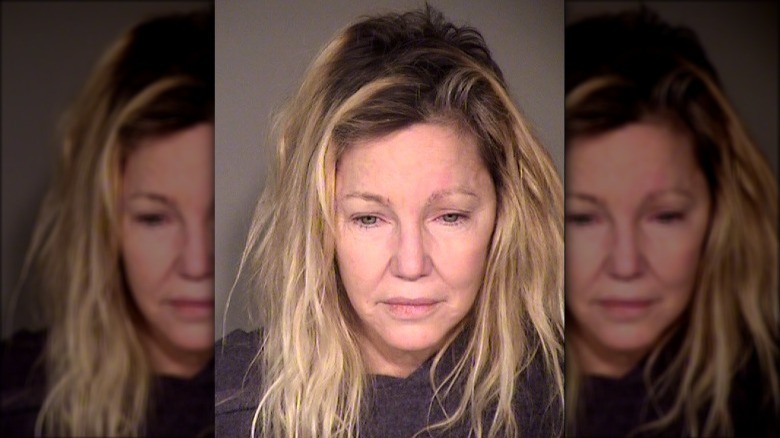 Handout/Getty Images
After splitting from Tommy Lee, Heather Locklear found love again — this time with a musician from another famous band: Bon Jovi guitarist Richie Sambora. The couple married in 1994, just a year after Locklear's divorce from Lee. Three years later, they welcomed a daughter, Ava. The couple stayed together for over a decade, but Locklear didn't get her happily ever after for a second time. In 2007, Sambora and Locklear divorced. As the years ticked by, Locklear began to appear in the headlines for all the wrong reasons. 
In 2008, Locklear was arrested when suspected of driving under the influence of prescription drugs. Later, in 2018, she was in court on police battery charges and, as a result, was placed into a residential care program. That same year, radio host Howard Stern voiced his opinion on Locklear's tragic troubles, placing the blame firmly at Locklear's ex-husbands. "You know what drove this woman crazy? She was married to Tommy Lee and Richie Sambora. ... They made her f**king insane," Stern said (via Radar Online). Given how Lee and Locklear's once beautiful relationship ended in flames, it's not exactly surprising that some could wonder about the toll her past marriages took on the actor.
For his part, Lee didn't take kindly to Stern's comments, calling him out on X, formerly known as Twitter. "That was like 24 years ago you idiot! ... You should be wishing her well and not bashing me f***head!!! Wtf is wrong with you?" 
Tommy Lee's current wife thinks Heather Locklear 'was the love of his life'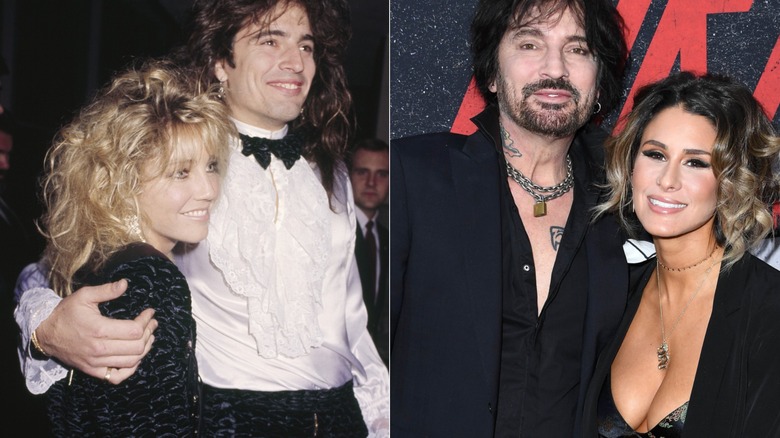 Steve Granitz & Barry King/Getty
It's fair to say that the most iconic Hollywood relationships are a little (or a lot) complex. Tommy Lee and Heather Locklear's whirlwind romance and seven-year marriage falls into this category. Despite how it ended, though, the pair seems to have a strong friendship. Additionally, Lee's current wife, actor and comedian Brittany Furlan, openly admits that Locklear was the love of her husband's life. It may sound like an unusual comment coming from Lee's now-wife, but Furlan believes it to be true.
In a chat with People, Furlan explained that she and Locklear are BFFs: "Heather and I are very close. She's awesome, I love her. I think she's the most kind, down-to-earth person. We met through Tommy, obviously, and became close." Furlan continued, saying, "She was the love of his life. I see it because she's just a fun, sweet, caring, awesome person. Tommy even says he messed up in that relationship. He cheated on her. To this day, that's why they're still really good friends."
If that wasn't enough, Furlan went on to reveal that she has scolded Lee in the past for his infidelity during his marriage to Locklear, though she was quick to state he's a "very different" man all these years later. It's not often there's a happy ending in situations like this, but the trio seems to have nailed it despite the odds. 
Heather Locklear doesn't seem to harbor any ill will toward Tommy Lee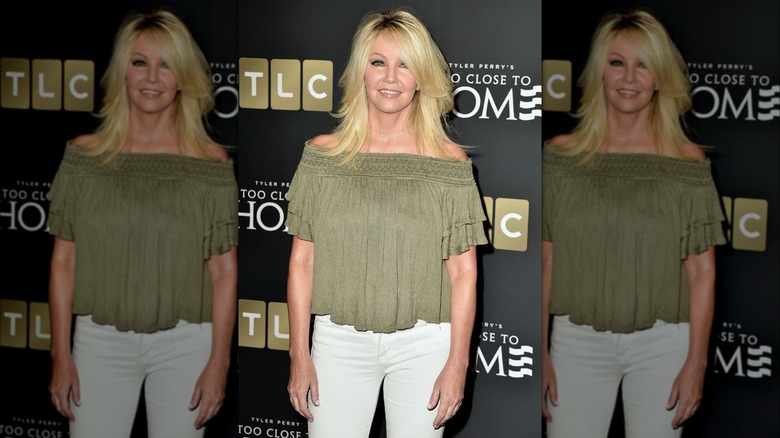 Marc Flores/Getty Images
Some public celebrity divorces are so messy that it's difficult for those of us Average Joes to understand how stars can move on. Just look at Brad Pitt and Angelina Jolie's dramatic separation, or Joe Jonas and Sophie Turner. Of course, both Heather Locklear and Tommy Lee moved on and remarried fairly quickly after their split, with Lee's relationship to Pamela Anderson overtaking his marriage to Locklear in notoriety (it was even immortalized in the TV series "Pam & Tommy" with Lily James portraying Anderson.)
For all his indiscretions against Locklear, though, the actor proved that she didn't hold any ill will when she took to Instagram for their would-be anniversary in 2016. Locklear shared a black-and-white snap of herself and Lee kissing alongside the caption, "Happy 30 years baby." Had the couple managed to beat the odds and stay together, they would have been celebrating three decades together. Life had different ideas, of course, but it's quite remarkable that they have managed to rebuild a solid friendship from the ashes of an ill-fated marriage.
Whether or not Locklear has any regrets about her marriage to Lee, it's hard to say. But judging by her friendship with both Brittany Furlan and Tommy Lee, the actor seems to be at peace. Plus, had her relationship with Lee not ended, the actor would have never given birth to Ava, her only child with Richie Sambora. As Locklear said of her daughter to People, "I have watched her from afar and up close throughout her life, and I aspire to be more like her. Her kindness is contagious. We are very close, and I am blessed to call her my daughter."