Valerie Bertinelli's Tragic Real-Life Story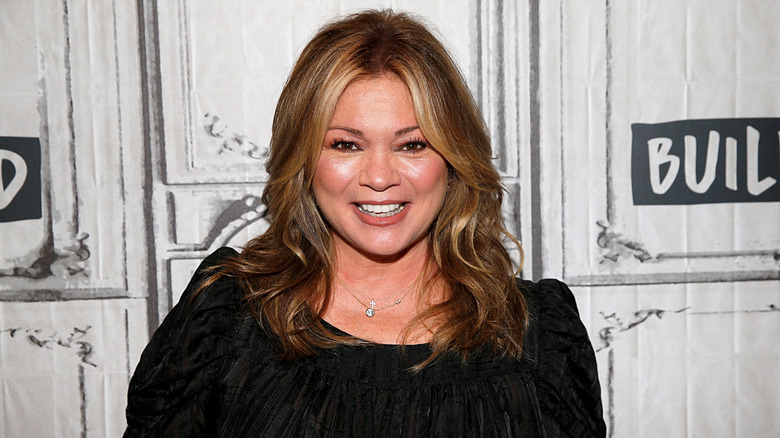 Dominik Bindl/Getty Images
From the moment that 15-year-old Valerie Bertinelli made her debut as Barbara Cooper on the hit show "One Day at a Time," America was in love with the beautiful brunette. We watched her grow from a picture-perfect, wholesome teen into a stunning young woman right before our eyes during the show's nearly 10-year run. Bertinelli's real life, however, was a different story. Bertinelli's life was more soap opera than sitcom, filled with sorrow, sex, drugs, and rock and roll. Body image issues that plagued the two-time Golden Globe award winner from a young age, coupled with a tumultuous marriage to guitar god Eddie Van Halen were just the beginning. Divorce, death, and constant battles with her weight in the public eye took their toll on the former America's sweetheart. 
Bertinelli's life has been filled with loss, except when it came to her weight. Although a stint as a spokesperson for Jenny Craig famously helped the actress shed 50 pounds, she gained them back and then some. But the "Hot in Cleveland" star seems to have finally made peace with her troubled past. In a recent emotional and vulnerable Instagram post, she said that she is learning to heal and love herself after some tough years and is no longer relying on food and alcohol as crutches. "Our bodies do not define who we are as human beings," she posted. "A number on the scale does not define how much love your heart can hold."
Valerie Bertinelli was born into sorrow
The only girl in a house full of boys, Valerie Bertinelli was the third of Andrew and Nancy Bertinelli's five children. The arrival of a little girl after the birth of two boys should have added an extra layer of joy to an already happy occasion, but Bertinelli's birth was overshadowed by overwhelming grief and sadness. According to a 2020 People interview, Bertinelli's 17-month-old brother, Mark, died from accidentally drinking poison not long before she was born. "When I came into the world, my mom was grieving," Bertinelli said, adding that she wasn't told about Mark's death until she was a teenager. Even after the birth of two more children, her parents never brought it up. "The subject was too painful. My parents kept the tragedy locked inside."
Bertinelli said she didn't fully grasp what her parents had suffered until she became a parent herself. By that point, however, she had already internalized their example of keeping feelings bottled up. She told People, "I felt like I had to make everyone happy. It's a big job for a little kid." Maybe too big. Bertinelli would later turn to unhealthy coping mechanisms including drugs, booze, and food. In another touching Instagram post in June 2023, the self-described "perpetual people pleaser" said she's learning to "feel my feelings, even though they can be scary sometimes, and I do my best to get to the other side of them."
Her marriage to Eddie Van Halen was a rocky one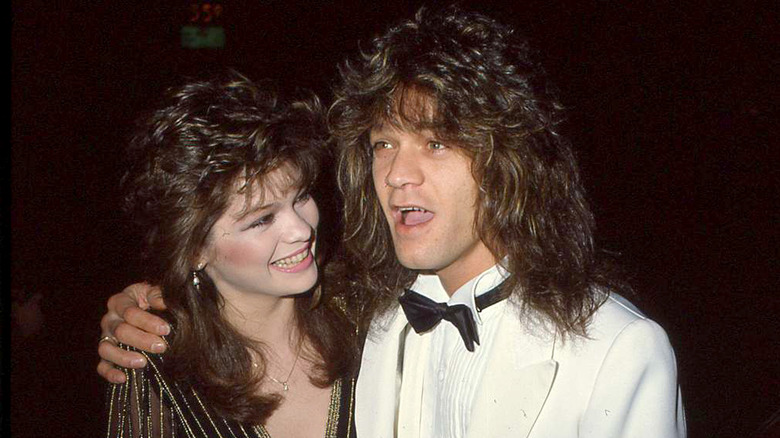 Kevin Winter/Getty Images
Hearts broke around the world when guitar legend Eddie Van Halen married the seemingly innocent 20-year-old Valerie Bertinelli in 1981 after dating for less than a year. And while they may have looked like the perfect pair with their matching hair, the relationship was far from a fairytale. In her 2008 autobiography "Losing It — And Gaining My Life Back One Pound at a Time," Bertinelli took readers down the rocky road of a rock-and-roll marriage filled with infidelity, disconnection, and the requisite heavy partying and drug use. She detailed how she unsuccessfully tried to balance her role as sweet Barbara Cooper with her role of hard-partying, coke-snorting rock star's wife. 
As she told Oprah while promoting the book, "The week off I would destroy my body trying to stay up with him. It got to a point whenever I heard the birds chirp, it was, 'Oh, God, no.' It took me years after stopping the cocaine before I could enjoy a sunrise and enjoy the sound of birds."
Cocaine was only part of the problem. There were other issues, including infidelity, on both sides. Bertinelli said that she caught Van Halen in extramarital affairs and admits to affairs of her own with both men and women during their more than 20-year marriage. Unfortunately, neither therapy nor the birth of their son Wolfgang in 1991 could save the couple's marriage, and they separated in 2001. 
Valerie Bertinelli and Eddie Van Halen called it quits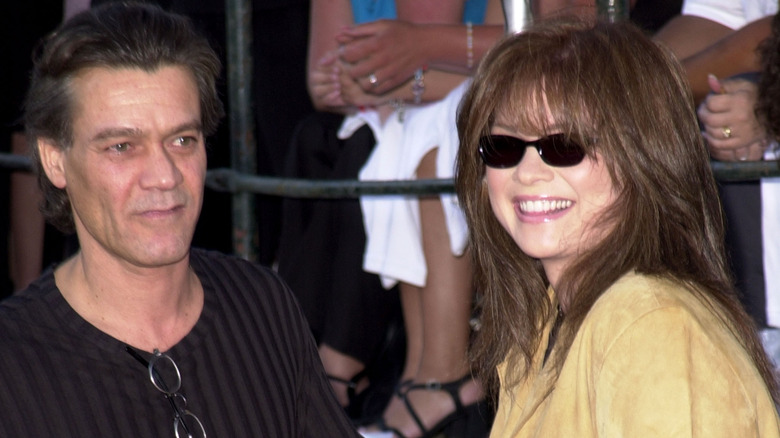 Steve Granitz/Getty Images
After six years of separation, Valerie Bertinelli and Eddie Van Halen divorced in 2007. As the Food Network star told Oprah, the events of 9/11 put the wheels of their separation and subsequent divorce in motion. She recalls that while the event brought many people closer together, for her, it was a sign to pull away. She explained that it made her reevaluate her situation, saying, "I'm not going to live my life if it's that tenuous. That's not how I want to live my life anymore.'" 
Still, it took another six years before Bertinelli pulled the plug on the marriage for good. Rather than "stay together for the kids" as many people do, she once again took the opposite stance, saying she divorced Van Halen in part because of the son they shared. "One of the many reasons that Ed and I split up is to give Wolfie a better vision of what two people who are supposedly in love treat each other like," she said. "Ed and I weren't treating each other like two people that loved each other, and that's what Wolfie was seeing." 
Although it had been years in the making, Bertinelli says she hit rock bottom after the divorce, turning to her vices for comfort. "Those were some of the darkest days of my life, and I was eating my way through them. I became a hermit."
Eddie Van Halen's death left her heartbroken
Following her divorce from Eddie Van Halen, Valerie Bertinelli found love again with businessman Tom Vitale and married him in 2011 after a six-year courtship. Van Halen went on to wed actress Janie Liszewski in 2009, but he and Bertinelli were still in each other's lives as they co-parented their son Wolfgang. Over time, as wounds healed, they began to rebuild their strong bond. And even though they had both moved on with other people, they became close friends. When Van Halen was diagnosed with stage 4 lung cancer in 2017 and a brain tumor in 2019, Bertinelli was there for him with love and support. 
In her 2022 memoir "Enough Already: Learning to Love the Way I Am Today," the author worked through her grief by sharing the story of her relationship with Van Halen post-divorce. "I loved Ed more than I know how to explain," Bertinelli told People upon its release. "I loved his soul." 
She also recounted in her memoir that her ex-husband came to her home on Thanksgiving 2019, less than a year before he died, to talk with her privately and present her with a gift. "He wants me to know he messed up [during our marriage]," she wrote. "I contributed to our troubles too and I am also sorry." Their complex love story lasted until Van Halen's last breath on October 6, 2020, with Bertinelli at his side.  
Valerie Bertinelli was grief shamed for how she dealt with the death of Eddie Van Halen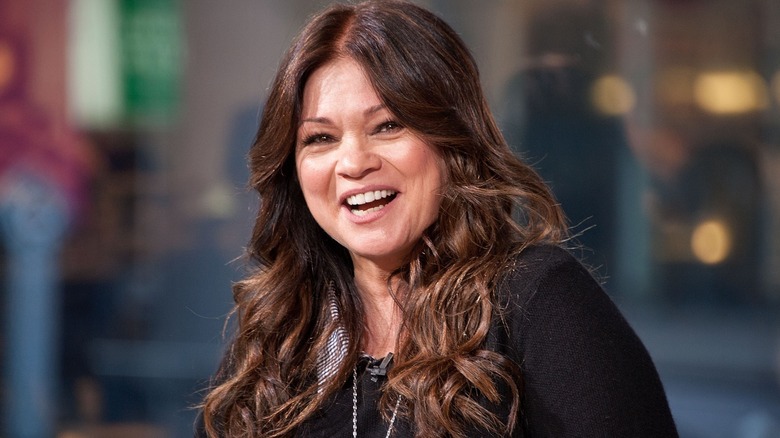 D Dipasupil/Getty
After the death of her ex-husband, Eddie Van Halen," Valerie Bertinelli posted a loving tribute on Instagram, only to find herself on the receiving end of horrible comments. Haters suggested that Bertinelli was being insensitive to Van Halen's current wife and was using his death to bring attention to herself. She talked about the experience in a 2021 interview on "Today With Hoda & Jenna," saying, "It's weird. Grief shame is something I never thought would happen to me. I don't want to talk about it right now, but I knew the man for 40 years. I was 20 when I met him. I still loved him. We spent a lot of time together. He's the father of my son. He's the father of the greatest gift in my life."
On Instagram, the talk show also posted a photo from Bertinelli's interview, and the haters came out again with horribly unkind remarks. It got so bad that her son, Wolfgang Van Halen, jumped to his mother's defense in the post's comments. "Some awfully horrible comments in here," he said. "Not a surprise, considering this is the internet, but whatever. I implore you dips***s to realize that you have no idea the relationship that my parents shared, and can't seem to comprehend the idea of two people having the capacity to love one another. Have a lovely day, a**holes."
Her second divorce was messy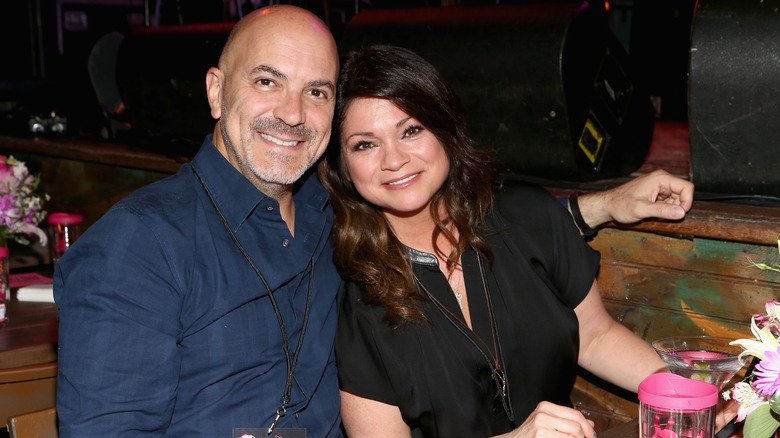 Rich Polk/Getty Images
Less than two years after the death of the man she referred to as her "soulmate" in her 2022 memoir, Valerie Bertinelli filed for divorce from her second husband, Tom Vitale, citing irreconcilable differences. However, it later came out that the couple had been apart since 2019. Some speculated that it was the actress' undying love for her ex that caused problems in her marriage, citing the obvious omission of details in her book about her life with Vitale. Bertinelli claims she was just trying to protect his privacy. As she explained to USA Today, "I tried to be really sensitive to Tom and (Van Halen's wife until his death, Janie Liszewski) because they're private people, and I don't want to tell their story. I was just trying to tell the story between me and Ed without being hurtful."
For his part, Vitale didn't seem to care about being hurtful as he went after his ex-wife's money, claiming that he was unable to find work after leaving his career as a financial planner to help his wife grow her own business. Even with a prenup in place, Bertinelli still ended up paying a reported settlement of over $2 million. However, according to the cookbook author, it was money well spent. She took to Instagram the day after her divorce was final, saying she was "happily divorced" and that it was "finally over." 
Valerie Bertinelli struggled with emotional eating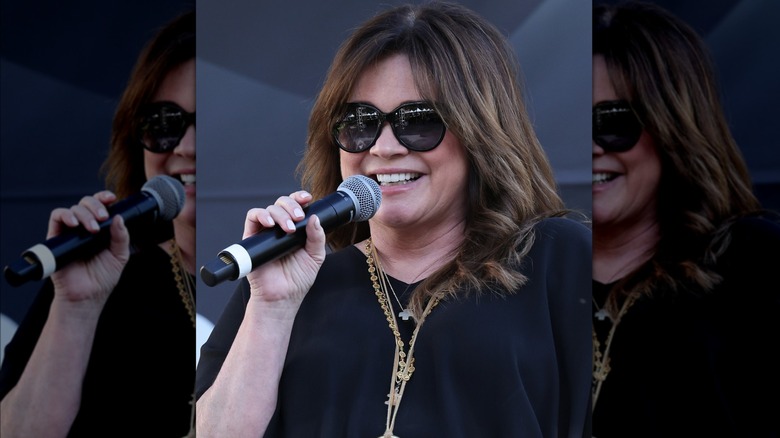 David Livingston/Getty Images
She may have said she was happy about her divorce, but the scale told her otherwise. Between the death of Eddie Van Halen and her subsequent divorce from Tom Vitale, Bertinelli turned to the one thing that wouldn't let her down: food. In another appearance on "Today With Hoda & Jenna" in 2022, she said that this was just her body's way of protecting itself. "I know this weight is protecting me right now and when I get healthier internally and emotionally that weight will come off," she said.
Bertinelli's struggles with her weight date back to her childhood and years in showbiz. In an excerpt from her memoir "Enough Already: Learning to Love the Way I Am Today," she wrote that she grew up equating her weight with her ability to be loved. As an adult, the former child star became a spokesperson for Jenny Craig and famously dropped 50 pounds. 
She showed off her bodacious bod in a bikini on the cover of People, but later told the magazine, "I worked really, really, really hard. Physically definitely. I wish to God I had worked just as hard on my mental shape." Bertinelli still struggles with acceptance of herself, but said she was working on eating healthier, giving up alcohol, and taking care of her emotional well-being. "I have a lot of decades of thinking I have to look a certain way for people to accept me and to like me," she said.
She suffered the loss of her friend Betty White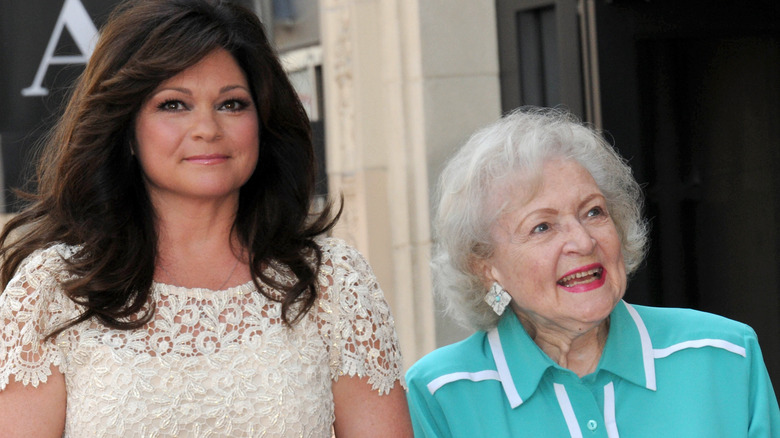 Albert L. Ortega/Getty Images
When Betty White passed away on December 31, 2021, America mourned the loss of one of its most iconic actresses. But the loss hit close to home for Valerie Bertinelli, who shared the small screen with White for six seasons of the sitcom "Hot in Cleveland." Along with fans across the world, Bertinelli took to social media to mourn, tweeting, "Rest in peace, sweet Betty. My God, how bright heaven must be right now."
The loss hit Bertinelli hard. In an interview with "Entertainment Tonight" nearly a month later, it was clear she was still coping with the loss of her co-star. She told ET's Nischelle Turner that White had "oozed kindness," adding, "It wasn't a struggle for her, it was just that's who she was. She was a kind, kind human being." Bertinelli also expressed her happiness that White was reunited with the love of her life, her late husband Allen Ludden. 
This too must have hit home for Bertinelli, who had recently lost ex-husband Eddie Van Halen and had been very public about her grief following his death. However, the lessons she learned from White about gratitude provided encouragement and a reminder to find the good in life. In an interview with People, Bertinelli said, "Betty just oozes gratitude and she glows. I've never met another human being that glows. She's just — she's not of this world. And we are all blessed to have her here."
Valerie Bertinelli responded to body shamers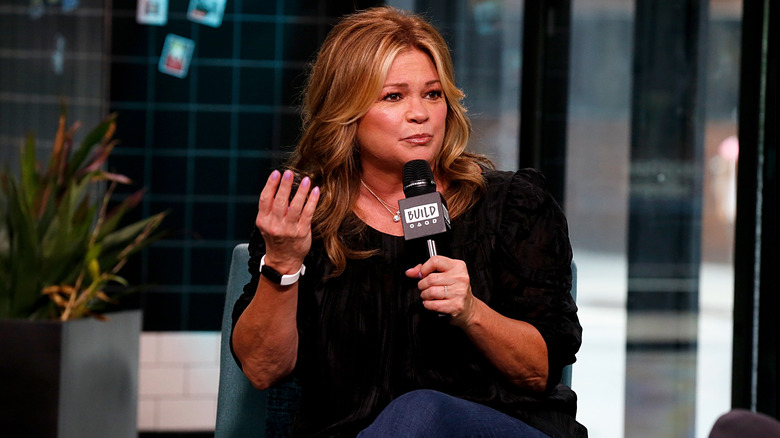 Dominik Bindl/Getty Images
The internet can be a cruel place, as Valerie Bertinelli discovered when people criticized her Instagram tribute to her late ex-husband Eddie Van Halen. Fast-forward nearly a year later, and the haters were still at it — only this time, they had moved on to posting unkind remarks on her appearance. Specifically, her weight. After one particularly ugly comment, Bertinelli posted a video to Instagram in which she fights back tears as she tells the viewer that her comments were "unhelpful" and that she's aware of her appearance and struggles with it daily. In the caption accompanying her post, Bertinelli issued a heartfelt plea to the public to be kind. "We all could use a little more kindness and patience and grace, because we just never know what someone else is going through."
Bertinelli received an outpouring of support from fans and fellow celebrities alike, including Demi Lovato, who wrote in the post's comments, "I love you. You said it yourself, you're already enough ... I'm sorry you had to deal [with] this. Here for you always 🙏🏼💞." Bertinelli's Wolfgang Van Halen also once again jumped to his mother's defense, commenting, "You're perfect the way you are, Ma. I love you." Bertinelli showed her appreciation for her supporters in a now-deleted Instagram Story, saying, "Thank you. There's so much kindness out there, I certainly don't feel so alone anymore."
She drew backlash for her involvement in diet culture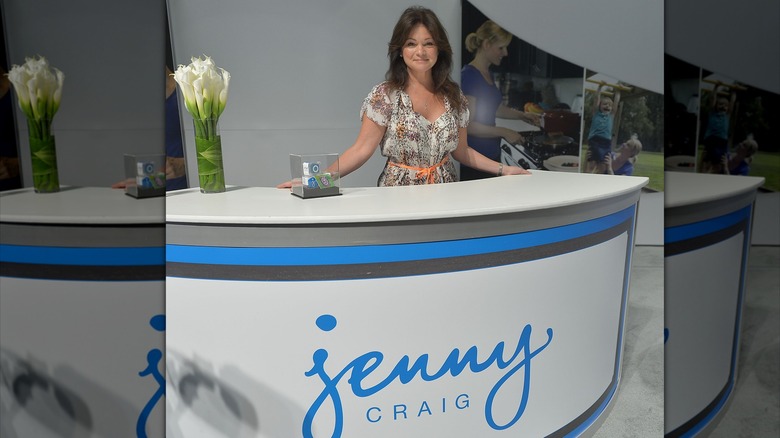 Charley Gallay/Getty Images
In a case of "you can't win for losing," not everyone was as supportive of Valerie Bertinelli's Instagram plea for an end to body shaming as her celebrity pals. She began to draw even more negative comments from people accusing her of contributing to the very culture she was fighting. They pointed to her six-year stint as a Jenny Craig spokesperson and her famous weight loss that she documented by posing in a bikini on the cover of People. 
In an excerpt from her book, "Enough Already: Learning to Love the Way I Am Today," she wrote that she took the job primarily out of necessity. "I wasn't trying to get healthy or deal with the reasons I had gained weight over the years," she wrote. "I had split from Ed and I refused to take money from him. As a single working mom I needed to make money. Jenny Craig was a good job."
Good job or not, Bertinelli admitted that she did contribute to the diet culture. "I was starving myself and doing twice a day workouts," she said. "Some people can look like that without doing that but not me. And there is shame for being part of the problem to make other people think they could do it. I bought into it hook, line and sinker, but I didn't take care of my head and my heart and I think it really starts with that."
Valerie Bertinelli escaped a toxic relationship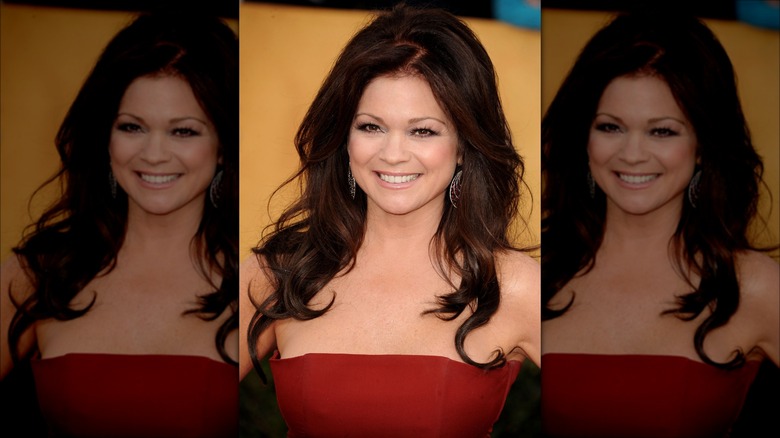 Steve Granitz/Getty Images
Valerie Bertinelli disclosed that a relationship she was in following her split from Tom Vitale was full of excessive verbal abuse. She began seeing a therapist at the beginning of 2023 to deal with resulting feelings of unworthiness. In a now-expired Instagram Story, the actress said, "I have been screamed at so many times and told how fat and lazy I am," going on to add, "I realize ... that was someone just projecting on me whatever they needed to project on me, but my part in all of it was believing it, and I don't believe it anymore." 
Bertinelli seemed to be taking 2023 to focus on getting her life back on track and finding her way to feeling good about herself. Not only did she go to therapy to deal with her past issues, but she also started the year by participating in "dry January" and said it has helped her both physically and mentally. "I'm happy because I physically feel better," she told People. I'm getting better sleep, but I've noticed that — oh boy — lots of feelings are coming up." But rather than push them down or try and eat them away, Bertinelli said she was trying to work through them. "So that's what we're doing today. We're feeling the feelings and letting them go. Giving them a voice," she added.