Jennifer Aniston's Long-Awaited Matthew Perry Tribute Proves Their Enduring Friendship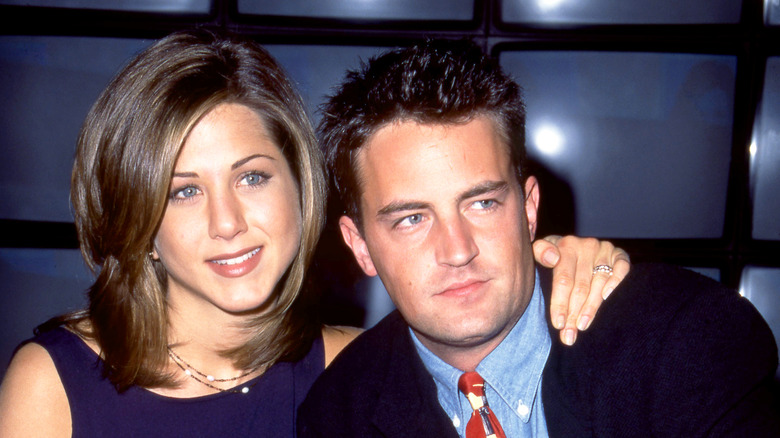 Ron Davis/Getty Images
As the devastating first reactions from the "Friends" cast poured in after Matthew Perry's death, some of the core members understandably waited to speak out individually. Among them was Jennifer Aniston, who famously played Rachel Green opposite Perry's Chandler Bing on the hit sitcom. As we learn more about Perry's untimely death, fans have been eager to hear how Aniston and the other "Friends" are dealing with the tragic loss. On Wednesday, November 15, 2023, Aniston took to Instagram to share a heartbreakingly moving post.
Her message for Perry garnered over 1.5 million likes in just the first 20 minutes after it was posted. It featured a carousel of photos with a lengthy caption that opened with words we can all relate to: "Oh boy this one has cut deep." The first image in the carousel shows Perry and Aniston laughing together. It's followed by a screenshot of a sweet text message exchange between the two long-time friends. 
According to Aniston, the six stars of "Friends" were always more like a family, and Perry "was such a part of our DNA." Understandably, his death has been incredibly tough for them to accept with Aniston even quipping, "I talk to you every day ... sometimes I can almost hear you saying 'could you BE any crazier?'" The carousel ends with a very poignant clip of the pair in "Friends" hugging and expressing their love for each other. 
Jennifer Aniston's words speak volumes about her love for Matthew Perry
The media Aniston chose to include in her post made for a perfectly crafted tribute to her dear friend. Her long and thoughtful caption, though, took the heartfelt eulogy above and beyond. "Having to say goodbye to our Matty has been an insane wave of emotions that I've never experienced before," Aniston wrote. She also spoke on behalf of their fellow cast members, saying, "We loved him deeply. He was such a part of our DNA. We were always the 6 of us. This was a chosen family that forever changed the course of who we were and what our path was going to be." 
After paying tribute to how much Perry loved and succeeded in making both his "chosen family" and the rest of the world laugh, she ended with a hopeful thought, writing, "Matty, I love you so much and I know you are now completely at peace and out of any pain." Aniston and her "Friends" co-stars were acutely aware of Perry's struggles throughout his career. A decades-old clip of Aniston resurfaced after Perry's death, showing the star in tears over his addiction at the time.
She signed off her caption with a sweet farewell that references the text message from Perry that she included in her post. "Rest little brother," she wrote, adding, "You always made my day..." with a heart and dove emoji. If it wasn't already clear how much Perry would be missed, Aniston just solidified it. 
Other Friends cast members say their goodbyes to Perry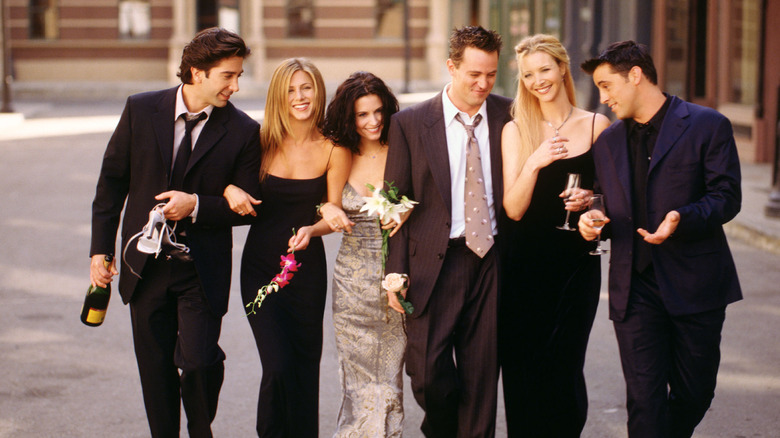 Getty Images/Getty Images
While Aniston is the latest of the group to pay homage to Perry on Instagram, their other "Friends" castmates have been coming out of mourning to say goodbye to their friend, as well. Matt LeBlanc played Perry's onscreen BFF and roommate, Joey Tribbiani, and his final goodbye to Perry on Instagram left many fans in tears. LeBlanc shared a series of photos of him and Perry, followed by a photo of the six core cast members. He gave a heartfelt tribute, ending with a joke that was very fitting for Joey and Chandler's famous friendship: "I guess you're keeping the 20 bucks you owe me."
As for Courteney Cox, who played his onscreen wife, Monica Geller, her own tribute to Perry highlights their off-screen connection. Her Instagram post was short and sweet, featuring a clip of a scene the two shared together and kind words starting with, "I am so grateful for every moment I had with you Matty and I miss you every day." She recalled how the scene she included came to be, saying, "before we started rolling, he whispered a funny line for me to say. He often did things like that. He was funny and he was kind." While these friends all made a major impact onscreen, it's clear that the friendships they all shared behind the scenes with Perry will live on just as much.