The Real Reason Taylor Swift Didn't Attend The AMAs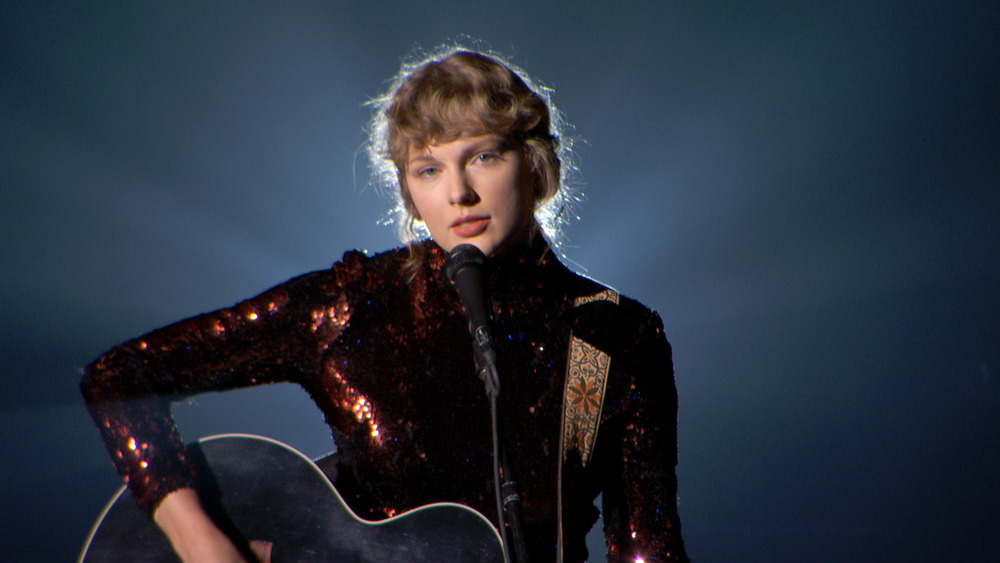 Acma2020/Getty Images
Despite her absence from this year's American Music Awards, Taylor Swift did what she does best: She won an award. For tonight's big award of the night, Artist of the Year, a category that saw nominations from Justin Bieber, Post Malone, Roddy Ricch, and The Weeknd, Swift ultimately reigned victorious.
But unfortunately for fans, Swift wasn't at the event to accept her award in person, which is perhaps best amidst a pandemic. However, COVID-19 doesn't appear to be why she wasn't present at the show. In her video call acceptance speech, Swift says her fans have been "beyond wonderful" and that she and her fans have connected "through the music" (via Twitter). In her speech, she also casually mentions the reason she isn't there in person tonight: and that's because she's working on a new exciting project. "The reason I'm not there tonight is that I'm actually re-recording all my old music," she confesses. "It's been amazing and I can't wait for you to hear it!" Fans seem just as excited as she does, absolutely gushing all over social media.
Why Taylor Swift was re-recording her music
If you're wondering why an artist might rerecord their old music, there's quite a few reasons to do so –– and it's actually a pretty common practice. Aside from the practical (or perhaps more cynical) reasons for re-recording music is to make money. Successful songs being re-released will always be a reliable way for artists to put money in the bank. Some artists like to do it for a bit of fun, subsequently testing their truly dedicated fans. They may re-arranging the songs as close to possible as the originals and challenge their fans to see if they can identify the differences (via ABC).
However, in the case of Swift, she has a more specific reason for venturing into this new project. "My contract says that starting November 2020 — so, next year — I can record albums 1 through 5 all over again," she explains. "I'm very excited about it. ... I think artists deserve to own their work. I just feel very passionately about that" (via NPR). Twitter speculates that Swift decided to move forward with the idea after Kelly Clarkson tweeted her, planting the seed in her head.