The Real Reason Tayshia Adams Ended Things With Ben Smith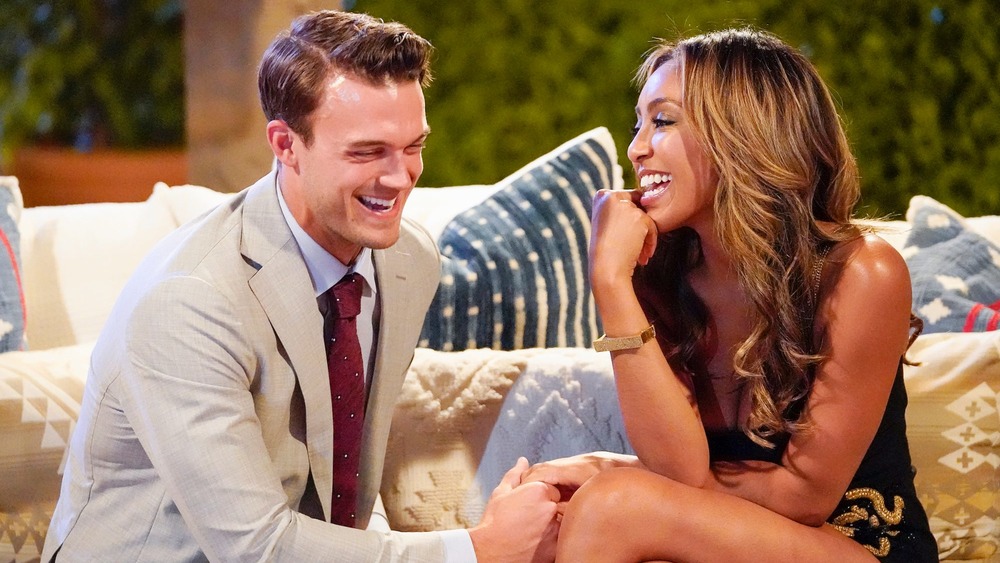 ABC
Season 16 of The Bachelorette ended in spectacularly dramatic fashion, as fan fave replacement star Tayshia Adams finally made her choice. As E! News reports, the two-part season finale saw Ben Smith, who was eliminated following the hometown dates, making a surprise return to the villa soon after Brendan Morais left. After struggling for the entire season to be open with his feelings for Adams, the fitness instructor was finally ready to be vulnerable, confessing, "I blew it by not telling you in the moment. I've never felt this feeling so I was just terrified. But I am in love [with] you. ...I just had to tell you."
The episode ended on a cliffhanger, with Adams walking away confused, but the second part opened with her seemingly more sure of her feelings as she admitted to a producer, "I really care about Ben, but I sent him home for a reason." Although the Bachelorette star agreed to let Smith attend the rose ceremony and even kissed him, Adams ultimately chose Zac Clark over the returning suitor, admitting it was an easy decision in the end.
The Bachelorette star simply didn't feel the same way about him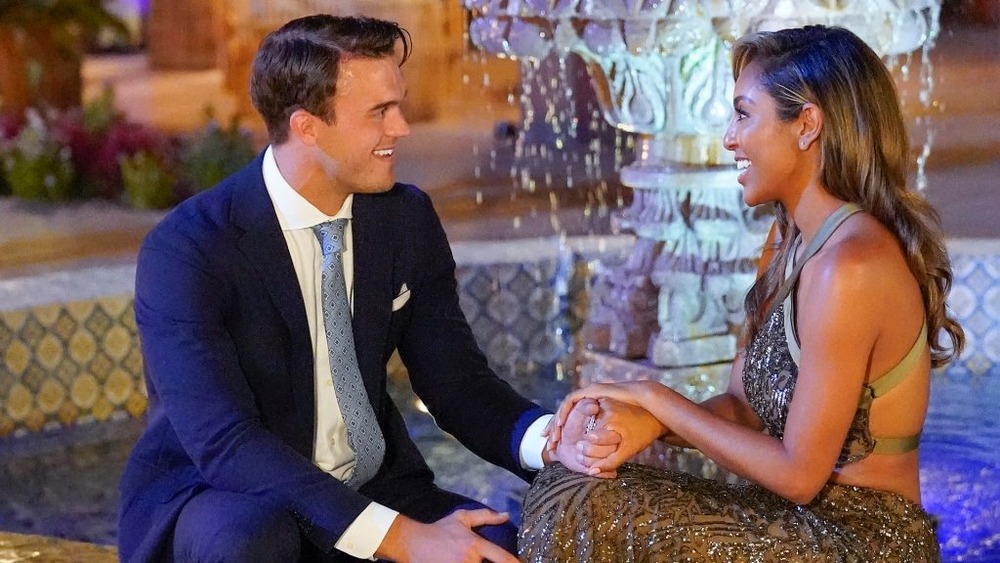 ABC
Ultimately, Adams' heart lay with Clark. The reality star finally decided who to pick before giving out the all-important final rose, ultimately sending Ben Smith home during their last date in spite of the fact he'd admitted to producers he was planning to propose. As ET notes, the Bachelorette told the cameras, "I know what my heart wants, and it's not Ben. I wish my heart was with him, but it's just not." She added, "I know what I need to do." Tayshia Adams then sat Smith down and told him the truth, which was that she really cared about him and liked him from the outset but, sadly, "I just feel like my heart is with somebody else."
Adams reassured her runner-up she did want to make things work earlier, however, "I just feel like we missed out on a little bit of time that was ... very monumental." Smith, for his part, took it well, telling Adams he simply wanted her to be happy. Following their breakup, the jilted suitor admitted, "I lost a really good thing." Appearing on the Bachelor Happy Hour podcast, Smith admitted it's tough for him to open up: "When I get into a romantic situation and I have to be vulnerable around someone that could potentially leave me and leave me hurting, that's when I wall off" (via Cheat Sheet). It seems that was his undoing in the end.