The Props The Schitt's Creek Cast Took Home During The Final Season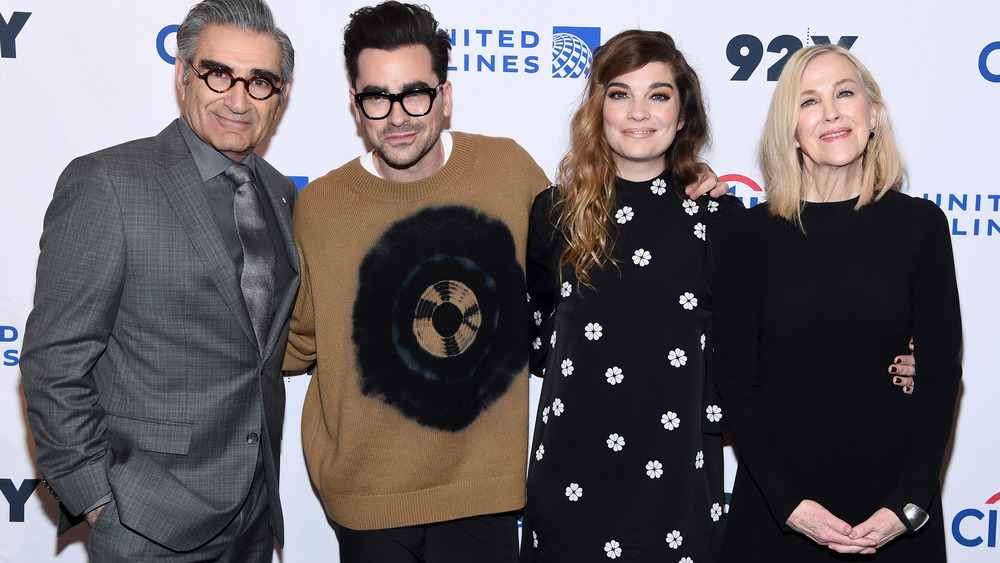 Jamie Mccarthy/Getty Images
The ending of Schitt's Creek has left a massive hole in all of our lives, but at least the iconic Canadian sitcom will (hopefully) live forever on streaming services, so we can still watch whenever we want. Brainstormed by father-son duo Eugene and Dan Levy, the all-conquering show stormed the Emmys this year following its final season, solidifying Schitt's Creek's place in the pop culture pantheon. It also, simultaneously, vindicated all the fans who had been championing the show for so long.
As it turns out, the cast of Schitt's Creek are massive fans themselves, with the younger Levy telling the Los Angeles Times he understands why we are so reluctant to say goodbye. "Believe me, it's hard to let go. I could have done 100 more seasons," the actor admitted. As it turns out, the central foursome, which includes the Levy men alongside comedy icon Catherine O'Hara and newcomer Annie Murphy, found it equally difficult to walk away. So, they took a few souvenirs with them.
The central foursome weren't shy about raiding the set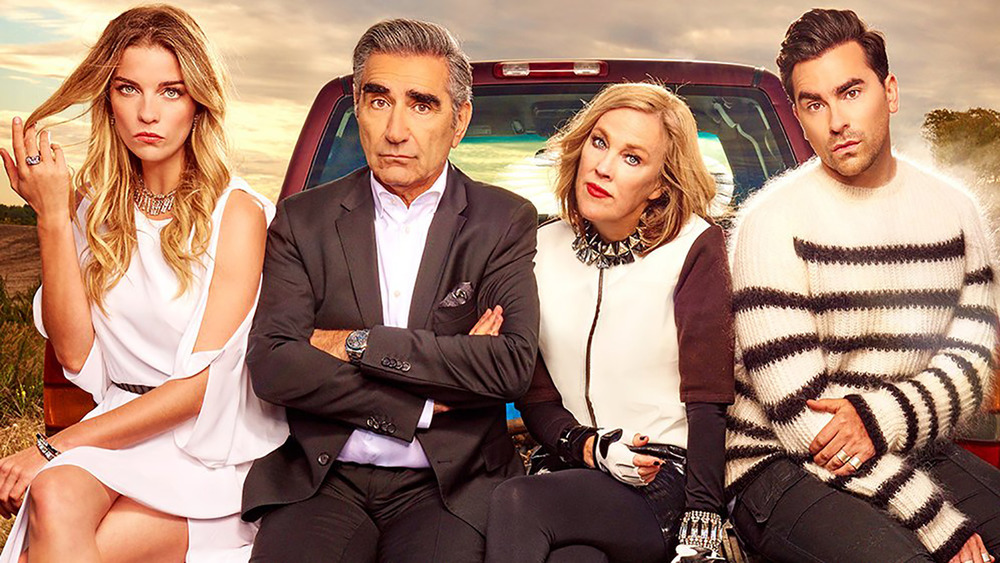 CBC Television
During an interview with Variety, the Schitt's Creek cast listed every item they'd nabbed from the set of the hit show. Murphy took the college degree her character, Alexis, earned during the fourth season along with several other items. The actress admitted, "It looked like I was raiding the place. I had my arms full of paintings and plants." The younger Levy took the very first receipt from Rose Apothecary, the store his character, David, opened with partner Patrick on the show.
Dan's father, both IRL and on Schitt's Creek, meanwhile, "took a couple of family portraits." As Levy explained, "They hold more value because they were the very first things we did on the show, were taking those family stills — even before we started shooting." O'Hara, on the other hand, was intent on keeping the spirit of Moira Rose alive. She made sure to take home as much of her character's gloriously over-the-top closet as possible, from clothes to jewelry and, of course, Moira's extensive wig collection.
"I have to find out how much I'm going to owe," she joked, explaining, "I don't get all of it for free, but it's so tempting. I have such a beautiful wardrobe." Clearly, Schitt's Creek lives on in several different places, as well as our hearts.