Who Is The Bachelor's Khaylah Epps?
As The Bachelor's Khaylah Epps probably well knows, it seems like all eyes have been on Matt James since before it was announced that he would be the leading man of the Bachelor's 2021 season. The best friend of Bachelor Nation favorite Tyler Cameron and pivotal member of the "Quarantine Crew" — if you know, you know — Matt turned heads not only because of his gorgeous face and wonderful personality (and his abs), but also because of that hint of southern charm.
Matt has made history as the first Black bachelor, and, as his season is getting underway, it's important to note the diversity of the women who are vying for his attention. His season's contestants are extremely well educated, professionally successful, and dynamic, not to mention beautiful. One is even a queen — sort of. 
So when Khaylah Epps made quite the memorable entrance on night one of Matt's season as the leading man, viewers knew that she would be one to watch. The two seemed to have instant chemistry and an immediate ease with one another, and while she didn't snag the first impression rose, we think that Khaylah is a serious contender. So here are the answers you've been wanting for the questions that everyone in Bachelor Nation is asking: Who is The Bachelor's Khaylah Epps?
Khaylah Epps and Matt James were practically neighbors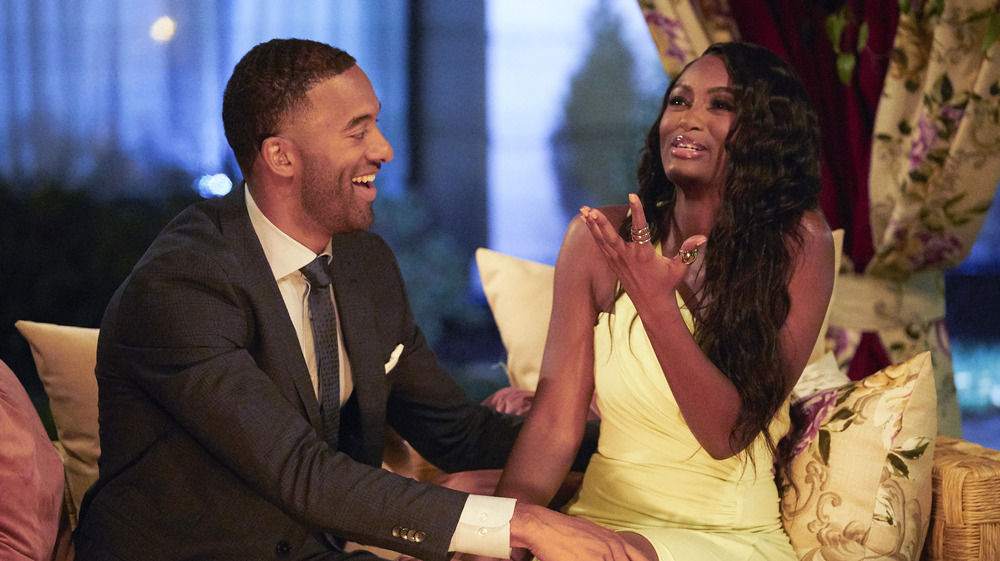 ABC/Craig Sjodin
Where The Bachelor's leading man is from can make an impact on how he navigates the role, and it seems like Matt James is calling upon his southern roots. Matt is originally from Raleigh, N.C. (via the The News & Observer) and later attended Wake Forest University in Winston-Salem, N.C. (via IndyWeek). The state and his time there as a young man and college student seem to hold a special place in his heart, so it's no surprise that he was pleasantly surprised when Khaylah Epps told him where she was from. 
"Now where are you from?" he asked the gorgeous Khaylah during their first meeting. "North Carolina," she answered in a cool tone, to which Matt let out a very enthusiastic, "You're from North Carolina? Oh ok!" And cue our melting hearts because his smile really is adorable. Khaylah is originally from Durham, N.C., which is about a half an hour drive away from Matt's hometown of Raleigh — so these two are practically neighbors. 
"Khaylah's beautiful, and she's a North Carolina girl," Matt said during an on-camera interview on night one. "Anytime you can find common ground with someone, that kind of puts you at ease."
The Bachelor contestant knew just how to roll up to the mansion in style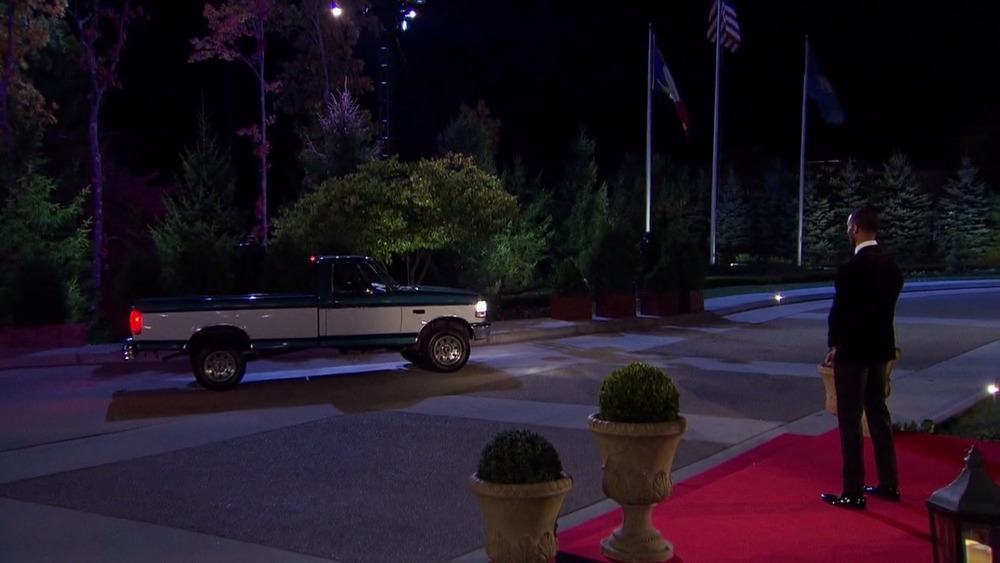 Hulu
Any fan of The Bachelor knows that some contestants pull out all the stops in order to make themselves memorable to the leading man on night one. The night is jam-packed full of ladies — 32, to be exact — so standing out is a must. And it seems like Khaylah Epps needed no help in deciding how to make herself known to Matt James because she rolled up to the new Bachelor in an old pick-up truck. 
 "You took your own wheels tonight, huh," Matt said to her as she hopped out of the car. "You know, gotta drive up in style," Khaylah responded, adding that the truck was a "tricky one" but she managed. In an on-camera interview, Khaylah revealed what had made her forgo the traditional limo entrance. "I rolled up in a pick-up truck because I want to be that reminder for him of home," she said, and honestly, it's just impressive that she was able to drive in the gown and heels she was wearing. To make matters more difficult for Khaylah, she revealed to Matt that the car was a stick. If Matt wasn't impressed, we sure are.
The Bachelor's Khaylah Epps works in healthcare advocacy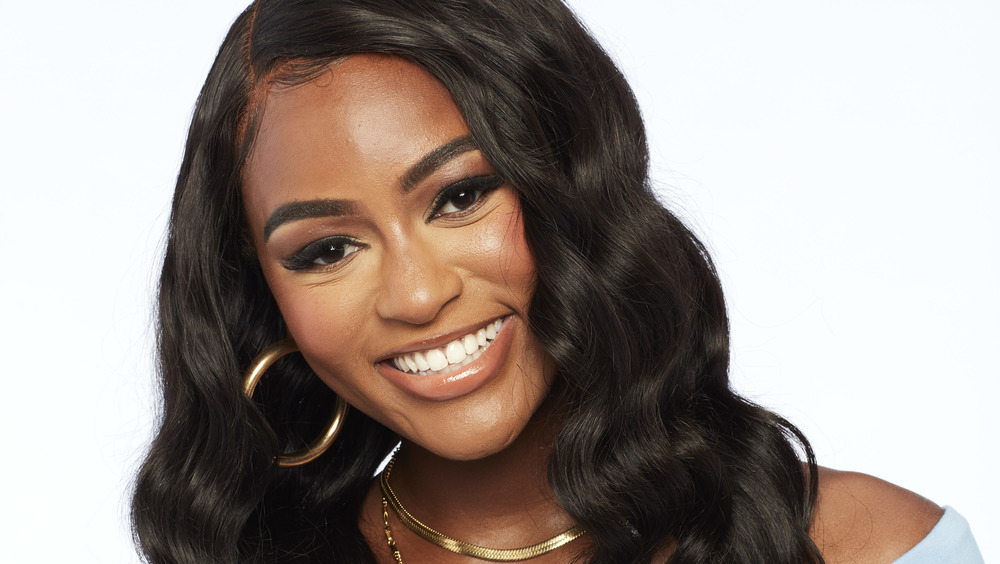 ABC/Craig Sjodin
Khaylah Epps has a resume that is really impressive. According to her LinkedIn, Khaylah got her degree in women and gender studies from the University of North Carolina at Chapel Hill, and she went on to get her Master of Science in public health, health policy, and management from the same university. She works as a program manager associate for Blue Cross NC, and her official ABC bio mentions her dedication to her career. 
"Khaylah has been overly committed to her job, but she doesn't look at that negatively," the bio reads, noting, "She loves that her work means a lot to the people of Durham." And it's clear that Khaylah's dedication to her job has paid off because she revealed on Instagram that she was named "a CEO award finalist" at her company in 2020. 
"I can't even begin to express how emotional I was in that moment. I started hysterically crying...at work...in front of a lot of people," the Bachelor star wrote. "I was the FIRST to ever receive this honor as a RDP (our version of a fellowship if you will) ... I am so proud of this award, but more than anything, I love what it reminded me of." A queen.
Khaylah Epps had a very specific way to describe Bachelor Matt James after first meeting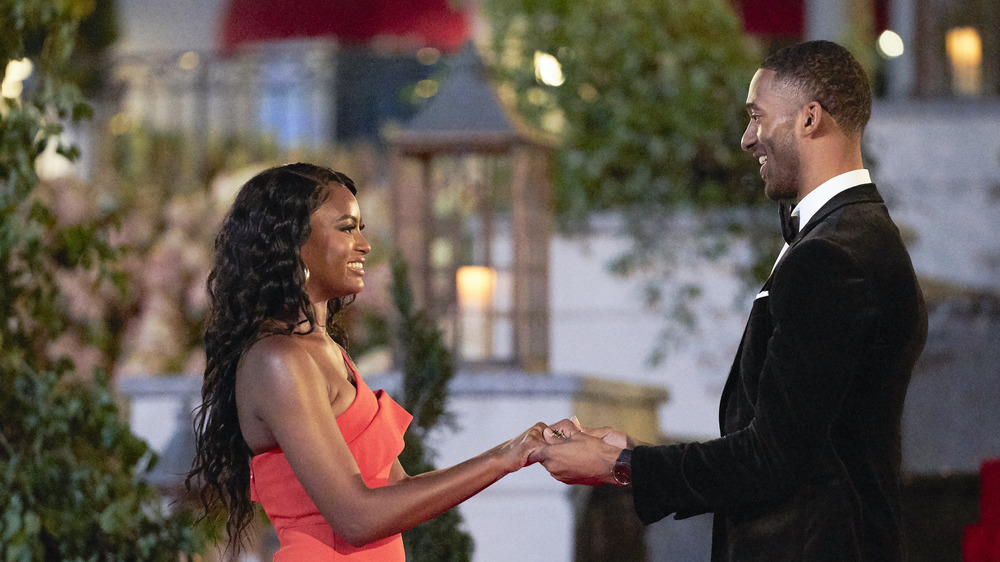 ABC/Craig Sjodin
We love a woman who speaks her mind, and from what we can tell from night one, Khaylah Epps will not be a Bachelor contestant to hold back. While speaking to a couple of other women during the premiere episode of Matt James' Bachelor season, Khaylah had a very specific and very funny way of describing the man who had clearly caught her eye. 
"Like, to accurately describe what Matt looks like is just a five-course meal," she started. "You know like when you say someone looks like a snack? No, no, no, my friends. He is the appetizer, he's your little gazpacho, that little cold soup thing. He's the first entree, he's the second. This is what I've been missing out on my whole life." 
Honestly, we would be thinking the exact same thing, and Khaylah was clearly hitting a great stride with her fellow ladies because she had them fully laughing. "I'm getting really hungry," one of them responded. "Well, good thing a meal is walking around here. You better find that meal," Khaylah replied. Khaylah is clearly going to be a season favorite.
This is exactly what Khaylah is looking for in a man
ABC/Craig Sjodin
We like a lady who knows what she is looking for and isn't here to waste time, and it seems that The Bachelor's Khaylah Epps knows exactly what she wants out of a relationship (and a potential "for life" relationship with Matt James). According to her official ABC bio, Khaylah is not afraid to be herself, and she is not here to settle. After focusing on her career for some time, Khaylah is "now able to focus on herself," and from what we can tell, she really deserves the best. 
"Khaylah says she is a hopeless romantic and that she is looking for a man to truly sweep her off her feet," her bio reads. "She says she can be shy at first, but once she feels that spark, it's on! Nothing turns Khaylah on more than a respectful man with emotional intelligence and a desire to give back." We can't wait for the conversation when Matt brings up his New York food charity and Khaylah talks about her important career path — these two really could be a power couple.
Bachelor star Khaylah Epps has struggled with negative self talk
From what viewers could see of Khaylah Epps from night one of Matt James' season of The Bachelor, the healthcare advocate appeared to be cool, calm, collected, and drop dead gorgeous. She had an aura of confidence that was approachable, and we loved to see it. But Khaylah revealed on Instagram that she hasn't always been kind to herself, and her vulnerability was really something to see. 
"I saw a quote on tik tok ... it said 'if it could have happened any other way, it would have,'" she wrote. "I struggle with negative self talk ALL. THE. TIME. It's so exhausting, and I'm working on it. With that said, I'm here to tell ya if you have the same struggle, try not to beat yourself up over things you think could have went differently. It happened just the way it was supposed to. You did your best, and you are doing your best every single day." 
Honestly, can we have Khaylah call us every day and tell us that last line over and over again? Because that would be great.
When she's not working, The Bachelor's Khaylah Epps lives for this kind of event
We appreciate a contestant on The Bachelor who's looking for love but who also knows how to have a good time, and it seems like Khaylah Epps might be just that person in Matt James' season. According to her official ABC bio, Khaylah "lives for a good tailgate," and since she already rolled up in style, a tailgate might be in order. If Matt knows what's up and did his homework on the stunning healthcare advocate, then he should take a play from Hannah Brown's season of The Bachelorette and host a tailgate party instead of a cocktail party (via Entertainment Tonight). 
To jog your memory, Hannah opted for a fun, casual day in the sun instead of a cocktail party with high heels and suits, and it truly gave us some of the best moments from her season. Remember when Hannah and Tyler Cameron "played football," but really it was just an excuse for us all to look at Tyler in his super short shorts? Yeah, bring that back this season, Chris Harrison, and, while you're at it, don't miss the opportunity to bring Bachelor Nation favorite and Matt's best friend Tyler back to the screen.
Before turning to The Bachelor, Khaylah Epps partnered with this dating app
Oh, the perils of dating apps. Talk to any millennial with anxiety issues, and they'll tell you that they've downloaded, deleted, downloaded, and, yes, deleted (again) dating apps more times than they can count. Why the constant back and forth? Because we all want to find love, some of us are looking for validation, and others only have to see one photo of a man holding a fish to completely turn them off. 
It seems like Khaylah Epps was ready to risk the unpredictable waters of dating apps not too long ago, as, in January 2019, she partnered with the OG dating app Tinder in order to find love. "In 2019 I'm saying YES to new things. YES to guys who I thought weren't my type. YES to doing things that scare me. YES to just doing and not planning," she wrote on Instagram. "And I'm starting with a month on @tinder #singlenotsorry #TinderPartner." 
Clearly things didn't work out super well for Khaylah on Tinder, so she took the next step: She applied for The Bachelor. Note to self: Delete Bumble, and instead apply for a reality television dating show.
Khaylah Epps and Matt James shared this sweet moment on night one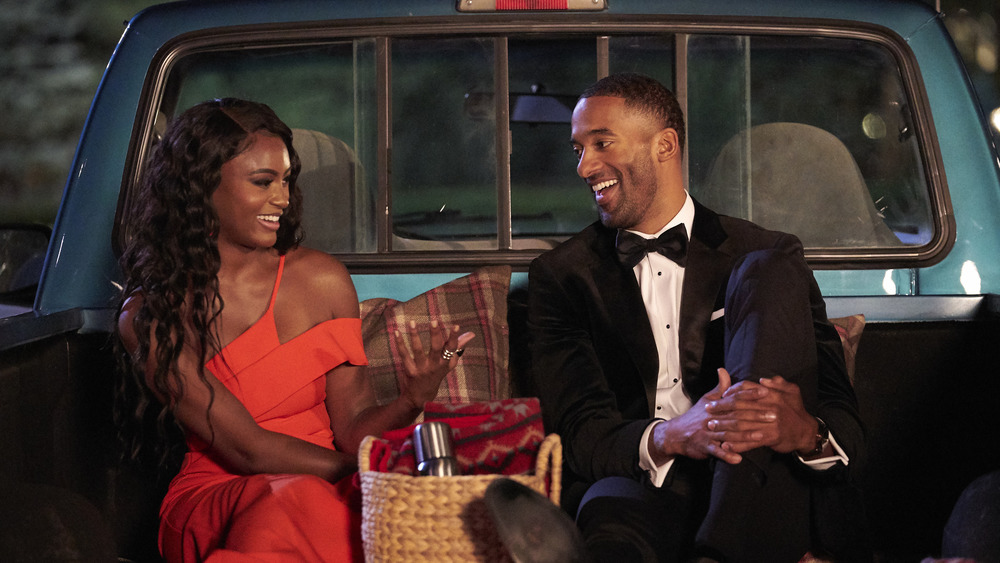 ABC/Craig Sjodin
The first night of a Bachelor season can be so chaotic. There are contestants everywhere, and the "Can I borrow him for a minute?" line is said about a million times. But it looks like Khaylah Epps was able to give Matt James just a few moments of peace and some hometown feels during his crazy night with this cute gesture. 
While sitting in the back of her pick-up truck, Khaylah revealed a pitcher of sweet tea and poured a glass for herself and for Matt. "You know, second to a champagne toast is a sweet tea toast," she said, much to Matt's excitement as he said, "Oh man, I already know what time it is. ... This is great." Matt was clearly very taken with the North Carolina native because, as they went to cheers, he said, "What's more romantic than this?" Be still our single hearts. 
Khaylah definitely knew that a taste of home was what Matt needed because she gave a cute toast that really rang true: "Let's toast to North Carolina roots grounding us, but bringing us together on this very special journey." Cute.
Why Chris Harrison roasted Khaylah Epps at the end of her first Bachelor episode
Bachelor Nation fans know that the footage at the end of each episode is the best. It typically includes some sort of blooper, and the footage at the end of Matt James' premiere episode roasted Khaylah Epps in a hilarious way. Chris Harrison went to the front of the truck that Khaylah drove up in, prepared to drive it away. But as he opened the door, Chris revealed a pillow that Khaylah had used while driving. 
"By the way, she had a booster pillow, I'm just telling you. I don't mean to sell a girl out, but she had a booster pillow," Chris said to a laughing Matt. "I was wondering what that was for. That is hilarious," Matt said, before Chris followed with a quick quip, saying, "That's something my grandmother would've done." 
But Chris' tone changed when he realized that Khaylah had driven a stick, something that Matt was impressed by. "This girl was driving a stick. Good for her," Chris said. "No stall out," Matt followed. Clearly, Chris needed some lessons because he couldn't drive the car well at all. Don't judge the pillow, Chris.
The Bachelor's Khaylah Epps is a budding photographer
If Khaylah Epps wasn't impressive enough with her advocacy work and her master's degree, you can add one more thing to her list of accomplishments: Khaylah is a budding photographer and has a fully built website featuring her work. (You can scroll through her shots here.) According to her website's about page, Khaylah is a "fashion and portrait photographer, based in North Carolina," but she'll never say no to a job that allows her to travel. Her work "focuses on capturing a moment in time," and she has dabbled in portrait photography, as well as lifestyle and events photography. 
But perhaps the most intriguing part of her journey as a photographer is Khaylah's own approach to self-portraits, something that she wrote about extensively on social media. "The act of capturing myself exactly the way I see myself rather than having someone capture me through their POV was the most freeing thing. It's something I hold very close to me and often times acts as a form of therapy," Khaylah wrote on Instagram. "For me self portraits aren't about capturing the most beautiful image, it's about capturing the most honest image." 
We seriously love her. If she doesn't win Matt James' Bachelor season, we want Khaylah as Bachelorette.
Matt James better not take Khaylah Epps on this kind of date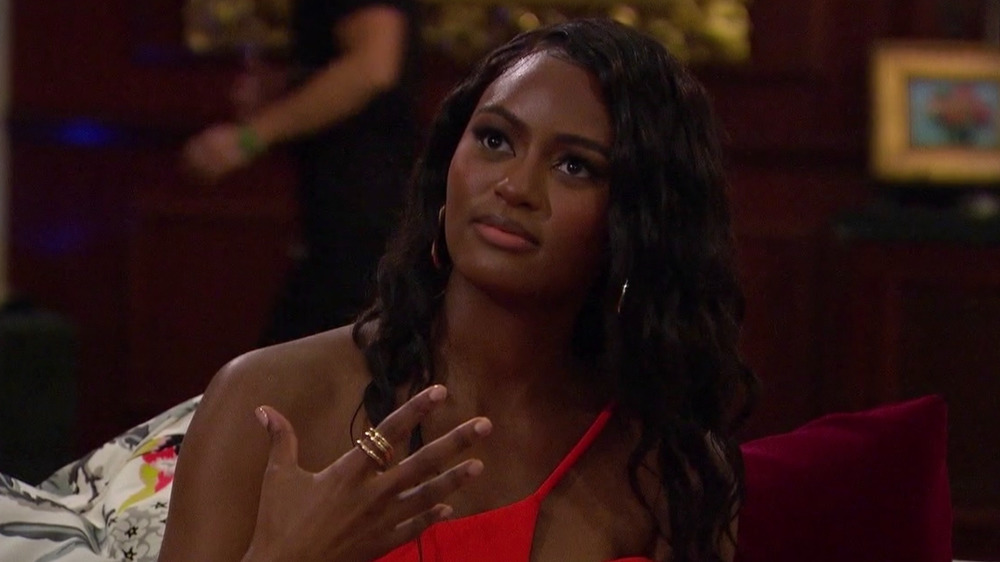 Hulu
When fans of The Bachelor think of the show's setting, they immediately think of the iconic Bachelor mansion. It's beautiful — there's no question about it. But Matt James' season is set at a beautiful resort in Pennsylvania. Hopefully there won't be any crazy outdoor overnights because, according to her official ABC bio, Khaylah Epps has a camping specification: "Khaylah only likes camping if she is glamping." We fully support it. 
As the season progresses, we'll see just how bold the producers are with Matt's contestants, and hopefully for Khaylah, she won't have to experience anything like that one fantasy suite date from Tayshia Adams' season of The Bachelorette. As noted by Cinema Blend, fan favorite Ivan Hall was subjected to a fantasy suite date in a trailer of all things. Granted, it was cute with the lights, but the overnight date that was supposed to be romantic and luxurious took place in a steel box with lawn chairs propped open outside. We're pretty sure that even that can't be considered glamping, so fingers crossed that Khaylah is not subjected to the same outdoor torture.
Bachelor star Khaylah Epps is a seasoned traveler
Khaylah Epps clearly loves to trek across the world. According to her social media, Khaylah has traveled a lot in recent years, visiting countries including Croatia and Costa Rica. Not only were the views stunning, but Khaylah definitely knows how to vacation in style — her outfits in each post were on point. So it's very sad to say that she won't get to indulge in the traveling that The Bachelor is known for due to the coronavirus pandemic. 
As noted by Variety, Matt James' season of The Bachelor was filmed at a resort in Pennsylvania, and every member of the cast and crew had to quarantine before shooting started. Typically, The Bachelor sends its cast all over the world while searching for love, but not this season. 
"We've got to stay in a bubble," ABC's Rob Mills said. "We're just not in a place in the world where we can do that. No matter what, safety is paramount." He added, "We've learned not to screw around with the bubble and just keep everyone there and keep everyone healthy."
Who does The Bachelor's Khaylah Epps idolize?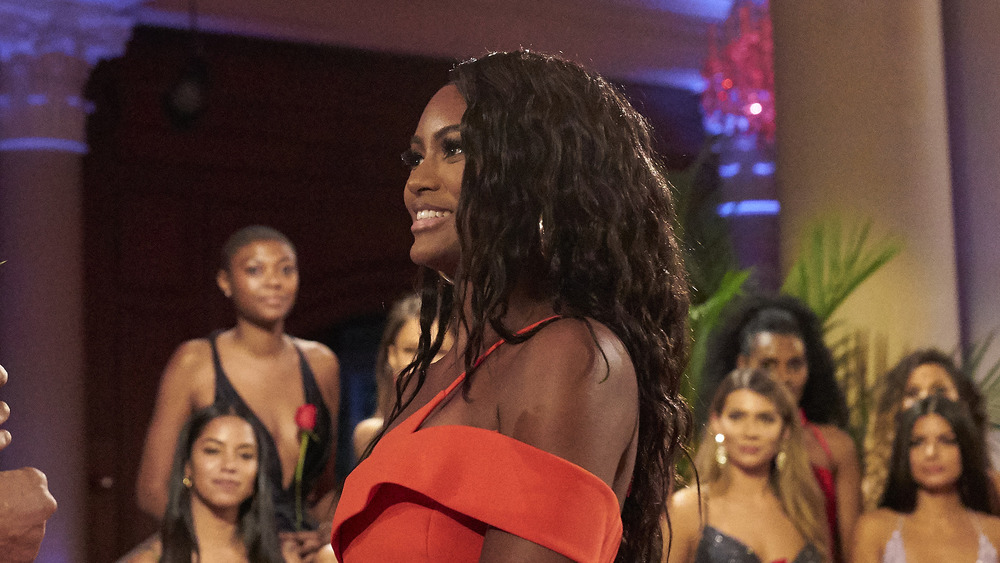 ABC/Craig Sjodin
The official ABC bios for each contestant on The Bachelor usually include some fun little details. Some ladies choose to include details about their pets, others about their hobbies. But Khaylah Epps used her bio to highlight the person she looks up to: Rihanna. To note it exactly, "Khaylah idolizes [Rihanna]," and we completely understand why. Rihanna is an absolute queen. And not only is she an amazing musician, but she is also known for her makeup and lingerie lines. So we can only hope for Khaylah that this season includes some elaborate dates that feature Fenty products — and honestly, it wouldn't be a huge departure from past seasons' dates. 
As noted by People, Peter Weber's season of The Bachelor included an entire Revolve runway show where the ladies got to indulge in some major fashion and makeup moments. During Arie Luyendyk Jr.'s season of The Bachelor, future Bachelorette Becca Kufrin was treated to thousands of dollars worth of Neil Lane jewelry and literally got to have a designer dress-up day during her one-on-one (via People). So you never know. Maybe Khaylah will walk away with some much-desired Fenty pieces — we can only hope!