Who Is RuPaul's Drag Race's LaLa Ri?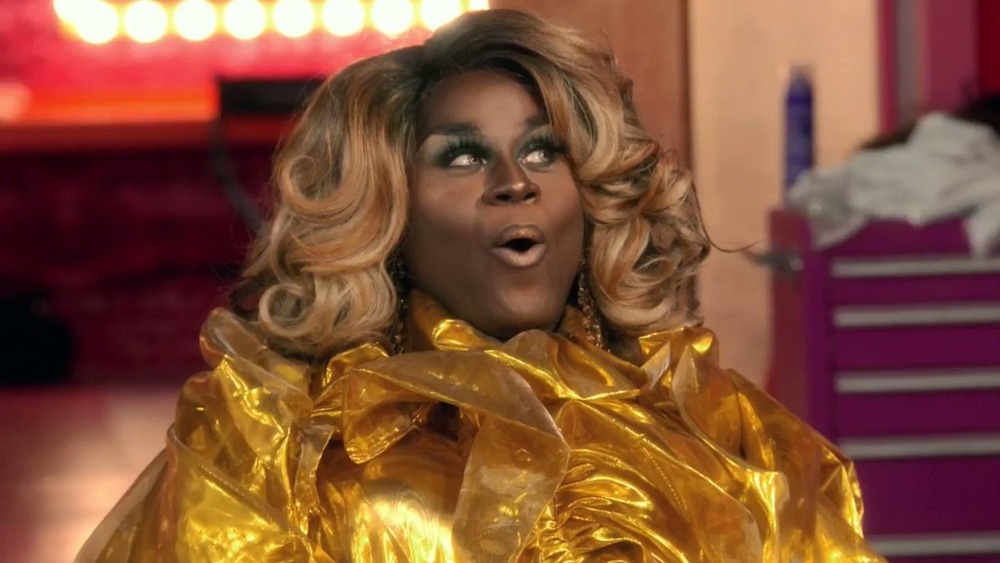 VH1
RuPaul's Drag Race is on its 13th lap around the track and showing no signs of slowing down. This time around, 13 fabulous drag queens are vying for the crown. It's the most diverse cast yet, not least because performer Gottmik is the first ever trans male contestant. Clearly, Drag Race wants to remain relevant for as long as possible and if that means rewriting the rules, so be it (via Vulture). 
Alongside New York and Los Angeles, Atlanta is a major hot-spot for drag, and this season, that idea is beautifully represented by Tamisha Iman and LaLa Ri. While Iman is a seasoned queen with 30 years of experience behind her, Ri has reason to consider her presence a gift rather than a curse: Iman is drag mother (via Pink News). It's the first time in the show's "herstory" this has happened. However, taken on her own merits, LaLa Ri is just as impressive. 
Nothing can dull this queen's shine
As Entertainment Weekly notes, LaLa Ri is a multihyphenate, carving out her own distinct spot as a result. As the Drag Race star explained, Atlanta is a pageant-heavy scene "so you have to be top-tier, makeup has to be on point, hair has to be on point." However, Ri noted, "We also have other types of girls: beauty queens, ghetto queens — I'm a mix of all of that in one." Although she's only been a drag queen for three years, the proud Atlanta native started performing at the age of 14. 
Nowadays, "The LaLa Ri Experience" is engineered to give you the same feeling you have "at a Beyoncé concert." During Atlanta Pride, it was pouring rain, but nothing could dampen Ri's shine as she reasoned, "the kids came out for a show, so of course I'm going to still give them a show." It turned into one of her favorite gigs to date, with Ri admitting she felt like Beyoncé herself. 
RuPaul's Drag Race is just the beginning for LaLa Ri
In an interview with the GA Voice, Ri revealed she was shocked to get the call about Drag Race. Far from feeling that being a "baby queen" puts her at a disadvantage, Ri reckons it gives her "a fresh perspective." As the Atlanta native enthused, "I'm more excited for it. I'm hungry for it. I want it so bad, and I'm going to go for it at all costs." Likewise, the Drag Race star reasons her particular style has "an edgier feel to it, a younger, fresher, edgier feel." 
She might be green, but Ri reckons she could steal the crown, describing her character as "everyone's favorite homegirl" above all else, even if she's also "very sassy" and "a little ratchet." Ri elaborated, "I'm very approachable, everyone seems to love LaLa Ri. She's an exciting character." Any drag queen who refuses to let a torrential downpour stop her performing definitely isn't one to be underestimated.